It was an enchanting start to the holidays when I took my nieces aged three and five to a Fairy Fair in woods nearby. They were given wings to help them fly around, fairy cakes to keep them magically energised and lots of elfin fun. The first thing we did was to make the fairies each a wand.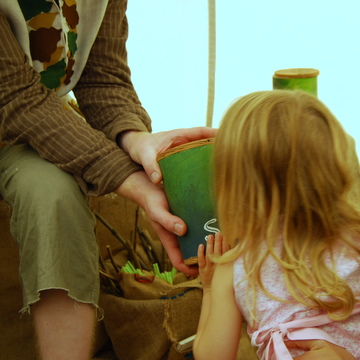 The workshops were beautifully thought out with the young fairies choosing the wood their wands were made from by spinning a pointer to a season, then smelling the leaves of two trees and choosing the one they liked best. (The cousins both chose hawthorn - very appropriate as hawthorn is the tree traditionally associated with May Day and they were both born in May.) Having sneakily had a smell myself, I was amazed at the strength and variety of the different leaf odours.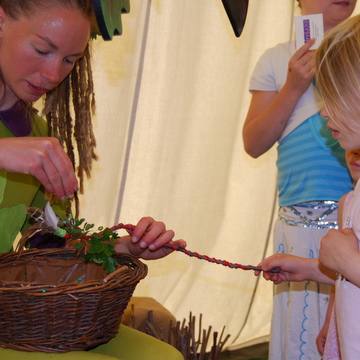 The wands were then decorated and finished off by the tree fairy who sprinkled magic fairy dust on to each wand, before trainee spell casters were let loose to cast spells on all those who crossed their path. The fairies then made crowns from willow hoops woven with different greenery finished off with a tissue flower.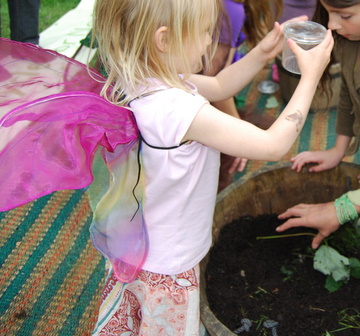 After the making we all made our way through the forest to see the fairy queen, following the glittering dust and hiding from some noisy blue and green trolls who were also going to ask the queen if they could have some wings. As ever their request was denied and they left empty 'winged'. But all was not just flowers and glitter: one favourite activity was the compost fairy who had wickedly black boxes of earth wriggling with creepy crawlies to catch and view.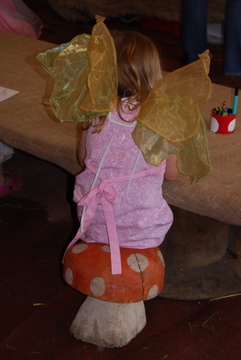 Then with not much time left we dashed to the elf post where postcards were written and enquiries made into whether the elves would be able to find Scotland (they would) and the cards were placed in a giant toadstool to await delivery.

The event was enchanting and made all the more so because it gently introduced the idea of conservation to the very young, in a fun and subtle way. If the fairies ever make their way to your neck of the woods then I would definitely suggest you magic yourself over to fairyland for a few hours. You can find out more from www.fairylandtrust.org.
Tamsin