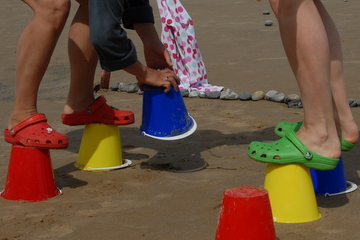 We've just been on the beach playing Beach Flower Pots, which was probably invented for 'It's a Knockout'. Form teams of two, choose the lightest and most poised member of your team to be the flower pot jockey and then race each other across the sand without touching it with your feet by stepping on buckets (or you can use heavy stones, but that's much harder). You need three buckets per jockey – we just used cheap plastic ones we found in a shop on the way down to the beach.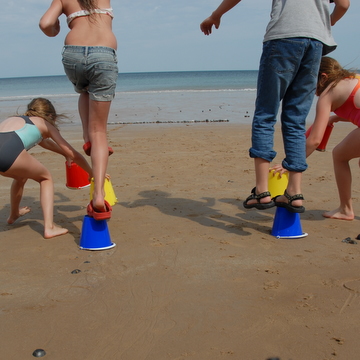 First lay out a start line and a finish line of stones - ours was only about six metres apart but at times it felt like 100. Each jockey has three buckets on the start line, and on the shout of 'go!' each jumps on two buckets, while the flower pot mover bends down and moves the other bucket forward so the jockey can step on it and the back flower pot gets moved in front for the jockey to step on.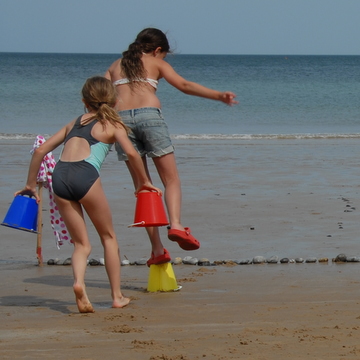 You need good balance and it helps if you wear beach shoes (yet another use for Crocs…). If a jockey falls off, they have to get back on the bucket before the fall and start from that spot again. Needless to say there was some dispute over what constituted a 'fall' and there were some long steps over the finish line without a bucket, but it was great, noisy fun.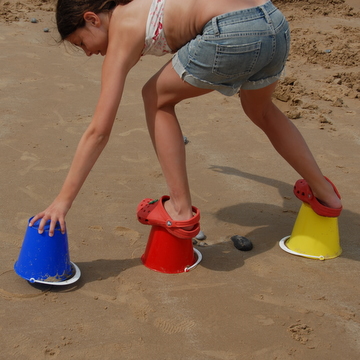 Then the kids had a go doing it by themselves. They each had to pick up their own bucket and move it forward, bending down and almost sitting on their haunches on the buckets to reach forward. It was slower and needed lots of control. Everyone was cheering on the sidelines (in a strictly non-partisan manner, of course).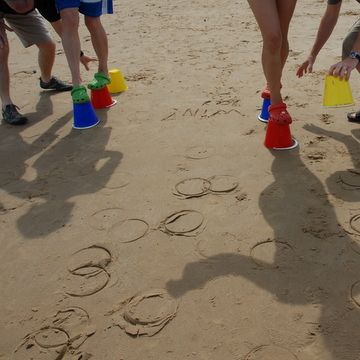 Then the adults paired up and had another go, this time utilising the radical two-pots moved-at-once technique. Surprisingly, the hardest job is moving the pots, partly because you're bending down and whizzing back and forward in front of the jockey so fast you start placing the pots slightly askew or at the wrong distance for their step. Meanwhile the jockey has to stand and keep their balance – which should be much more dignified, but there were no Lester Piggotts out there today. The buckets took a bit of a battering from the adults' weight and ended up rather squished but it didn't matter. We declined the invites to race the kids. Wouldn't be fair to them, would it?
Jane