| | |
| --- | --- |
| Take a Piece of Driftwood... | |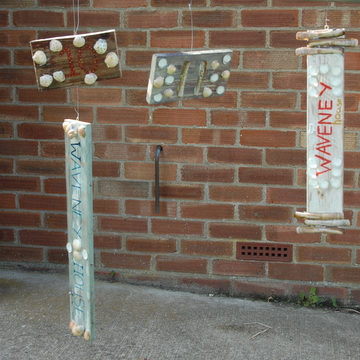 Tamsin: I'd booked the workshop for me and the kids several weeks ago but couldn't quite remember what it was going to be about…except it had something to do with doors. Maybe it was the thought of creating his own door that suddenly made Mike decide to come as well (or maybe it was that I said we'd be home by noon). Only we weren't. What I thought was a two-hour workshop turned out to be an all-day session with tea breaks – though it was great fun and easily filled the day.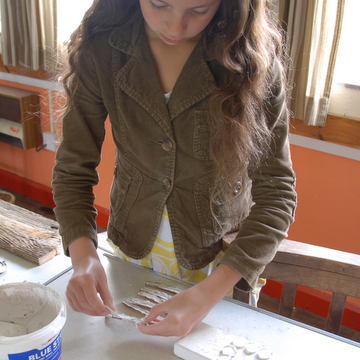 Using driftwood, old planks and bits and pieces from the sea shore, we made house or door signs. We started off choosing a piece of wood and, using wire wool or sandpaper, distressed it even more. Then we painted on a number/name and arranged shells, stones, glass, or anything else we had (which wasn't much since I'd also forgotten to bring beach scavenged treasures to use) decoratively around it. Any delicate shells were first filled with Polyfilla to make them stronger before gluing them down with 'No more nails' adhesive. To finish off we varnished the boards so that they could be hung outside.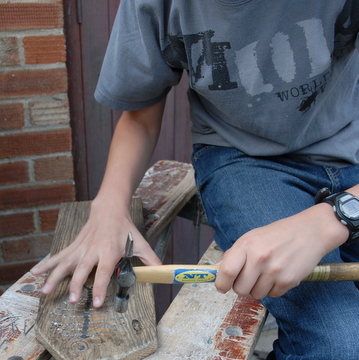 Joe spent his time hammering nails into his wood to create a skeletal fish and Mike made an Alfred Wallis-style boat to hang on the treehouse. Much enjoyment was had by all.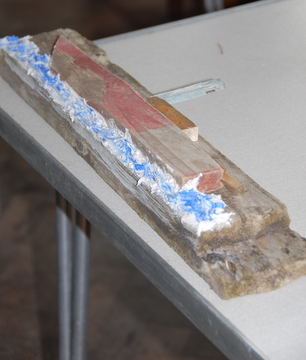 If you are wondering what to do with the buckets of shells and stones you've brought back from the beach, perhaps this could be the ideal family project…