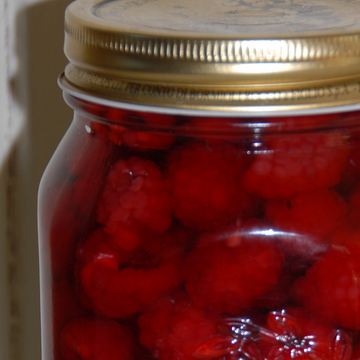 Tamsin: This weekend my mind began to turn to Christmas – early I know but there is one family tradition which needs to be thought about now. It's the Christmas pud. I've never been keen on the traditional kind, probably because dried fruits are not my favourite (something to do with their texture). So instead my treat is a bowl of bottled raspberries – perhaps a unique Christmas dessert, though you never know?

I'd normally bottle our autumn raspberries which fruit from July to October but due to some upheavals in the fruit cage and rather weird weather, I've only managed to grow about 10 individual fruits this year. So instead, I'm bottling bought raspberries – which doesn't feel like a letdown since the process is so easy and the end result so beautiful and satisfying. The fruit is preserved with all its original taste in a liquid that over time absorbs flavour and turns it into nectar.
Bottled fruit can keep for many years – I have one elderly friend who has some bottled tomatoes her mother preserved during the Second World War. They are a glorious pinky red and look beautiful on her sideboard. Her mother was very proud of them, so never wanted to use them. She'd bottled them at a Women's Voluntary Service workshop where she was taught to prepare for the harsh realities of rationing, not knowing such skills would become a necessity for many years to come. No picture of these, but here are some other fruit that I bottled 6 years ago.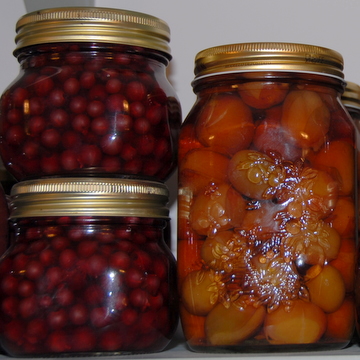 As I make this year's batch of bottled raspberries I'm looking forward to the day when I'll twist the lid off, pop the seal with the side of a coin and tip the fruits into a bowl. I know this late summer day spent locking in their flavour will come flooding back through my thoughts (and tastebuds). For a fruit that usually gives instant gratification, I know this time will be worth the wait.