| | |
| --- | --- |
| Danish Peasant Girl with Veil | |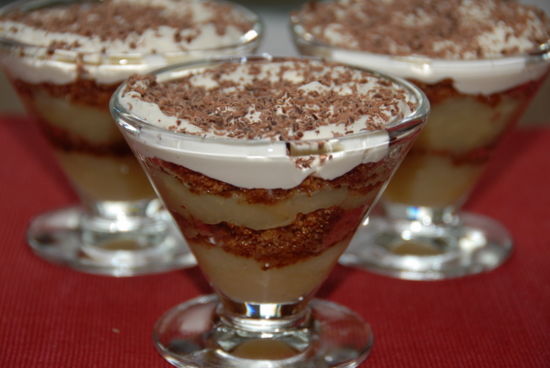 Years ago when I first came across this Danish pudding, it was the name that seduced me to make it – and I wasn't disappointed by the results. It's now a family favourite: crunchy layers of toasted breadcrumbs and apple, topped with a veil of cream sprinkled with chocolate…
700g cooking apples, peeled, cored and sliced
1 tsp (5ml) lemon juice
50g -75g granulated sugar to taste
3 tbsp (45ml) water
4 thick slices of old brown bread
75g butter
3 tbsp (45ml) brown sugar
1 tbsp (15ml) ground cinnamon
150ml/1/4 pt double cream or half cream, half yogurt
50g plain chocolate

Put the apples in a saucepan with the lemon juice, granulated sugar and water. Cover and cook over a low heat until the apples have softened and become a purée.
Meanwhile, make breadcrumbs out of the bread. Melt the butter in a frying pan and add the crumbs. Fry until brown and crisp. Sprinkle the brown sugar and cinnamon over the crumbs, mix and remove from heat.
In one large glass serving dish or 6 small dishes, layer the cooked fruit and crumbs ending with a layer of crumbs. Cover in cling film and set aside to cool in the refrigerator.
Before serving, whip the cream and spread over, then grate the chocolate on top.