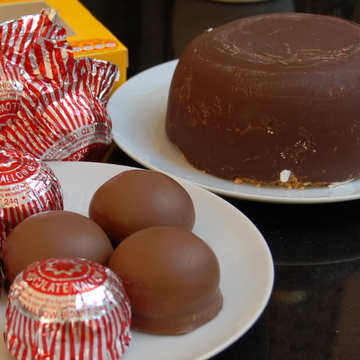 Tamsin: I like a challenge and Nicky has just given me an extra-large one (see her comment on October 26th blog) – could I make a giant teacake? The kids thought this was a great idea since the basic ingredients are marshmallow, biscuit and chocolate. This was a challenge the whole family would enjoy – or at least the results.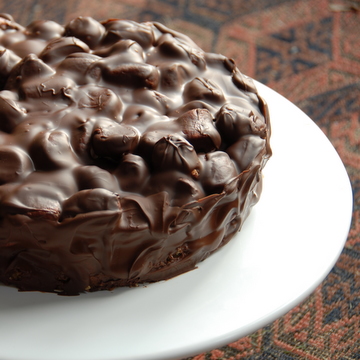 My first attempt could only be called
'essence of teacake'
. Very quick to make, it basically meant piling marshmallows on to a base of biscuit crust and covering it with chocolate. Jam is an optional layer depending on your memories of a teacake. This went down very well at afternoon tea but despite their culinary enjoyment, the critics were harsh. The shape did not put them in mind of a teacake and the middle was little bits of marshmallow rather than a mass of fluffy goo. The challenge continued ...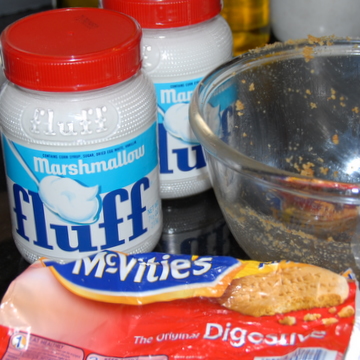 In the back of my mind I remembered seeing jars of marshmallow at the deli and sure enough you can buy such stuff called 'Fluff'. Now all I needed was to build a dome shape of chocolate – and I suddenly thought of the ice-cream bombe mould buried in one of my cupboards. But is there a way to paint on melted chocolate and then remove it whole from the mould? As a first attempt, I lined the mould with cling-film. Mike expressed doubt at this method and he was right – there is no way you can spread chocolate on cling-film without it moving and sticking to itself. Retrieving as much chocolate as I could, I went for method two: greasing the mould with butter and painting the chocolate straight on. This worked, but I knew that getting the chocolate out of the mould would be tricky. Freezing it, then dipping the mould in hot water didn't work, but putting it in the fridge until semi-hard and loosening the chocolate with a knife around the edges did.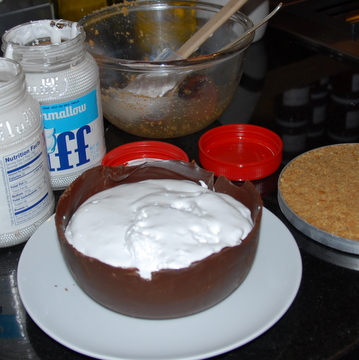 Great joy. My challenge was nearly over. As I filled the centre with Fluff, the odd crack appeared in the chocolate and began to get alarmingly bigger as I placed the biscuit crust on top.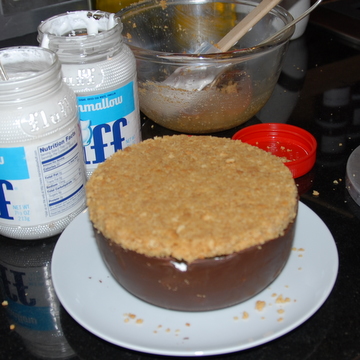 But I quickly turned it the right way up, popped it in the fridge for a bit and voila! One giant teacake.
Hopefully, the critics will be less harsh with this effort. Now we only have to work out how to eat it.