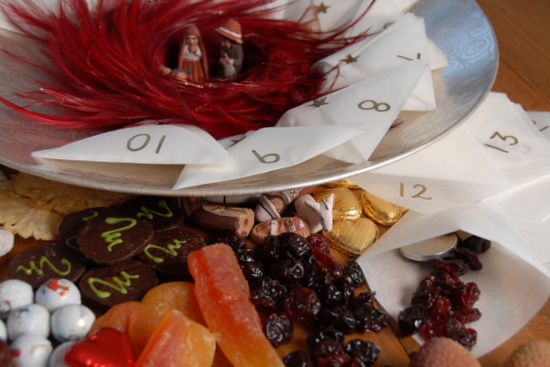 If your children like an Advent treat they can eat, try this - you can pack the envelopes with whatever candy or other surprises you choose.
You'll need:
Tiny seasonal figures such as Santa Claus, Mary, Joseph, reindeers, cattle, baby Jesus
A platter or large plate
24 greaseproof squares, 20 by 20cm (from kitchen shops)
Candied fruits, nuts, chocolate coins etc
Arrange a tableau of seasonal figures in the centre of the plate. Fold the greaseproof squares into little packets, numbering them from 1 to 24 (find how to make them
here
). Pop a piece of candied fruit, nuts or chocolate coins inside each one, and arrange them around the figures on the plate.
Every morning from the 1st December, the kids get the thrill of opening the numbered packet and sharing out the goodies, and making a seasonal wish for the family at the same time.