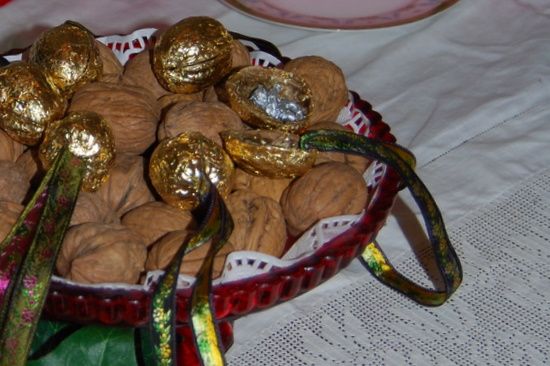 A Victorian yuletide treat. Place a tiny gift or coin in each one and hang them on the tree.
You'll need:
Whole walnuts
Gold spray paint
Writers' gold 'size' (adhesive)
Small brushes
Gold leaf
Glue gun or strong glue such as UHU
Ribbon
Small decoration, chocolate coins or real money

First crack the walnuts in half. This is not necessarily easy. I push the point of a knife into the top of the walnut and then gently turn it from side to side. If the nut begins to come apart easily, proceed. If it shows signs of resistance, leave and move on to the next. Out of a bag of walnuts I found that half opened easily and half did not.
Scrape out the inside and save the nuts to eat.
Spray the insides with gold spray (or if you want gold leaf inside and out, leave and brush with size instead, as below).
Brush the outside of the shells with size. Leave to dry for 2 hours or as per the manufacturer's instructions.
Lay on the gold leaf and brush down well so it goes into all the shell crevices. Leave to dry for another 2 hours. Then using a soft cloth, polish to remove any flaky bits of gold.
Using strong glue, fix a length of ribbon to the top of one half of the gilded walnut. Place a small gift inside the walnut and glue the two halves together. Either hang on the tree or place in a bowl of nuts at the table with a gilded walnut for each guest.