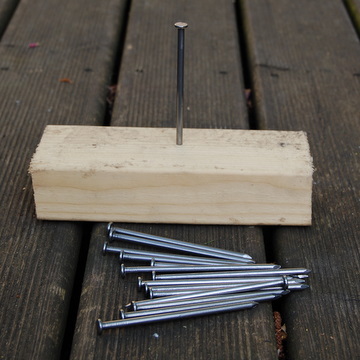 Jane: Just been with Edie's class on a school trip to Grafham Water, a nature centre where the children had a fantastic day mountain biking, orienteering, climbing on low ropes and following a trail blindfold through the woods. In one of the quiet moments (there weren't many) our lovely, friendly instructor John set us a challenge: could we use our skill and initiative to place 14 nails on top of a single nail banged into a block of wood? He gave us the equipment, and we divided into groups to solve the puzzle. 
It was baffling. We tried turning the block upside down then propping the nails beneath – the block fell over and anyway that hardly counted as being 'on top' of the nail. We tried to build a nail tower on the head, but that was as unproductive as guessing how many angels can dance on the point of a needle – they all just rolled off. Eventually, our group used our skill and initiative to… ask another instructor for the answer. He sweetly showed us how: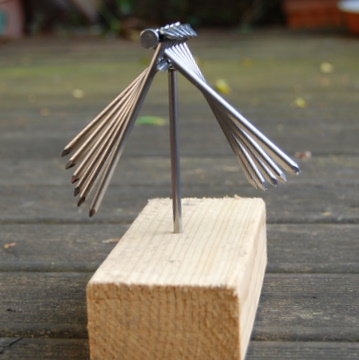 First, you lay a nail on the ground. Then you place the other nails on it at right angles, fanning out each side as if creating the oars in a Viking longboat. The nailheads have to butt tight up to each other, and to the head of the bottom nail. When you have six 'oars' each side (that's 12 nails) on top of the bottom nail, place the final nail on top, with its head at the opposite end to the bottom nail.
Then holding the two outer nails, gently, gently lift the whole structure, keeping the nails together as tight as possible. Balance the bottom nail on top of the single nail on the block. The structure will stay there because the weight of the nails on either side works as a counterbalance, holding all the dangling nails in place.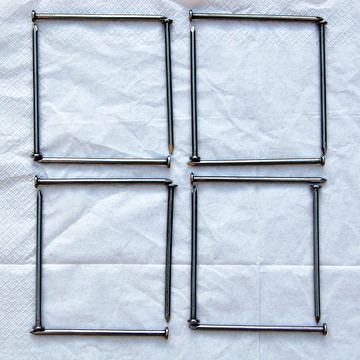 Then Edie's teacher came up with another brainteasing nail trick. She laid out four squares of nails and asked us to turn them into a shop by moving just one nail. Some of the children tried to make a shop's floor plan, others tried to spell the word 'shop'. Again, we admitted bafflement.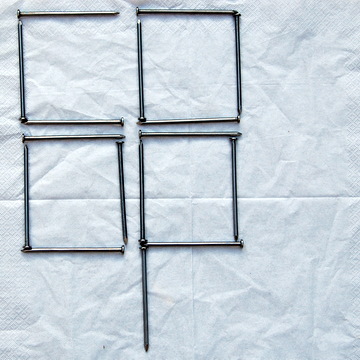 The answer was to take the right-hand nail from the first square (to leave a 'C') and put in under the last square (to make a 'P') so the word spelled is 'Co Op' – which of course, is a shop. Very clever indeed!