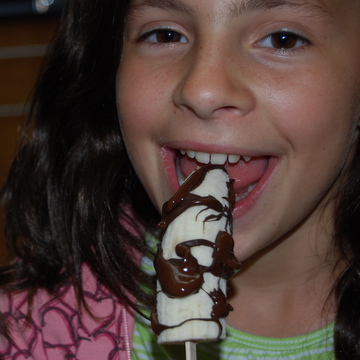 Tamsin: For me to say these are delicious means little since my usual diet contains one if not two bananas a day. But when my son Joe said they were fantastic it really gave them the seal of approval because he hates bananas. I've never understood why. He is not a fussy eater, but ever since he was old enough to have a choice in the matter he's avoided bananas. Maybe he had banana overload in the womb. Perhaps that's why when he was born (which was not quite the straightforward birth I'd hoped for), the midwife couldn't believe how unstressed he was. It was thanks to the potassium, high quantities of which are found in bananas, which is good for stress, heart and blood pressure.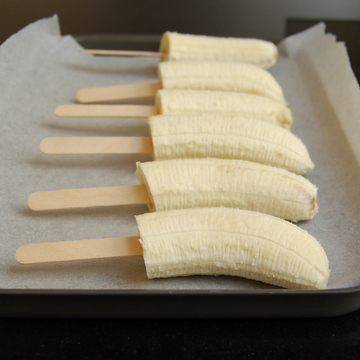 Frozen bananas do have a unique texture – very much like eating ice-cream but a lot less messy – unless you allow the children to smother them in chocolate. This can be done at the last minute and they can choose how much they would like.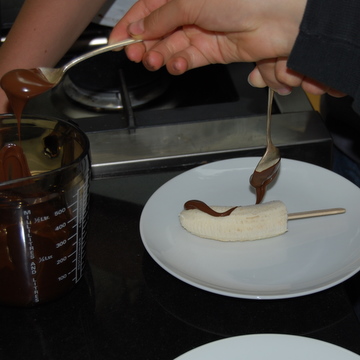 There isn't really a recipe but here's how. Cut in half as many not overly ripe bananas as you need and put them on a tray lined with greaseproof paper.  Push a lolly stick halfway into each one. Place them in the freezer for at least an hour. Melt some chocolate (I use dark, but not 70 per cent as you want a bit of sweetness) in a small container in the microwave or on top of a double boiler.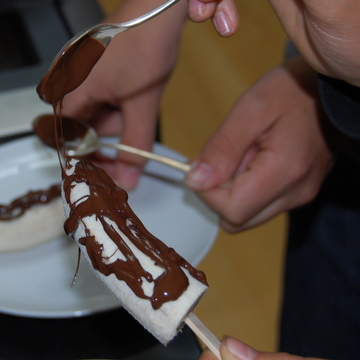 When ready, drizzle spoonfuls of the melted chocolate on top of the bananas and consume. If you are going on a picnic, cover the whole of the banana in chocolate and insulate well. They are just as delicious when left to soften up a little.