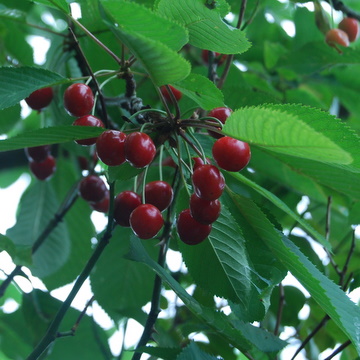 Every hour counts and I am on constant watch. Why this level of alert? All so that I can get to my cherries before the birds do. If the weather is sunny the situation can change rapidly – one day a tree full of green fruit, the next a tree full of cherries and the next a tree stripped of anything red. For many years I've not been successful with this vigil, but this year I was determined to succeed.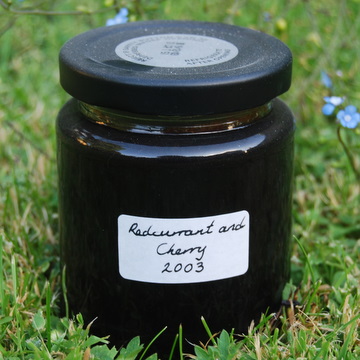 In fact, I know the exact year I last managed to get the timing right – 2003 – because I have one last jar of 'Redcurrant and Cherry Jelly' sitting in my cupboard.  I can't bring myself to break open it until I've replenished the stock of that delicious flavoured jelly.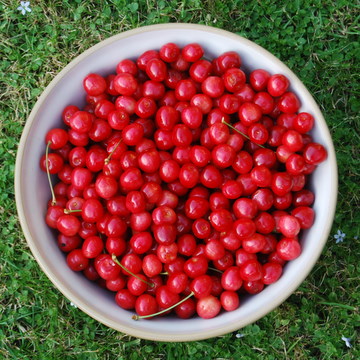 The watch came to an end last week. By Thursday evening the cherries had turned shiny red and I gave the go ahead for 'action cherry picking' to begin. Joe, who was on standby, began by shinnying up the tree while I looked for the large step ladder. In the end I gave up (how can a five foot ladder get lost?) and went for the 'stand on a stool with a walking stick to hook the branches down' technique.
It worked and we were rewarded with a large mixing bowl of red cherries, with enough left on the tree to feed the hordes of hungry blackbirds and wood pigeons. We got to the cherries just in time, 24 hours later the tree had been stripped.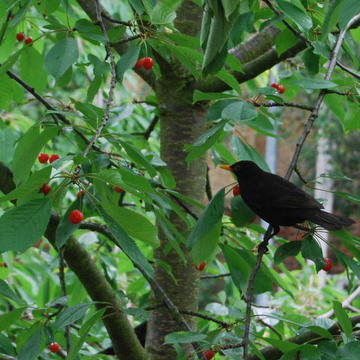 Jelly is the best thing to make with a fruit that has so many stones in it. This year I decided to make pure cherry jelly without the redcurrants. 
As soon as the family saw the jam pan coming out, they put the bread maker machine on so we could have fresh warm white bread, dripping with melted butter and spread with the scrapings from the jam-making pan. There is nothing better for a summer's late evening snack.