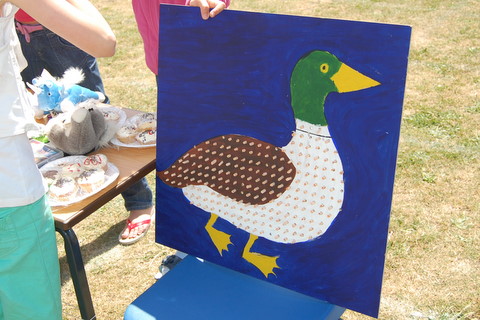 A tombola stall with a difference – just pluck your tickets from the duck to win a prize. This makes a good stall for school fairs or summer fêtes in the garden.
You'll need:
A pencil
A piece of hardboard or plywood about 60cm by 60cm
A drill, with a 5cm to 6cm drill part
Poster paint in ducky colours (we used blue, green, yellow, brown and white)
Raffle tickets
Prizes (old plush toys, books, cakes etc)

With the pencil, draw the side outline of a large duck on the hardboard or plywood, showing the body, wing, feet, head, beak and eye. Then drill holes in regular rows about 2cm apart over the body of the duck – Joe (aged 13) did this for us but younger children will definitely need adult supervision. We drilled about 225 holes in total – how many depends on how big your duck is. Once the holes are in place, paint the duck and background and leave to dry.
On the day of the fair, roll raffle tickets and push them into the holes. Stick the matching tickets ending in '5' and '0' on to your prizes, and arrange on a stall. Then it's roll up, roll up for some summer fun!