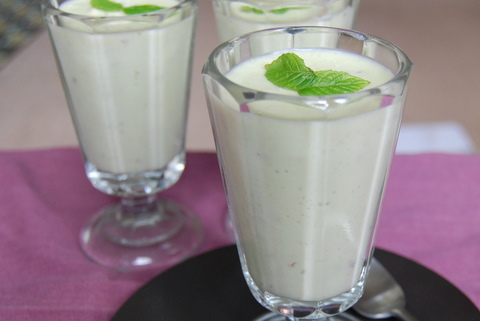 A scrumptious, frothy summer pud that is very simple to make but needs a good whack of sugar to make it tasty for the younger members of the family. 
Makes 4

450g gooseberries (I don't bother to top and tail them)
175g sugar
2 tbsp elderflower cordial or water
1 level tbsp Bird's custard powder
150ml milk
Several drops green food colouring
150ml double cream
To decorate, fresh mint leaves

Put the gooseberries in a large, heavy-bottomed pan with the sugar and elderflower cordial or water, cover and bring to the boil. Allow to simmer gently for 10 or so minutes until the fruit is soft. If the result is very runny, pour a little liquid off, then whizz the remainder with a hand-blender and push through a sieve.
Make the custard by stirring the custard powder with a little of the milk. Heat the remaining milk and when just about to boil, pour over the custard powder mix and stir well. Return the custard to the pan and stir constantly over a gentle heat until it thickens.
Beat the custard into the gooseberry puree along with the green food colouring, and allow to cool.
Whip the cream in a separate bowl. Then stir the cream into the puree mix. Spoon into tall glasses and chill in the fridge. Decorate with leaves of fresh mint.