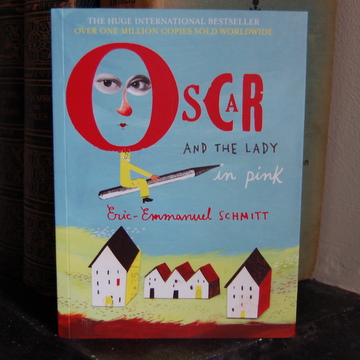 Maudie: I've just read 'Oscar and The Lady in Pink' by Eric-Emmanuel Schmitt. Oscar is a ten-year-old boy who is living in a hospital because he has leukaemia and the doctors can't cure him. He makes friends with an old lady in pink he calls Granny Rose, who comes to the hospital to play with the sick children. She used to be a lady wrestler, and he likes listening to her stories about all the strange opponents she used to fight. Granny Rose encourages him to get to know the other children like Peggy Blue in the hospital     
and also suggests he write a letter to God every night, because it would make him feel better and less lonely. Every day was like a decade for him, so each night he could write about what he'd done during each day/decade. He runs away to Granny Rose's house for Christmas and she helps him make it up with his parents who'd been terribly awkward with him because he was going to die.
I really liked the book because Oscar was so funny and brave and made the most of his life before it ended. But it was also very sad – my mum cried by page 10. I would recommend this book to children over eight.