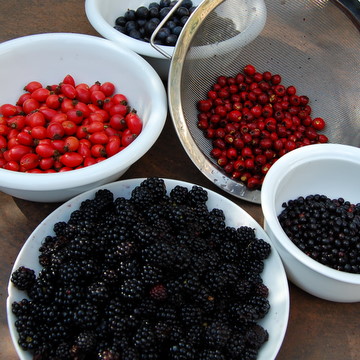 Jane: Last weekend the children were camping, so Mal and I went hedgerow picking with a step ladder. Ooh, it made life much easier. We could reach all the sloes and lovely juicy blackberries that everyone else had left behind. I've just bought a fantastic book, Hedgerow Medicine, which shows you how to make teas, tinctures and balms from the plants that are all around us. But I started off with hedgerow jelly: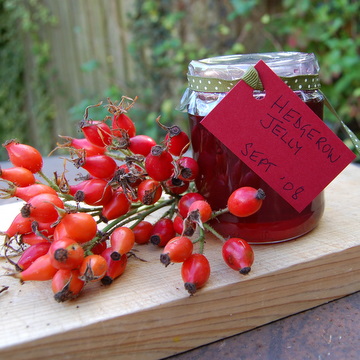 Hedgerow Jelly
This has a lovely delicate flavour and despite the sugar can even be called healthy (hawthorn especially is good for lowering blood pressure and cholesterol). I used a mix of sweet (blackberry), bitter (sloes) and sour (rosehips, hawthorns) flavours but you can use any hedgerow fruits including rowan berries. Always use the same amount of cooking apples as other fruit: they provide the pectin to set the jelly.

1kg cooking apples
300g blackberries
250g sloes
100g elderberries
150g hawthorn berries (haws)
200g rosehips
About 2 litres water, to cover
2kg granulated sugar

Wash the apples and cut into big chunks, leaving the skin, pips and cores on. Strip the fruit from the stalks (no need to top and tail) and rinse. Put all the fruit into a big preserving pan, and cover with water. Bring to the boil, then simmer until the fruit is soft, about 45 minutes to an hour.

Put the mixture into a muslin-covered sieve or three-legged jelly bag and leave to drip into a pan. This might take an hour or more but don't hurry it – if you squeeze the bag the jelly will not be clear. Measure the juice, then return to the pan. (Make sure the pan is only half full: if you have more juice than that, do a second boiling.) Add in 500g sugar for every 500ml juice.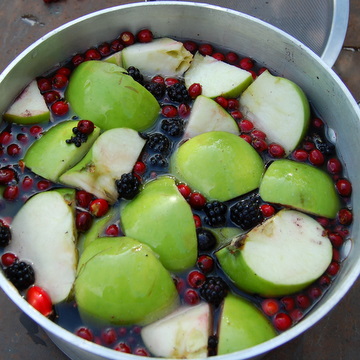 Heat the pan gently, stirring until all the sugar is dissolved. Then bring to the boil, skimming off any white scum that forms on the top. Turn the heat down, and leave to simmer uncovered until setting point (105ºC, 221ºF) is reached, usually about 10 to 15 minutes. I use a thermometer or you can try the wrinkle test: place a teaspoon of jelly on a cold saucer (keep in the fridge), leave to cool for a minute, then drag your finger over – if the top wrinkles, it's ready. (Always take the pan off the stove while doing this to avoid overcooking, which loses the set.)

Pot into warmed sterilised jars and immediately place a wax circle on top (wax side down), and seal. Store in a cool place. Tie a pretty ribbon round and label.