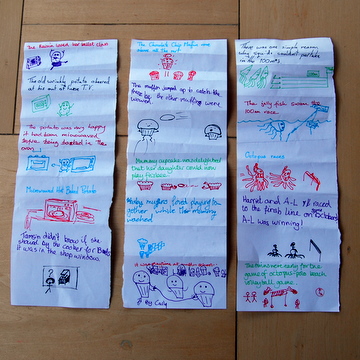 Tamsin: We were in Cornwall for half-term where the weather varied from balmy autumn days to freezing winter hail. Luckily, with the help of wetsuits and a new-found game we did not mind what the weather threw at us. Our friends taught us 'Paper Telephones' and we were soon hooked. All you need are paper, pens and the ability to fold. Each person is given a piece of paper and the game proceeds very much like 'Heads, Bodies and Legs' except that you start off writing a silly sentence at the top of the page.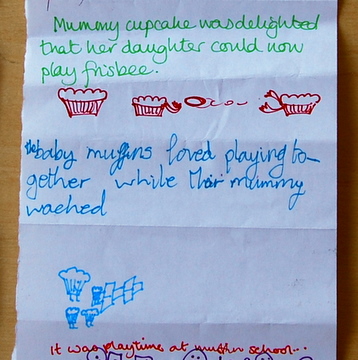 The papers are then passed to the next person who draws a picture that describes the sentence. They then fold over the paper so only the picture is showing and pass it on to the next person who tries to translate the picture back into a sentence, folding once again to hide the picture. 
This carries on – sentence, picture – with the papers moving round each time until you get to the bottom of the paper. The papers are then unfolded and some fairly hilarious transformations have taken place.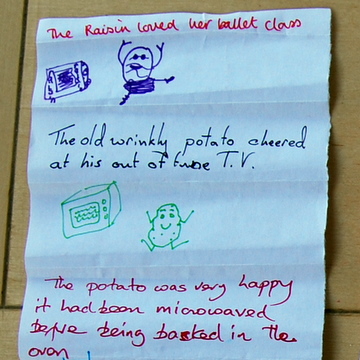 I rather liked the dancing potato.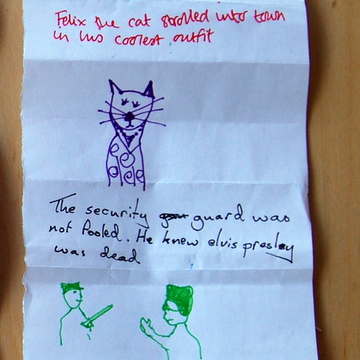 Or the Elvis cat.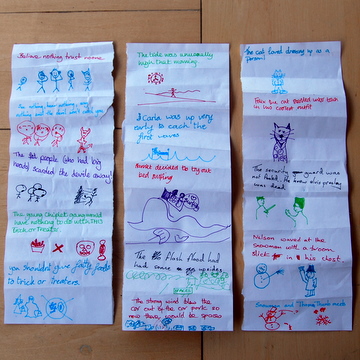 This is definitely a game I am going to bring out when we have all the family down for Christmas. It suits many different age groups and is very inclusive – even for those who feel that their drawing skills are not high, stick men are great.