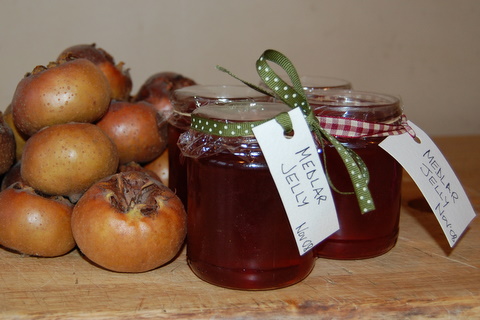 Jane: My neighbour has a rarity in his front garden – an exquisitely shaped medlar tree which produces prolific late-ripening winter fruit. You just shake its leaf-bare branches and a profusion of hard, yellowy-brown, inedible fruits hits you on the head. Inedible at least until they are made into jelly, cheese or 'bletted' – stored until they go brown and soft, internally fermenting (they look as if they are rotting) until the flesh turns to a fragrant, slightly cloying-tasting pulp. Given this, you can understand why medlars are not popular today, but they were considered a delicacy in Victorian times, the bletted fruit scooped out and eaten raw with cream and sugar as a winter pudding.
The fragrant tartness of medlar jelly, however, is extremely good eaten with poultry or game.
Jane Grigson
does a very straightforward recipe: cut up your medlars, cover with water and simmer until the fruit turns to a pulp. Strain for a few hours over a jelly bag (don't squeeze if you want a clear jelly), add 500g sugar for each pint (600ml) of medlar juice, boil, then pot once setting point is reached.
I used a jam thermometer and potted at the setting point of 105 degrees C – a big mistake, as once cool, the medlar jelly was still liquid. So I boiled it again to slightly above setting point: again the jelly was too runny. The third time, I added the juice of a lemon, thinking it might improve the set, and boiled, this time doing the saucer test (putting a teaspoonful of boiling jelly on a cold saucer – if the jelly is ready, the surface wrinkles when you push a finger over it) which I normally can't be bothered with. Finally, the jelly wrinkled in the saucer at over 106 degrees C – it was done.
Given three boilings, you could play squash with a ball of this medlar jelly but, even though the texture is rubbery, the taste is still flavoursome. I had some last night with roast chicken.