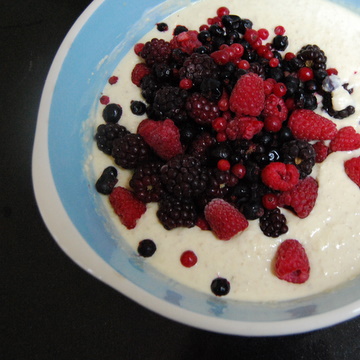 Tamsin: I am not that good at breakfast. Cooking early in the morning is not a good start for me (which is a pity for my growing son who can think of nothing better than an English fry-up to start the day). My favourite beginning is a fresh fruit salad but even that seems like an awful lot of hard work when your eyes have yet to focus from their night of slumber. I think this comes from being spoilt as a child by my father who prepared us breakfast each day. All we had to do was lay the table and enjoy. Thank you dad, I look back at those 'breakfast all prepared' days with belated appreciation.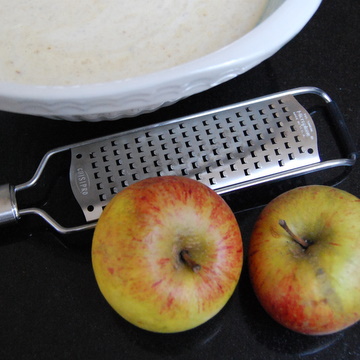 There was a rota to my father's breakfasts – Monday, scrambled egg; Tuesday, grapefruit; Wednesday, boiled egg etc. Then, sometime in the mid-70s, he discovered muesli. This was not the sleek sweet versions which adorn our shelves now but the pure homespun variety consisting of a few dried oats scattered with raisins, hazelnuts and maybe a cut-up apple. I detested the floury taste of the dried oats with the cold milk and still do.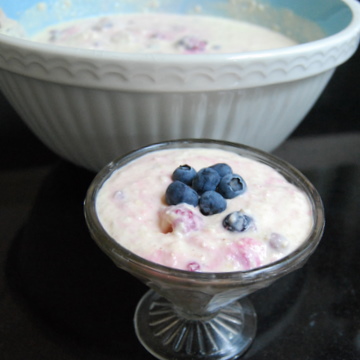 I was therefore surprised to find a muesli that was delicious and which despite containing oats did not 'flour' on the palette. The downside to my discovery was that I only ever came across it in hotels in Europe. So it was with great delight that on turning the pages of our local magazine last week I came upon a recipe for the very muesli I coveted – Bircher muesli.
Excited, I collected the ingredients together ready to make it but was thwarted by my son who took over the task. It is so easy to make and best of all will keep in the fridge for a week, so my morning food is sorted for the next seven days (although because of the rate at which the rest of the family is consuming it, I don't think it will last that long). This muesli is rich, creamy and best consumed, from my point of view, over a chopped-up banana or apple.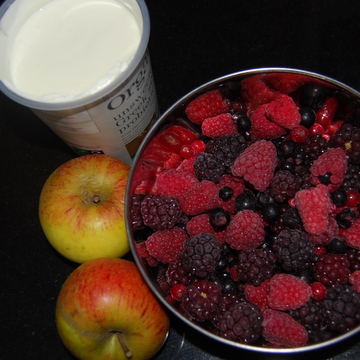 Bircher Muesli
15 tbsp porridge oats
Orange juice
500ml Greek yogurt
100ml low-fat yogurt
250ml Quark or fromage frais
45g – 90g light brown sugar
2 eating apples
180g berries, any you like, fresh or frozen
Place the oats in a large mixing bowl and pour over orange juice until just covered. Leave for 20 mins to be absorbed. Add both yogurts and Quark/fromage frais, sprinkle on the sugar and mix. Peel the apples and then grate them finely before adding to the mixture. Gently stir in the berries. Store in the fridge for up to a week. Frozen berries may 'bleed' colour into the mix but it tastes just as good. Makes 10 substantial portions.