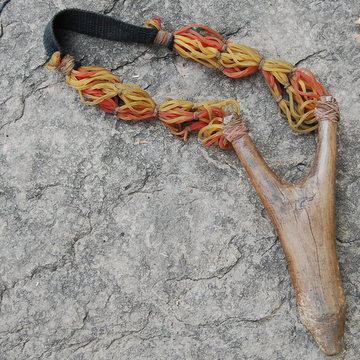 Jane: A couple of weeks ago, I was camping with some other journalists in the Cambodian jungle looking at ancient, beautiful but half-collapsing temples. One of the children who followed us around the temple sites (telling us stories of the history and natural world to make an extra dollar or two) showed me this highly effective catapult he'd built. It's basically a strong bit of branching hardwood which has been whittled to a Y-shape. He cut a bit of camera strap to make the catapult cradle, then attached that to two chain of rubber bands to give it good stretch. Definitely worth trying at home.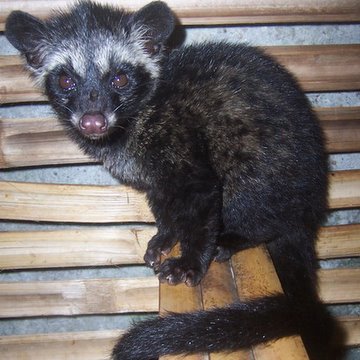 An Asian palm civet cat
Warning: people of a sensitive, animal-loving disposition should probably stop reading this blog now.

That night in the jungle, while we were eating a delicious dinner prepared for us by a team of Cambodian cooks (I should point out that this was a cushy five-star jungle trip in 'luxury' tents), one of the team fired a stone from such a homemade catapult. It hit a cat, well actually an Asian palm civet cat, a gentle, black, shaggy, raccoon-like creature (see above) which eats mostly fruits and insects (including those delicious tarantulas of the blog dated 9th March, see below). The stone broke the cat's leg so it fell from the tree, and was then killed, skinned, cooked and eaten by the Cambodian team for dinner. We observant journalists didn't notice a thing.
Next morning our guide told us about the catapulted cat and, of course, we were horrified (even though we had been eating steak and lamb for supper).
Is there a moral to this story? It certainly brought home what a strange and contradictory attitude we Westerners have to the food we eat. But, more importantly, how hungry many Cambodians are (20% of the population live in 'extreme poverty' according to the World Food Programme) for a bit of free meat.