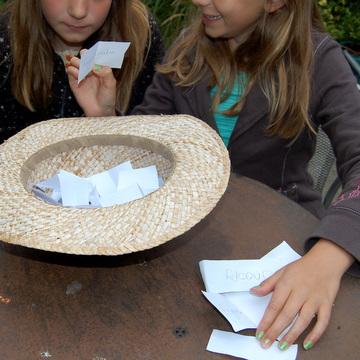 Maudie: On Saturday some friends came round for lunch and a game-playing session, and one of the games they taught us was The Hat Game, which was so simple and so much fun. You play it like this: everyone writes five famous people's names on separate pieces of paper. They could be real people, cartoon or fictional characters, people from a long time ago… Then, fold the pieces of paper so you can't see the names, and drop them into a hat. Once everyone has done that, you're ready to go.
You play in two teams, with only one team playing at a time. Pick one person from your team to go first (there are three rounds, so three people in each team get a go, and each round is timed – we used a sand timer). In the first round, the player picks a name from the hat, and has to describe the person – you can say anything about them apart from their name – until the rest of the team guess who it is. For example: 'Shrek' – 'a green ogre, who lives in the swamp and has a wife called Fiona'. Once they've guessed, the player takes another name from the hat, and so on… When the time's up, you count how many names the team recognised, then put all the papers back in the hat, and the other team has a go.
The second round is exactly the same except this time you have to mime the person – eg if you get Leonardo DiCaprio, you could mime him on the Titanic. By now, you'll all have quite a good idea of many of the names in the hat, so it gets easier to guess. In the third round, you have to describe the person in one word, so for instance if you picked out 'Queen Elizabeth', you could use a word like 'royal' to describe her.
It all sounds simple and it IS, but there are a few rules: When you're describing in the third round, you can ONLY say one word, so if you got 'Simon Cowell', you couldn't say 'X Factor' because that's two words. If you get the same person more than once (we had quite a few Michael Jacksons) then you just describe or mime them again. So it's easy! You are timed, we did two minutes each, but you can do more or less, and you carry on doing people until the time runs out. It's a really fun game and I advise you to try it!