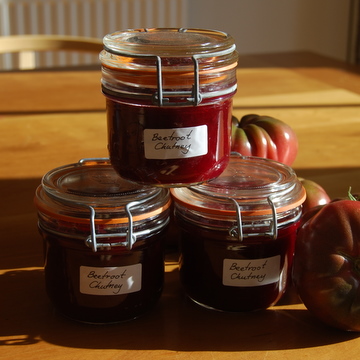 Tamsin: This is the season when I seem to be peeling and chopping whenever I have a free moment in an attempt to preserve all that the garden is producing. I've made many different types of chutney in my time but this year's beetroot one is truly scrumptious - deemed so delicious by my husband that he immediately banned me from giving any of it away!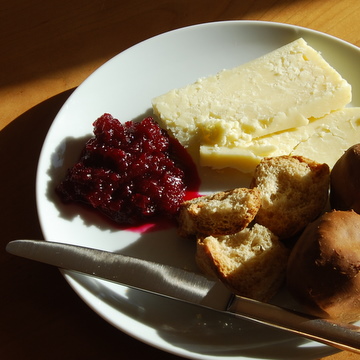 He is right though - it is so scrumptious that I want to keep it all to myself and am already getting anxious that we are wolfing through the pots too fast. My favourite accompaniment to it is a slice of Cheddar and a Dorset Knob (I managed to get a packet of these teeth-crunching snacks despite a countrywide shortage, something to do with the new machinery at the factory. So if you see a pack anywhere, grab it.)
If you want to give yourself something to look forward to at lunchtime, try out this recipe and the late summer will be with you for that much longer...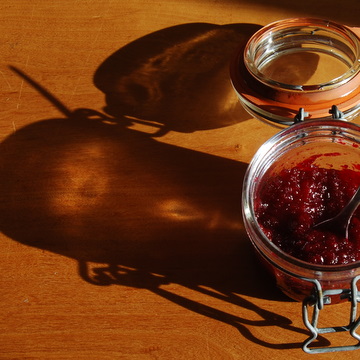 Beetroot Chutney
1kg raw beetroot
350g onions
450ml white vinegar
350g cooking apples
1 tsp pickling spice
4-6cm piece of root ginger
1 tsp ground ginger
1 lemon (juice and rind)
350g sugar
Wash and cook beetroot. When cool, peel and dice. Peel and dice the onions, put them into a large saucepan with a little of the vinegar, and cook until soft. Wash, peel, core and chop the apples, add them to the pan. Tie the pickling spices in a muslin bag and add it together with half the remaining vinegar to the onions and apples. Grate the root ginger and add this together with the ground ginger, grated lemon rind and juice. Cook until very soft, stirring occasionally and taking care not to burn. When ingredients are cooked add the remainder of the vinegar and the sugar, heat gently, stirring well until the sugar had dissolved. Boil steadily until the chutney is thick. (I then whizzed it with my hand held blender to give it a smoother finish, but the consistency is up to you.) Pot and seal in jars that have been pre-heated in a low oven.