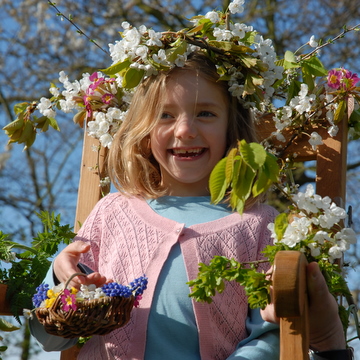 We're now into summer. It's official. The cow parsley's out, the hawthorn and blackthorn are blossoming, gardens and green places are boisterous with birds and bees. May the first was actually the start of this splendid new season, though blink and you may have missed it because nobody's celebrating May Day this year until the bank holiday weekend. And probably not much then, because the old May Day traditions are all dying out.
It's a great shame. In Elizabethan times, May Day was one of the biggest, most boisterous festivals of the year with processions of milkmaids and chimneysweeps gathering on every village green. Even 20 years ago, primary aged children dressed up, elected a May Queen and perhaps a Jack o' the Green, and danced round the school maypole. At university, a big gang of us used to rise at the crack of dawn, bathe our faces in the morning dew (reputedly good for the complexion) and dance round the Castle green, and Tamsin's family always got up at 4am to gather on Norwich's Mousehold Heath and watch the Morris men dance a welcome to the May Day sun (with a slap-up cooked breakfast afterwards).
May Day traditions are incredible fun for the kids. Last year, we dressed up a chair with blossoms, made a blossom crown for the May Queen and raised her aloft from her throne, ruler of all she surveyed. You can make a maypole and dance madly round, twirling ribbons under and over. This year, we'll also be making creamy butter the old-fashioned way, taking it in turns to shake the jar (though you can make it in five minutes with a hand mixer or food processor). Then lathering it on to a beefy May Day breakfast of sausages or bacon and egg in doorsteps of fresh white bread. Yum!
HOME-MADE BUTTER
To make around 300g butter and 200ml buttermilk, you'll need:
1 pt (568ml) double cream, at room temperature
Large jar with lid
Fill the jar just over a third full and tightly screw on the lid. Shake the cream up and down. After some time, it will look like whipped cream. Keep shaking until thin streams of buttermilk suddenly separate out leaving a thick, creamy lump of butter.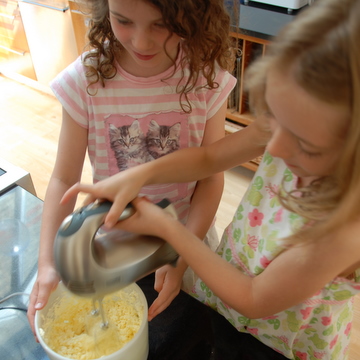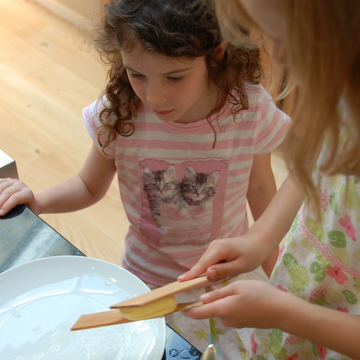 buttermilk off and keep to use (buttermilk cake is delicious!). Fill the jar with cold water and swirl the butter around to wash. Drain and repeat until water is clear. Put the butter on a board (if you like salted butter, mix in about half to one teaspoon salt per 100g at this stage) and press down, using a wet spatula to get rid of any remaining buttermilk. Wrap in waxed or greaseproof paper and refrigerate.
Jane