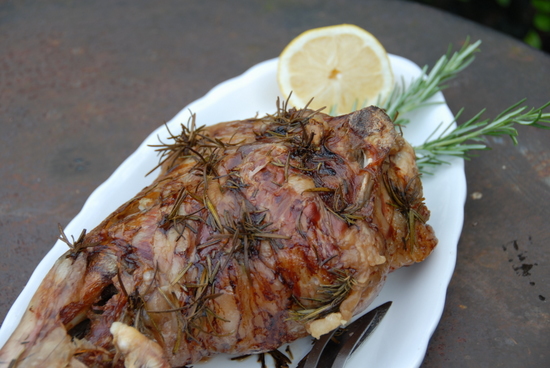 This is the most stress-free 'big' meal of the year, so invite as many friends and family as you can fit round the table. Our ideal meal would be leg of lamb cooked very slowly to bring out the flavour, with lemon potatoes and roast parsnips. For greens, spinach and Savoy cabbage are at their seasonal best.
Slow-Cooked Lamb
Serves 6-8
Cooking time: at least 5 hours
2kg lamb shoulder or leg, with bone in
1 onion, diced
2 carrots, chopped
2 sticks of celery, chopped
4 cloves garlic, crushed
4 to 6 sprigs fresh rosemary
400ml dry white wine
Seasoning to taste
Put all the ingredients in a heavy-bottomed casserole pan, and cover with a lid. Cook on top of the stove on a low heat for four hours, turning the lamb every hour and spooning the juices over. Then turn up the heat to medium, and cook for another hour to an hour and a half, with the lid slightly off to thicken the juices. Tip the pan and skim off the fat from the remaining juices. Adjust seasoning to taste. Serve the lamb and juices immediately on a big platter.