| | |
| --- | --- |
| Herb Pikelets and Orange Caviar | |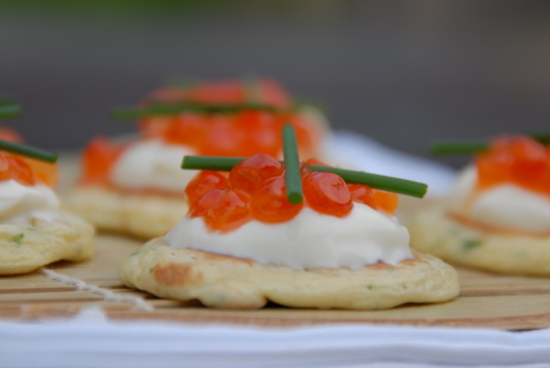 The aim of this starter is to make every mouthful explode on the tongue. If the children don't like the taste or texture of caviar, top their pikelets with hummus and red pesto instead.
125g self-raising flour
2 eggs, beaten
125ml milk
2 tbsp parsley, chopped
2 tbsp dill, chopped
half a tsp paprika
Oil for greasing
125ml sour cream
Small pot salmon caviar
Lemon wedges

Put the flour in a bowl and make a well in the centre. Gradually add the eggs and milk and mix with the flour. Add the parsley and dill, season with salt and paprika. Whisk to a smooth batter.

Heat a non-stick frying pan or griddle. Grease sparingly with oil. Drop heaped teaspoons of batter into the pan and cook on one side until bubbles appear. Turn and brown the other side. When cooked, remove the pikelets and leave to cool.

To serve, top with a teaspoon of sour cream and salmon caviar, and lemon wedges to squeeze over.