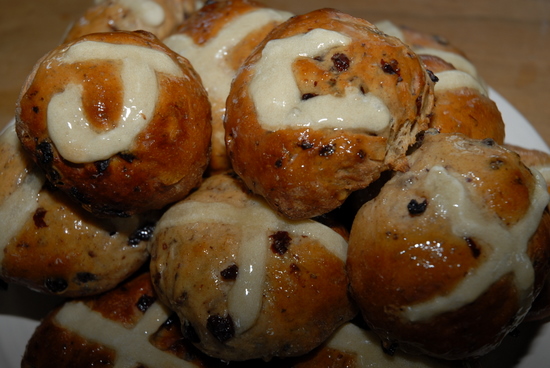 You can make the dough in a bread machine - fast and easy - or by hand with quick-rising yeast. Home-made buns don't look as perfect as the ones in the shops but they taste 1,000 times better!
To make an enriched dough:

1 tsp quick-rising yeast
450g strong white flour (or half white and half strong stoneground)
2 tsp sugar
2 tbsp milk powder (for bread machines only)
1 tsp salt
2 tsp cinnamon
1 tsp mixed spice
50g butter
2 eggs, beaten
200ml warm water
200g currants or mixed dried fruit

For bread machines:
Place the ingredients, starting with the dry ingredients and including the cinnamon and mixed spice (but not dried fruit), into the bread machine bowl. Turn on to Basic Raisin Dough mode and add dried fruit when machine requires you to.

For hand-making:
Place yeast, flour, sugar, salt and spices into bowl. Mix and make a well in the centre. Melt butter, pour into well together with the eggs, warm water and dried fruit. Begin to incorporate the dry and wet ingredients together to form a dough. Turn out on to a well-floured surface and knead until dough bounces back when you press a finger into it (kids love getting involved at this stage). Place dough back in bowl and cover with cling-film. Leave to prove for about 30 mins in a warm place.

Turn out dough on to a floured surface and divide into 16 portions. Shape into balls and space well apart on 2 greased baking trays. Cover with cling-film and leave in a warm room (they will prove in about an hour).

To cook:
Preheat the oven to 220°C, Gas Mark 7. Prepare the paste by mixing approximately 4 tablespoons flour with 4 tablespoons water. Place in a small plastic sandwich bag which will act as a piping bag. Snip one corner off to make a hole about 0.5cm wide. Pipe crosses or initials on the buns. Bake for approximately 15–20 mins.

To make the sugar glaze:
While the buns are baking prepare the sugar glaze by dissolving 100g sugar in 8 tablespoons water. Boil the mixture for a few minutes in a saucepan or for less time in the microwave, to form a light syrup. As soon as the buns come out of the oven brush them with the sugar glaze and serve immediately so that the butter melts as you spread it.