| | |
| --- | --- |
| Lemon Ricotta with Summer Fruits and Blackcurrant Coulis | |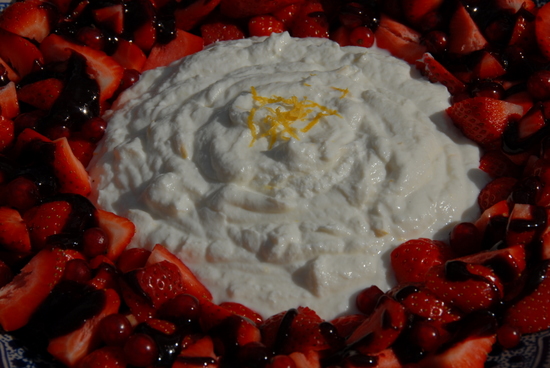 This is a quick and light summer pudding – you can drum it up in ten minutes. The tang of the lemons works beautifully with the quirky flavour of the ricotta, and you can make it as sweet (or not) as your children like.
Serves 6 to 8
750g ricotta
60g to 80g icing sugar
1 lemon, juice and peel
800g mixed summer fruits (quartered strawberries, raspberries and redcurrants work well)
200ml blackcurrant coulis
Place ricotta in bowl with 60g icing sugar, and the juice and grated peel of the lemon (save a little peel to decorate the top). Mix, adding more icing sugar to taste. Spoon into the centre of a large plate. Place the fruit around the edge of the ricotta and spoon some of the coulis over the fruit. Sprinkle the remaining lemon peel over the ricotta. Serve with the rest of the coulis in a jug so people can help themselves.