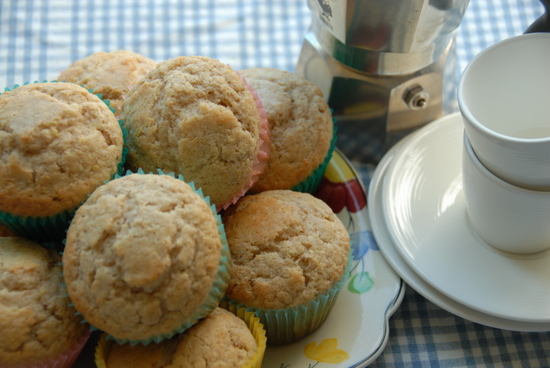 This is a sure-thing muffin recipe you can play around with to make your favourite muffin flavours, for example adding 75g chocolate chips, chopped nuts or dried fruit to the dry ingredients, or sprinkling the uncooked muffin mix with Demerara sugar and cinnamon before cooking to give a spicy crunch.
Makes 10 to 12
280g self-raising flour (I use half wholemeal and half white)
1 tsp baking powder
half a tsp salt
140g caster or granulated sugar
1 egg
240 ml (8 fl oz) milk
90 ml (3 fl oz) vegetable or sunflower oil
Preheat oven to 190 degrees C (175 degrees C in a fan oven), Gas Mark 5. Place paper or
silicone muffin cases
in a tin.
In a mixing bowl place the flour, baking powder, salt and sugar and stir together. Make a well in the centre and place the egg, beating slightly with a fork before adding the milk and the oil. Stir to combine lightly. The batter should be lumpy but with no dry flour showing. Spoon into muffin cases and bake for 20 to 25 mins until light brown in colour.
It's worth trying our
Redcurrant Muffins
too!