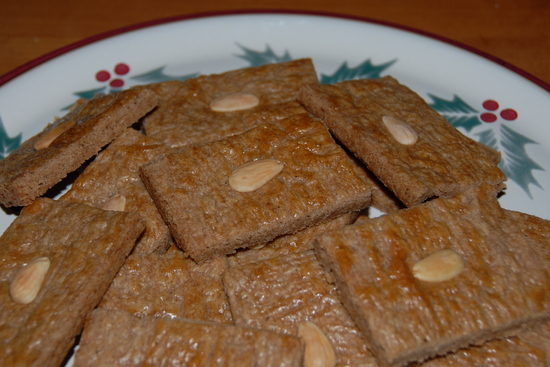 These traditional Dutch biscuits – eaten during the St Nicholas celebrations in December – fill the kitchen with spicy, Christmassy smells.
200g plain flour
100g butter, softened
100g sugar
2 tsp ground cinnamon
½ tsp ground nutmeg
1 tsp ground ginger
¼ tsp ground cloves
1 tbsp milk
1 egg, beaten, to brush on top
Whole blanched almonds to decorate

Line a 20cm x 30cm baking tin with baking parchment, and preheat the oven to 170 degrees C/Gas Mark 3.
Mix flour with butter, sugar, spices and milk. Press into the baking tin with your hands, just as you would shortbread. Brush the top of the dough with the beaten egg. Score dough with a knife to form 16 pieces. Place an almond in the middle of each piece and bake for 15 – 20 mins. Remove from oven and immediately score the biscuits again. Leave to cool in the baking tray. Then cut into pieces and remove.