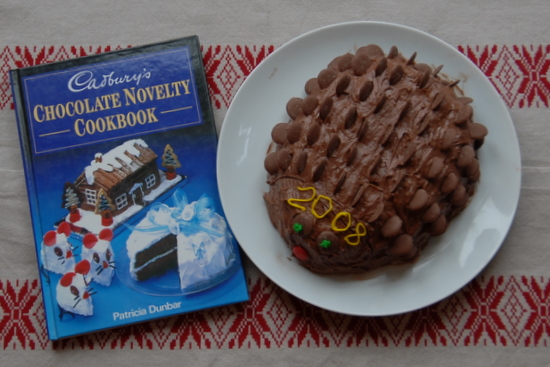 A funky cake that children can decorate themselves with fingerlicking lashings of chocolate butter icing and buttons.
For the cake:
175g butter or margarine
175g caster sugar
3 eggs, medium
150g self-raising flour
1 tsp baking powder
50g cocoa powder
1 tbsp of milk

Heat the oven to 180 degrees C, Gas Mark 4. Grease a 1.2 litre/2pt pudding basin and line on the bottom with a circle of baking parchment.
Cream the fat and sugar together. Gradually add the eggs and then fold in the flour, baking powder and cocoa powder sifted together. Add the milk to soften the mixture and spoon into the basin. Smooth over the top and hollow the centre slightly. Cook in the oven for about 40 to 60 mins – the cooking time varies greatly depending on the type of basin used. If it starts to burn on top, cover with tin foil. The cake is cooked when a knife or skewer inserted in the top comes out clean. Turn out and cool on a rack.

For the chocolate butter icing:
25g cocoa
60ml boiling water
175g butter
250g – 350g icing sugar, sifted

Make a paste by dissolving the cocoa powder in the boiling water. Cream the butter to soften it a bit and add the icing sugar, beating well until the mixture turns light in colour and texture. Stir in the cocoa paste.

To assemble:
2 large packets of chocolate buttons
1 packet of Smarties

Spread the flat base of the turned-out cake with 2 tablespoons of the chocolate butter icing. Cut it in half down the middle and sandwich the two iced ends together to make the dome shape of the hedgehog. Lift the cake on to a serving board and cover it completely with icing. Put a little more chocolate icing on one end and mark with a fork to make a pointed snout and face.
Cut each of the chocolate buttons in half and stick them into the icing at an angle, in lines, over three-quarters of the cake leaving the forked area clear. Make sure that all the buttons point in the same direction. Place some Smarties for the nose and eyes – and enjoy.