| | |
| --- | --- |
| Two-Cheese Scones With Tomato Salsa | |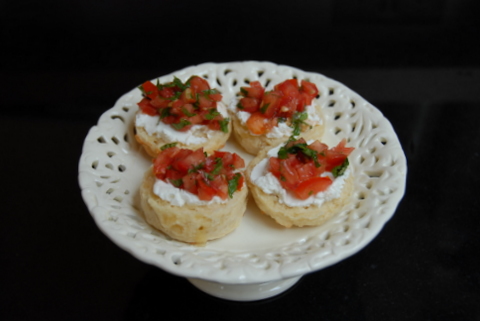 This makes a good savoury start to a proper afternoon tea. If the children don't like goats' cheese, any other soft cheese will do.
Makes 10 - 12 scones
225g self-raising flour
½ tsp salt
1 tsp baking powder
50g butter
100g mature Cheddar cheese, grated
1 tsp dry mustard powder
150ml milk

For the Salsa
4 large tomatoes
2 tsp of olive oil
2 tsp white balsamic vinegar
1 tbsp chopped parsley
Salt and pepper to taste
200g soft creamy goats' cheese (or other cheese your children will like)

Preheat the oven to 230 degrees C/Gas Mark 8. Grease a baking tray.
Place the flour, salt and baking powder in a bowl and rub in the butter until the mixture resembles breadcrumbs. Stir in the grated cheese and mustard. Make a well in the middle of the dry ingredients and stir in the milk to make a soft dough. Turn the dough on to a floured surface and gently knead until smooth. Roll it out to 2cm thick and, using a 5cm cutter, cut out rounds. Place on the baking tray and bake for 8 - 10 mins until well-risen and golden. Leave to cool.
Meanwhile make the salsa: chop the tomatoes finely and add oil, vinegar, parsley, salt and pepper and combine.
Slice the scones in half. Spread over a generous helping of soft cheese and top with a tsp of tomato salsa.