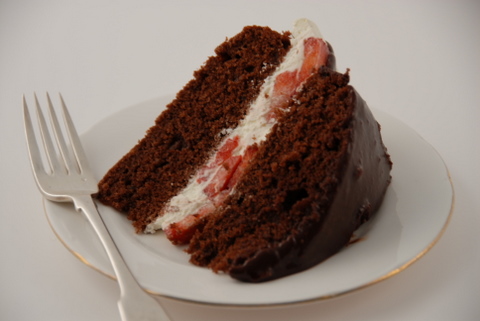 This dark and delicious chocolate cake is the kids' absolute favourite – the one they always ask for as their birthday treat. The gooey chocolate topping and the fresh fruit in the creamy filling make it totally scrumptious!

200g caster sugar
200g butter or margarine
3 eggs
200g self-raising flour
1 tsp baking powder
3 tbsp cocoa powder
4 tbsp milk

To make the filling:
200ml double cream
200g raspberries or strawberries

To make the topping:
75g butter
75g dark 70% chocolate
75g icing sugar
2 tbsp milk

Preheat the oven to 180 degrees C/Gas Mark 4. Line two 20cm round cake tins.
Put the sugar and butter or margarine in a large mixing bowl and beat until light and fluffy. Break in the eggs one at a time and stir well. Add the flour, baking powder and cocoa powder and stir together. Mix in the milk. Divide the mixture between the tins and bake for 25 – 30 mins. Cool for a few minutes and then turn out.
To make the filling: whip the cream to soft-peak stage and spread on one half of the cake. Scatter on the fruit, slicing the strawberries, if used. Place the second cake half on top and gently press down.
To make the topping: melt the butter, chocolate, sifted icing sugar and milk together. This can be done in the microwave on medium heat or in a bowl over a pan of simmering water. Mix thoroughly until smooth and shiny. Cool slightly before pouring over the cake. I like it to dribble down the sides wherever it pleases.