| | |
| --- | --- |
| Almond and Coffee Espresso Cake | |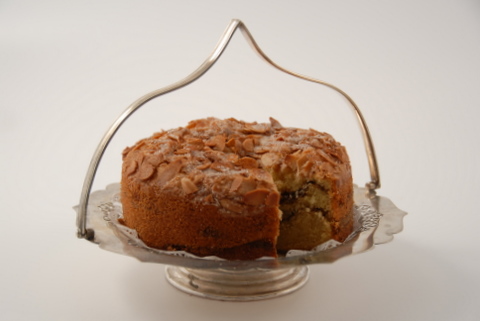 I love coffee cake and this is one of my favourites - a little bit different from the norm. It's adapted from 'Cake' by Joanna Farrow.
2 tbsp espresso coffee powder
50g dark muscovado sugar
50g ground almonds
150g golden caster sugar
175g butter or margarine
3 eggs
200g self-raising flour
1 tsp baking powder

For the topping:
50g flaked almonds
½ tsp ground cinnamon
1 tbsp caster sugar

Preheat the oven to 180 degrees C, Gas Mark 4. Line a 20cm loose base or spring-form cake tin.
In a small bowl, mix together the coffee powder, muscovado sugar and ground almonds. Set to one side. Put the sugar and butter or margarine in a mixing bowl and beat together until fluffy. Add the eggs one at a time, beating well after each addition, then mix in the flour and baking powder.
Spoon one-third of the cake mixture into the baking tin and scatter with half the coffee mixture. Gently spread with half the remaining cake mixture and scatter with the remaining coffee mixture. Finally, spread with the remaining cake mixture.
For the topping: toss the flaked almonds and cinnamon with the caster sugar and scatter over the surface of the cake.
Bake in the oven for 35 to 40 mins until just firm to the touch. Leave to cool in the tin before transferring to a wire rack to cool completely. Delicious at any afternoon tea.