| | |
| --- | --- |
| Godmother's Special Choc Chip Cookies - The Best! | |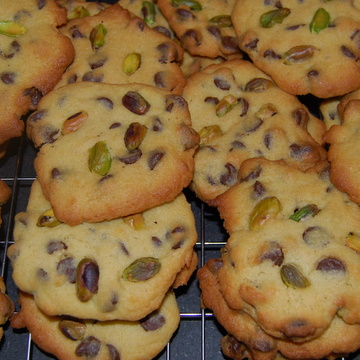 Helen: Carla was very keen to make chocolate chip cookies during the school holidays and I was even keener. The cookies travel very well and we have tested out their flavour at several locations. Firstly, in the bowl in raw state rather a lot of the cookie dough was eaten by Carla, with assistance from Maudie and Edie. It must have tasted good, because around 10% of the mixture disappeared. Secondly, once cooked, Joe tested the first cookie while still hot from the oven. This test showed that flavour is obscured by heat and does become stronger once the cookies have cooled and the choc drops are no longer in danger of burning your tongue. Thirdly, the cookies were taken to the beach to experience the seaside; a
fter a bracing walk in the wind, they tasted fantastic in the semi-arctic conditions.
Fourthly, a batch of cookies (no salt version) was mailed to my father in a tupperware box layered in greaseproof paper and topped with bubble-wrap and not one cookie was broken by the postie. My father gave evidence over the telephone that even when he finished them on the fourth day, they still maintained flavour and texture, and so now we know that this recipe for cookies does not go stale when posted a distance of 90 miles and consumed in a leisurely manner over a period of days rather than hours. This range of taste tests has been fairly comprehensive, and shows that next time Carla and I can be more adventurous and post cookies to a range of destinations!



Choc Chip Cookies

The ingredients are given in US cup quantities – this recipe is easiest to make if you buy a cup measuring set, usually about £3 at a UK supermarket. Makes about 40 cookies.


2¼ cups plain flour
1 tspbaking powder
1 tsp salt, can reduce or avoid if necessary for heart healthiness
1 cup butter, softened to mushy consistency
¾ cup granulated sugar (can use brown)
¾ cup soft brown sugar, squashed down
1 tsp vanilla extract, posh stuff tastes best
2 large eggs, whisked
2-3 cups dark chocolate chip cookies (or mix with milk drops)
1 cup chopped nuts (optional: pecans, walnuts or pistachios are best)

Pre-heat oven to 180ºC/350ºF.
Mix together the flour, baking powder and salt in a small bowl.
Churn together the softened butter and both sets of sugar in a very large bowl. Needs some elbow work to make smooth or you can use an electric mixer if you have to conserve your energy and are keen on a very light cookie texture. Add the vanilla extract and beat in. Lastly, whisk the eggs and slowly add in to the mixture which will make it very gooey.
Gradually add the flour mixture to the butter mixture and stir in. Only once your mixture looks like cookie dough and is a butterscotch colour, is it time to add the special ingredient of chocolate drops (minimum recommended 2 cups, maximum 3 cups; and dark chocolate drops have stronger choc flavour post baking than milk chocolate drops, so this has to be carefully thought through before selection of drops).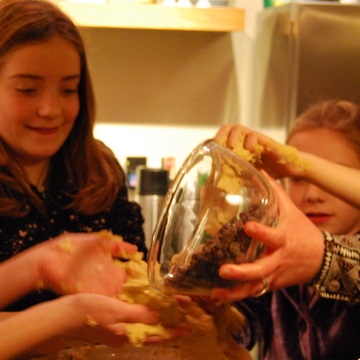 You will see that with three sets of helping hands it may be very hard to get the required quota of choc chips if your helpers consume too many choc chips before they reach the cookie mixing bowl!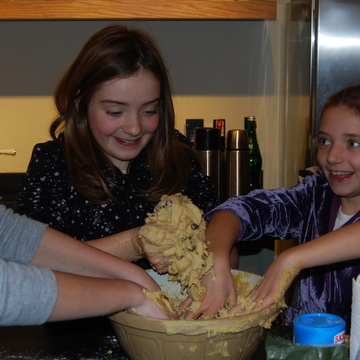 Using a soup spoon, scoop out one spoonful of dough per cookie which will make them to fit an American mouth size which equates to three bites for a typical British adult. If you are baking them for toddlers, use a teaspoon of dough per cookie so they are for small mouths. And if you wish to add nuts, this is the time to push several into the top of each cookie.
Bake for 8 to 11 minutes, then remove from hot oven tray immediately and put on a wire rack to cool. If you like your cookies to be American style and sticky inside, then take out of the oven at 8 minutes because by 9 minutes they will be firm and by 11 minutes they will be toasty. So check with your consumers which texture they like best. All taste extraordinarily good!
In this picture, we added some pistachios to the cookies just before they were popped in the oven. This batch of cookies did taste different because they were a no-salt version so we could share half of them with my father who is not allowed salt since his heart operation. (It did not make a big difference to the taste of the cookies.) Also, these cookies have been baked for 10 minutes to be of firm texture to withstand packing in tupperware to travel as going-home presents and for posting to my father in Oxfordshire. The cost of posting a box of cookies packed in tupperware and padded envelope in Britain was £2.50 first class: posting at 4pm in central Cambridge they were then delivered the very next morning to rural Oxfordshire and remained in pristine condition with hardly a crumb dislodged. So this proves that chocolate chip cookies make an excellent choice for a posted present!