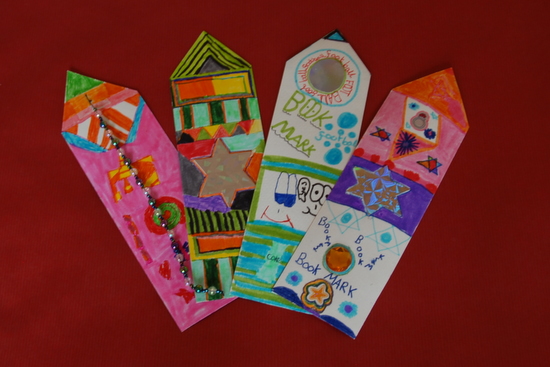 You can never have too many bookmarks, and they make the easiest, most personal Christmas gifts. We use thick artist's card to make them look posh but as a young child, Tamsin used to make the Simplest Bookmark Ever from ordinary white envelopes…
You'll need:
Heavyweight cream card (we used 130gsm artist's watermarked card which has a rough, slightly raised surface – from art shops)
Silver, gold and coloured card, to cut out shapes
Glue
Brightly coloured felt tip pens
Cut out a piece of cream card about 220 by 65mm. Trim one end to a point about 40mm from the end. Cut out some wacky shapes from the coloured card and stick on the bookmark. Then draw patterns, shapes and words in bright colours to make the bookmark as beautiful as you can.
The Simplest Bookmark Ever
You'll need:
Envelopes
Coloured crayons or felt pen
Cut the corners off the bottom ends of the envelopes so that you have two triangle pouches from each one. Ask the children to draw a mini picture on each one. Use thin pens and encourage them to put in as much detail as they can. The bookmark is slipped over the corner of the book – a very good idea if the present is being sent overseas.
For other great Christmas gift ideas, see Amber's Chocolate Chip Cookies, Shrinkie Key Rings and Herb Jelly.