28th Aug 2009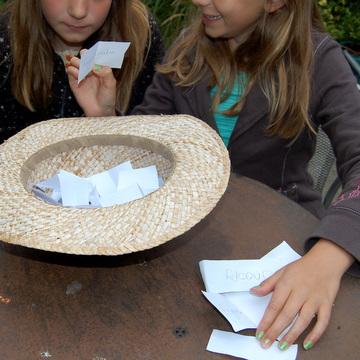 Maudie: On Saturday some friends came round for lunch and a game-playing session, and one of the games they taught us was The Hat Game, which was so simple and so much fun. You play it like this: everyone writes five famous people's names on separate pieces of paper. They could be real people, cartoon or fictional characters, people from a long time ago… Then, fold the pieces of paper so you can't see the names, and drop them into a hat. Once everyone has done that, you're ready to go.
You play in two teams, with only one team playing at a time. Pick one person from your team to go first (there are three rounds, so three people in each team get a go, and each round is timed – we used a sand timer). In the first round, the player picks a name from the hat, and has to describe the person – you can say anything about them apart from their name – until the rest of the team guess who it is. For example: 'Shrek' – 'a green ogre, who lives in the swamp and has a wife called Fiona'. Once they've guessed, the player takes another name from the hat, and so on… When the time's up, you count how many names the team recognised, then put all the papers back in the hat, and the other team has a go.
The second round is exactly the same except this time you have to mime the person – eg if you get Leonardo DiCaprio, you could mime him on the Titanic. By now, you'll all have quite a good idea of many of the names in the hat, so it gets easier to guess. In the third round, you have to describe the person in one word, so for instance if you picked out 'Queen Elizabeth', you could use a word like 'royal' to describe her.
It all sounds simple and it IS, but there are a few rules: When you're describing in the third round, you can ONLY say one word, so if you got 'Simon Cowell', you couldn't say 'X Factor' because that's two words. If you get the same person more than once (we had quite a few Michael Jacksons) then you just describe or mime them again. So it's easy! You are timed, we did two minutes each, but you can do more or less, and you carry on doing people until the time runs out. It's a really fun game and I advise you to try it!
---
21st Aug 2009
| | |
| --- | --- |
| How Many Different Love Hearts Have You Had? | |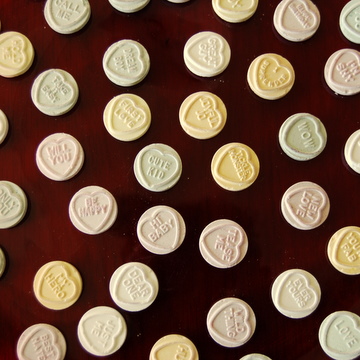 Tamsin: Love Hearts come in six different colours and flavours, they can be sucked or chewed and are the choice of sweet for many a pre-pubescent girl. I remember the seriousness that surrounded the sharing of a packet at school, who should get what and making sure that if offered to a boy the message did not place you in an embarrassing position.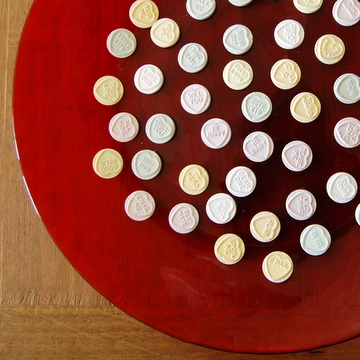 I had assumed that there were, at the most, about a dozen different messages that were stamped on the front of the hearts but while browsing the
Wikipedia
entry I was surprised to see that there were over 120 possible Love Heart messages. To see if this was true (and why shouldn't it be?) I rushed up to our corner shop and purchased three packs. Carla's eyes lit up at the sight of them and she was rather disappointed when I forbade her from eating any of them except those with a repeated message.
How could I have doubted? I only got nine repeated messages out of 60 Love Hearts. Still, I am unsure as to how many of these were around when I was young – especially the ones that read 'E-mail Me'. How young love has moved on.
---
14th Aug 2009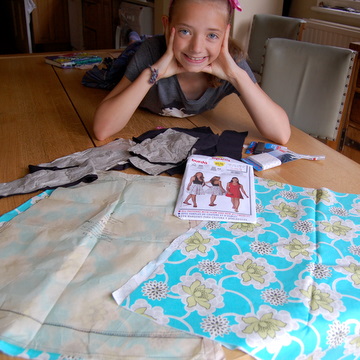 Edie: At the beginning of the summer holidays, I decided to make a dress for myself. We went to the shops to buy everything I needed. The dress is made of two materials –the halterneck top is black jersey, and the wide, swingy skirt is a turquoise cotton with flowers. I've cut everything out, and am going to start sewing it with my grandma this week.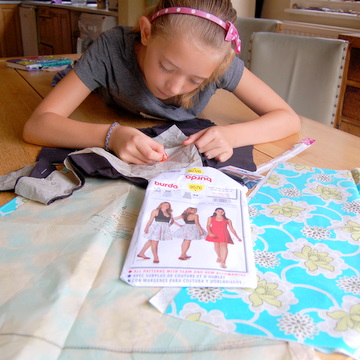 I'm really looking forward to making it and wearing it, and with the material that is left over, hopefully I will be able to make a hair band, hair ribbons and a bag to match as well.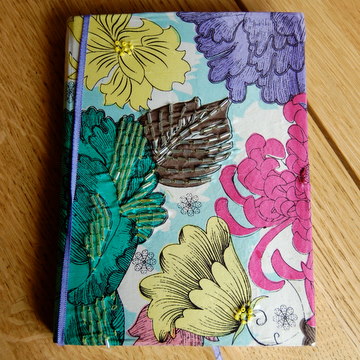 Maudie: This summer we weren't going anywhere for very long, and mum suggested Edie and I should do a summer project. She ran off a list of suggestions, and I liked the sound of a recipe book best. Mum took me to town to choose a new writing book to put the recipes in. We found this one in Paperchase – I saw several nice ones, but this was my favorite. Shortly after, I added in recipes. Recipes that we'd had recently, recipes from ages ago, and I'm still adding in recipes now. I decorate each recipe with a border, and occasionally stick pictures in of the food. I've put in a few starters, but they're mostly mains and desserts.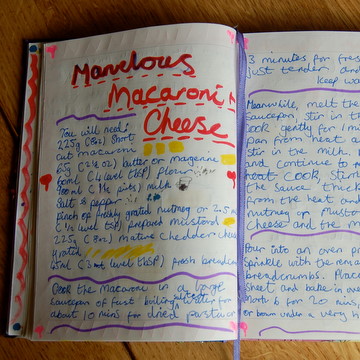 It's been lots of fun to write the recipes, and I hope to add more as the years come.
---
3rd Aug 2009
| | |
| --- | --- |
| What Not to Wear When ... | |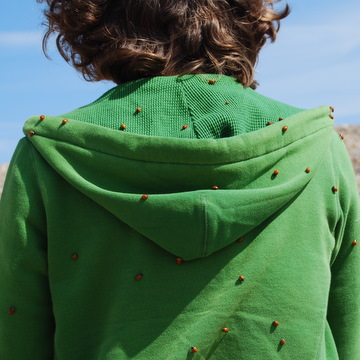 Tamsin: What not to wear when going to the seaside during a plague of ladybirds - a green sweatshirt top. They must have thought that they had found the largest leaf ever, a great place to rest after their flight across the sea from the continent.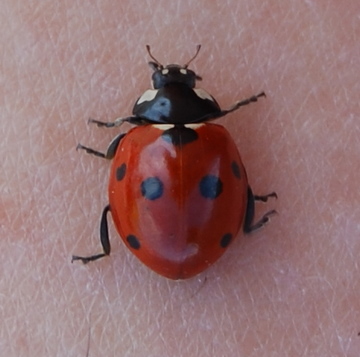 Apparently, they have invaded our country in order to feed on the massive number of aphids that are on our plants this year. A quick 'spot' count showed that most of them were 7 spots, which is apparently one of our commonest ladybird. There were variations among them though. Some were dark red ....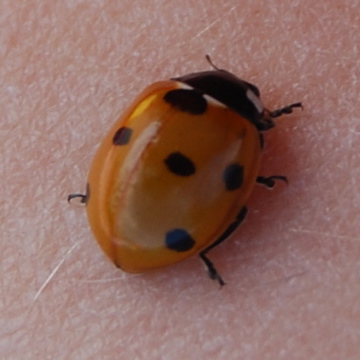 ... and some were more a deep orange colour.
My sister informed us that the ladybird larvae look very different - like mini crocodiles. I have yet to see one but hopefully with so many adults flying around in a few weeks time the garden will be crawling with them.
PS Our family has always called ladybirds 'bushybarnabees'. But perhaps that should have been 'bishybarnabees', as the name was derived from the similarity of a bishop's red coat to the bug's crimson wings.
---