22nd Jun 2009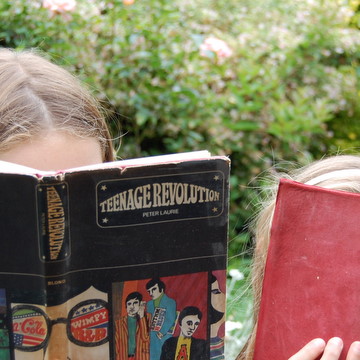 Jane: We've been buying a lot of old books recently, attracted by their funky covers and wacky titles, and by offbeat editions of old classics (new ones can look very dull by comparison). The books are beautiful but sometimes smell a bit musty and I was worried it would put the children off reading them. So I did a bit of research into de-pongifying them and found that bicarbonate of soda does the trick.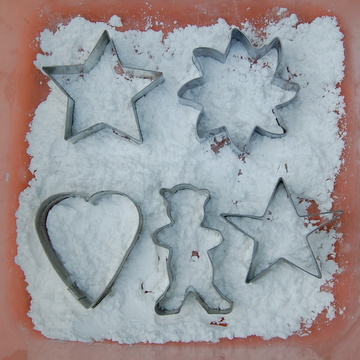 It's easy-peasy. All you need an airtight container large enough for your book to have at least five centimetres space all around it, a raised tray (or see below) and some bicarb. Liberally sprinkle the bicarb into the bottom of the container (I used one of my plastic cake boxes) to a depth of one centimetre. Then you need a cooling rack or something raised and perforated to place the book on, so it doesn't touch the bicarb and air can circulate around. Don't buy something special – I used cookie cutters, and they worked fine.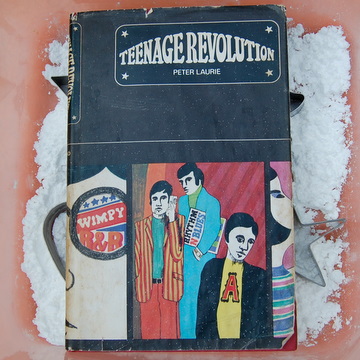 Rest the book on the rack or cutters, close the lid tightly, making sure it is airtight, and leave. The bicarb will absorb most of the nasty smells within a few days, but particularly pongy books might need longer. (You can reuse the bicarb – just put another stinky book in the box.)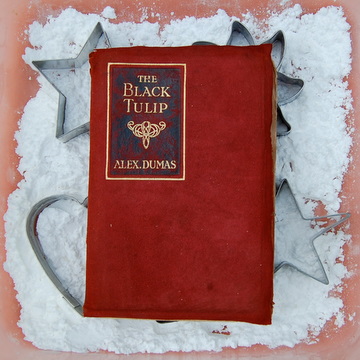 Funny though – when I handed the children the cleaned-up books and explained what I'd done, they said, 'But mum, we really liked that musty old smell…'
---
12th Nov 2008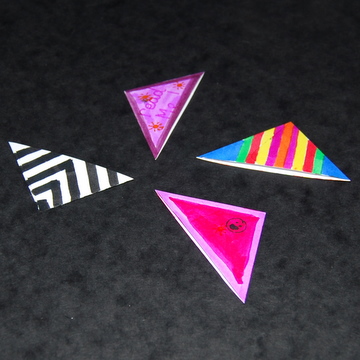 Tamsin: Christmas is going to be austere and early this year. Not because of the credit crunch but because we are putting on a special exhibition at the museum I work in about 'Christmas on the Home Front'.  We are making Christmas puddings using potatoes and carrots, marzipan from soya flour, party hats from newspaper, rag rugging a union jack, and presents from scraps. One of the present ideas were these bookmarks.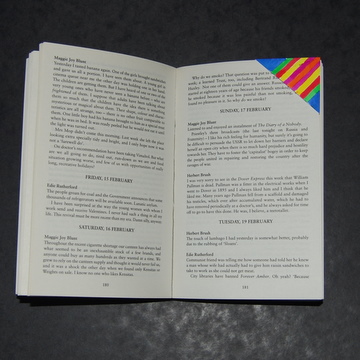 They are made from the corners of envelopes that have been cut off and coloured in.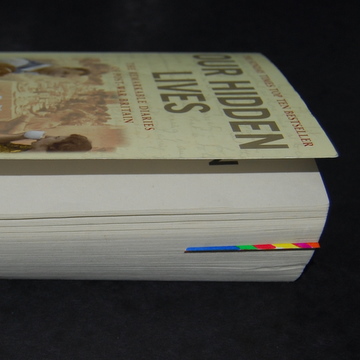 Once made, they fit snugly over the corner of the page, marking your place and progress through your reading book.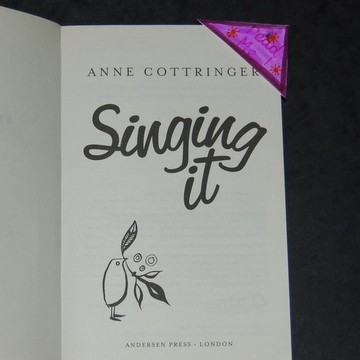 They are easy to send, being as light as, well, the corner of an envelope.  If you really want to be economical, draw them on the envelope you are sending the card in with instructions on how to cut them out and use inside.
---
31st Aug 2008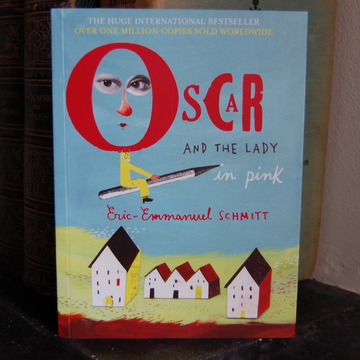 Maudie: I've just read 'Oscar and The Lady in Pink' by Eric-Emmanuel Schmitt. Oscar is a ten-year-old boy who is living in a hospital because he has leukaemia and the doctors can't cure him. He makes friends with an old lady in pink he calls Granny Rose, who comes to the hospital to play with the sick children. She used to be a lady wrestler, and he likes listening to her stories about all the strange opponents she used to fight. Granny Rose encourages him to get to know the other children like Peggy Blue in the hospital     
and also suggests he write a letter to God every night, because it would make him feel better and less lonely. Every day was like a decade for him, so each night he could write about what he'd done during each day/decade. He runs away to Granny Rose's house for Christmas and she helps him make it up with his parents who'd been terribly awkward with him because he was going to die.
I really liked the book because Oscar was so funny and brave and made the most of his life before it ended. But it was also very sad – my mum cried by page 10. I would recommend this book to children over eight.
---
2nd Mar 2008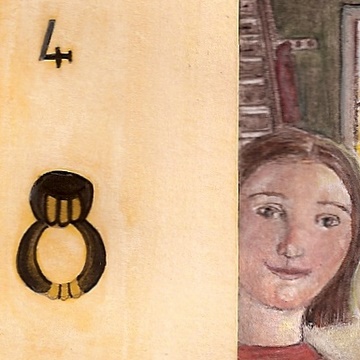 We are very excited because this week sees the launch of our online family story 'Four Corner House'. You can read the first instalment this Wednesday, and over the next couple of months the story will unfold as we load a chapter every week. In the blog below the author, Andrew Hewitt, describes how he came to write the story during time spent with his two children.
Andrew: When my children were small I had the pleasure of walking them to school most days. I can't remember exactly how it began, but it soon became a feature of these walks that I would tell them a story – anything at all, from extended jokes involving a man and a runaway pie to episodes from the King Arthur legend or Don Quixote tilting at windmills. Gradually, inevitably, we began to invent characters and situations of our own. I say 'we' because, although I supplied the basics of plot, setting, character and so on, the children's questions, ideas, objections and elaborations were what brought the stories to life. The 15-minute journey from front door to school gate readily lent itself to the cliff-hanger format which powers the Arabian Nights, and we were soon embarked on a kind of Thousand-and-One Mornings, over the course of which a whole cycle of stories developed about two children whose magical home, Four Corner House, was the starting-point for all kinds of adventures.
With the encouragement of Heart & Home, I'm now writing about Four Corner House for a wider audience: maybe others will enjoy reading the stories (and, I hope, telling and extending them). I'm delighted that at least one person has been inspired to join the adventure with ideas of her own: the illustrator Quitterie de Castelbajac is creating images to accompany the story. The experiment consists of a new chapter each week for the next 10 or 12 weeks. I've made a head start, but at this point I'm not exactly sure how the story will end, which is part of the fun. If you'd like to read it, click here
---
11th Feb 2008
| | |
| --- | --- |
| More of the Longest Booklist Ever | |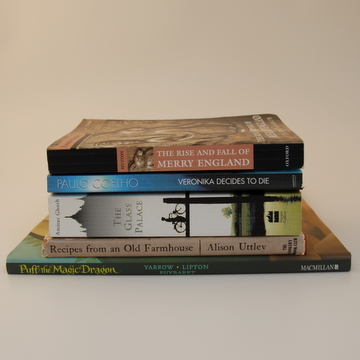 Tamsin: The last 5 books read by me:

The Glass Palace, by Amitav Ghosh.
Veronika Decides to Die, by Paulo Coelho.
The Rise and Fall of Merry England, by Ronald Hutton.
Recipes from an Old Farmhouse, by Alison Uttley.
Puff the Magic Dragon by Peter Yarrow and Lenny Lipton with illustrations by Eric Puybaret.

The Glass Palace was a book I read a couple of years ago and decided to revisit since it is all about Burma. Beautifully written, it follows one family through the country's upheavals as the British march in and the inevitable consequences to its history. The Rise and Fall of Merry England shows my love of history and reinforced my belief that, as a nation, we have forgotten how to be 'merry'. Puff the Magic Dragon was a fantastically illustrated children's book that I read with my niece and evoked strong memories of the song which was part of so many people's childhoods. Luckily, there is a beautifully recorded CD with it so we could sing as we read.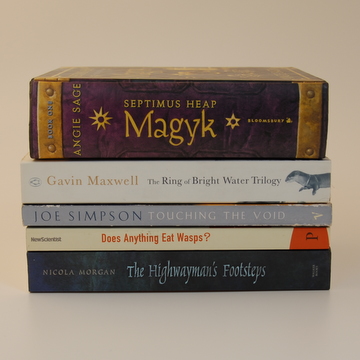 Joe (age 13): The last 5 books I read:
Septimus Heap, book 1, Magyk by Angie Sage
The Ring of Bright Water Trilogy by Gavin Maxwell
Touching the Void by Joe Simpson
Does Anything Eat Wasps? – New Scientist
The Highwayman's Footsteps by Nicola Morgan
Magyk: I read this by accident thinking it to be something else but was pleasantly surprised. It has a well thought-out and interesting plot. 
The Ring of Bright Water: Brilliant book and a true story! One of the best books I've read.  
Touching the Void: Amazing true story about a pair of climbers whose climb turns into a horrifying nightmare. It is written by the survivors and gives a realistic and emotional insight into their story.  
Does Anything Eat Wasps?: Yes it does! This little book is compiled from a Wikipedia-like website where people posted (sometimes completely random) questions and the writers have picked the best and funniest answers. 
The Highwayman's Footsteps: Interesting, well-written book based around the poem, 'The Highwayman's Footsteps'.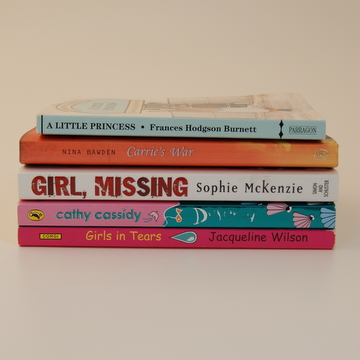 Carla (age 10): The last 5 books I read:
Carrie's War by Nina Bawden
A Little Princess by Frances Hodgson Burnett
Driftwood by Cathy Cassidy
Girls in Tears by Jacqueline Wilson
Girl, Missing by Sophie McKenzie
My favourite book on the list is Girls in Tears. The book has a good story line and I like all the characters. I have always like Jacqueline Wilson books. She has always written books for all ages and ever since I was 6 or 7, I liked the books. However, the one good thing about it is that the story is part of a series and I think this is one of the last. Ellie, the girl the book is about, is a funny and kind girl. The book tells you about her good times and bad times and makes you feel like you're inside her head, listening to her thoughts - it is a gem of a book. I think that everyone I know who has read the book has loved it. It is good for 10+.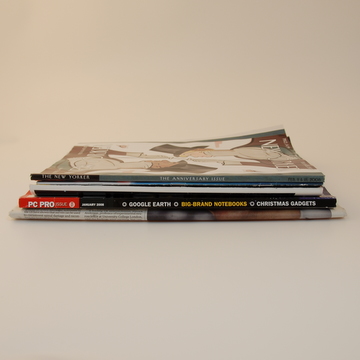 Mike: The last 5 books I read:
The Newspaper
The New Yorker
The Economist
Scientific American
PC PRO
With an appallingly short attention span, magazines seem so much better than books.  I need The Newspaper in the morning in order to come to terms with life. The Economist keeps me in touch with the world and its technology reporting is always spot on which gives me confidence on the issues I'm not well versed in. The New Yorker feeds my literary needs. The rest just mean I'm probably a propeller head.
---
7th Feb 2008
| | |
| --- | --- |
| The Longest Book List Ever | |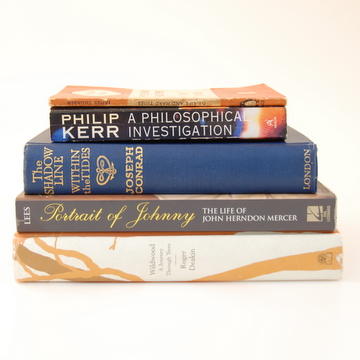 Mal: When we moved to Cambridge in 2002, I found I had time to read books in a way I hadn't for years. With a 50-minute train journey to London morning and evening, I found that I could – and have – read all those interesting paperbacks I bought at jumble sales in the 1980s and 90s. In fact, I got through so many at first that I began losing track of what I'd read. So I started writing down the author and title of every book I finished (and on two notable occasions, gave up on). It's a kind of geeky thing to do, something that I didn't think was of interest to anyone except me.
And then I found
Art Garfunkel's list
. He's worse than me. He's posted the title of every book he's read since June 1968. And it makes a fascinating read. So I thought we'd do something similar here, with each member of the family writing down the last five books they've read and choosing their favourite.
And if anyone wants to join in, we'd like to hear your book choices too…
The last books I read were:
1
Wildwood: A Journey Through Trees
, by Roger Deakin (joint favourite)
2
My Life and Hard Times
, by James Thurber
3
A Philosophical Investigation
, by Philip Kerr
4
The Shadow Line & Within The Tides
, by Joseph Conrad (joint favourite)
5
Portrait of Johnny: the Life of John Herndon Mercer
, by Gene Lees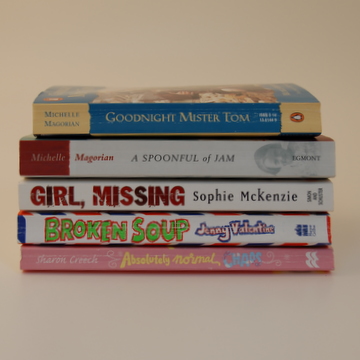 Maudie: The last books I read were:

1 Girl, Missing by Sophie Mckenzie
2 Goodnight Mister Tom, by Michelle Magorian
3 Broken Soup, by Jenny Valentine
4 A Spoonful of Jam, by Michelle Magorian
5 Absolutely Normal Chaos, by Sharon Creech

My favourite has to be Girl, Missing by Sophie Mckenzie. It was so exciting, I really felt like the girl Lauren. There were some sad, scary and weird bits. The thing I liked most was the storyline, about her going off to look for her real parents and then finding them! Lauren and her friend Jam get up to all sorts of adventures, and a kidnapper tries to sink them in a ship. It was a brilliant book - I'd recommend it to anyone aged 10+.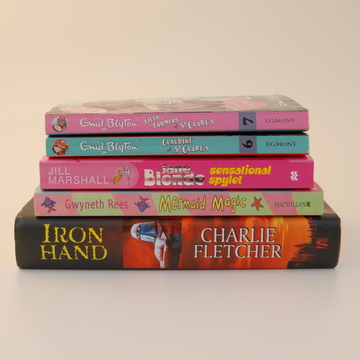 Edie: My last five books were:

1 Jane Blonde, Sensational Spylet, by Jill Marshall
2 Mermaid Magic, by Gwyneth Rees
3 Claudine at St Clare's, by Enid Blyton
4 Fifth Formers of St Clare's, by Enid Blyton
5 Iron Hand, by Charlie Fletcher

I really liked Jane Blonde because it was adventurous. At the start of the story Janey is a very boring girl but then she finds her godmother and turns into a spy. She goes on loads of missions and gets trapped in an ice lolly and has to escape. It's so cold she uses her hair which is frozen in a ponytail to pop a dinghy which takes her up to the sky.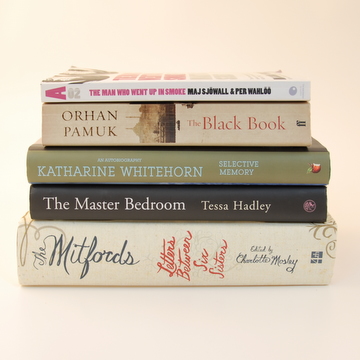 Jane: My last five books were:

1 The Mitfords: Letters Between Six Sisters, edited by Charlotte Mosley
2 The Master Bedroom, by Tessa Hadley
3 Selective Memory: an autobiography, by Katharine Whitehorn
4 The Man Who Went Up In Smoke, by Maj Sjowall & Per Wahloo
5 The Black Book, by Orhan Pamuk

Posh hardbacks don't usually feature quite so heavily in my reading but this list comprised my Christmas books, which I really enjoyed reading in January. My favourite was the Tessa Hadley because of its miniaturist's detail and so-sharp dialogue – a delicious page-turner.
---
26th Jan 2008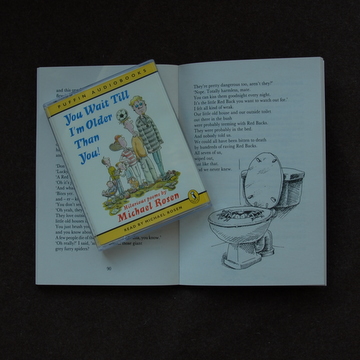 Tamsin: With Burns Night past and thoughts of poetry in the air, I recalled a favourite family tape we used to listen to over and over again. Most of our family listening takes place in the car – where there's no escape! – so it's a treat for us parents especially to find an audiotape or CD we can all enjoy. Michael Rosen's poems 'You Wait Till I'm Older Than You!' does it for us. He takes a humorous, poignant and thoughtful look at family life, both as father and son, and his poems make you laugh out loud and recall all those cringe-making emotions you hid deep-down in childhood.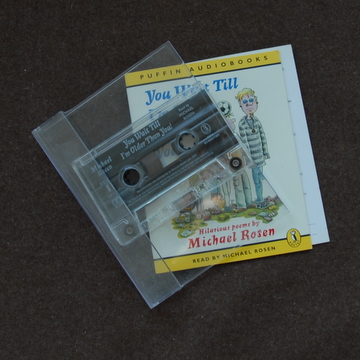 I began to hunt around the house for our tape and found it with the case broken and only one tape in it – very well used.
It is difficult to choose favourites but a couple that made me laugh out loud were 'Trousers Down' and 'Australia', both too long to give here. But this one 'Great Day' resonates strongly with my teenage son Joe at his present stage in life. 
Can't find the bathroom
Can't find my socks
Can't find the corn-flakes
Can't find the lunch-box
Can't find the book-folder
Can't find the school
Can't find the class-room
Can't find the pen
Can't find the paper
Can't find the lunch-box
Can't find the pen
Can't find the paper
Can't find the way home
Can't find the front door
Can't find my plate
Can't find the television
Ah - find bed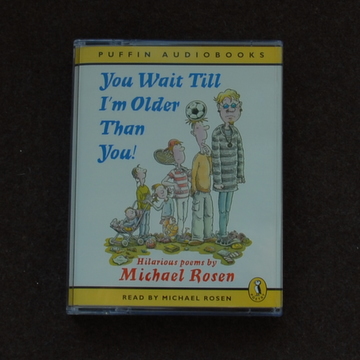 After my discovery that we no longer owned a whole audiobook I immediately went online to try and get another copy but discovered it's no longer published in tape form, though the book
(click here to find it)
is still in print. Very disappointing - for me, half the enjoyment is listening to Michael Rosen's reading of his verse.
In the end, I was lucky to find one secondhand and just to make sure I never lost this set of poems, I went over the top and bought the book as well. All I can say is get one while you can!
---
19th Jan 2008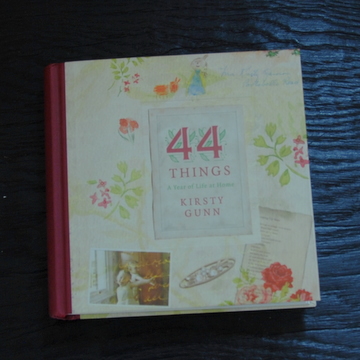 Jane: We're thinking of putting out a Heart & Home book next year and when Mal told a publisher friend of his called Valerie, she immediately sent him '44 Things' by Kirsty Gunn, a collection of thoughts, anecdotes and poems celebrating the happy chaos of her family life with two young daughters. Val suggested one poem in particular called 'Sweeping Up Stars' would make a great introduction to our Heart & Home book. Robert Frost always said a poem starts with a lump in the throat, and Kirsty's poem (reprinted below) did it for me…
Sweeping Up Stars
Not perhaps so strange, or so bizarre
that I should find myself
again down on my knees
and sweeping up
with dustpan and with brush
the crazed remains
of yet another
afternoon
of glitter and of glue
and paint, the craft
of your inventions, girls,
the 'let's-make-cards!' beginnings
or the 'why-not-paint-today?' exertions
of a certain kind of grey-lit hour,
the time when we've a while yet
till it's tea,
and lunch, the park's long gone…
It's only
you two here
and me – and makes me think,
you know, consider, just how many
afternoons of this
will I have left
in one small life,
amidst the tax returns and supermarket shops
and work not done and stuff that I'm aware I should
be doing now while on my knees in some strange
corner of the room…That I'll not have
much more
of this, the chance
to gather in
the bits of glitter, sweep up brightness
from the floor, to tip into the bin
bright constellations… How much time
to sweep up stars?
Kirsty Gunn, taken from
'44 Things'
(Atlantic Books)
---
1st Nov 2007
| | |
| --- | --- |
| Queueing for Terry Pratchett | |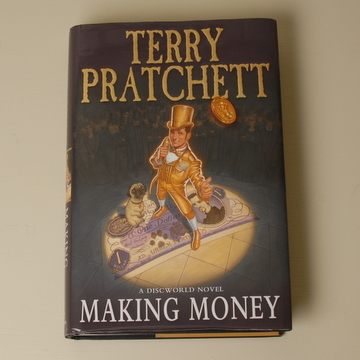 Joe: A few days ago some friends and I went to see one of my favourite authors, Terry Pratchett, at a bookshop. We got there at 12 noon and though it was still an hour before he was due to arrive we were greeted by a huge queue of about 70 people and the helpful grin of an assistant to show us to the end of the queue.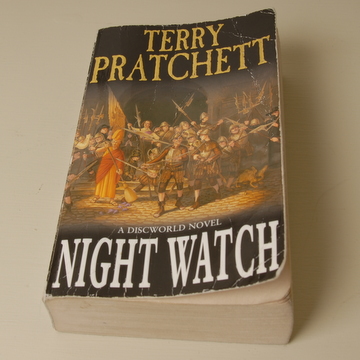 The upside of queuing in a bookshop is that while we waited we could read all the books on the shelves around us: unfortunately, we had been placed in the travel section and were surrounded by booklets giving information about hotels in Scandinavia and things like that. Eventually Terry Pratchett arrived and we started to move slowly along towards him. As we drew closer, to our delight we saw one of the assistants slowly making his way down the queue with a box of chocolates offering one to everybody.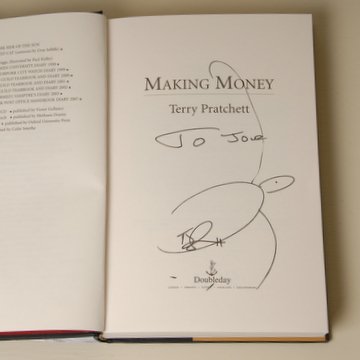 Finally we reached him and eagerly got our books signed (he drew the Great A'tuin in mine) and left feeling that it was well worth the wait. Though I pity the people who believed the poster and arrived at 1pm, as by the time we left people were still queuing round the shop and even to the second floor!
---
8th Aug 2007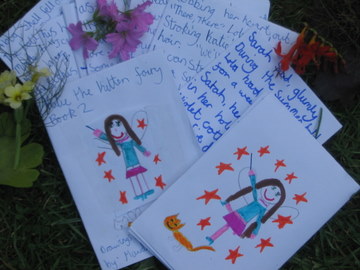 We recently went to Wales to visit my grandparents, and our cousins aged five, two and one were also there. We brought them a big bag full of toys/games/books that we had grown out of and one of the things Gaia (five) got was a Daisy Meadows' fairy sticker book. She wanted me to help her match the stickers, and I read the sub categories to her which basically explained what the fairies' names are, if it was a pet fairy, what their pet's names are, and so on. She and her sister Ronni (two) liked playing fairies so much my Aunty Jo suggested I should write a story about them.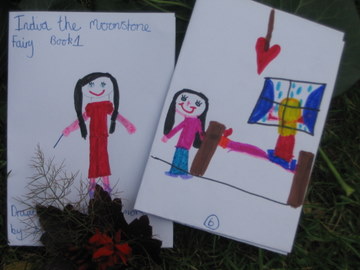 Immediately, there were cries of: 'Oooh yes please!' and 'Can you write one now?!' so I agreed. I asked them which fairy they liked best, and which they'd like me to write about. Gaia's was 'Katie the kitten fairy' and Ronni's was 'India the moonstone fairy'. It took me three days to write 'Katie the kitten fairy'. I haven't yet started to write about India (though Edie's done the cover), but I'm sure I will soon.
The story came into my head one day when it was raining in Wales. At the start, it would be rainy and wet. And I knew somehow in my head, it would become sunny at the end. I got some characters from the actual books, like Jack Frost, and I created a new name for him, 'The Ice Man!' In the story, there are two girls, Lola and Sarah, and Katie the fairy arrives when one of them says the magic words - 'I wish something fun would happen'. I put that bit in because I think magic makes a good story flow for little ones such as Gaia. Katie's cat Shimmer gets abducted by the Ice Man and Katie and her friend Lola have to save him from the Ice Man's palace in a hollow tree.
Edie illustrated the book very nicely. It was a magical process working my way through the story, and I hope Gaia enjoys reading it.
Maudie
---
13th Jul 2007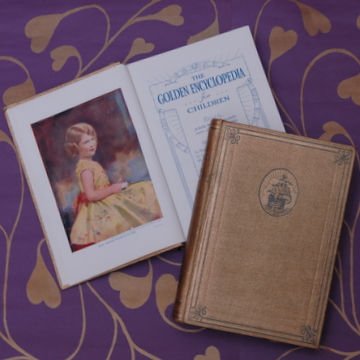 Wandering around the annual French fair on our local green, Maudie spied a stall selling dolls which looked like 1920s' flappers, made out of beads and feathers. As she looked them over, I spotted a thin bookcase beside the stall and searched through it. Two matching gold volumes with the words, 'The Golden Encyclopaedia For Children' embossed on the spine were irresistible. Pulling them out, the raised galleon ship on their front covers was so beautiful that I thought, 'I'd pay £5 each for them', even before I'd looked inside. Both volumes had clearly been well cared for — and I only had to pay £1.50 for both.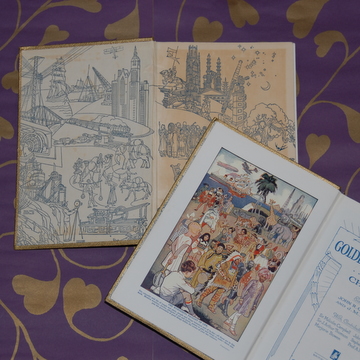 The frontispiece of Volume I, a hand-coloured image of HRH Princess Elizabeth of York aged about six or seven, made me think that the books were published in the 1930s. The introduction by Sir Malcolm Campbell, 'The World-famous Racing Motorist' proved it — he was the father of Donald Campbell and broke the world land and water speed records in the 1920s and 30s in his self-designed Bluebird cars. In the introduction Campbell writes of the encyclopaedia, 'I confess it has fascinated me, for never do I open its pages without finding some piece of knowledge that either I have never possessed at all or have, in the passage of time, forgotten.' That evening, quizzing the grown-ups (most of whom have highly respectable college degrees) on the questions set out in the back of each volume, it was clear everyone shared Sir Malcolm's experience.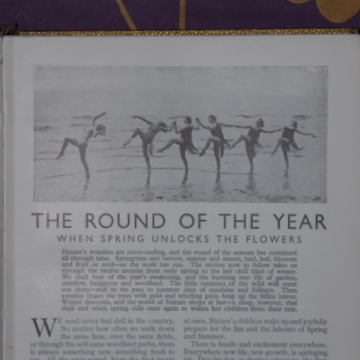 The books are full of fantastic detail about the natural world and social wonders — the growth of traffic, air travel and house building. The colour illustrations are beautiful, the photographs, such as a full-page image of an Italian organ grinder with his monkey, are black and white documentary facts that reveal much about the world of the 1930s.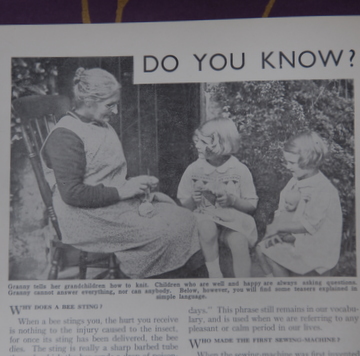 Glancing through this encyclopaedia one has to wonder how anyone can ever think that electronic or digital media will replace the book. Will anyone in a 70 years' time be able to walk across a green space in sunshine and discover for sale this or any other blog?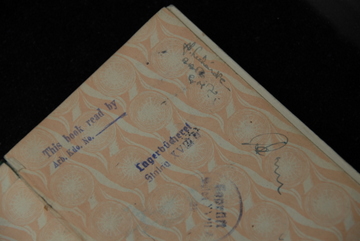 Maudie and I returned to the French fair the next day with Edie. Maudie was determined to buy one of the flapper dolls and wanted Edie to see them. Amazingly almost all of the dolls had gone, but the stall owner rooted through some boxes and as the girls waited expectantly I went back to the bookcase and searched the bottom shelves. I have no idea why, but I pulled out a small hardback with a split spine titled 'Wild Wales' by George Borrow (for info on him go to wikipedia).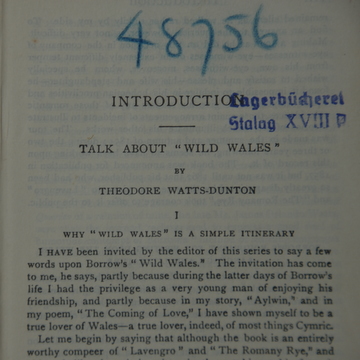 Opening it to look at the imprint page, I noticed a series of blue ink stamps on the endpapers. It had been a library book and the dates, crudely crossed out with ink, began in Feb 1945, which was interesting in itself. However the stamp on the opposite page was of more interest. In Gothic lettering it said 'Lagerbucherei Stalag XVIII' and above it, 'This book read by Arb. Kdo. No.' It had obviously been in a book depository of a German POW camp. Stalag XVIII was a camp in Wolfsburg in Austria, primarily housing survivors from the Greek campaign of 1940-41 (in particular the Battle of Kalamata) and apparently there had been a fair few Welsh soldiers interned there. The book, originally published in 1862, is a 1939 Everyman Library reprint (John Dent & Sons). I was holding a physical, real link to WWII. It was mine for 50p.
Maudie's doll cost £9.50.
History is so cheap.

Mal

---
30th May 2007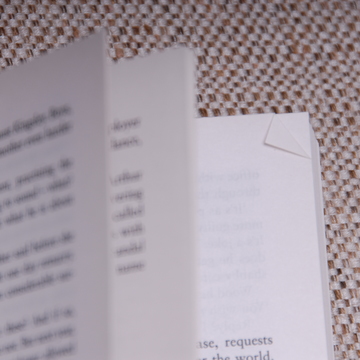 For some it is unforgivable, though for me - I love to see it done. The turning down of a page on a book. Well-read books are a delight to handle. I like to be able to see how quickly someone else has read the book by the creases on the spine or the procession of small creased lines running diagonally across the top corners of the pages.
Both my children turn down their corners and I secretly feel proud to have passed this sin on to them. The golden rule is never to do it to books that have been lent to you - it is a sin some people can't forgive.
Tamsin
---