27th Nov 2009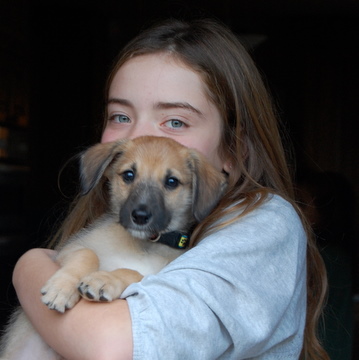 Jane: Just had one of the best birthdays ever, thanks to the arrival of George the puppy! I've wanted a dog for years, in fact Mal and I used to joke about our future wannabe hound 'Lyle the lurcher' (named in honour of singer Lyle Lovett). But it was never the right time. Until now. And George, hurrah!, is a lurcher (basically a sight hound crossed with something else): he's part Saluki-greyhound-lurcher-Collie, so Gawd knows what he'll turn out like.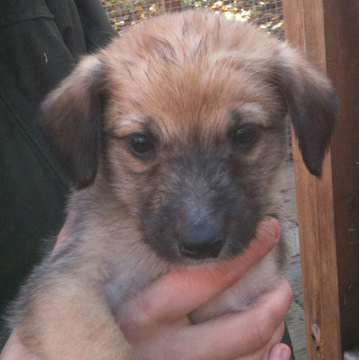 Weirdly, as you can see, he looks more like an Alsatian in terms of colouring and muzzle, so we may have been sold a pup…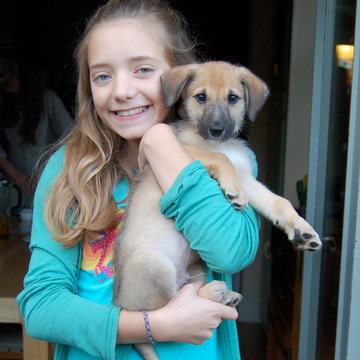 I'm sitting in my office writing this while he is fast asleep in his basket by my feet – sweet! The children think he's fab (happily even taking part in the prolific pooper-scooping) and Maudie and I will be going to training classes in the New Year.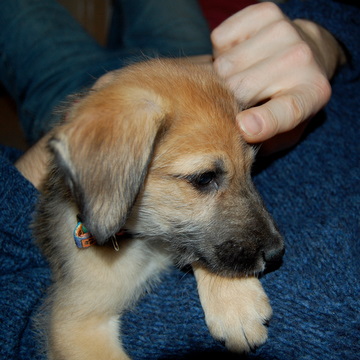 Yep, we're all in love, L-U-V. Long live King George!
---
26th Oct 2009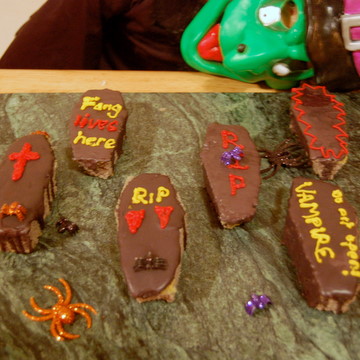 Edie: I wanted to make some little coffin-shaped cakes for Halloween (and eat them!). So me and my mum made a big sponge cake that we put black colouring in to make it look coffin-coloured, and cooked it in a big rectangular tin. When it came out it was green and grey not black and looked like it was covered in mould – we thought that was quite spooky for Halloween.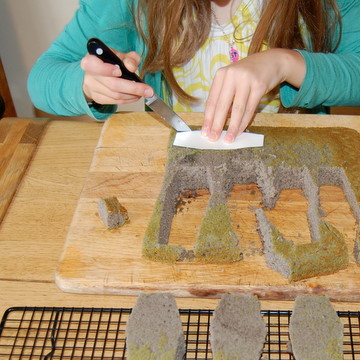 Then we drew a coffin-shaped template out of cardboard, and cut it out. I put the template on the cake, got a knife and cut around it six times to make six coffins. (There was quite a lot of cake left over, but we ate it!)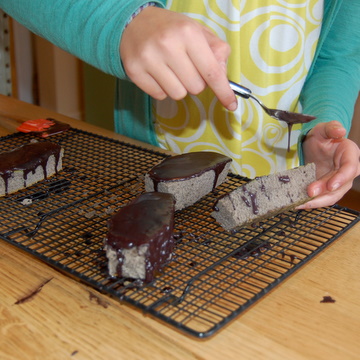 Next we made some black glacé icing (which did turn out black) and spooned it over the top of the coffins, so it dripped down the sides. They did actually look like coffins.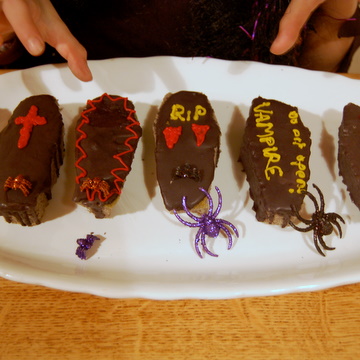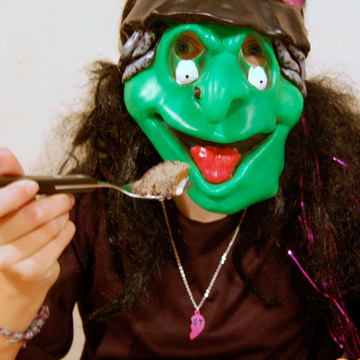 I think these would make a good gift for trick or treaters on Halloween.
---
18th Oct 2009
Jane: Here's a funky way to dispense treats to trick 'n' treaters this Halloween – fill up a miniature witches' broomstick with sweets. The brooms take just a minute to make: all you need is some brown paper, liquorice roots for the handles – they look wobbly and knobbly and very authentic (you can buy them in health food shops) – or just use twigs instead, some chocs or sweets, and a bit of raffia or thread to tie the broomstick together.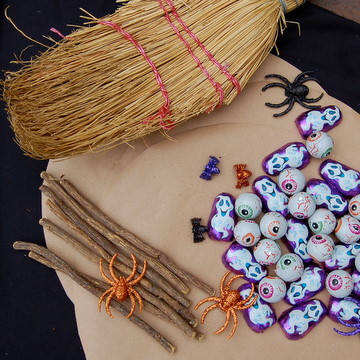 Cut out some large circles on the brown paper, at least 26 cm in diameter. Pop a few sweets in the middle of the circle.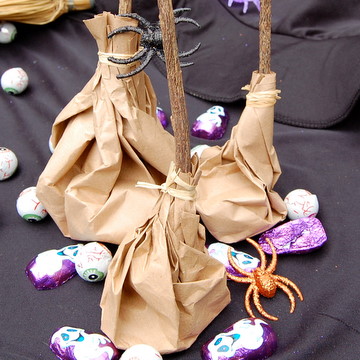 Then grab the edges of the paper and gather them together at the top. Shake the sweets down and push on a table to give the broomstick a flat bottom, so it will stand upright. Stick one end of a liquorice root in the centre of the gathered paper, about 2-3 cm deep, then secure around the paper and root with a bit of raffia or thread.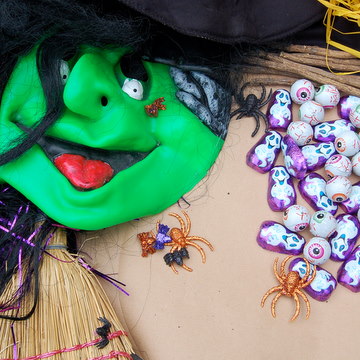 Bewitching!
---
26th Apr 2009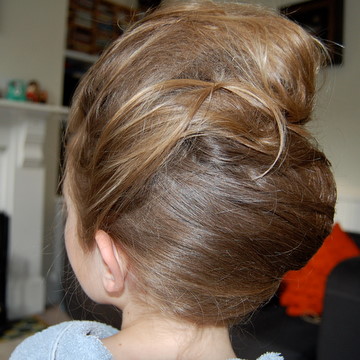 Edie: On Saturday night my parents went out to a 1950s party. My mum did her hair really curly and I wanted to have a go with a different style too. So the next day we set up a hair salon in the front room. My mum got out all her hair things that she was going to use to give me a beehive hairstyle.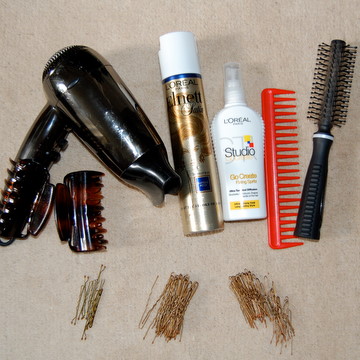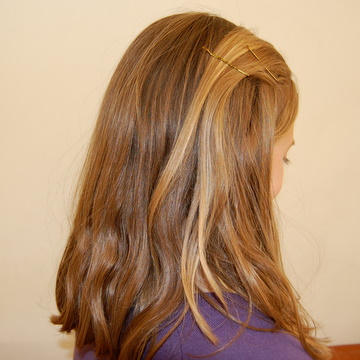 This is me with nothing done to my hair, before we started.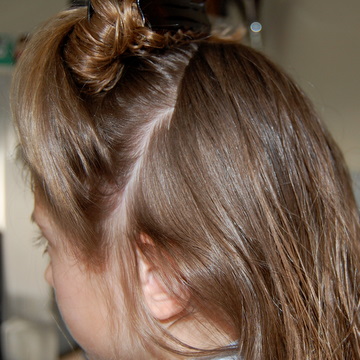 To make the beehive, my mum put styling lotion in first, then she made a parting across the top of my head from ear to ear. She pinned the front half out of the way, and backcombed the other half so it was really bushy. She twisted it upwards, pinning it in place on the back of my head, leaving a little pony tail sticking out of the top. She then pinned the doughnut on top of my head to cover the little pony tail bit.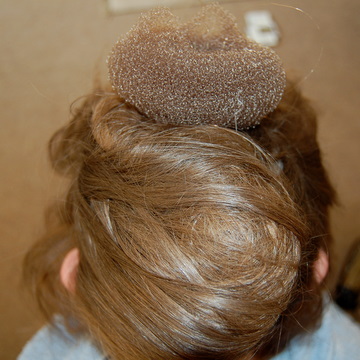 She backcombed the front half of my hair next. She did this a lot, so it stood up nicely. Then she twisted this upwards and backwards over the doughnut, tucking it in with hair pins so it stood up high. Then she sprayed loads of smelly hairspray over the whole thing.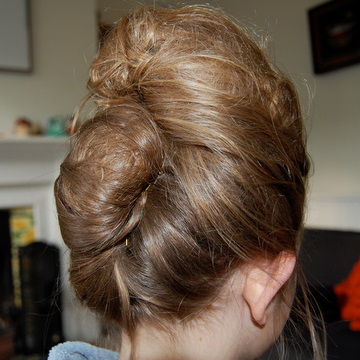 I was desperate to see the finished product, so ran upstairs to the bathroom mirror to have a look. I felt a lot different and was really amazed. I thought I looked really grown up and from the olden days. It was a lovely feeling, but I didn't dare go out of the house.
---
13th Feb 2009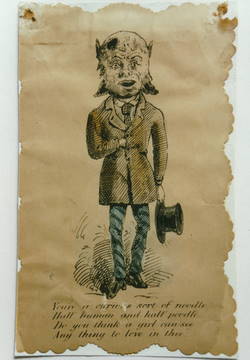 Tamsin: When we think of Valentine cards the images that come to mind are pinks, reds, hearts, lace and sentimental verses. Well, this has not always been the case. In Victorian times you may have been sent 'Long' or 'Rough' Valentine cards whose sentiments were rather different.  The verses speak for themselves:
You're a curious sort of noodle
Half human and half poodle.
Do you think a girl can see
Any thing to love in thee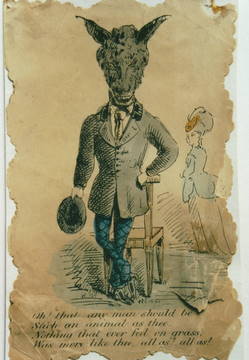 ---
21st Dec 2008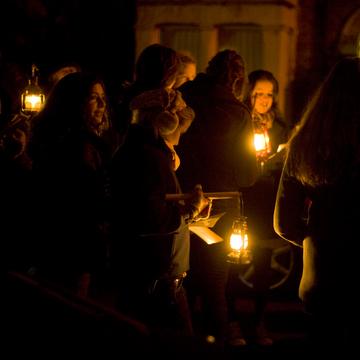 Tamsin: We have been carol singing round our local neighbourhood for about nine years.  The rendition of Jingle Bells is just as loud as it was in the beginning but now has a deep bass to it as the boys' voices turn into men's. Carol singing has firmly become a family and friends' tradition (one friend rang me in October to get the date so she could make sure she was not having to work).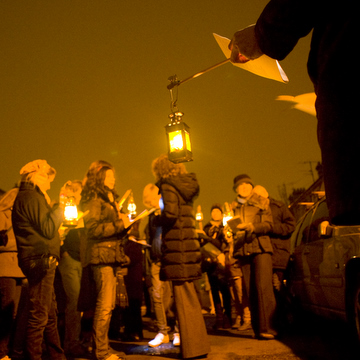 The best day of the week to sing is Sunday. We have tried various other days but found that this is the one when most people are in and there are only a few cars around which means we can take over the whole road.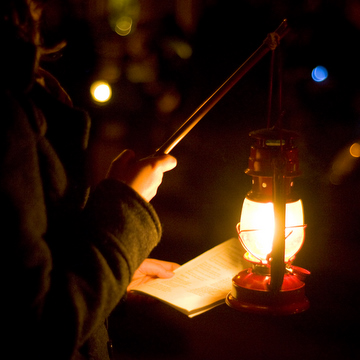 We have a self-made booklet with all the song words in and take lanterns or bicycle lights to read them by. There is a mixture of the traditional carols with more 'fun' Christmas songs.  I have a love of the ancient ones such as 'The Boar's Head' and 'Wassail, Wassail, All Over the Town'.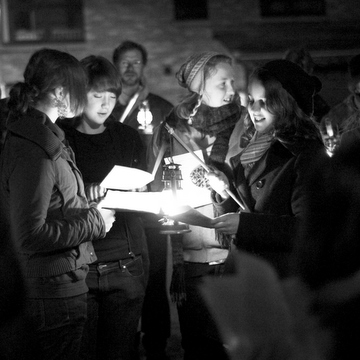 The evening begins with a hotdog and warming drinks to lubricate the vocal cords. We then pile out into the street and gradually sing our way down it.  We always start with 'Jingle Bells' and end with 'Winter Wonderland' as we stride back home. Once in the warm, where our toes and fingers begin to defrost, we ladle out mulled wine and delve into a table of sweet treats.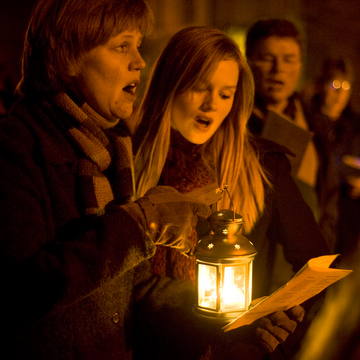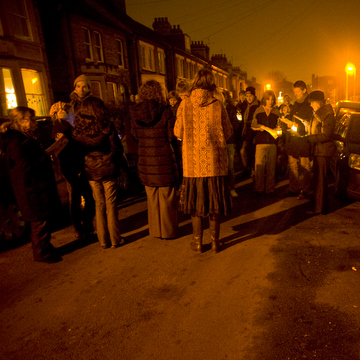 ---
17th Dec 2008
Jane: Easy, delicious white chocolate truffles made by my friend Sue – pack them into Christmas bags or decorated boxes and they make a fantastic home-made present for teachers, relatives, as a house party gift etc.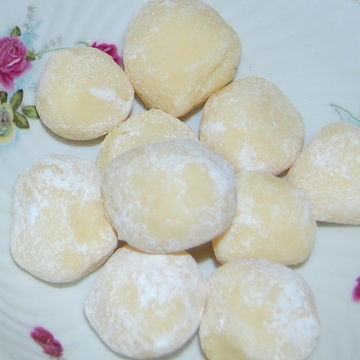 ---
15th Dec 2008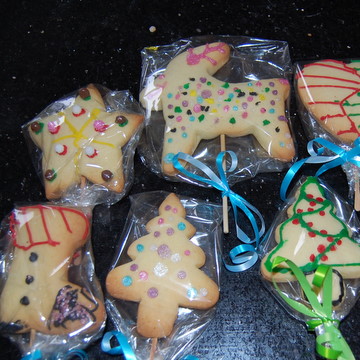 Jane: This is the week when we all run around trying to find fresh inspiration for Christmas gifts to give the teachers before term breaks up on Friday. Last weekend I read a newspaper article talking to teachers about the thorny subject of getting 30 naff Christmas gifts from their class - they cheerfully said they appreciate home-made stuff a lot more than mugs or plaques saying toe-curling things like 'world's best teacher'. Which is great, because home-made it's going to be.
This year, as well as the bath bombs, we're mostly going to be giving Christmas biscuit lollypops. They look fantastic, taste delicious, are easy to make in bulk, and the children can unleash their creative side while decorating them, which makes them very personal.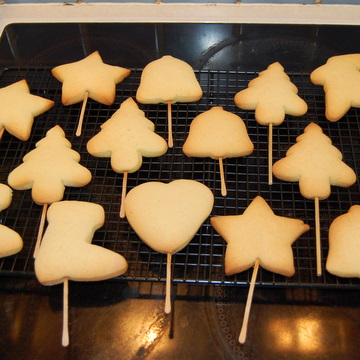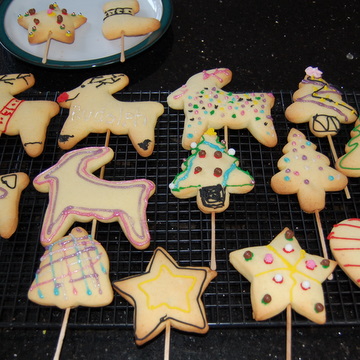 When they're cool, the children can get to work with the decorating – we used bought, brightly coloured icing pens because they're easy, but you can make your own icing if you prefer. Then leave the biscuits to dry. They look great wrapped in cellophane with a ribbon and a little handwritten tag, proving it's not just the thought but also the effort that counts.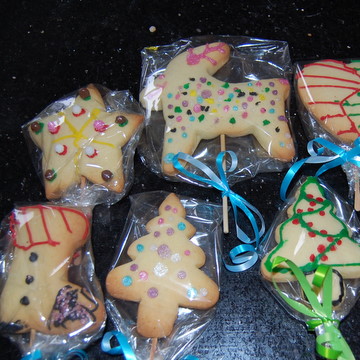 ---
6th Dec 2008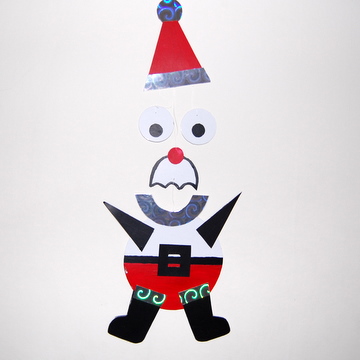 Jane: I was digging around my parents' Christmas decoration box recently and came across an old, homemade Hanging Santa. He was always a real family favourite, strung up from a hook in the middle of the hall corridor so he kicked everyone in the eye every time they passed (funny how no one thought of putting him anywhere more convenient). Twenty years on, he was looking a little ragged around the edges, so I decided to make him afresh for Xmas 2008. And here he is, looking very sparkly and chipper, raring to go for some chimney action come the 25th.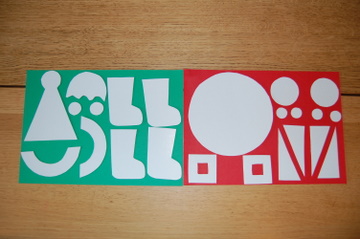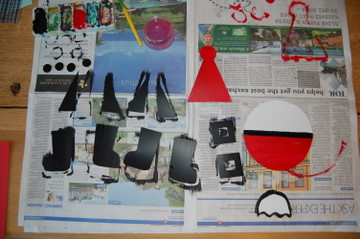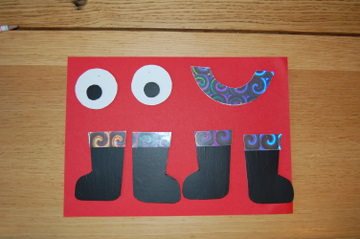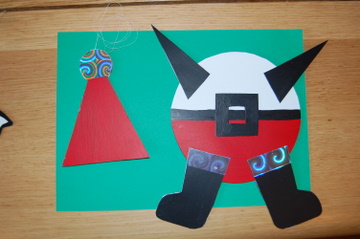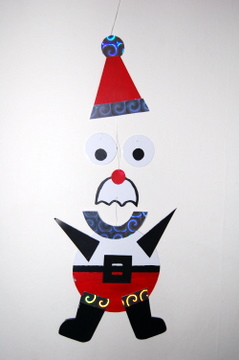 ---
24th Nov 2008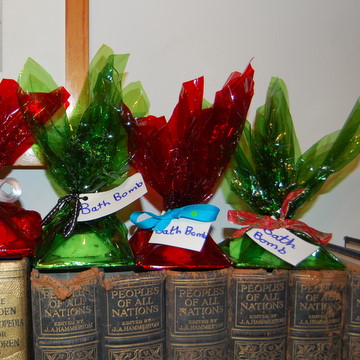 Jane: I've just finished a couple of months' whopping workload and lifted my head to see…snow! A few flakes anyway, fluttering down yesterday, and more on the way according to the weather people. So we decided to spend the freezing weekend inside, lighting a big log fire, doing Stir-up Sunday pud-making and thinking of new present ideas to make for Christmas. One of them was Bath Bombs, inspired by the belief that at Christmastime you can't go wrong with a bit of pampering and a lot of fizz.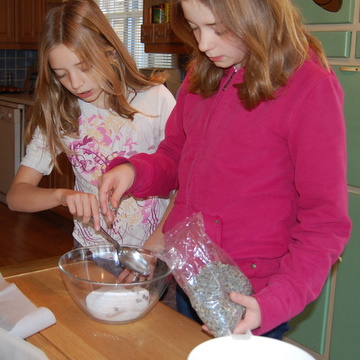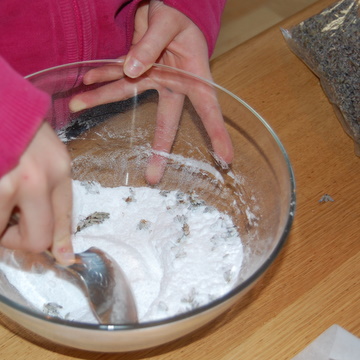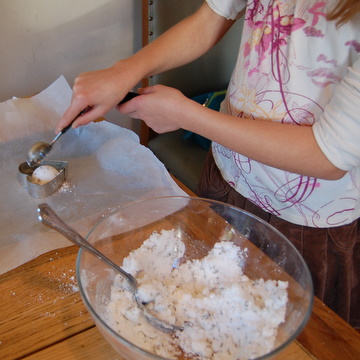 Then spoon the bomb mixture into seasonal cookie cutter shapes, placed on a baking tray covered with greaseproof paper. Press the mixture down hard, then leave overnight to dry.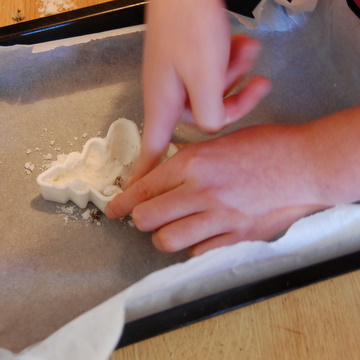 Next day, push the bombs carefully out of the moulds. Lay them on a small piece of cardboard covered with silver foil or wrapping paper, then fold over a cellophane sheet and tie with ribbon and a label.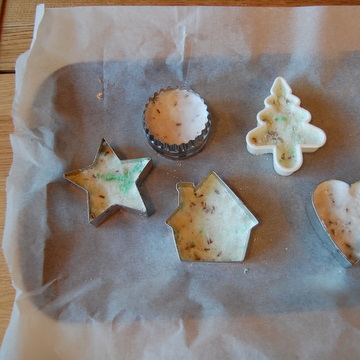 ---
30th Oct 2008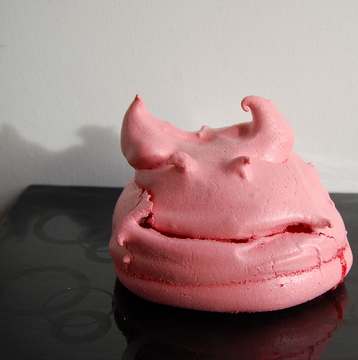 ---
27th Oct 2008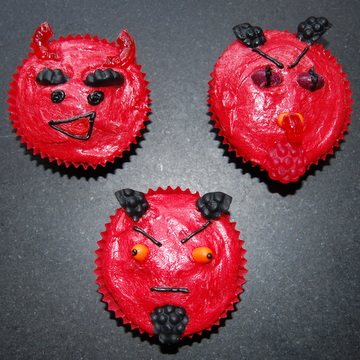 Tamsin: We decided this year to theme our Halloween around Devils. A devil must have horns, sinister eyes, a mean mouth and red skin. For our cupcakes all this had to be achieved with a selection of sweets from the newsagents which unfortunately excluded liquorice (the smell is enough to make me feel rather woozy). This was a bit of a handicap due to the lack of other black sweets around, so we decided purple ones would be a fine substitute.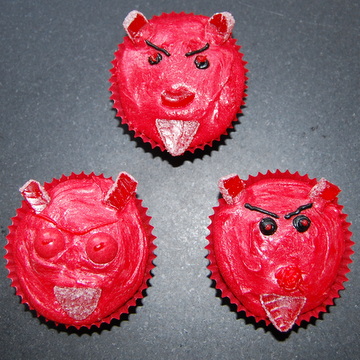 A large teaspoon of artificial red food colouring went into the sponge mixture before baking and at least another large teaspoon into the icing to cover the 12 cup cakes.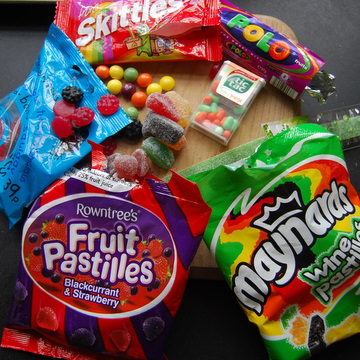 Carla, Sara and I began to experiment with the variety of sweets we had managed to find.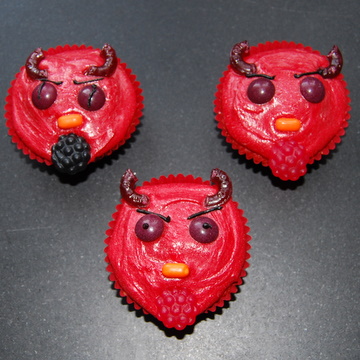 The best horns turned out to be Fruit Polos that we 'sawed' in half. The only problem was our packet only contained three purple ones, and it was rather too easy to create fruit splinters rather than horns when cutting them.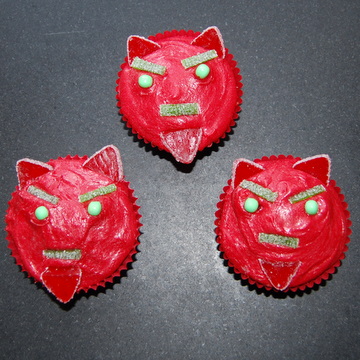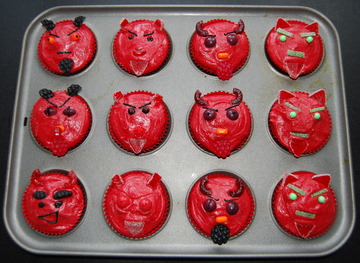 ---
22nd Oct 2008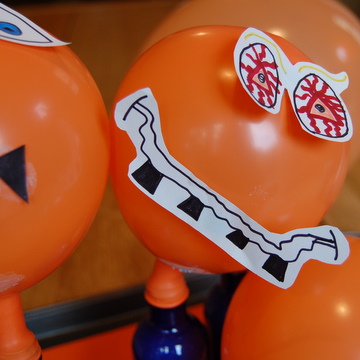 Jane: As a gruesome welcome to trick or treaters this year, we wanted to try out something new and a bit different – some gorgeously gassy grotesques. The idea of three expanding Halloween balloon monsters lined up in a row, wobbling and burping horribly before our eyes, seemed very enticing. So Edie drew some monstrous mouths, eyes and noses – enough for three faces (see below) – and cut them out. We found three small bottles, some orange balloons, and got out the bicarbonate of soda and vinegar ready for the old explosion trick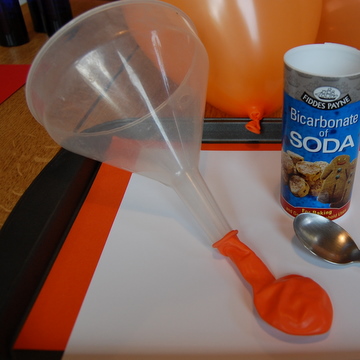 First we filled the balloons with a very big teaspoonful of bicarb using a funnel (flow it in gently, otherwise it can get stuck in the neck). Then we filled the three bottles one-third full with vinegar.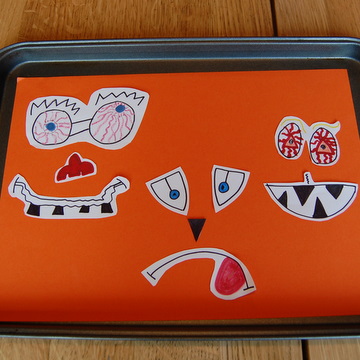 We attached the neck of the balloons over the bottles, making sure to pull the plastic down as far as we could and being careful to flop the balloon over to one side so no bicarb falls in to the bottle.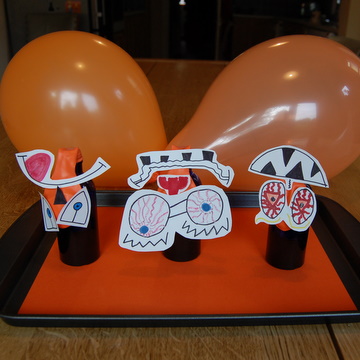 Then we stuck the eyes, mouths and noses upside down on the balloons, with a small separate piece of blu-tack on each bit.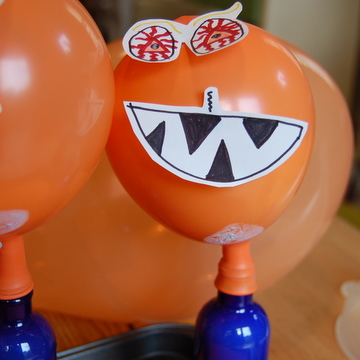 Then came the exciting bit – we turned up the balloons so the bicarb fell into the vinegar, and the balloons began to expand with the carbon dioxide produced. The faces stretched and grimaced, and started flopping madly on their wobbly necks. The bottles were made of plastic – not quite heavy enough to support the weight of the balloons – so they all fell over and crashed. It was messy, very messy! But also very good (and a little bit scientific) fun.
---
17th Mar 2008
| | |
| --- | --- |
| The Madness of Easter Bonnets | |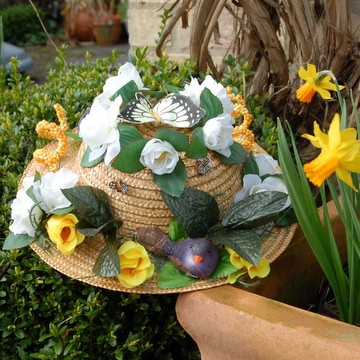 It is thrilling to come across an unexpected remnant of times gone by. I happened to stumble on one whilst walking through a country market on my way to the cinema the other day. There in full multi-coloured glory was a fake flower stall selling garishly decorated Easter bonnets.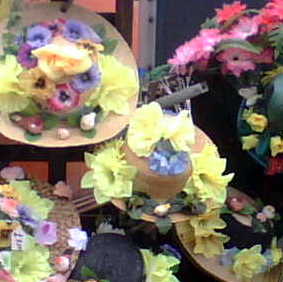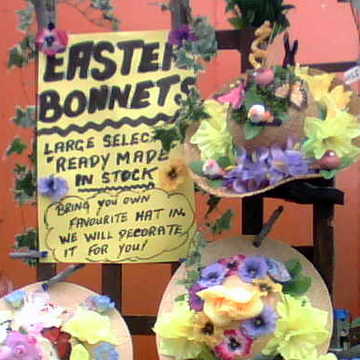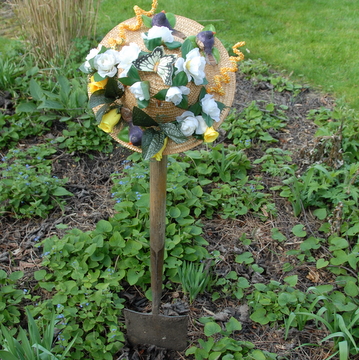 ---
13th Feb 2008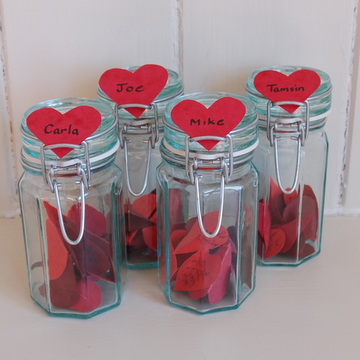 Tamsin: With all the empty jars I have and no jam at this time of year to fill them up, I thought we could use a few for Valentine's Day and fill them with little snippets of 'love' for each member of the family. I had forgotten though that expressing 'love' is not always easy and takes quite a lot of hard work in our family, but I ploughed on with my idea. I cut out an optimistic 50 red hearts and then called everyone to write something on each one for each member of the family. Every heart contained the end to the sentence 'I love...' thinking of a trait, action, feeling etc. Mike, emotionally deprived from his 1960s' upbringing, squirmed for 15 minutes and managed to write one for each person. Carla relished the opportunity, having no qualms about expression, but from her giggles I am unsure what we can expect. Joe in his teenage 'life is so exhausting and my head is so heavy' state wrote a couple before yawning and settling down to a book. I scribbled away as if it was an exam I had to pass, making sure I'd given equal weight to each member of the family so no favouritism was shown.
We now have four jars filled with '?' – which will be revealed on the 14th.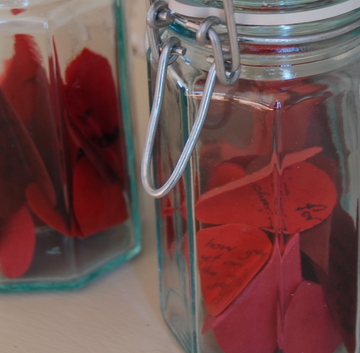 ---
12th Feb 2008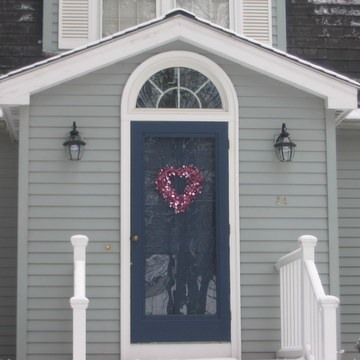 Jane: Wandering around snowy New England over the weekend, I saw these heart-shaped Valentine's wreaths on people's front doors. What a cute idea. These ones were very pink and red and glittery, and would be easy to make one with greenery from the garden with some red berries, ribbons and little heart motifs…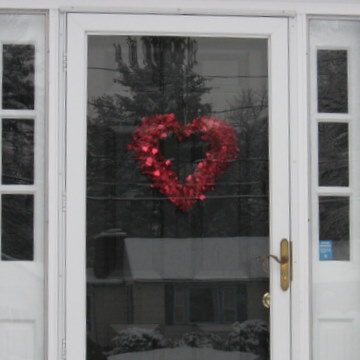 ---
22nd Jan 2008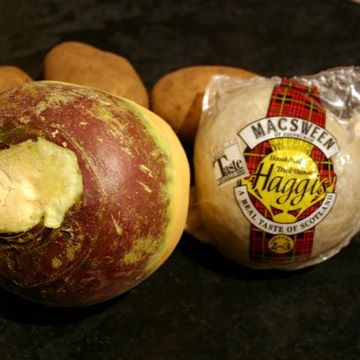 Carolynda: Next Friday night, 25th January, is Burns Night and haggises are trembling in the cool counters, knowing that their short lives will soon be ended by frightful boilings and stabbings. Scots at home and abroad are sharpening their sgian-dubhs for the ritual sacrifice of this 'great chieftain o' the pudding race' in the name of Scotland's most famous poet's birthday and general excuse for a knees-up, airing of the tartans and downing of whisky. We've recovered from the rigours of Christmas and Hogmanay and are ready to face the onslaught of a Burns Supper, the annual feasting on haggis, neeps and tatties, washed down with lashings of the 'amber nectar' (or 'eau de vie' as whisky is affectionately known here). Scots gather to address the haggis in old Scots dialect and tuck into this particularly national dish, in celebration of the life and works of Robert Burns, Scotland's greatest poet.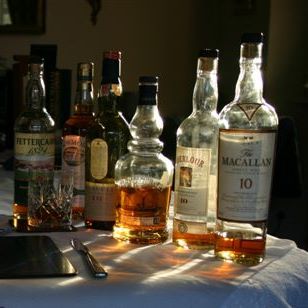 Years back I hosted a Burns Night for friends (including Jane) at my house in London, where we had a supper followed by Scottish country dancing and even improvised sword-dancing around the bread knives! As a Scot who returned to Scotland four years ago after spending half my adult life in the south of England, I am sure it is the itinerant Scots, in far-flung corners of the globe, who embrace Burns Night with the greatest fervour. My mother-in-law speaks proudly and fondly of the great times had in Malawi during the fifties, sixties and seventies, when the tartans were dusted down and haggises were flown in to the skirl of pipes and toasted with whisky galore!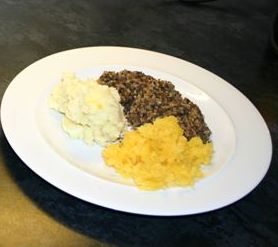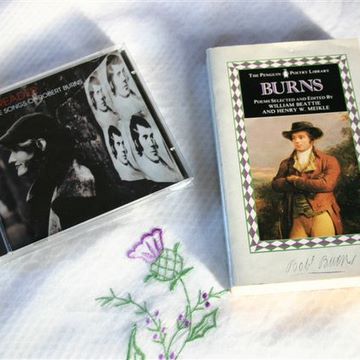 So what happens on Burns Night, or colloquially, Nicht? The men put on their kilts and the women dress up with a bit of tartan and we have a Burns Supper, with recitations of Burns' poetry, traditionally including the long poem 'Tam O' Shanter', performance of some of his songs, various toasts to the lassies and the men, followed by a Ceilidh and ending up with 'Auld Lang Syne'. Though sometimes the celebrations are less formal. I remember being with friends in a pub in Aberdeen when a piper unexpectedly came forth from the kitchen, followed by the chef carrying a large haggis on a platter. When the piper finished, the haggis was addressed by a reading of Burns' 'Address to a Haggis' ('Fair fa', your honest sonsie face…'), ceremonially cut open and returned to the kitchen. The piper and the reader were each given a dram of whisky and soon afterwards everyone in the pub was served a plate of haggis, neeps and tatties 'on the house'.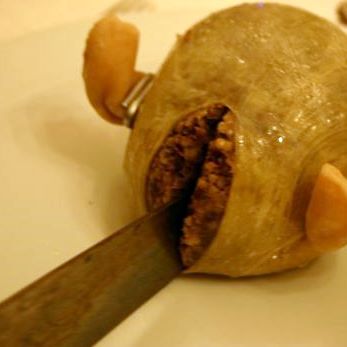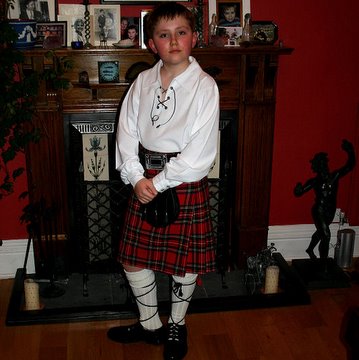 ---
22nd Dec 2007
| | |
| --- | --- |
| The Fun of Christmas Decorations | |
Tamsin: In the hecticness of Christmas I always try to take a couple of minutes to think of some craft activities to keep the kids occupied in the days between the end of school and Christmas. This mainly means decorations for the tree and house. Keeping the kids' hands busy will help put to good use some of that over-excited energy that's building up and up. For this reason I keep to the old family tradition of decorating the house on the 23rd December and the tree on the 24th.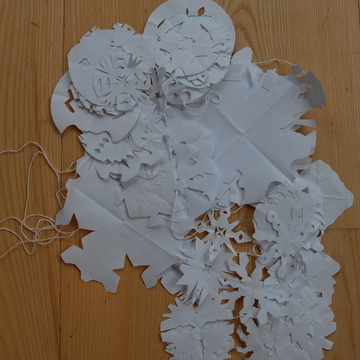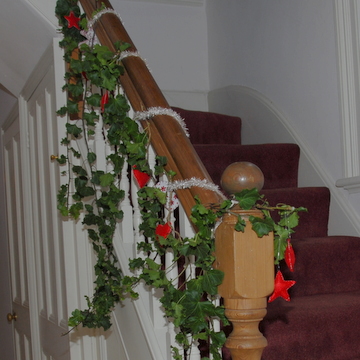 Greenery takes pride of place in my house too, with sprigs of holly and ivy on top of every mirror or picture frame. Usually I make a swag to go around the stair rail, but this year I ran out of energy so with a house full of guests about to view Christmas efforts I twisted tinsel and hung cascading branches of ivy from the banister instead – easily worth the 10 minutes work.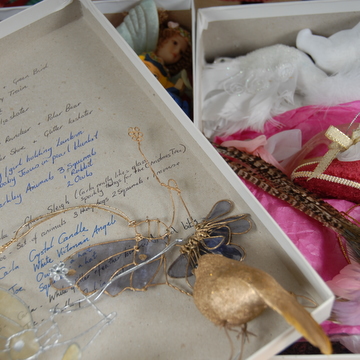 Then there is the Christmas tree. For me the tree is about memories of Christmas past. I am not too fussed what it looks like in the end as long as we all join in the decorating and chat about the stories behind the different decorations as they come out of the boxes. Every year my children choose and buy a new decoration each and I love opening their decoration boxes to find a little bit of their past personalities, wrapped in tissue paper, waiting for me to rediscover – which usually means Carla and her pink glitzy numbers and Joe with his animals. This year they carried on in the same ilk –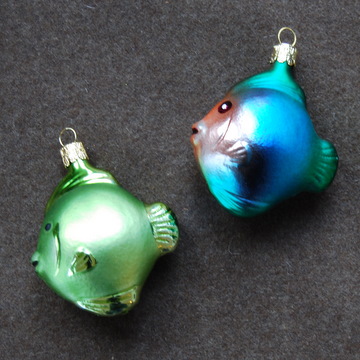 Joe - some funky fish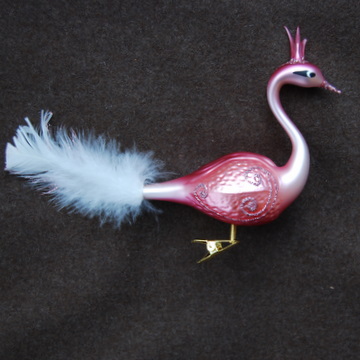 Carla – a very pink swan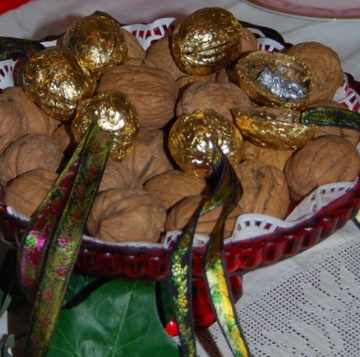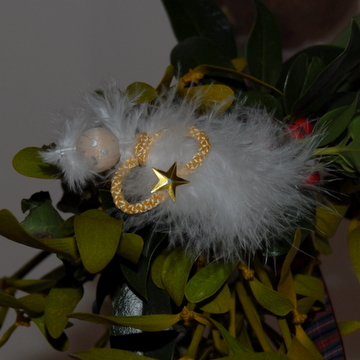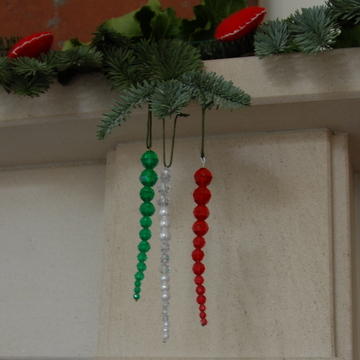 ---
20th Dec 2007
Jane: The 21st December is the shortest day of the year, and it used to be a huge celebration when people lit fires that burned all day and night, carrying over the flame from one log to another – a tradition we still honour today in a weird kind of way by eating chocolate Yule log. It was also the day when the halls finally got decked with holly and other evergreens, picked because they symbolise the eternal cycle of life. In our road, everyone's already got their trees, decorations and lights up and they look stunning (if very, very white this year). But I always like to crank up the excitement for the kids by leaving the whole decorating thing until the last minute.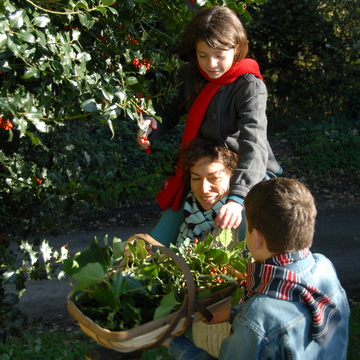 So we're going out for a greenery walk to bring back swags of red-berried holly, ivy, bay, rosemary and laurel – and then we'll head to the market to find mistletoe and hopefully some eucalyptus boughs with berries, which smell marvellously invigorating (rather like upmarket cough sweets) hung all around the house. It's only then I feel the countdown to Christmas really has begun...
---
18th Dec 2007
| | |
| --- | --- |
| Christmas Bunch of Baubles | |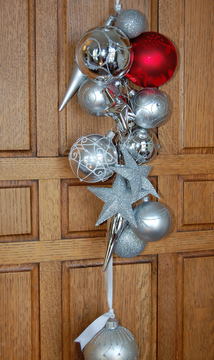 Edie: My sister and I decided to make two big bunches of baubles to hang on our walls. My mum went to John Lewis and bought a box of 100 silver baubles (Jane: reduced to half price – hurry!) and some big fancy baubles too. We got some silver beading wire and started to thread the baubles and stars on to it. Once we had put on lots of baubles, and one coloured one, we twirled the end of the wire and twisted white ribbon on to which we hung our finest bauble so it dangled below.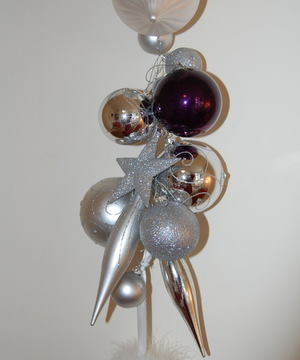 ---
12th Dec 2007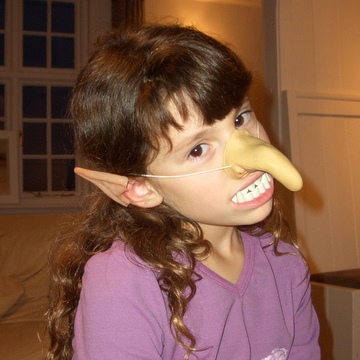 Tamsin: Crackers are a wonderful respite in the middle of the Christmas meal – a bit of fun as paper hats are forced on to heads and corny jokes read out. In recent years, I've filled my own crackers as there are only so many plastic trinkets one family can take... A few years ago, I put in false ears, eyelashes and noses making for hilarious results round the table and embarrassing photos to place in the album.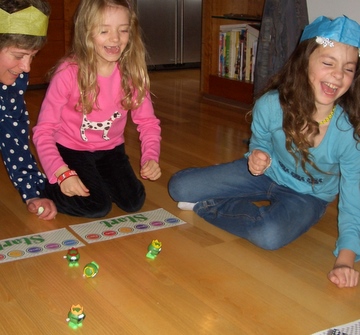 Our favourite cracker-filler has been wind-up toys – so far I've done snails, sprouts and ladybirds. Once the crackers are pulled, everyone gets down on the floor with their toy and has a race. Along the same lines, I once filled them with small wooden tops which we spun to see whose could keep going longest. It was a knock-out competition with different leagues to take account of the different ages.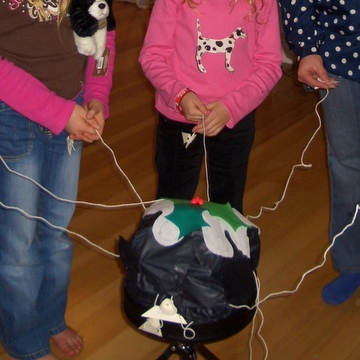 Apart from crackers we have another family tradition from Mike's side of the family – The Puller. This resembles a cracker in so far as you have to pull to get the contents out. After Christmas lunch, each person is given a string to pull.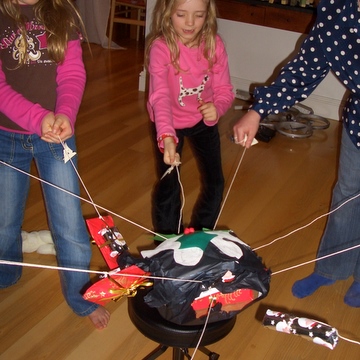 The other end of the string is attached to a wrapped present that's been hidden in a paper and cardboard construction. The gifts inside the Puller are only small: last year I got chocolate bars, the year before some cheap CDs, and the year before that bath products.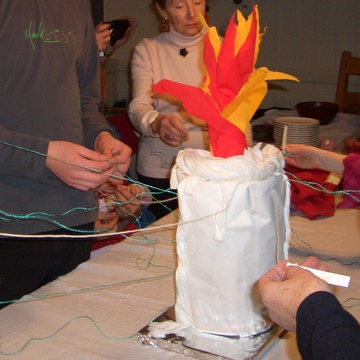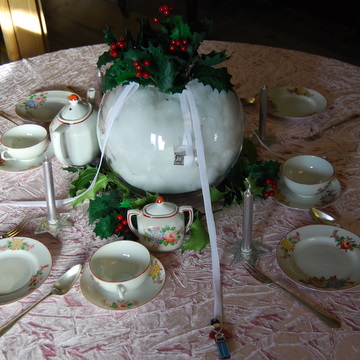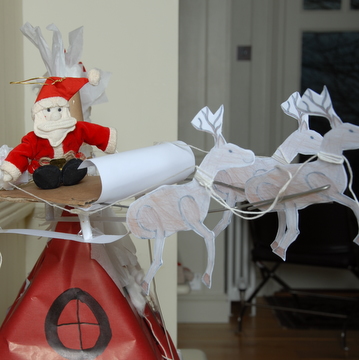 ---
8th Dec 2007
Jane: Christmas isn't Christmas for me without a panic about presents. In our family, almost everyone has birthdays in November and December (including 21st Dec and Christmas Day itself) – so the idea of just going 'Christmas shopping' sounds an incredible luxury. We're still bogged down in birthdays as the turkey hits the table. As a result, all questions about what the children are going to give relatives/friends/teachers are easy – it's got to be homemade, otherwise we'd go mad and no doubt bankrupt too.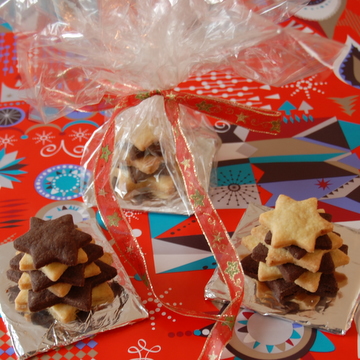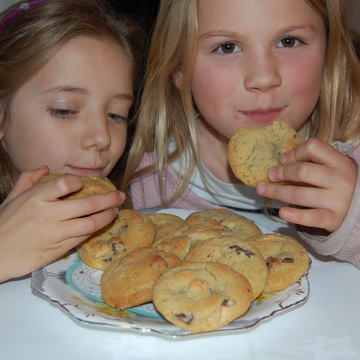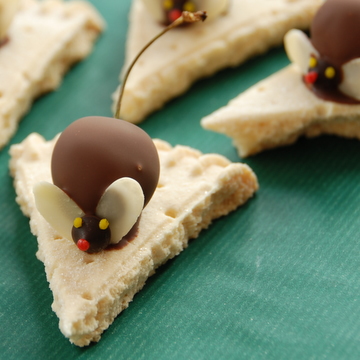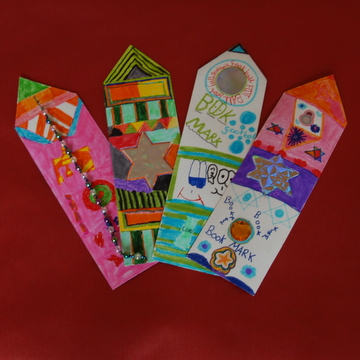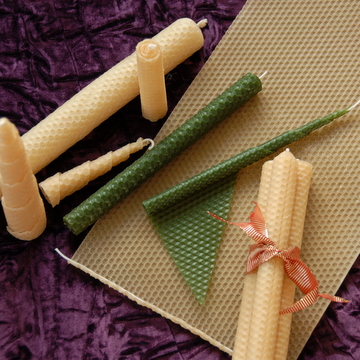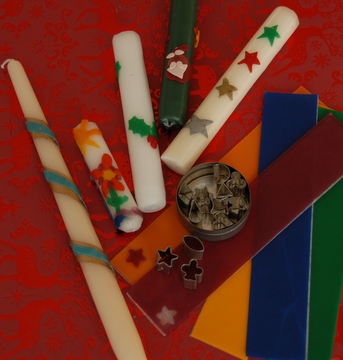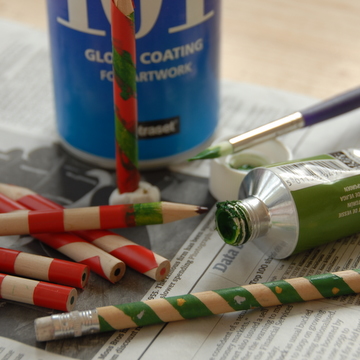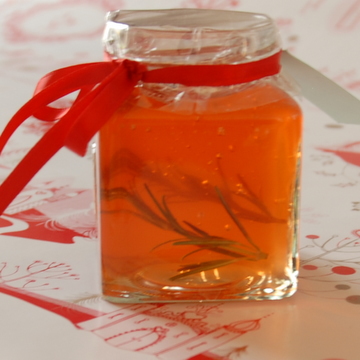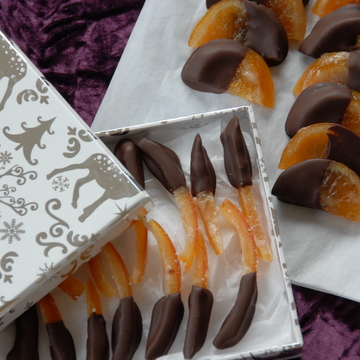 ---
6th Dec 2007
| | |
| --- | --- |
| And Here It Is… Merry Christmas! | |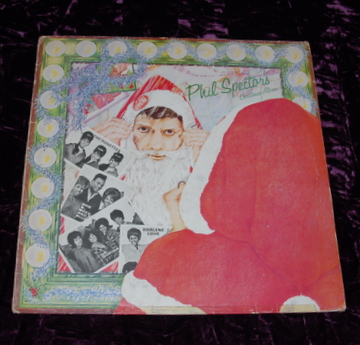 Mal: Now that it's December the Christmas records (yes, that's the vinyl) and CDs can be dusted off and come out to play. We have a ban on Christmas music the rest of the year – if anyone so much as starts humming 'Jingle Bells' from January to November we jump on them – but come early December, the Christmas-themed tunes are played full blast until the end of the year.

The kids have their favourites: Edie demands The Ronettes' version of 'I Saw Mommy Kissing Santa Claus' and The Beach Boys' 'Santa's Got An Airplane' on constant replay, unless Maudie can get to the CD player to load Darlene Love's 'Marshmallow World' first.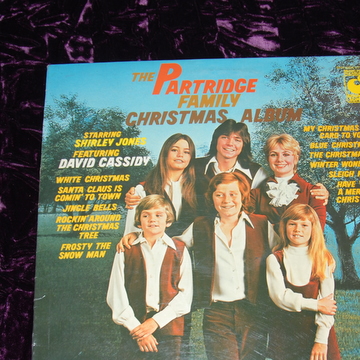 In fact, because of my age perhaps, there are a lot of Christmas song recordings from the 1970s that I love. Not the usual Slade and Wizard megahits of the day, but Mud's 'Lonely This Christmas' which is a slight reworking of the Elvis version of 'Blue Christmas', and the Partridge Family's 'My Christmas Card To You' being particular favourites. The latter was the only original number on the David Cassidy and Shirley Jones-led TV family's Christmas album of the same name, a vinyl copy of which – now 36 years old – is still played in our house during December.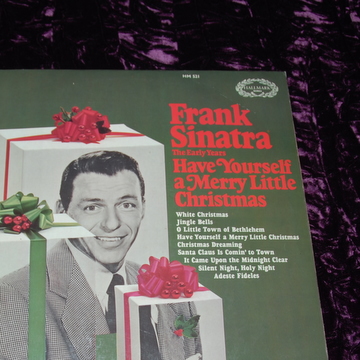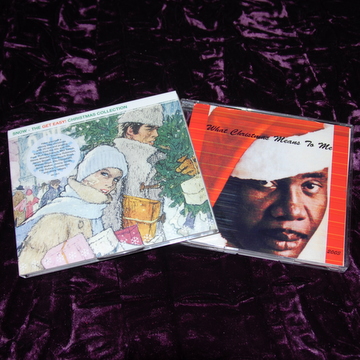 ---
1st Dec 2007
| | |
| --- | --- |
| Shoes, sweeties and St Nicholas | |
Nienke: Every year on 5 December, Dutch children (even those living in Britain) are lucky enough to receive presents from St Nicholas, a bishop dressed traditionally in sumptuous red robes and a beribboned mitre with crucifix. St Nicholas arrives several weeks before the big day, having come all the way from Spain on a steamboat, accompanied by a troop of 'Black Peters', his colourfully dressed and antic-loving helpers.
During those weeks, he travels through the country on horseback over the rooftops, stopping off at chimneys to eavesdrop on children's good and bad behaviour and to send his helpers down with small presents and sweets, to be put in the shoes carefully left out by the fireplaces below. Any children who have not behaved well might run the risk of finding their shoe filled with a bundle of twigs instead: in days gone by, this was the tool with which the Black Peters chastised naughty children.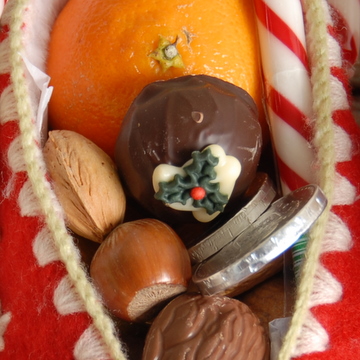 The small gifts in the shoes are a build-up to the baskets full of presents that arrive on the doorstep on the 5th, accompanied by showers of sweetie-sized ginger nuts thrown into the room by an unknown hand in a long black glove. Often, there is also a proper visit from St Nicholas himself, who calls the children to him one by one to discuss their behaviour and praise their achievements of the past year, reading from notes in his big, red book. He will always ask the children to sing a couple of the old St Nicholas songs they have been taught by their parents and at school.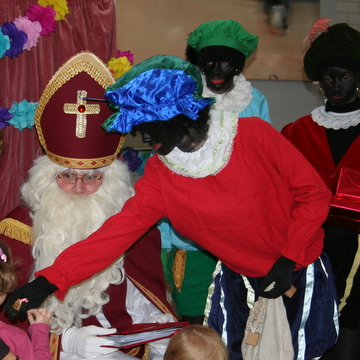 ---
26th Nov 2007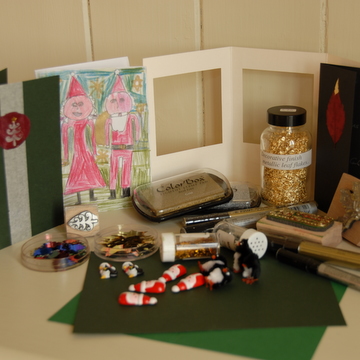 Tamsin: December is fast upon us and as usual I am having an internal debate between my rational and irrational self. My rational self is telling me to do the easiest thing and my irrational self can't allow me to. Something deep inside has to add an extra stress to my life. This extra stress is making 120 Christmas cards in the next two weeks, on top of work, the rest of the Christmas activities and keeping the family running smoothly. Why am I driven to do this?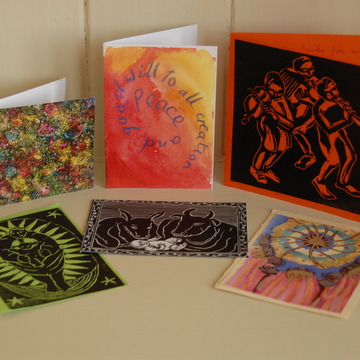 Part of it comes from my upbringing where hand-made cards were an essential ingredient of birthdays and Christmas. My mother and sisters were all fairly arty and so was I until I hit my teenage years and began to feel drawing was not my thing. From that time on the ritual of 'hand-made' became a torture. But the seed was planted and ever since I've felt I have to make the effort, whatever the angst. As a grown-up, I've also discovered that home-made Christmas cards give me an excuse not to write the 'round robin' letter, which I also dread doing. With a home-made card, you feel you've added the 'I care' element without having to pen hundreds of words. (I hope this is how the recipients of the cards feel too…)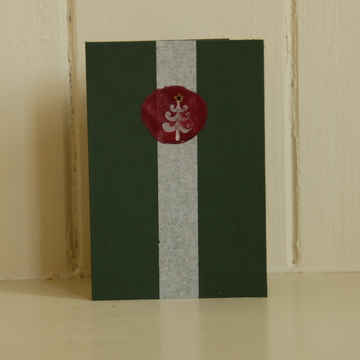 Nowadays, making the Christmas cards is a joint operation with Mike. We vaguely devote a weekend to it in early December and working round the dining room table go into 'mass production' mode of stamping, cutting, sticking, signing… I've brainwashed my children into creating their own cards and they happily join the production line too.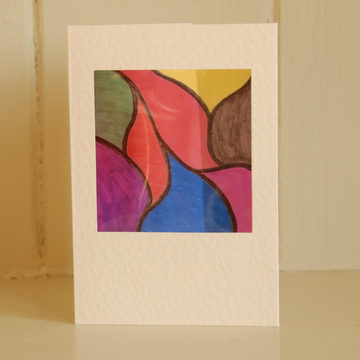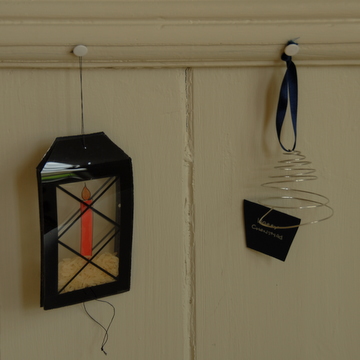 PS: Having a busy life is no excuse. Each year I look forward to receiving a card from a friend who is also the CEO of a multinational company. He and his wife create some of the most imaginative and beautifully engineered cards I've ever seen. Don't know where they get the time but I greatly appreciate that they find it because their annual card is a highlight of our Christmas post.
---
20th Nov 2007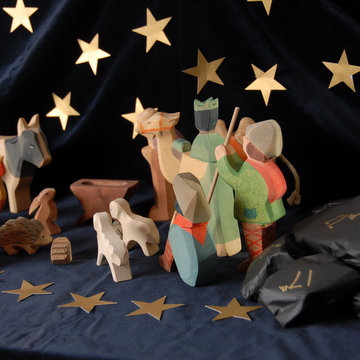 Tamsin: Advent is the start of Christmastide and a countdown to the days of preparation before the big day. As a child having a birthday around this time, I was always given several Advent calendars by well-meaning relatives – and when you get that many (this was in the days before chocolate in the calendars) the novelty wore off a bit. But now as a mum, I enjoy the ritual of marking each day during the festive period and the few minutes of fun it brings to the hectic December morning schedule between packed lunches, breakfast and finding schoolbooks.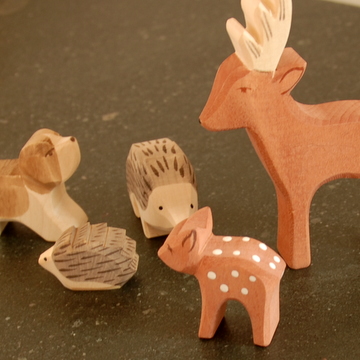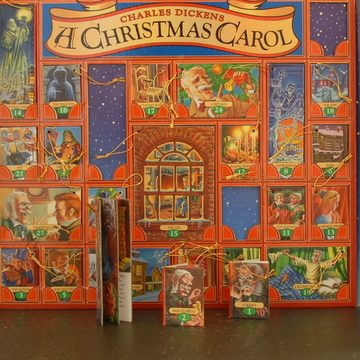 We usually have a second calendar too. One Advent we had a calendar with a set of books telling the story of 'A Christmas Carol' in short pieces, which we read at the breakfast table before hanging them up around the window. We liked it so much we repeated it the next year with the story of 'The Nutcracker'.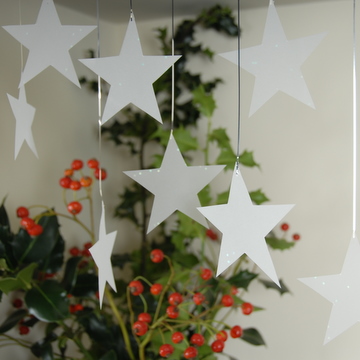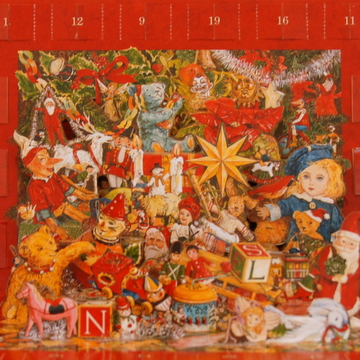 The best cardboard and pictures calendar was a French one (luckily translated) where each day you had to hunt out various objects in the central picture. It was hard even for the adults, especially if you had to find five toy soldiers or six singing robins, and the excitement was often carried over to the evening.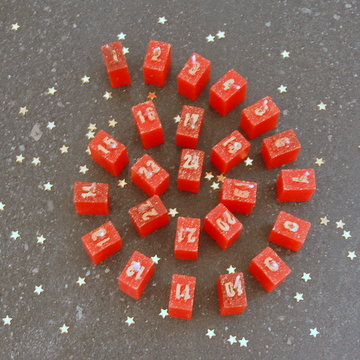 ---
3rd Nov 2007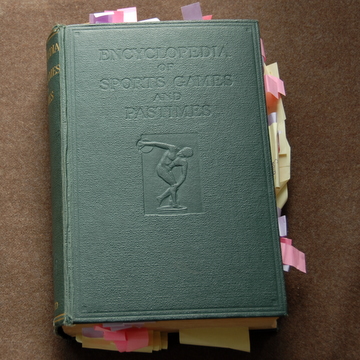 Jane: The celebrations come thick and fast at this time of year. No sooner have the spooks of Hallowe'en disappeared than Bonfire Night is upon us. In London, we used to invite another couple of families round and light fireworks for the children in the garden. But it always felt a bit risky and after a Catherine wheel burnt dark holes in a fence post, we gave up the homemade displays and went to a nice, safe municipal one instead. Sparklers were as risky as it got.
So I was a bit stunned to read about people making their own fireworks.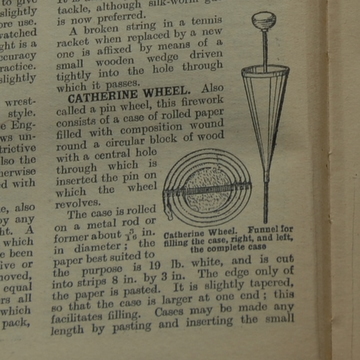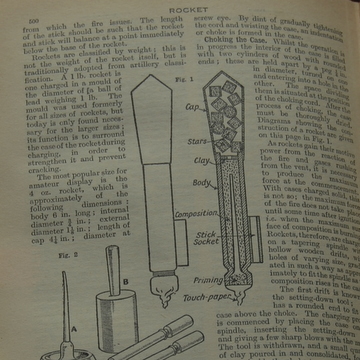 ---
25th Oct 2007
| | |
| --- | --- |
| Trick or Treating Spiders | |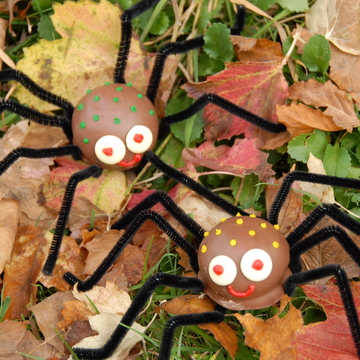 Tamsin: As we approach the time of year when witches, ghosts, devils, spirits, kelpies, demons, hobgoblins, skeletons, mummies, banshees, spiders and ghouls stalk our streets, our thoughts turn to concocting fiendish morsels to feed them. Last year we made pumpkin biscuits and the children decorated them with various ghoulish faces, which our trick-or-treaters seemed to like.
This year, we've decided to go with a spider theme. We can get as many as 50 local children calling round trick or treating, and we don't dare to run out of goodies early in the evening.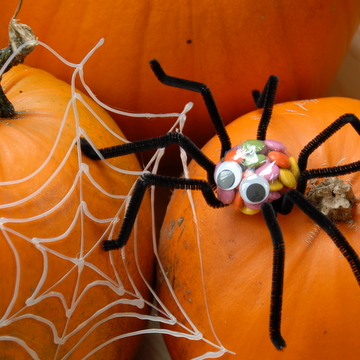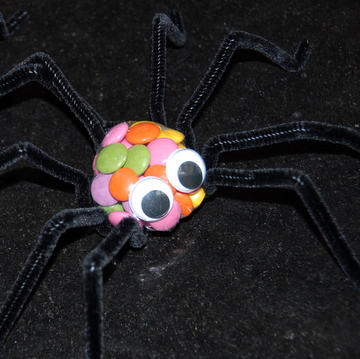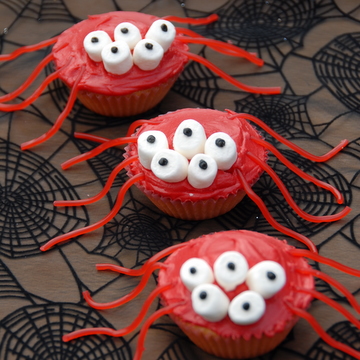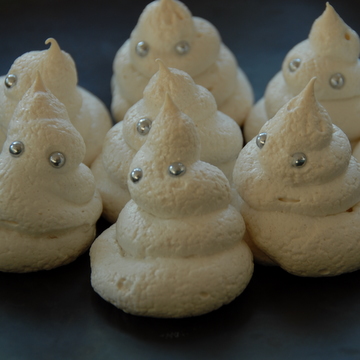 ---
3rd Oct 2007
| | |
| --- | --- |
| Gaia's Courgette Birthday Cake | |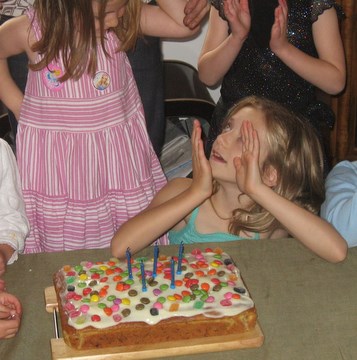 Jane: It was my niece Gaia's 5th birthday and her mum, my sister Joanne, decided to make a tempting but healthy batch cake for the party. That meant introducing one of the mandatory five-a-day veggies (though a dietician I recently talked to suggested nine a day was more like it) into the cake. Carrots were out (five-year-olds can spot them a mile off), so Jo thought to tap into the latest craze – courgette cake. Subtle, green and mysterious.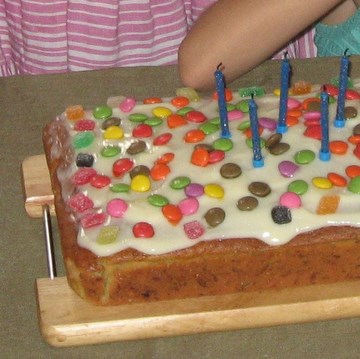 ---
8th May 2007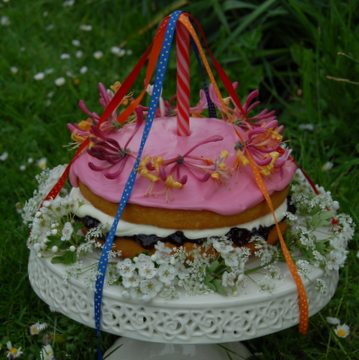 Somehow we arrived at Bircham Windmill too early (or perhaps too late) for the May Day maypole dancing, so when we got home I made a consolatory maypole cake instead. It's a basic Victoria sponge, the middle sandwiched with cream and red fruity jam, and the top decorated with pink butter icing.
---
4th May 2007
We're now into summer. It's official. The cow parsley's out, the hawthorn and blackthorn are blossoming, gardens and green places are boisterous with birds and bees. May the first was actually the start of this splendid new season, though blink and you may have missed it because nobody's celebrating May Day this year until the bank holiday weekend. And probably not much then, because the old May Day traditions are all dying out.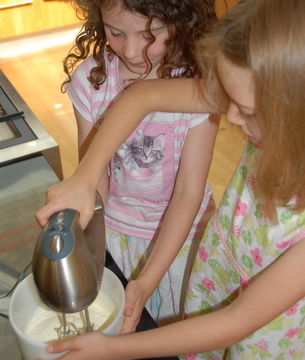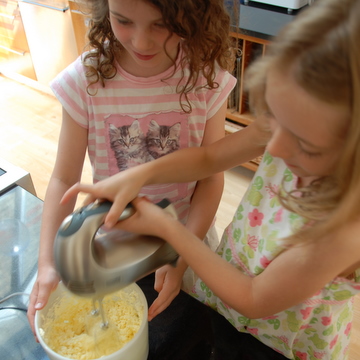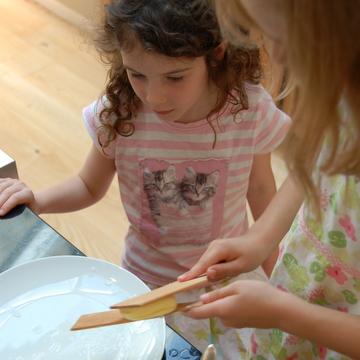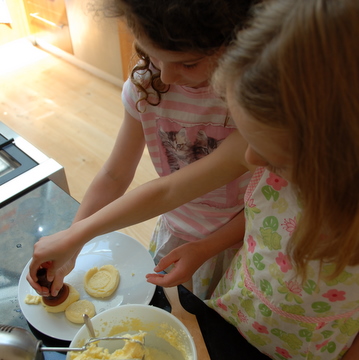 ---
8th Apr 2007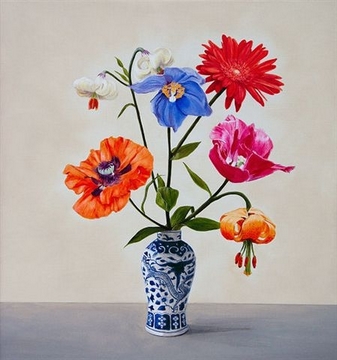 To Scotland on the train with the kids for the Easter hols. We were staying with friends who live in Carnoustie, the small coastal town where this year's Open golf championship is happening and a few miles from St Andrews where I spent four happy (ish) years at university.
---
7th Apr 2007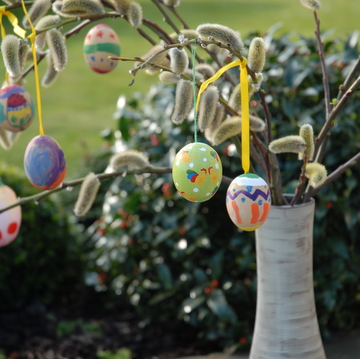 This Easter, we had the family over and everyone from the age of three to three score and ten painted a blown egg to go on the Easter tree. I sprayed the decorated eggs with gloss varnish which looks better than last year's unvarnished ones.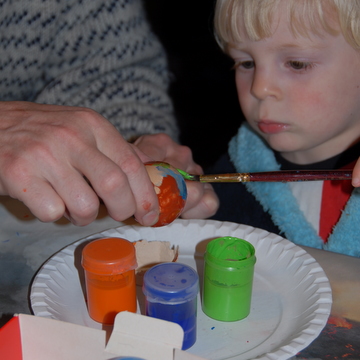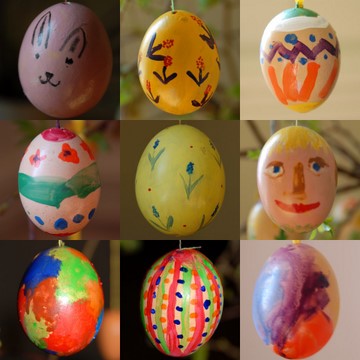 ---
4th Apr 2007
We did our Easter Egg Hunt this morning using tiny, sparkly foil-wrapped eggs so the ants didn't get to the chocolate before the children did.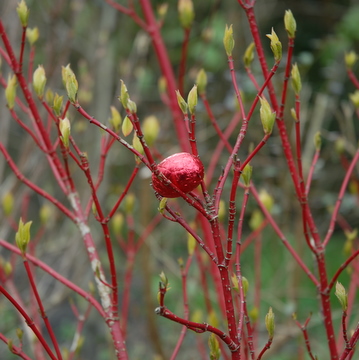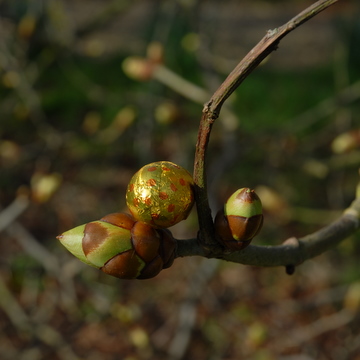 Purple eggs nestled among the mauve flowers of ground-hugging violets, and a golden copper-coloured egg was perched on the curved branch of a horse chestnut bud.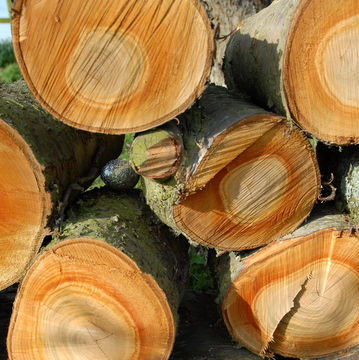 ---
3rd Apr 2007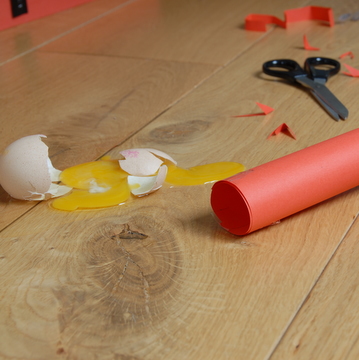 You can successfully smash eggs indoors, though it takes more brainpower than brawn.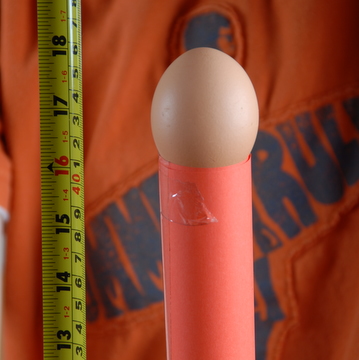 We have been playing Eiffel Eggs, a construction challenge that gets good and messy. Every member of the family has to build a tower that will support a raw egg from just two sheets of A4, a pencil and sticky tape. Joe put on some loud music - Costello Music by The Fratellis - to get our creative juices flowing and it seemed to work. The kids came up with some freethinking solutions that temporarily defied the laws of physics: an egg tower held up by thick wodges of sticky tape (eat your heart out, Richard Rogers), a tower with skinny but strong rolled legs and an egg basket at the top; and a high-rise three-legged boat, which quickly tilted over sending the egg to a sticky end.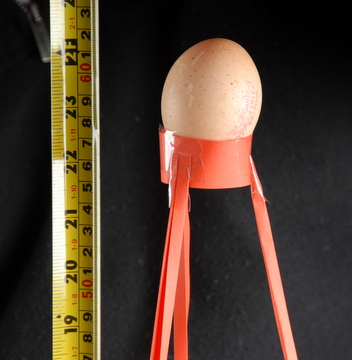 If you have an engineer in the family, they will be horribly competitive, bandying around terms like 'compressive strength', 'creep' and 'moment of inertia'. We have one, and he built a tower of such height, strength and other tensile superlatives that it dwarfed our wobbly (but picturesque) efforts.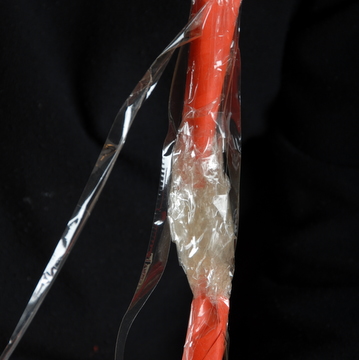 ---