16th May 2007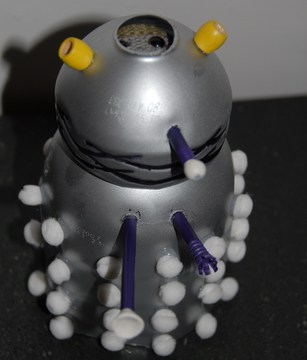 We had another challenge this week - how to make Monkey into a science-fiction character. My friend Maudie was doing Rose Tyler so I thought I'd do someone else from 'Dr Who' - a Dalek. We made it from an old plastic bottle, the top bit for the head of the Dalek and the bottom bit for the tank, spray painted silver.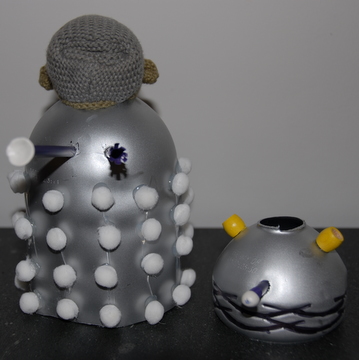 We got some yellow beads and stuck them on for the lights, and straws with plasticine on the ends for its weapons. We found some old Christmas decorations with white pom-poms and stuck them on the body. We put Monkey inside and he was ready to EXTERMINATE, EXTERMINATE.
Carla
---
3rd May 2007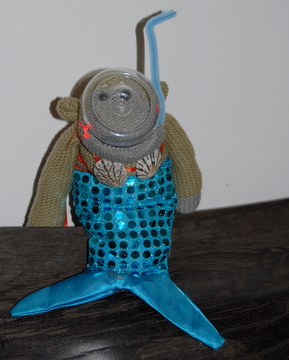 I have now finished my underwater clothing for my PG Tips monkey. I decided to do a mermaid with a mask, I don't know why! I made the top out of some shells and string so it looked like a mermaid top. I used to get a magazine that came with small clothes for your toys, and one of them was a mermaid tail. I found the tail and put it on my monkey, then made the mask out of a bit of a drinks bottle and a straw. Soon my mermaid was ready for the fashion show and the superstar life ahead.

Carla
---
17th Apr 2007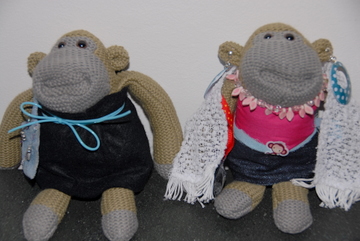 At my school we have lots of crazes and the one this term is the PG Monkey which comes with special boxes of PG Tips teabags. It comes wearing a PG T-shirt but we make clothes for them using socks and other scrap materials.
Each week we have fashion shows and the week before the Easter holidays it was any old style of clothes so I made a skirt and a top and a handbag, most of it out of denim. The first week back it's going to be 'under water', so I'm making a bikini and a mermaid's tail.
Carla
---