11th Dec 2009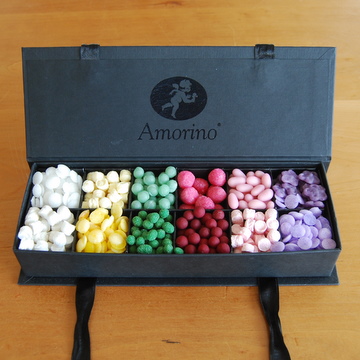 Tamsin: We were discussing having an exhibition at my museum entitled 'Beautiful Things' – there would be nothing that connects the artefacts together except their beauty, which for most, was lovingly bestowed on them by the skilful hand of their creator. I was reminded of the joy that beauty can give when we walked past a shop window in Paris. There was what can only be described as a treasure trove of beautifully-formed jewel-like sweets, shining out from their alluring black boxes.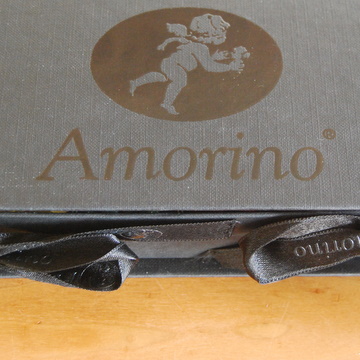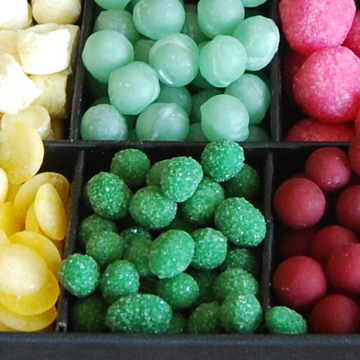 ---
3rd Dec 2009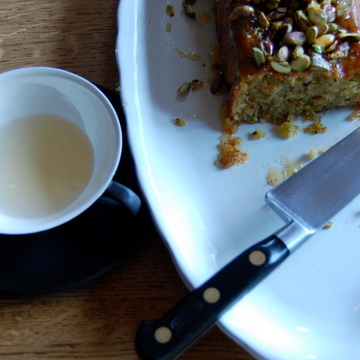 Jane: Is this the most delicious cake ever? The grown-ups all think so and, surprisingly given the general nuttiness and lack of gooey icing, the children are pretty keen too. This is a good rich winter treat, which can even be substituted for pud with a dollop of cream on top. When I'm feeling lazy I forget about the vanilla pod and the cake is just as tasty…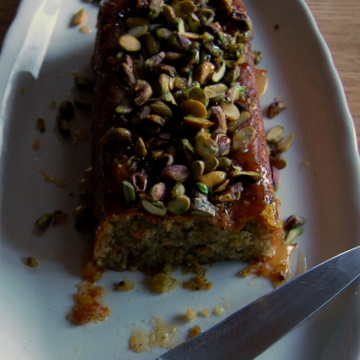 ---
20th Nov 2009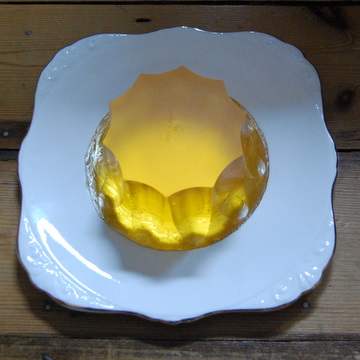 Tamsin: After 3 weeks and one failure I have finally completed my jelly and am feeling rather pleased with myself. There are many weird and wonderful challenges that my job, as a museum education officer, gives me and this was one of them. We are putting on a Dickens' Christmas where the so-called 'father of Christmas' – Charles Dickens – takes centre stage. For one of the exhibitions I am laying the table with the meal that Charles and his wife would have eaten at Christmas. The stumbling block is that I am not allowed to have any real food within the galleries – it all has to be fake. There is much that you can do with salt dough (mince pies, sugared almonds) and newspaper with masking tape (goose, Christmas pudding) but neither of these quite work when you are trying to fake a lemon jelly.
After much thought I came across a product that is used in artificial flower arrangements to imitate the water in the vase. It's a plastic resin that sets rock hard but remains translucent. I ordered a kit but was dismayed to find that it took 21 days to cure and I had a tight deadline.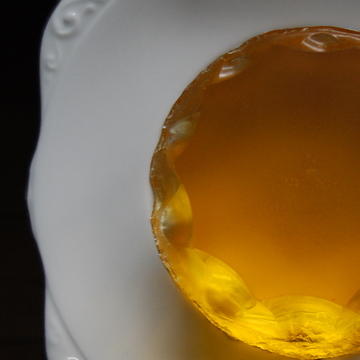 ---
10th Oct 2009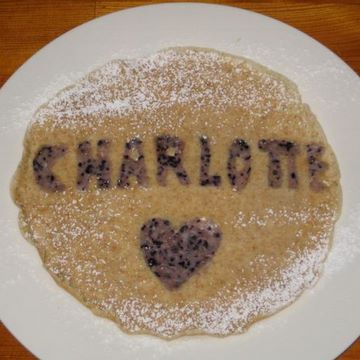 Tim: Every Sunday we have a big family breakfast in bed. French toast is popular, but the house favourite is definitely pancakes with fruit and maple syrup. A while ago we started experimenting with shapes, like pancakes in the shape of each person's initials. Now we've gone a step further by adding colour to create more ambitious pancake art.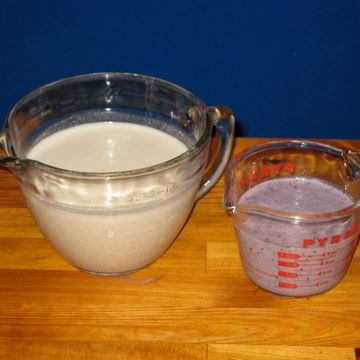 When the batter is ready we divide it into separate jugs ...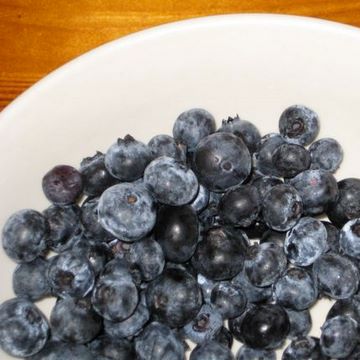 ...adding a handful of fresh blueberries to one and blending them in with a hand mixer or food processor.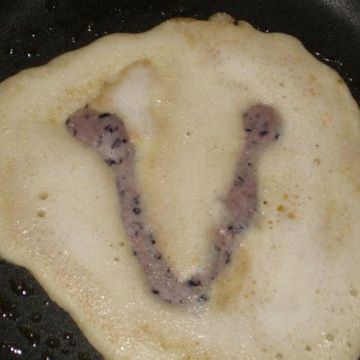 Pouring from the jug, or else using a turkey baster, start with the coloured batter and make a shape or write a letter. Within a few seconds it will have set enough to fill in around it with the plain batter.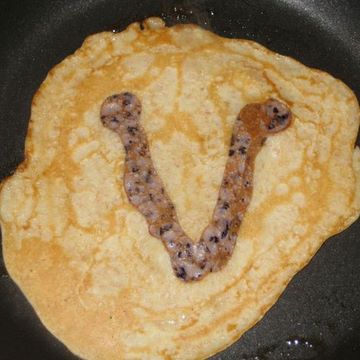 After that has cooked you flip the pancake as normal to cook the other side ...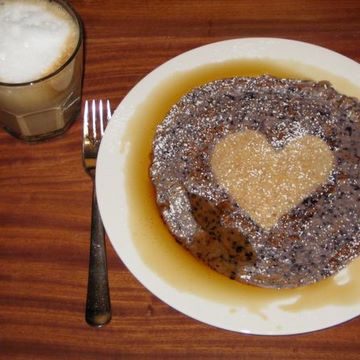 ...flipping it once again as you put it on to the plate before drowning it with maple syrup (or lemon juice and sugar) and dusting it with icing sugar.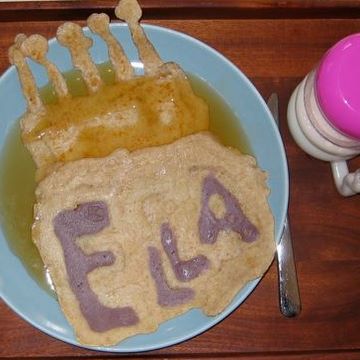 To write names or do more complicated designs we've found it is easiest to start making a regular pancake. When it is almost done on one side, lift it out of the pan on to a wooden chopping board where you can use a sharp knife to cut out shapes or letters. After carefully laying the pancake back into the pan you simply fill in the gaps with coloured batter using the turkey baster, adding small pieces from the cutouts to fill in the centre of letters like 'A' or 'O'.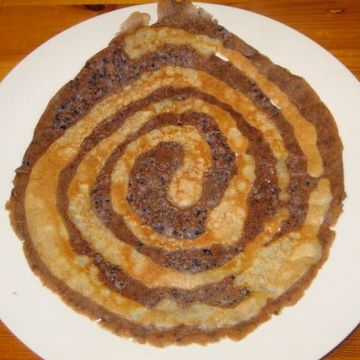 We use blueberries because where we live they are plentiful in summer, but any berry fruit would work and while fresh is obviously best, frozen fruit is just as effective.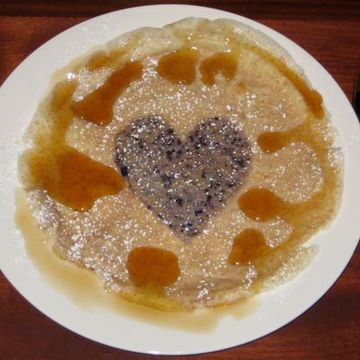 The blueberry mixture makes delicious pancakes (even if you decide not to make shapes) and is a good way of sneaking fruit into fussy kids.
---
27th Sep 2009
| | |
| --- | --- |
| The Great Squash Challenge | |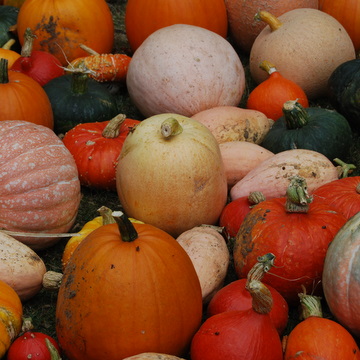 Helen: This time of year the larder is heaving with squashes – pumpkin, courgette, yellow crookneck, acorn, butternut, ambercup, hubbard, banana, trumpet, solaire, pattypan, spaghetti, fetuccini and so on. We saw an amazing display of squashes and pumpkins at Thornage Hall. Have you ever seen such a variety?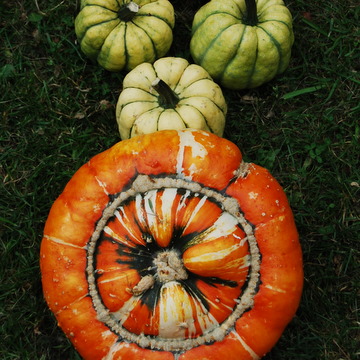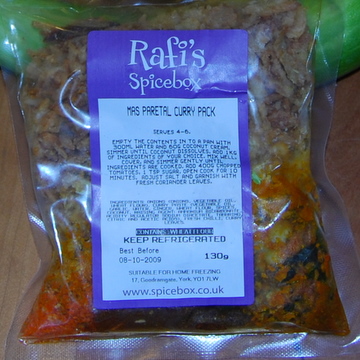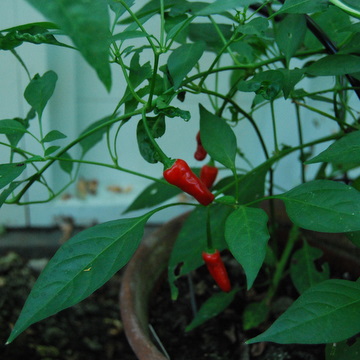 Next I went to the garden and selected the first chilli of the season. Then I photographed this delightful vegetable with the companions for this recipe: three squash, one coconut, one chilli.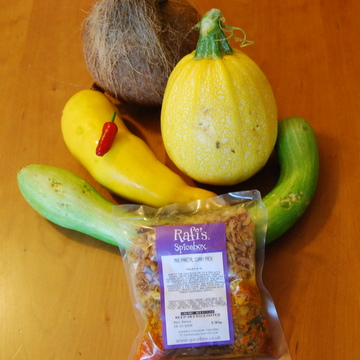 Cut the squash into small slices, add to the curry mix and stir well. Slice the chilli and add a second if you want to blow your head off. As the squash starts to cook you need to tackle the hairy fruit or seed or nut that is called the coconut.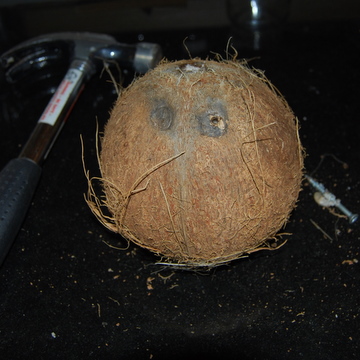 Breaking into the coconut requires specialized skills and equipment. There are three eyes at the top, but only one will work! Whack a big hole through it and pour out the milk into the squash pot. Then comes the fun part. Wrap the nut in a cloth and let out your anger with a hammer, don't hold back! Once it is well and truly smashed (but not too small so that chunks of coconut can be hand-held) take off the outside shell and grate the inner coconut flesh. Use the larger side of the grater to shred the coconut and add all to the curry mix.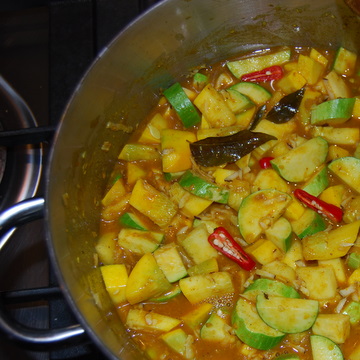 Cook for 15 minutes stirring every so often until the squash is squashed in the mix and eat. Recommended: sides of mango chutney, lime chutney, and yogurt liberally sprinkled with shredded cucumber.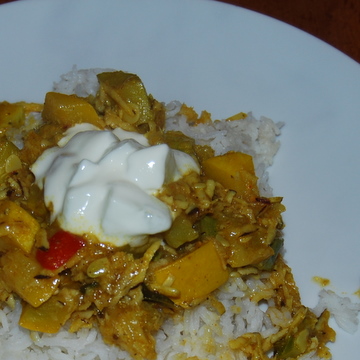 ---
17th Sep 2009
| | |
| --- | --- |
| Elderberry Jelly with a Chilli Kick | |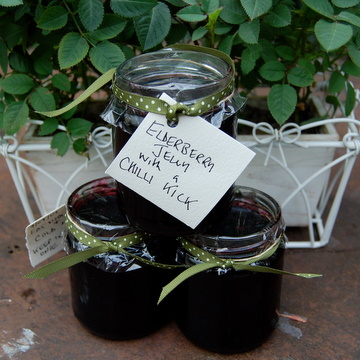 Jane: There's a sprawling elder bush just over the river from us which has been dripping glistening black elderberries for the last couple of weeks, desperate to be made into elderberry jelly. So finally we obliged. But instead of spread-on-bread-jam I wanted to make something with a kick, that you could eat with cold meats and cheese. Aha! Just add chilli! Surprisingly, the kids loved this jelly, and what's more it offers fantastic protection against winter colds and flu – take a daily dose as soon as you feel a sniffle coming on.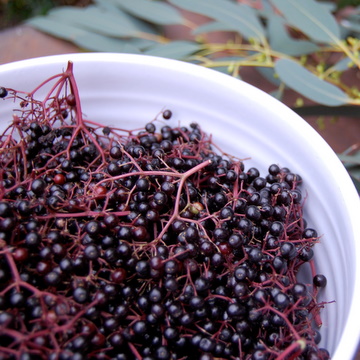 ---
9th Sep 2009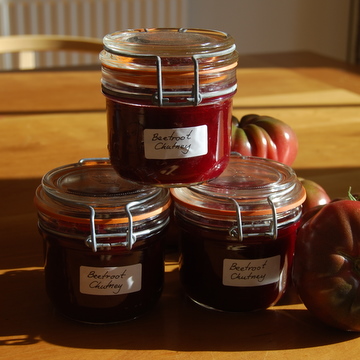 Tamsin: This is the season when I seem to be peeling and chopping whenever I have a free moment in an attempt to preserve all that the garden is producing. I've made many different types of chutney in my time but this year's beetroot one is truly scrumptious - deemed so delicious by my husband that he immediately banned me from giving any of it away!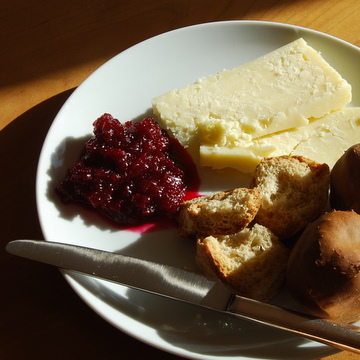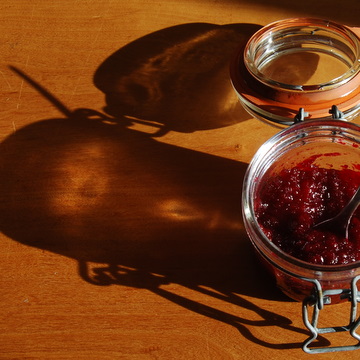 ---
21st Aug 2009
| | |
| --- | --- |
| How Many Different Love Hearts Have You Had? | |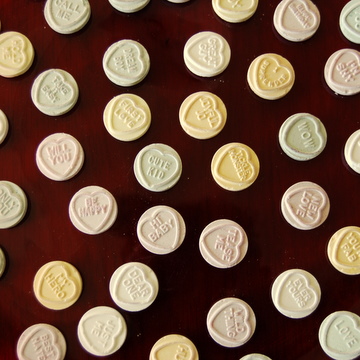 Tamsin: Love Hearts come in six different colours and flavours, they can be sucked or chewed and are the choice of sweet for many a pre-pubescent girl. I remember the seriousness that surrounded the sharing of a packet at school, who should get what and making sure that if offered to a boy the message did not place you in an embarrassing position.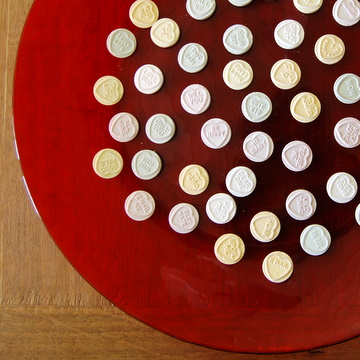 ---
18th Jul 2009
Jane: Mike has just delivered American Girl to us, a fab US mag quite unlike anything we have in this country (in so much as there are no boys/first kisses/fashion/my-best-friend-is-not-talking-to-me teenage traumas). Does that make it sound dull? It's not. It's full of energy, ideas, quizzes, crafts and funny, engaging features and stories. And cooking – this month frozen lollies of the most wacky and wonderful kind. The Peanut Brrrr was a step too American for us but we loved the idea of Flurry Float (frozen grape juice around vanilla ice cream to make a mivvi), Polar Pops – basically frozen Swiss roll on a stick, and Chilly Vanilly – fresh berries in frozen vanilla pudding.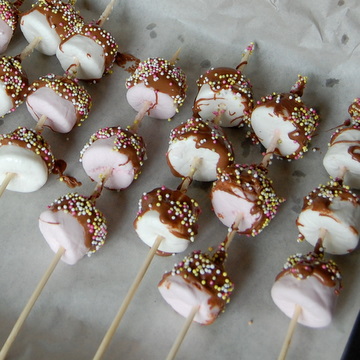 ---
20th May 2009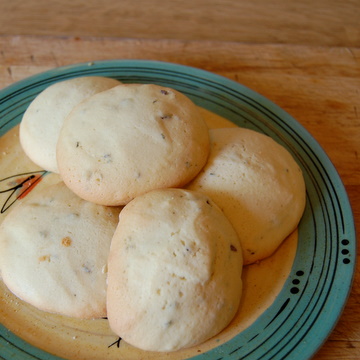 Jane: Edie brought home some Tudor biscuits she'd made at school which were unusually delicious – halfway between biscuit and cake, with a firm yet spongy bite and a slightly perfumed rosewater tang. They're incredibly easy to make (obviously why they do them at school) because they don't need rolling and cutting – you just drop spoonfuls of mixture on to a baking tray. To make them a little summery (as it is Chelsea Flower Show week) I added some French lavender leaves and flowers, which everyone said tasted like cinnamon when the biscuits were cooked. Very strange...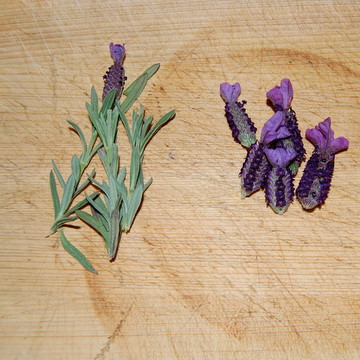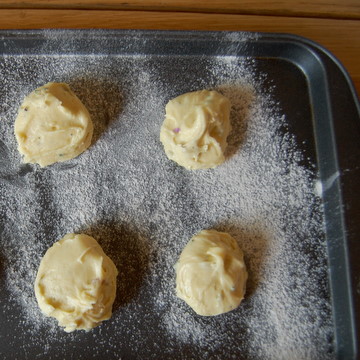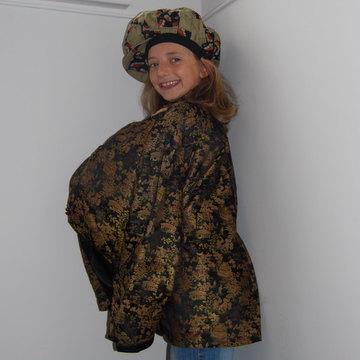 King Henry VIII loves those lavender biscuits...
---
16th Apr 2009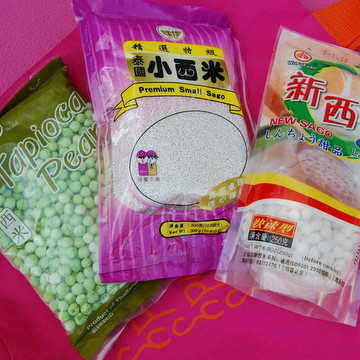 Jane: It all started with sago. A few weeks ago in a foreign hotel, I tasted my first sago pudding in two and a half decades. It was exquisite: a tiny bowlful of opalescent sago pearls and fresh mango slivers drifting in fragrant coconut milk. All those memories of stodgy, evap-milked, school frogspawn vanished instantly. This was a sago pudding I (and I hoped the kids) could learn to love. If only I could find out how to make it.
Back home, I went on a search for sago. No luck in any of the big supermarkets or health food stores. Even in the foreign food shops I could only find weird hybrids. The version which looked most like sago and advertised itself as 'premium small sago' was actually made from potato starch (whereas sago comes from sago palm stems). 'New Sago', a Chinese, fast-cook variety, was made from tapioca (a starch derived from cassava roots, not sago palms). I bought them both anyway. Plus the large, green 'Premium Quality Tapioca Pearls', dyed with pandan leaf extract so they looked just like bullet-hard dried peas.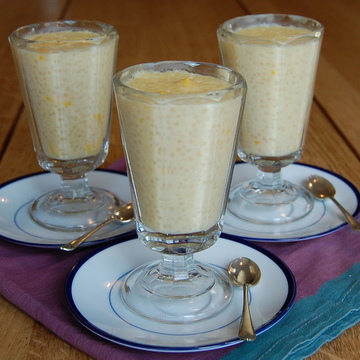 I found a chilled mango sago pudding recipe on the internet and started simmering the tiny potato starch pearls, adding coconut milk and mango, all the time hoping for manna. The recipe said it would make enough for four people but I managed to get eight bowlfuls, and cooled them as directed so they stood stiff with a thick, yellowish milk skin on top, the little potato pearls shining through, before proudly presenting them to the family as pud. 'Sordid,' 'Solid starch', 'Godawful' were a few of the kinder comments. Even I found it difficult to swallow more than two mouthfuls of this cold, starchy wodge. Into the bin it went.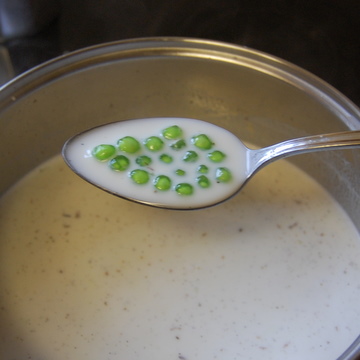 They didn't. The monstrous green packet languished there until the evening, when the anti-tapioca rebellion had muted a little and I could bring it back in. But the window was too small for me to climb through, so Edie had to jump on to the roof to retrieve it (so kind, given her aversion to milky puddings), while I mused on what further ridiculousness my sago trip would take us.
A few nights' later, I felt strong enough to make the green tapioca. On the translated-from-Thai packet, it said: 'Put Tapioca Pearl [sic] in boiling water and stirs [sic] lightly until look [sic] clear.' I boiled it for about 20 minutes. Still rock solid. Thirty minutes: the edges were jellylike and chewy but the insides tough as old Doc Martens. Forty minutes: enough! We'd eaten our main course ages ago, and here was I still boiling the tapioca. Fine, it was a bit stodgy and solid in the middle, but I reckoned it would continue cooking while I made the custard.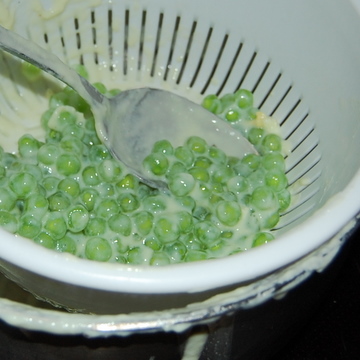 So I drained the water off the green gunge (green slime was drooling from the pearls, worth knowing if ever you want to make your own edible snot for Halloween). I added milk and sugar, brought the mixture to a boil, and stirred in the eggs. It thickened a bit until it looked like cream of spring veg soup, though the green tapioca itself was still tough and gloopy (how long does this stuff take to cook?). I dished it up anyway, straining it into the children's bowls so they got pure, sloppy custard, while the grown-ups tried (and failed) to munch their way through the still chewy green pellets. Awful. Inedible. Grim.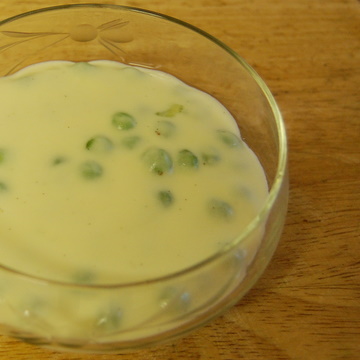 I'm not sure about the moral of this story, apart from avoid tapioca, sago, and other foreign starches at all times if you want a happy family. But I know what I tasted in that foreign hotel those few weeks ago, and it was gorgeous. For that reason alone, the sago grail is still on my mind…
---
11th Apr 2009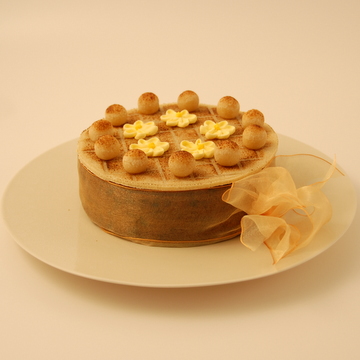 This traditional and delicious cake is fun for all the family to make.
---
9th Feb 2009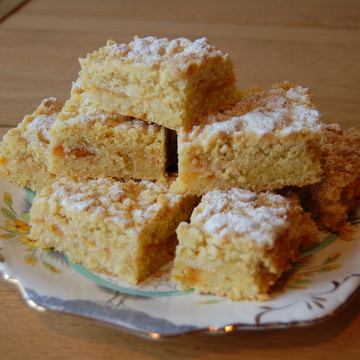 Jane: This is the time of year for lovely comfort puds like crumbles and roly polys and here's a fantastically stodgy teatime equivalent beloved of all members of our family. It's a heavyweight buttery shortbread with a sweet and fruity layer that makes you think spring might be on the distant horizon. It's also good to make as a traybake for school dos as both children and adults like it a lot, and you can make 24 or so slices in one batch.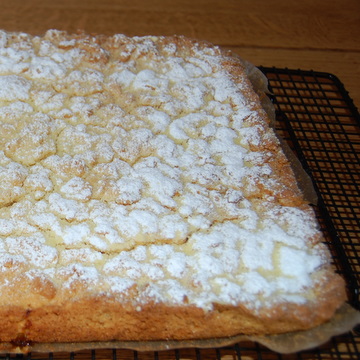 ---
16th Jan 2009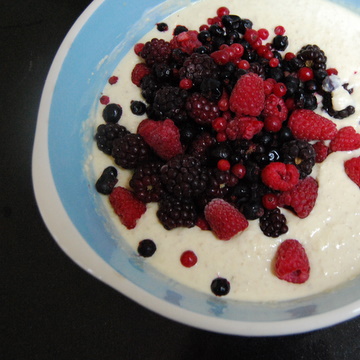 Tamsin: I am not that good at breakfast. Cooking early in the morning is not a good start for me (which is a pity for my growing son who can think of nothing better than an English fry-up to start the day). My favourite beginning is a fresh fruit salad but even that seems like an awful lot of hard work when your eyes have yet to focus from their night of slumber. I think this comes from being spoilt as a child by my father who prepared us breakfast each day. All we had to do was lay the table and enjoy. Thank you dad, I look back at those 'breakfast all prepared' days with belated appreciation.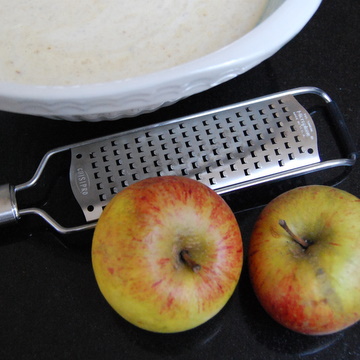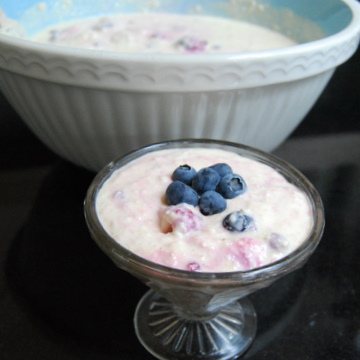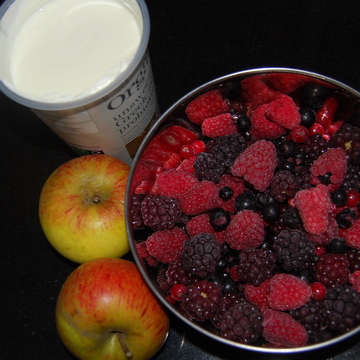 ---
10th Jan 2009
| | |
| --- | --- |
| Godmother's Special Choc Chip Cookies - The Best! | |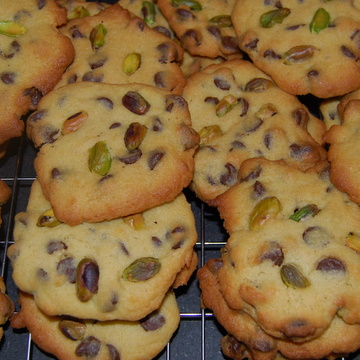 Helen: Carla was very keen to make chocolate chip cookies during the school holidays and I was even keener. The cookies travel very well and we have tested out their flavour at several locations. Firstly, in the bowl in raw state rather a lot of the cookie dough was eaten by Carla, with assistance from Maudie and Edie. It must have tasted good, because around 10% of the mixture disappeared. Secondly, once cooked, Joe tested the first cookie while still hot from the oven. This test showed that flavour is obscured by heat and does become stronger once the cookies have cooled and the choc drops are no longer in danger of burning your tongue. Thirdly, the cookies were taken to the beach to experience the seaside; a
fter a bracing walk in the wind, they tasted fantastic in the semi-arctic conditions.
Fourthly, a batch of cookies (no salt version) was mailed to my father in a tupperware box layered in greaseproof paper and topped with bubble-wrap and not one cookie was broken by the postie. My father gave evidence over the telephone that even when he finished them on the fourth day, they still maintained flavour and texture, and so now we know that this recipe for cookies does not go stale when posted a distance of 90 miles and consumed in a leisurely manner over a period of days rather than hours. This range of taste tests has been fairly comprehensive, and shows that next time Carla and I can be more adventurous and post cookies to a range of destinations!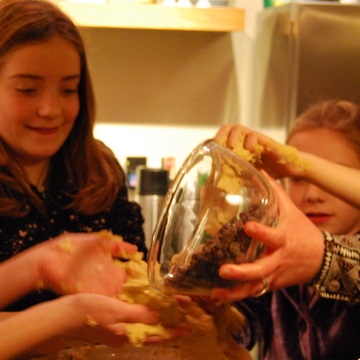 You will see that with three sets of helping hands it may be very hard to get the required quota of choc chips if your helpers consume too many choc chips before they reach the cookie mixing bowl!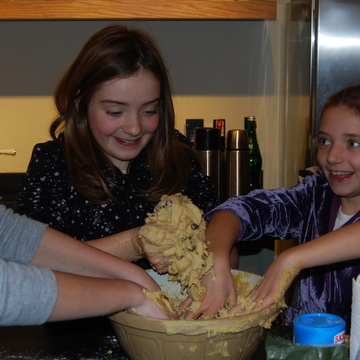 In this picture, we added some pistachios to the cookies just before they were popped in the oven. This batch of cookies did taste different because they were a no-salt version so we could share half of them with my father who is not allowed salt since his heart operation. (It did not make a big difference to the taste of the cookies.) Also, these cookies have been baked for 10 minutes to be of firm texture to withstand packing in tupperware to travel as going-home presents and for posting to my father in Oxfordshire. The cost of posting a box of cookies packed in tupperware and padded envelope in Britain was £2.50 first class: posting at 4pm in central Cambridge they were then delivered the very next morning to rural Oxfordshire and remained in pristine condition with hardly a crumb dislodged. So this proves that chocolate chip cookies make an excellent choice for a posted present!
---
28th Nov 2008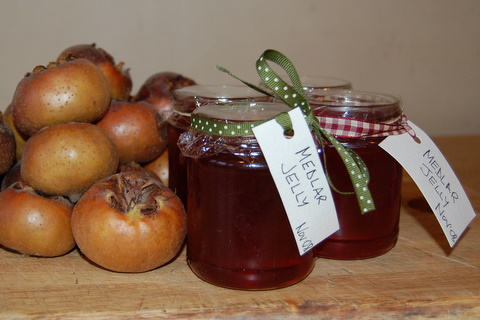 Jane: My neighbour has a rarity in his front garden – an exquisitely shaped medlar tree which produces prolific late-ripening winter fruit. You just shake its leaf-bare branches and a profusion of hard, yellowy-brown, inedible fruits hits you on the head. Inedible at least until they are made into jelly, cheese or 'bletted' – stored until they go brown and soft, internally fermenting (they look as if they are rotting) until the flesh turns to a fragrant, slightly cloying-tasting pulp. Given this, you can understand why medlars are not popular today, but they were considered a delicacy in Victorian times, the bletted fruit scooped out and eaten raw with cream and sugar as a winter pudding.
---
30th Sep 2008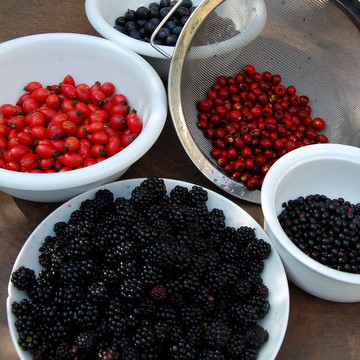 Jane: Last weekend the children were camping, so Mal and I went hedgerow picking with a step ladder. Ooh, it made life much easier. We could reach all the sloes and lovely juicy blackberries that everyone else had left behind. I've just bought a fantastic book, Hedgerow Medicine, which shows you how to make teas, tinctures and balms from the plants that are all around us. But I started off with hedgerow jelly: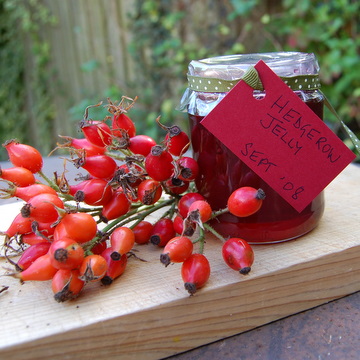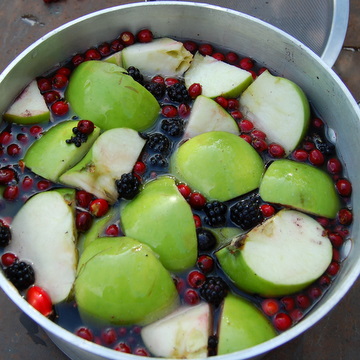 ---
19th Sep 2008
| | |
| --- | --- |
| Blackberry and Apple Slices | |
This is delicious hot, but even better cold a day or two later.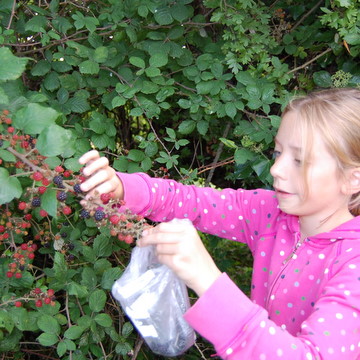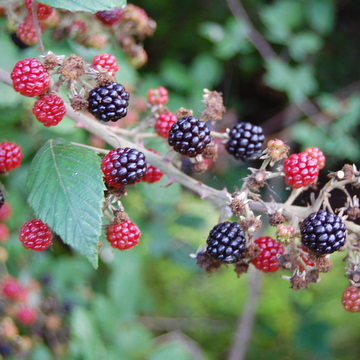 ---
4th Sep 2008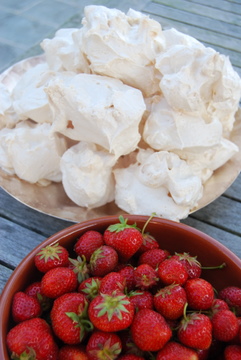 Tamsin: We're always being told to let children help with the cooking, but I have never found this an easy thing to do. This is certainly a failing as a mother and has something to do with being a control freak when it comes to my (and I see it as 'my', not the family's) kitchen. It also has to do with the amount of mess that can be produced by children (and some adults) whenever you let them near the mixing bowl. But I know the advice is right, so I take deep breaths and let people into my domain, not least since cooking is such a passion of mine that I want to pass it on to my children.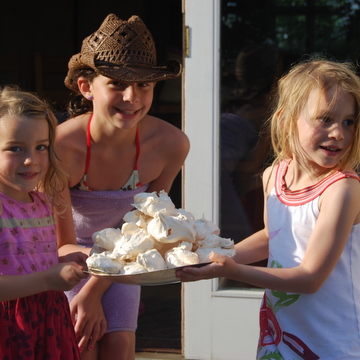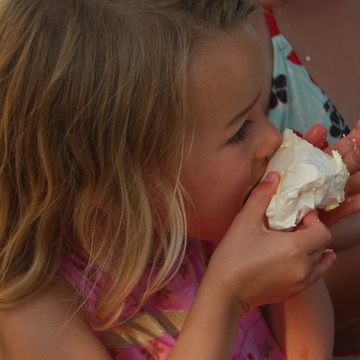 ---
23rd Aug 2008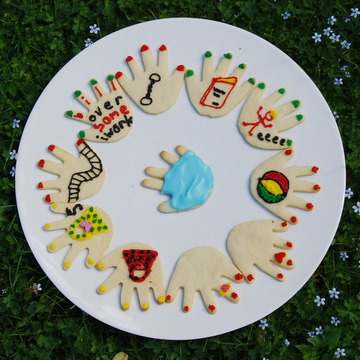 Tamsin: Last year we made Biscuit Feet (see blog 6th August 2007). This year I decided to do Biscuit Hands using the hand-shaped cookie cutters I've had at the back of my drawer and never used. I made the same shortbread dough as for the feet, since it keeps its shape so well. When the biscuits were cooked we decorated them by thinking of all the words or phrases that had a prefix of 'hand'.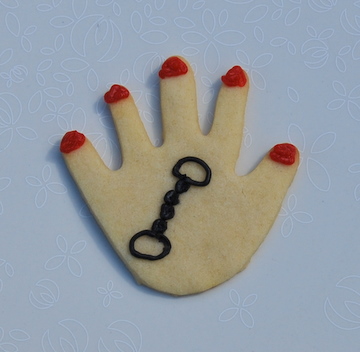 Handcuffs...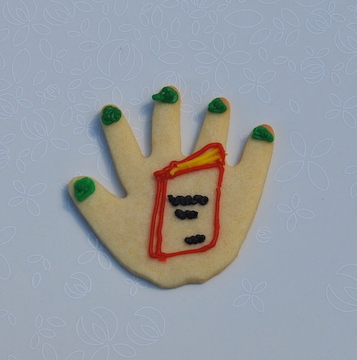 Handbook...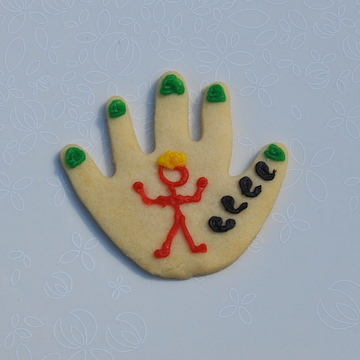 Handyman...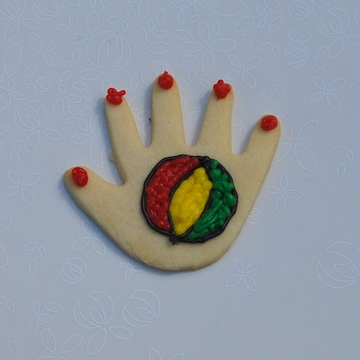 Handball...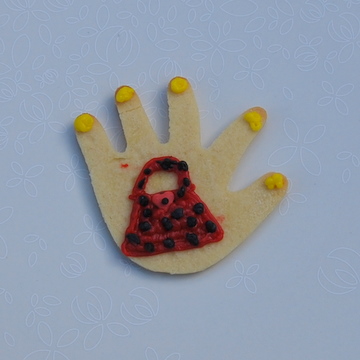 Handbag...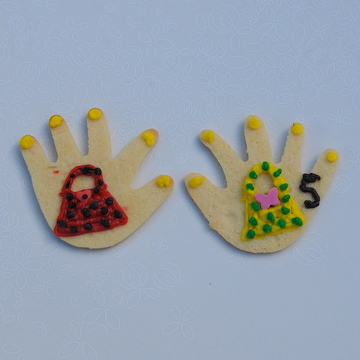 More handbags...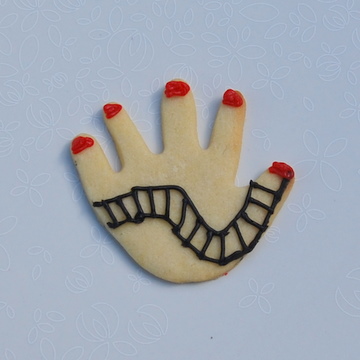 Handrail...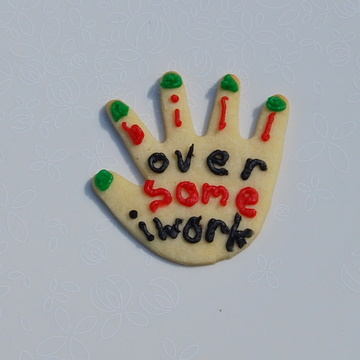 Handwriting...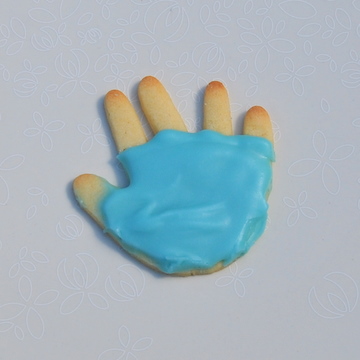 Handful...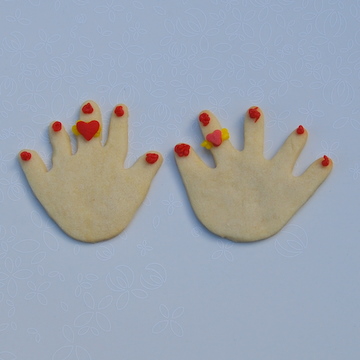 ---
14th Aug 2008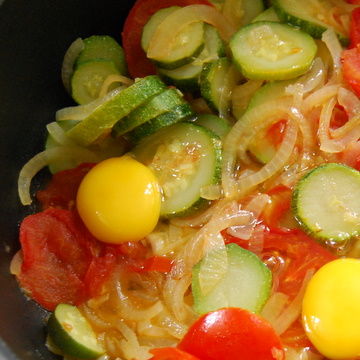 Tamsin: This has no other name, so if my son asks me, 'What's for lunch?' and I reply 'The Courgette Dish', he knows exactly what it is.
The origin of this dish is Chilean, since the recipe was given to my mother by her Chilean friend, Lucila. This was in the late 70s and ever since, it has been a family favourite, often made on summer evenings after our return from the beach and a freezing swim.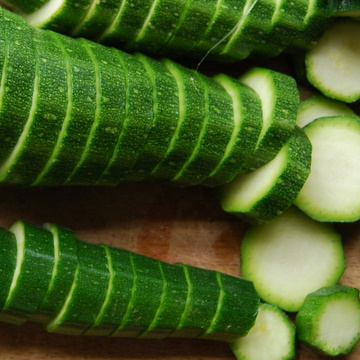 At this time of year courgettes are at their best and serving them just as a side vegetable does not seem to give them enough respect. The quantities of ingredients for this dish do not really matter, it depends on how many courgettes, onions, tomatoes and eggs you have in the fridge, but I will give a rough guide to help those brave enough to try it, below. The one thing that cannot be messed about with though, is that it has to be served with rice and mango chutney.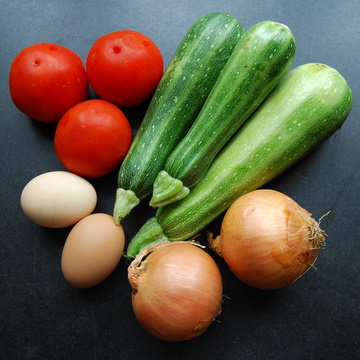 Take 2 medium onions, 3 to 4 largish courgettes, 3 large tomatoes and 2 eggs.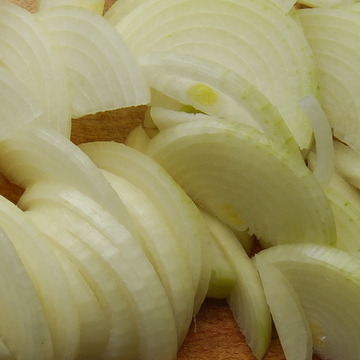 Thinly slice the onion and put in a large frying pan together with a couple of tablespoons of olive oil. Fry gently for about 10 mins until the onion begins to soften.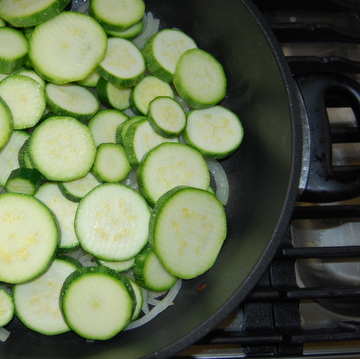 Slice the courgette and place over the soft onion. Turn the heat right down and put a lid on the pan so the ingredients begin to steam fry. Every so often, lift off the lid and turn the ingredients over so that they all get a chance to fry on the bottom of the pan.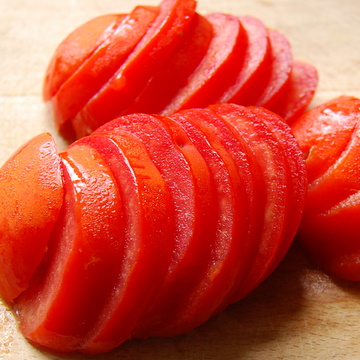 Once the courgettes are cooked, but still with some crunch to them (this will probably take about 15 minutes), add the sliced tomatoes, cover and cook for a further 10 minutes, turning the ingredients as before.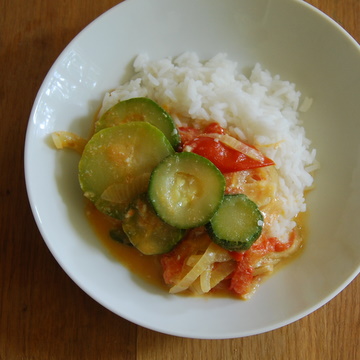 Take the pan off the heat and break in the two eggs. Briefly mix through so that the egg begins to cook and forms a sauce with the cooking liquid. Transfer to table (preferably outdoors) and eat at a leisurely pace.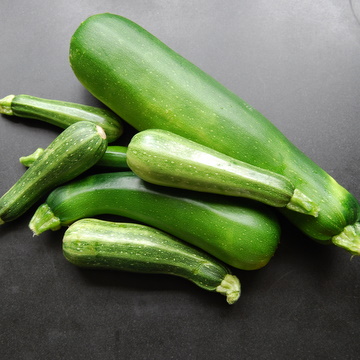 ---
17th Jul 2008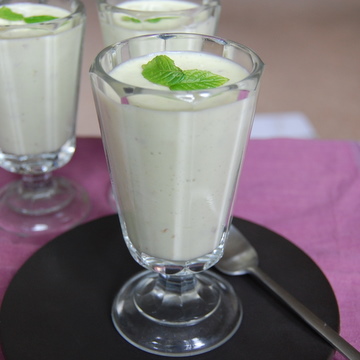 Jane: Our exceedingly kind neighbour Julia brought round a big bag of home-grown gooseberries this week, freshly picked from her allotment. I love goosegogs though they are funny-looking things, all veiny and hairy and hard as bullets, full of juice and tart flavour once you cook them. Some were very large and it suddenly brought back memories of reading years ago about some wacky 'gooseberry clubs' around Manchester and Yorkshire where growers had annual competitions to cultivate the largest gooseberry ever. They stripped their bushes of all fruit but one, which then grew to a whopping two ounces or more. Just eight of those and you can make a pretty decent gooseberry tart. But instead, we decided to make our favourite green pud - gooseberry fool. 
---
27th Jun 2008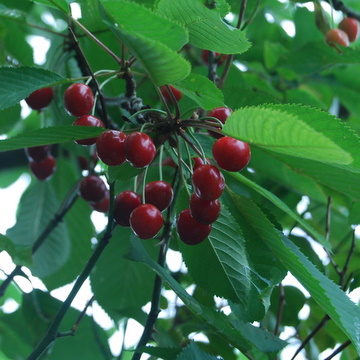 Every hour counts and I am on constant watch. Why this level of alert? All so that I can get to my cherries before the birds do. If the weather is sunny the situation can change rapidly – one day a tree full of green fruit, the next a tree full of cherries and the next a tree stripped of anything red. For many years I've not been successful with this vigil, but this year I was determined to succeed.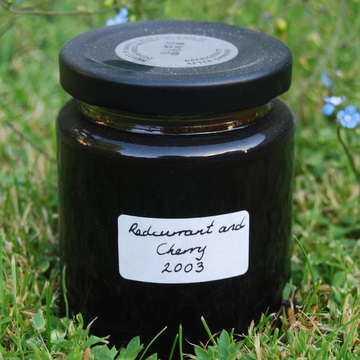 In fact, I know the exact year I last managed to get the timing right – 2003 – because I have one last jar of 'Redcurrant and Cherry Jelly' sitting in my cupboard.  I can't bring myself to break open it until I've replenished the stock of that delicious flavoured jelly.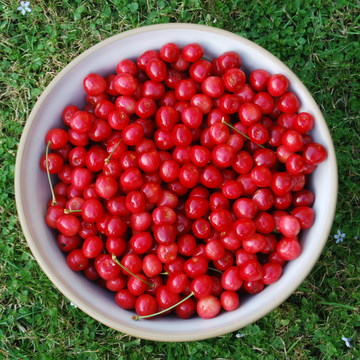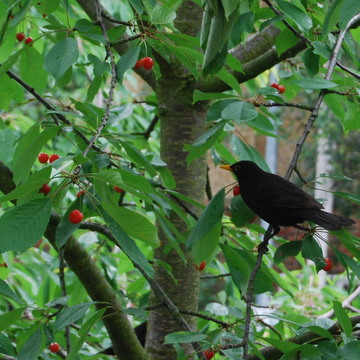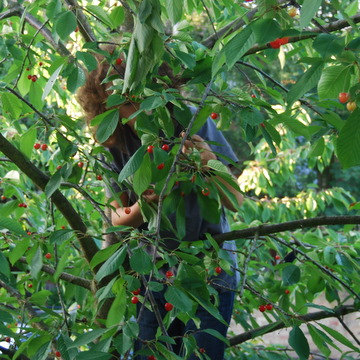 ---
6th Jun 2008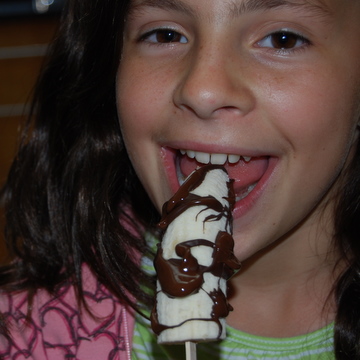 Tamsin: For me to say these are delicious means little since my usual diet contains one if not two bananas a day. But when my son Joe said they were fantastic it really gave them the seal of approval because he hates bananas. I've never understood why. He is not a fussy eater, but ever since he was old enough to have a choice in the matter he's avoided bananas. Maybe he had banana overload in the womb. Perhaps that's why when he was born (which was not quite the straightforward birth I'd hoped for), the midwife couldn't believe how unstressed he was. It was thanks to the potassium, high quantities of which are found in bananas, which is good for stress, heart and blood pressure.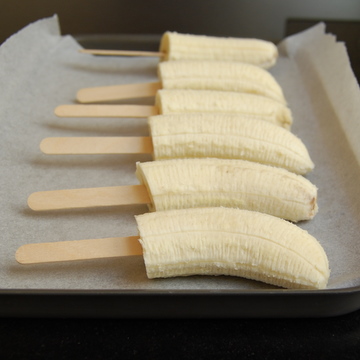 Frozen bananas do have a unique texture – very much like eating ice-cream but a lot less messy – unless you allow the children to smother them in chocolate. This can be done at the last minute and they can choose how much they would like.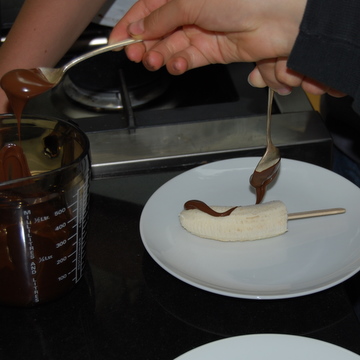 There isn't really a recipe but here's how. Cut in half as many not overly ripe bananas as you need and put them on a tray lined with greaseproof paper.  Push a lolly stick halfway into each one. Place them in the freezer for at least an hour. Melt some chocolate (I use dark, but not 70 per cent as you want a bit of sweetness) in a small container in the microwave or on top of a double boiler.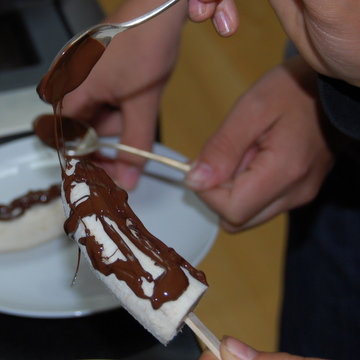 ---
17th May 2008
| | |
| --- | --- |
| The Big Tomato Ketchup Taste Test | |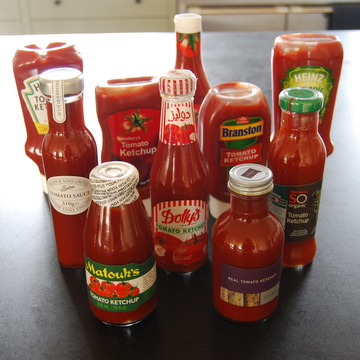 Tamsin: I have always been keen on tomato ketchup. In more youthful times I was partial to a ketchup sandwich, best made with white bread, thickly spread with butter and finished off with the layer of ketchup. So when my friend Helen suggested we did a ketchup tasting test, I was all for it. We decided what was needed was as many different bottles of the red sauce as we could find, together with a big bowl of chips and chipolatas to dip in.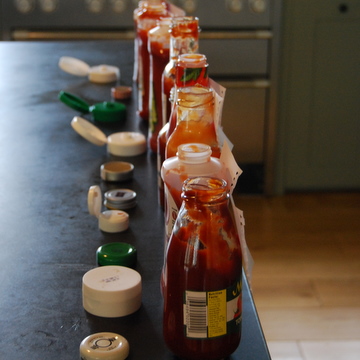 Unlike the hot chocolate tasting we did recently (see blog 13th January 2008), we decided this should be a blind taste test. As a lifelong lover of Heinz, I had no doubt that – blind or not – I would be able to identify my favourite sauce and would have placed a bet on it if someone had challenged me.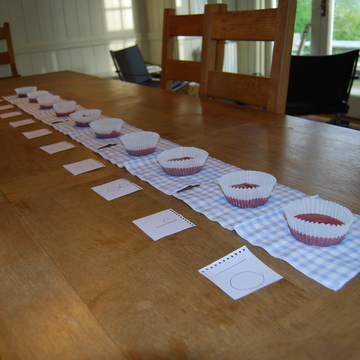 We labelled the bottles 1 to 10 and then squirted some ketchup from each bottle into a muffin case and laid them out in the middle of the table.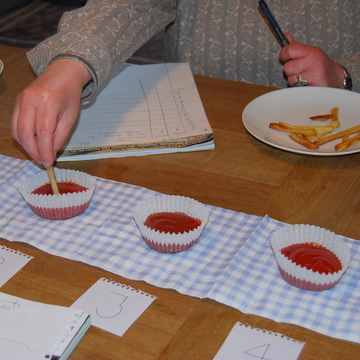 Chips in hand and score sheets at the ready, we began to dip, chew and scribble. Early on it became apparent to me that picking out my beloved Heinz was not going to be as easy as I'd thought. Some sauces were definitely not contenders being too acidic or sweet and therefore a bit unpleasant while others were richly spicy and (although not Heinz) definitely hit the spot. Even so there was enough uncertainty amongst the rest that I began to be glad no bet had been placed.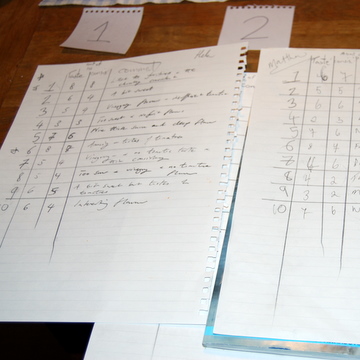 ---
5th May 2008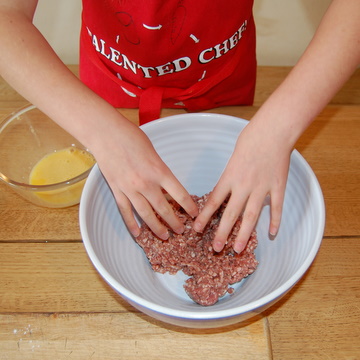 Jane: At school last week, Maudie learnt how to make burgers and was keen to cook them for us in a special Saturday night dinner before our weekly date watching the Nancies twirl and sing in 'I'd Do Anything' (we're all hoping that Jodie or Niamh will win). Maudie took our orders: we had a choice of burgers with bacon and cheese, lettuce and tomatoes, and she thought we'd also have corn on the cob on the side. She kept saying how easy it was – all you need is some mince (we used lamb mince), an egg and a squirt of tomato sauce.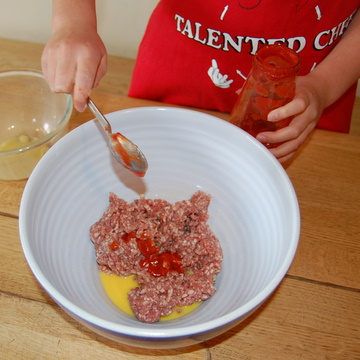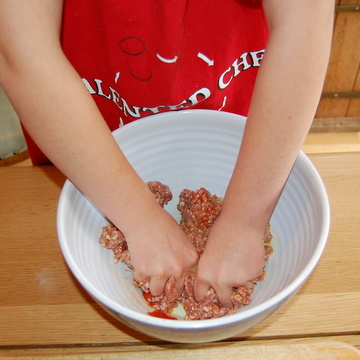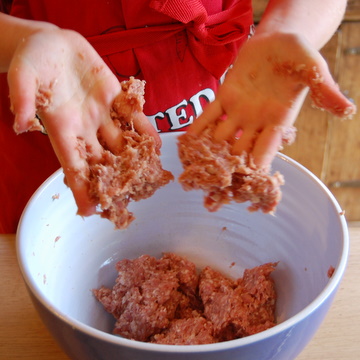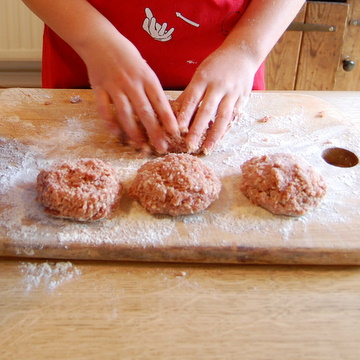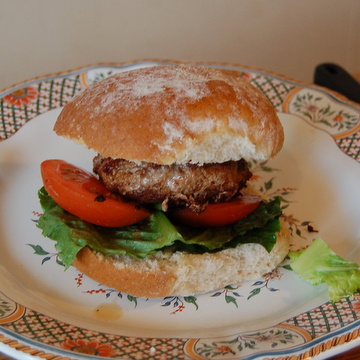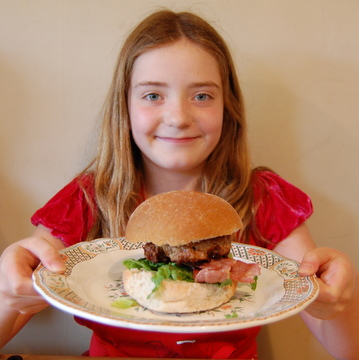 ---
22nd Apr 2008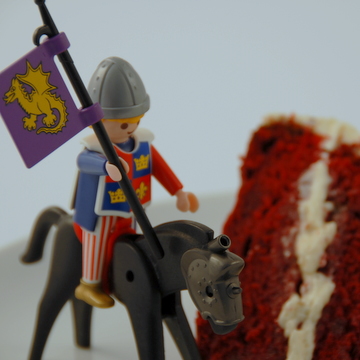 Jane: It's St George's Day today and duh! I only realised when I heard it mentioned on the radio this morning. In England, we've always been a bit low-key about celebrating our patron saint's day compared to Wales (St David's day, 1st March), Scotland (St Andrew's day, 30th November) and Ireland (St Patrick's day, 17th March, when even the rivers turn green…). But this year things are different – the red and white flag is flying over 10 Downing Street and the whole nation seems to be celebrating. So I thought I'd dash off a quick red and white cake in honour of St George and his Dragon.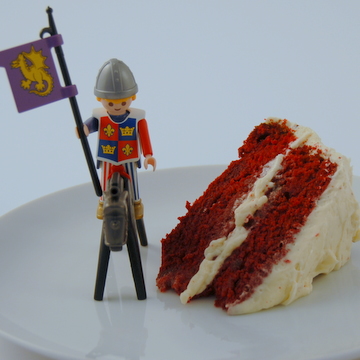 ---
12th Apr 2008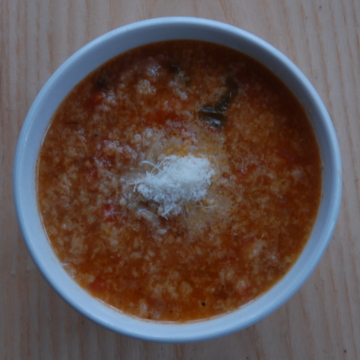 Tamsin: Jane donated one of her jars of chicken stock to me on Friday which gave me the chance to try out a recipe which calls for nothing but the finest ingredients. Pappa Al Pomodoro is one of those simple Italian dishes which puts you back in touch with the ingredients that you are transforming. It begins with the fresh tomatoes which need to be peeled. My heart always sinks when I read a recipe with this requirement in it but, once I get down to actually peeling them, I realise how easy it is and what a pleasure it can be. 
The skins slip off between your fingers so easily and you are left with beautiful pink/red velvety spheres, which are so much more alluring than when coated.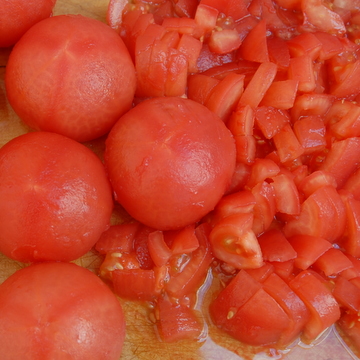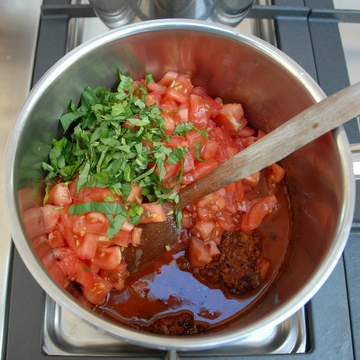 Finally, the breadcrumbs are mixed in. It is worth spending time crumbling it between your fingers to achieve fairly coarse breadcrumbs and finish off the sensory cooking experience.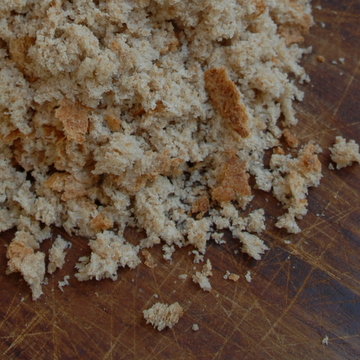 The resulting dish is a thick soup which has a comforting texture and is a meal in itself. Serve for lunch or light supper with plenty of fresh Parmesan.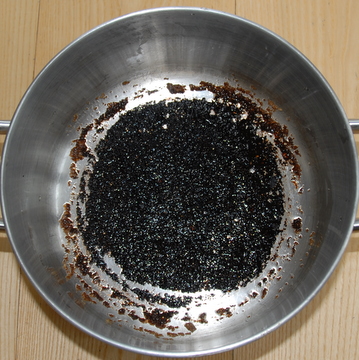 ---
10th Apr 2008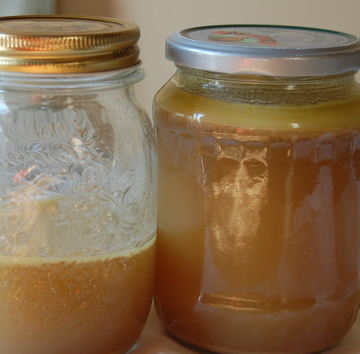 Mal: I discovered the wonderful powers of chicken stock in the early 1980s when doing some work at the house of the mother of a good friend. Gorgeous Dolly Frankel, as anyone will tell you, always has food cooking or cooling in her kitchen – delicious gefilte fishballs, sumptuous roast chicken and, if you're really lucky, a chicken soup with kneidels. Because she's warm, welcoming and ever-generous, Dolly will feed anyone who enters her home. If they're not hungry when they arrive, they leave with food parcels.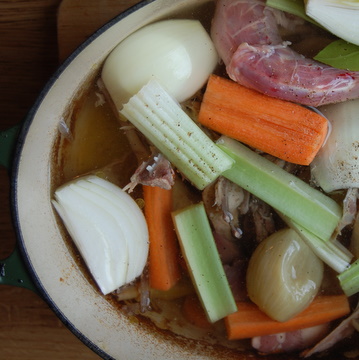 I vividly recall the smell of the soup welcoming me the first time I walked through her kitchen door (I never saw anyone use the front door in Dolly's house). When suffering a bad cold one week a few months after working at her house, Dolly had some soup and stock delivered to me with instructions to take both, and get well. It worked. She gave Jane some extra-strong, recuperative stock-cum-broth after Maudie's birth which completely did the trick.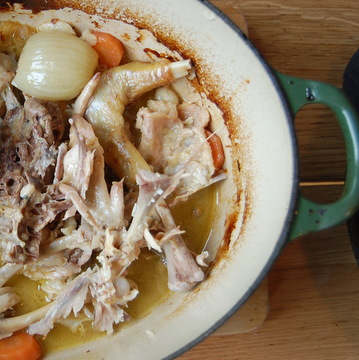 ---
6th Apr 2008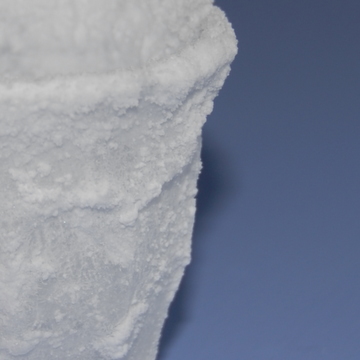 Tamsin: Salt has always been used as a protection against witches and was one of the substances that were placed in 'witch bottles'. These were long, thin bottles that once filled, offered protection against evil spirits. They were then buried in the garden or placed near windows and chimneys, the weak points of the home where witches could easily slip through. Salt was one of many items that could be placed in the bottles to give protection, including iron nails, thorns, threads, hair and urine.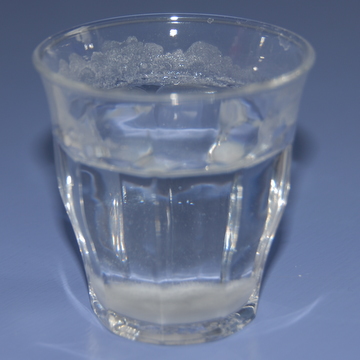 For me, I always use salt to protect the family from eye infections. The minute anyone complains of a tingly sensation in the eye or the first signs of conjunctivitis appear, I boil a kettle, make up a saline solution, leave it to cool and then repeatedly bathe the eye with it. This is how I came to leave a glass full of salt water and then forget about it in our bathroom for several days.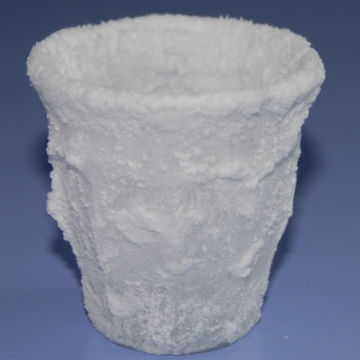 ---
21st Mar 2008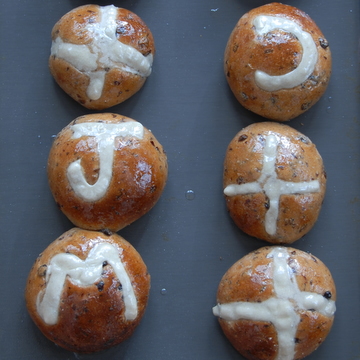 I thought our Hot Cross Breakfast Buns this morning were not going to be a success - I ran out of time and didn't have the right flour - but all turned out okay in the end. So here are the tips I found worked.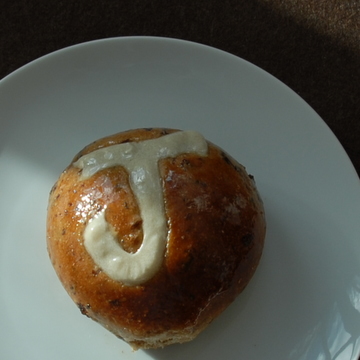 Firstly, I made them in the bread machine but instead of doing them on Raisin Mode I used the Pizza setting which only takes 45 minutes instead of 2 hours 20 mins.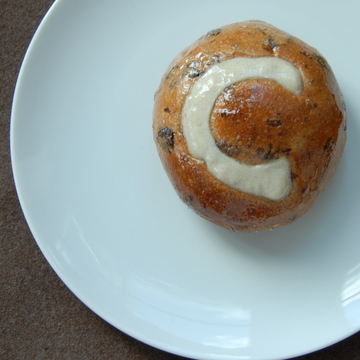 Secondly, I didn't have any Strong Plain White Flour. I could have used Strong Wholemeal but I know the kids would want the fluffy texture of white buns. So I used normal plain flour and although they hadn't risen much before I put them in the oven, they puffed up nicely during baking. On eating you couldn't tell any difference.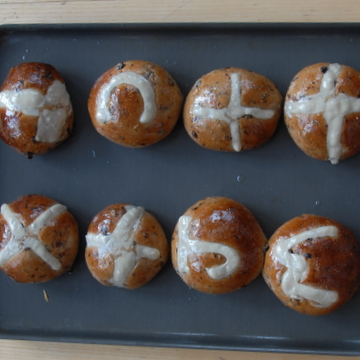 So if you have a little time, have a go – it will all work out all right and home-made hot hot cross buns make Good Friday.
---
6th Mar 2008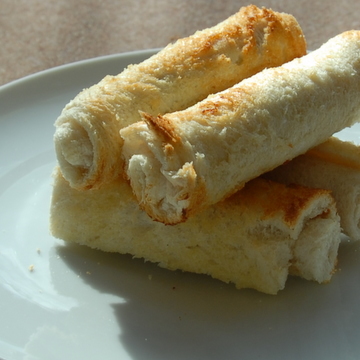 Tamsin: I have always loved Marmite, especially on toast, late at night or as a snack when coming in from the cold.  It is hard to beat, but there is one thing that does beat it and that is a Marmite roll.  It is something in the way that they are crispy on the outside and soft in the middle, with the flavour tightly caught in the spirals and the satisfaction of biting into a tube!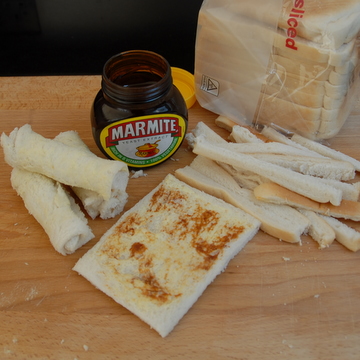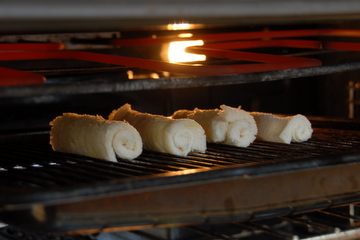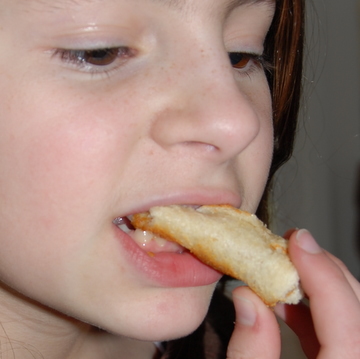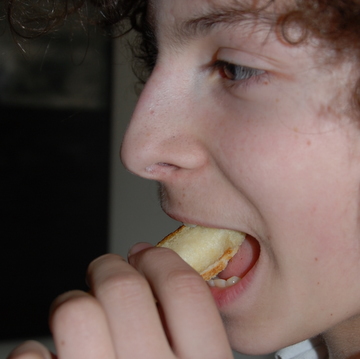 ---
29th Feb 2008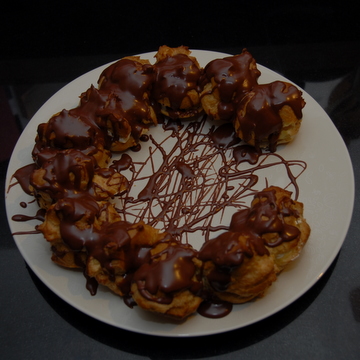 Tamsin: Carla and I have been engrossed, over the past few weeks, in the Masterchef programme on BBC 2.  It came to an exciting conclusion yesterday that saw the technically brilliant James triumph over the amazingly creative Emily.  It inspired Carla to try her hand at Masterchef cooking.  This means that the food not only has to taste good but it also has to be very well presented.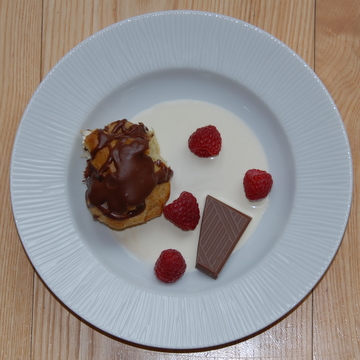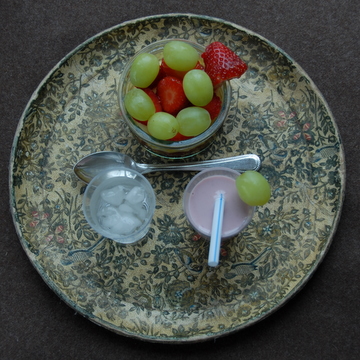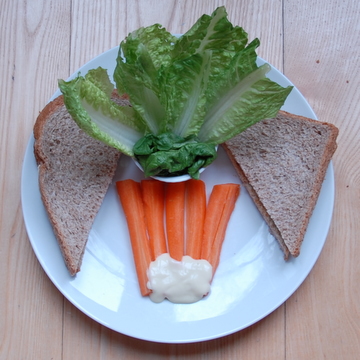 ...and lunch.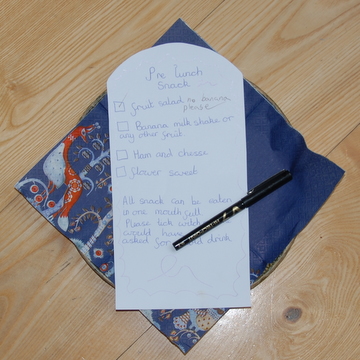 ---
5th Feb 2008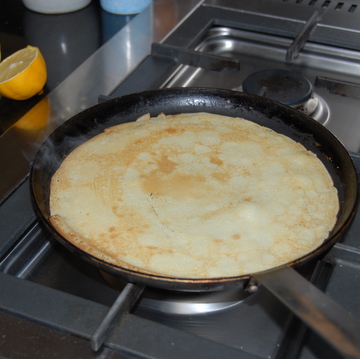 Nicky: In our house pancake-making is a two person job. I make the batter and find that for four hungry people you need to treble the recipe using 3 eggs. Some people say that the batter needs to stand for a while before you use it - I don't think this makes any difference. I just put it all in a food processor and whizz. I then put it into a jug and handover to my husband. Cooking pancakes seems to have enough drama (and instant positive feedback) to interest men - a bit like barbecue cooking. He pours a tiny amount of oil into a frying pan, heats it up really hot and then tips any surplus back out and pours some batter in, turning the pan to make sure the batter covers the base. Then after a short while he flips it over and cooks the other side. He then repeats this process until the batter runs out.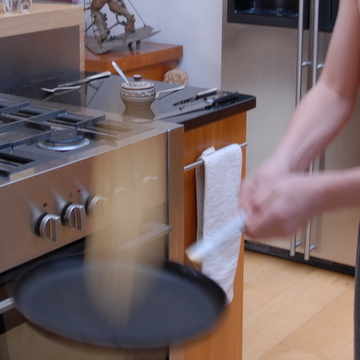 ---
3rd Feb 2008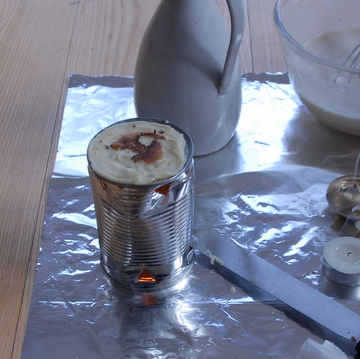 Tamsin: The talk at breakfast turned to pancakes (since Pancake Day is on Tuesday 5th February) and Joe recalled the best time he ever had making them. His scout leader had asked them to bring in a tin can which turned out to be their frying pan, with the heat to be supplied by a tea light. We decided that as it was a Saturday, with not a lot to do, we would try to replicate this experience in our own kitchen.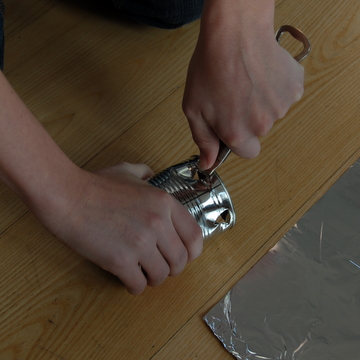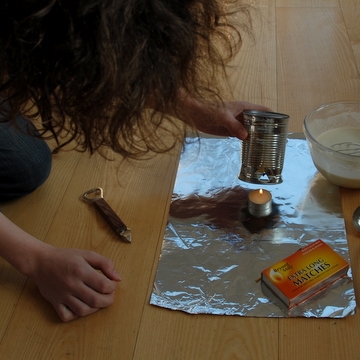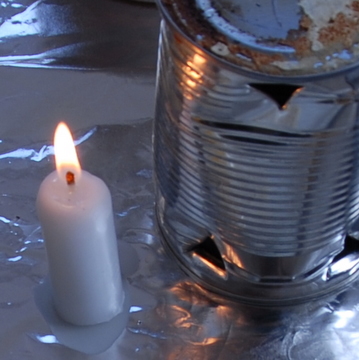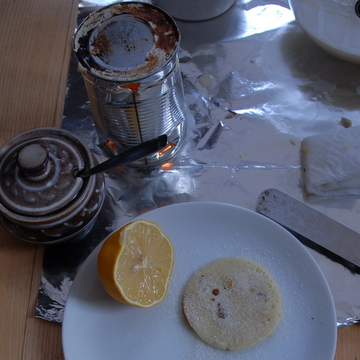 ---
29th Jan 2008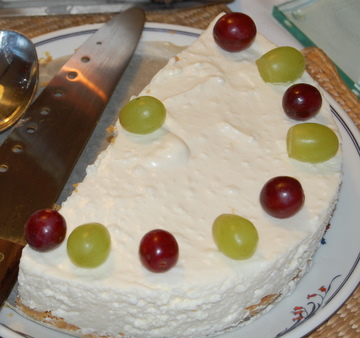 Jane: Food for me is inextricably bound up with childhood memories and emotions, which is why I love prunes and custard, beans on toast, smooth oatcakes and will happily eat muesli for breakfast for the rest of my life. I was reminded of this a while back when we went for lunch at the home of snail porridge and bacon and egg ice-cream - the very posh Fat Duck in Bray. What struck me was not how sci-fi the food was (though it was), but how it delighted my nostalgic foodie yearnings. There were sherbert fountains in those old yellow packs, licorice, tiny cornets… and on the table, a questionnaire asking us to try and remember our favourite flavours from childhood. Mine, I remember writing, was tinned Del Monte peaches with evaporated milk, which we used to have for Saturday tea.
---
17th Dec 2007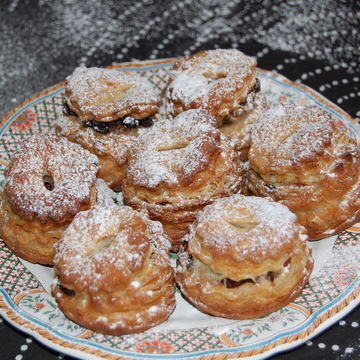 Jane: I'd always vaguely known that mincemeat used to contain meat – hence the name – but I'd never thought of making real meat mincemeat for Christmas until this year, when I was reading Paul Levy's foodie history, The Feast of Christmas. He has a bit on mince pies and at the back quotes the 1604 mincemeat recipe of Lady Elinor Fettiplace, which sounds almost like a samosa or spicy pasty, containing the same amount of meat and suet as dried fruit, plus spices like nutmeg and mace, a bit of salt and almost no sugar at all – very different from today's sweet mince pies.
Still, they must have been pretty fruity because just a few years later the Christmas-hating Puritans took to calling mince pies 'idolatrie in crust'. Which 400 years on, sounds like a very tempting reason to give them a go.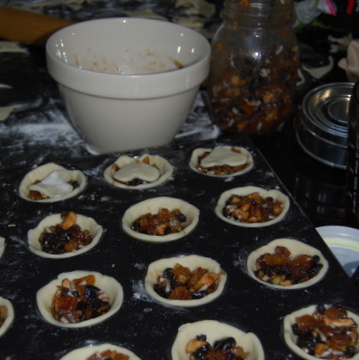 ---
15th Nov 2007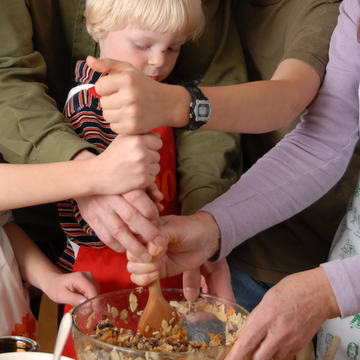 Tamsin: Stir-up Sunday happens only once every two years in our household, because the recipe we use makes enough for two puddings and we keep one for a year. It's the recipe my mother always made and gives a very moist, dense pudding – just as I picture Christmas pudding would have been in the Dickensian era. We made our pud last year so all I have to do this year is get it down from the shelf and reheat it on the day. We had a house full of family on Stir-up Sunday last year so everyone gathered round the table and helped add in the long list of ingredients.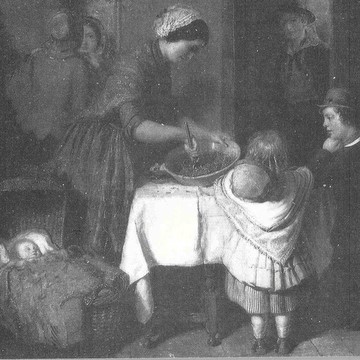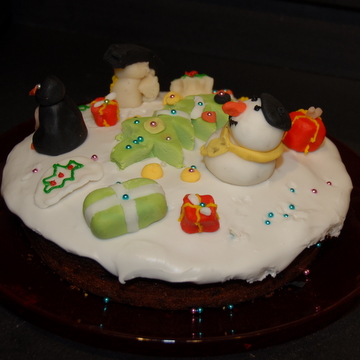 Whichever cake I go for it always – for my husband's sake – has to have a layer of marzipan on it and – for the kids' sake – a thick layer of royal icing. The decorating is also a family affair – or rather the younger generation of family. Ready-made icing, which acts like plasticine, has transformed the ease with which children can participate in the icing and decorating of a cake. It keeps them occupied for a while on Christmas Eve as snowmen, penguins and Santas are modelled and arranged…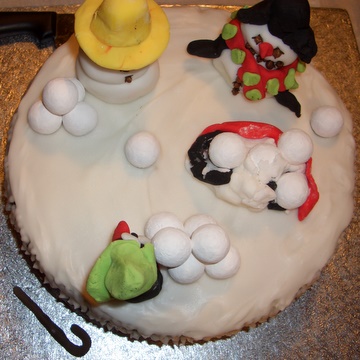 This is one we did a couple of years ago when my nieces were very young - it is a gaggle of snowmen (or whatever the collective name is for a group of snowmen?).
---
13th Nov 2007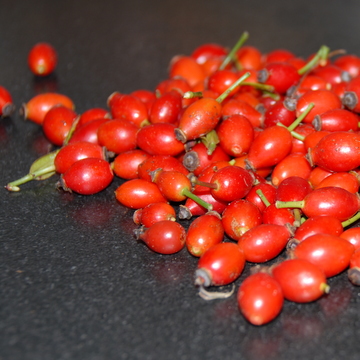 Jane: In the winters when I was little – four or five, says my mother, though that seems too young to recall a memory this vivid – my brother and I were given a daily spoonful of rosehip syrup. It came in a big bottle with a white plastic flip-up top, the scarlet syrup as sweet and luscious as anything I'd ever tasted. My mum says she bought it specially at the chemists for its high vitamin C content, to ward off winter colds and coughs. Other kids remember the grim slurp of cod liver oil, but we were lucky, we got red nectar instead.
This year, on a walk through the autumn hedgerows, somehow, for some reason, picking rosehips suddenly seemed like a powerfully good thing to do.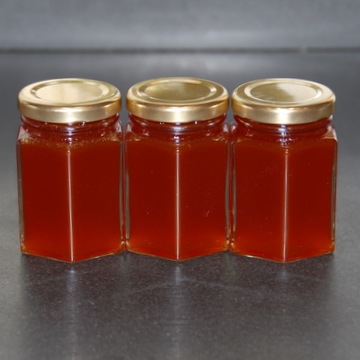 ---
23rd Oct 2007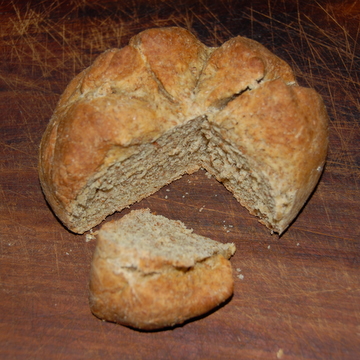 Carla: At my school we have a cooking club. It's run by two brilliant cooks, Mandy and Melissa, who cook our lunches. They always make us try new food at lunchtime and at the cooking club. We make new dishes every week, sweet and savoury, then take them home and eat them for supper. They teach us how to present the food nicely and also how not to present it nicely – like when you're making a sandwich not to press it down at the end. Sometimes they let us try the food that we're going to use, like different eggs – duck, goose, quail and hen. They also tell us all about them. One week we made soup. When they make soup for our lunches they always bake soda bread to go with it. Because I don't like soup that much, I eat the bread normally coz I love it. So when I heard that we were going to make soda bread in the club I was really happy!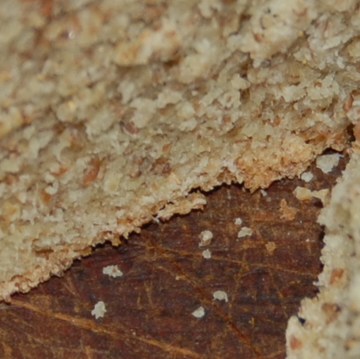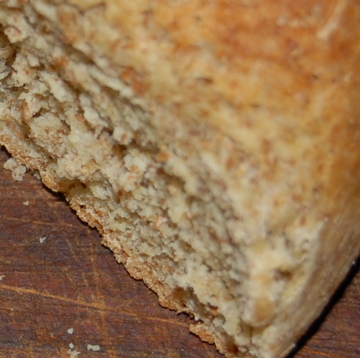 ---
30th Sep 2007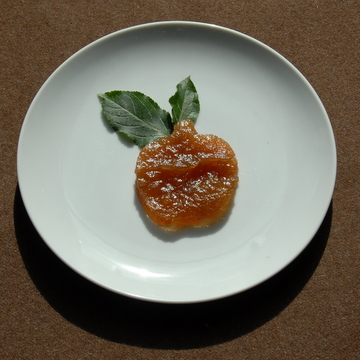 Jane: Pinch, punch, first of the month, and Hallowe'en suddenly seems very close indeed. I've been pondering what to give the trick and treaters – usually I buy multi mini-packs of chocolate bars to dole out, but this year I want something seasonal, home-made and a bit more wholesome. In one old book, I came across Apple Candy, simple and pure, just apples and sugar. You core and quarter the apples (leave the skins on), and simmer in water until they're pulpy. Drain and puree them, then add as much sugar as there is apple puree. Simmer for an hour until it turns into thick jam. Then mix in a tablespoon of rosewater and put in a baking tray to cool.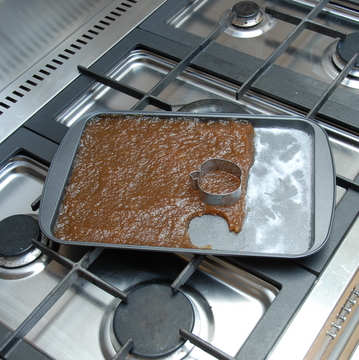 ---
24th Sep 2007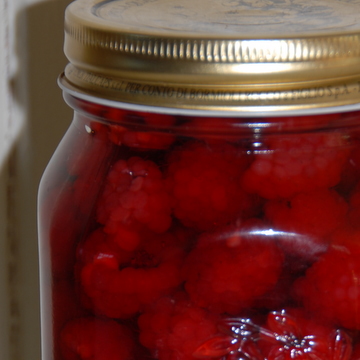 Tamsin: This weekend my mind began to turn to Christmas – early I know but there is one family tradition which needs to be thought about now. It's the Christmas pud. I've never been keen on the traditional kind, probably because dried fruits are not my favourite (something to do with their texture). So instead my treat is a bowl of bottled raspberries – perhaps a unique Christmas dessert, though you never know?

I'd normally bottle our autumn raspberries which fruit from July to October but due to some upheavals in the fruit cage and rather weird weather, I've only managed to grow about 10 individual fruits this year. So instead, I'm bottling bought raspberries – which doesn't feel like a letdown since the process is so easy and the end result so beautiful and satisfying. The fruit is preserved with all its original taste in a liquid that over time absorbs flavour and turns it into nectar.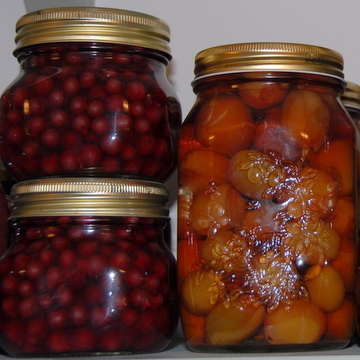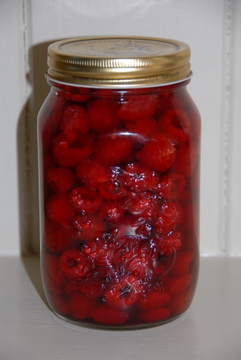 ---
31st Aug 2007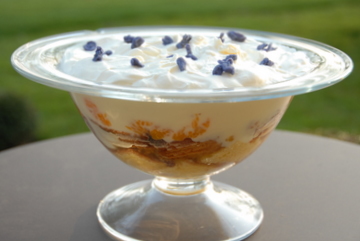 Tamsin: Trifle. I never thought it aptly named as it's certainly not a trifle to make - at least until I discovered Alpro soya custard. Now I always keep a packet of this delicious stuff in my larder so I can whip up a wickedly pleasurable dessert for guests in two seconds flat. This trifle has that wow factor yet takes a few minutes to assemble. I always use a home-made sponge prepared in advance but a bought one will do just as well.
---
19th Aug 2007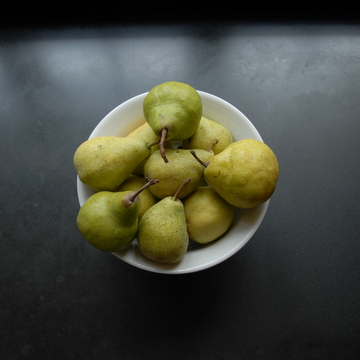 Last week I sat down to lunch and the sight of a big bowl of sliced pears greeted me. Hungrily I took one and was amazed to find this was not just any old pear – it had been covered in lemon juice, an idea that was completely new to me. Upon discovering this brilliant taste sensation I (along with the help of everyone else) quickly wolfed down the rest of the pears, then hurried to make more –  until all the pears in the cupboard had gone. After this we made sure that we had an ample supply of pears and the dish appeared at almost every meal.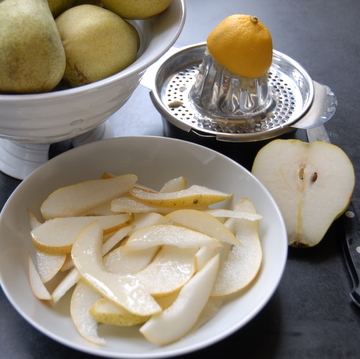 ---
5th Aug 2007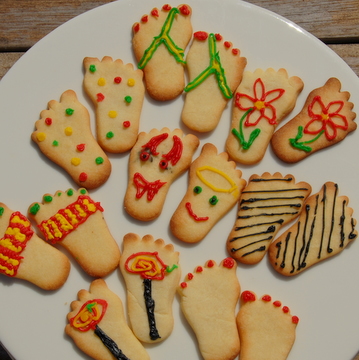 I made Anna-Louise's Redcurrant Tart yesterday so that I could photograph it and following her suggestion of using the left over shortbread dough for biscuits we cut them into feet shapes. Using 'Writing Icing' tubes we turned them into sandals, flip-flops, devils, angels, hippy, stripy and spotty feet. Mike then suggested that we photographed them in different positions, this proved to be great fun and we came up with ...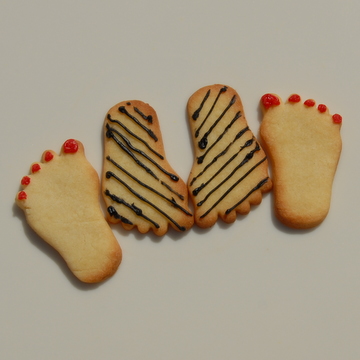 Kissing Feet (Mike)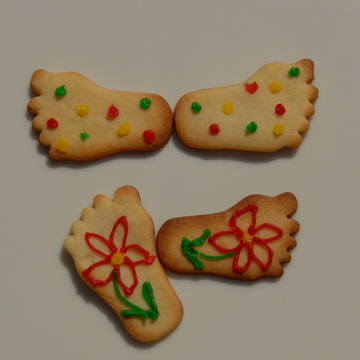 Ballet Feet (Tamsin)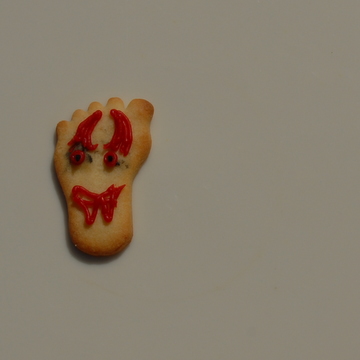 Hopping (Carla)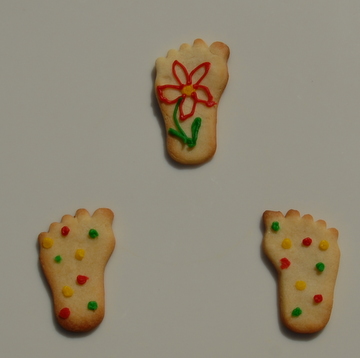 Hop Scotch (Joe)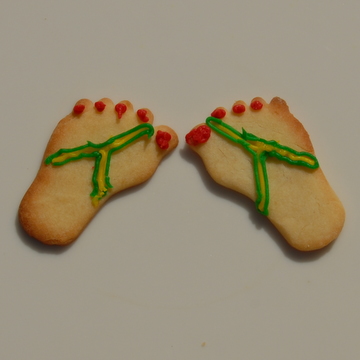 Pigeon Toed (Carla)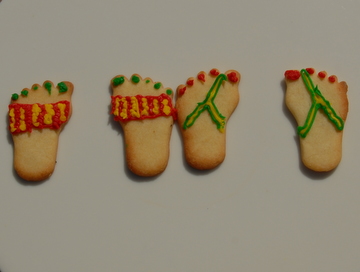 3 Legged Race (Tamsin)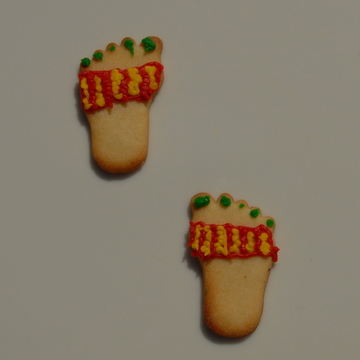 Walking (Carla)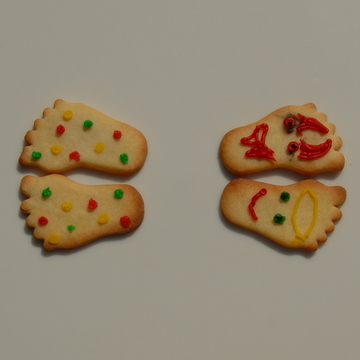 Fallen Out ...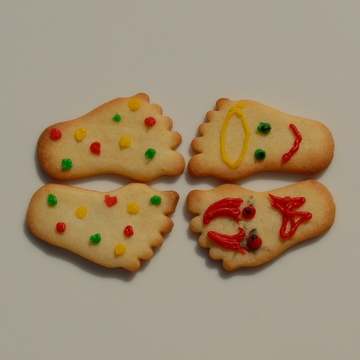 Back together (Joe)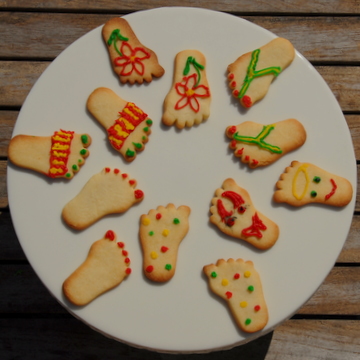 You put your left foot in ...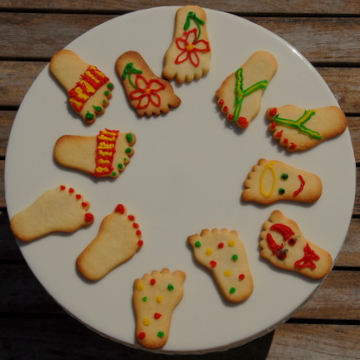 Your left foot out ... (Joe)
---
4th Aug 2007
| | |
| --- | --- |
| Tart with Redcurrant Pearls | |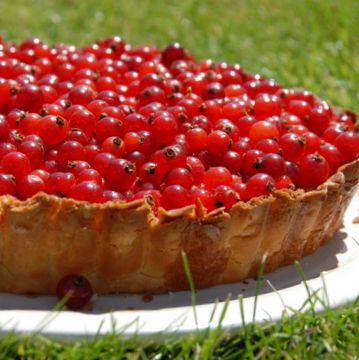 This is a Roux brother's recipe that was given to me by Anne Eatough – a friend from our days in Lampeter. It takes a while as the pastry needs some serious chilling and it is best made with homemade redcurrant jelly.

Anne is the original wonder-woman in my eyes – having a smallholding with sheep, chickens, bees and an immaculate potager with a row of redcurrant bushes. She summoned me to her garden the first summer we moved there (1990) and initiated me in the joys of redcurrants. I'll never forget sitting on a stool under the huge branches and gathering the dangling rubies and I've had a minor love affair with redcurrants ever since.
---
31st Jul 2007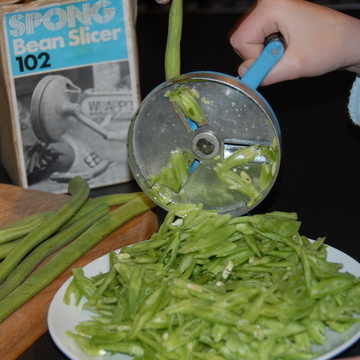 Rummaging around in one of my favourite shops that sells 'homestuff with history', I came across a rather interesting kitchen gadget which I knew would come in useful this summer. And I was right. The runner beans are racing along as ever and it's proving hard to keep up with them. I love them, as do the rest of the family, and the chore is made all the more fun by this device which cuts them as a great rate and also encourages the kids to help with the vegetable preparation.
---
18th Jul 2007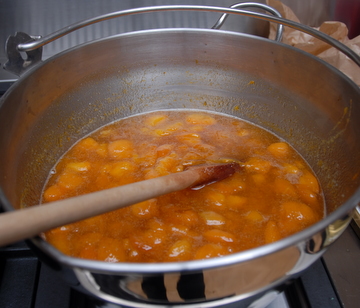 It's the last week of school and I still don't know what to give my teachers. But then I think 'Hey, why not just give them the same as last year?' Apricot jam. Trust me, this stuff is amazing. It's so simple to make and yet some of my teachers are still talking about it from 12 months ago!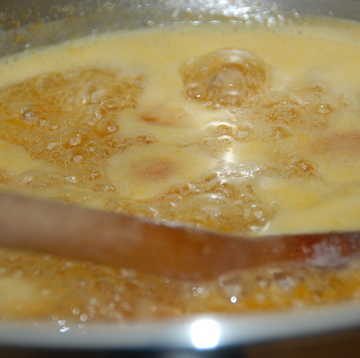 If you're not sure what to give them, this is it. Plus if there's some left over this jam lasts for years (though not in our house). So who knows, maybe some lucky teacher will be getting a jar next year too…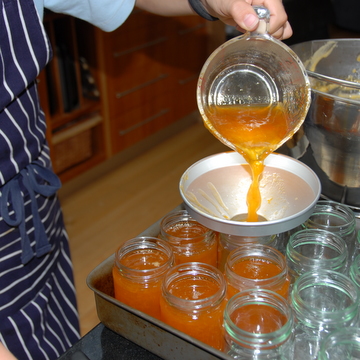 ---
30th Jun 2007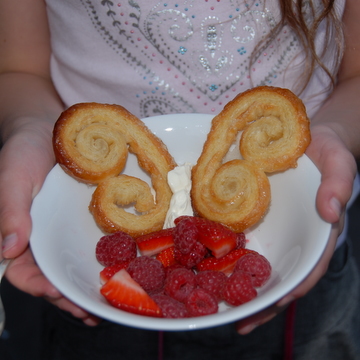 I had another family coming for supper and very little time, as usual, to make something. I've been trying to empty my freezer, as I am very good at putting things in but not so good at taking them out again, so I delved in and pulled out a packet of puffed pastry. Of course I had to leave it to defrost, so in the end we all made the butterflies together. Quick and beautiful. We ate outside so they were our first summer butterflies in the garden this year.
---
24th May 2007
| | |
| --- | --- |
| Elderflower Cordial (Blog) | |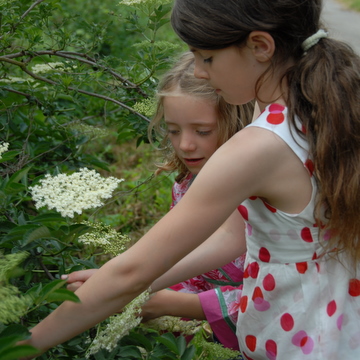 It's elderflower season again, way earlier than last year. I know because we spent last summer half-term in the Loire valley where the elderflowers were already in bloom, a week or two ahead of Britain. We picked a load of them there, and made elderflower cordial in a kitchen where the ants followed the smell of sugar in a trail across the window ledge - then climbed up into the bowl and drowned, poor things, in the liquid. I had to handpick most of them out.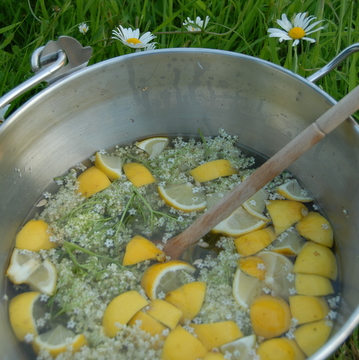 ---
17th May 2007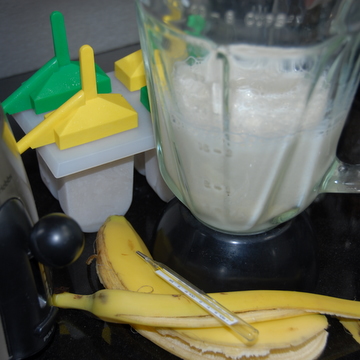 Early morning and Carla calls out to me from her bed. She usually sneaks down and sits with her back against the hall radiator waiting for everyone else to get up, so I knew something was wrong. It was a sore throat and temperature, and she was certainly not going to get out of her pyjamas that day.
---
10th May 2007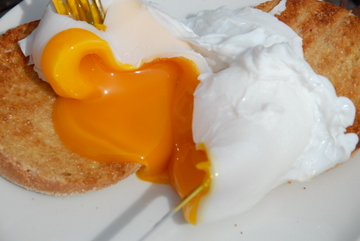 Joe: Saturday and I'm going to a museum (in the middle of the fens) for my birthday with a friend. On the way back we stop at a stall outside someone's farm.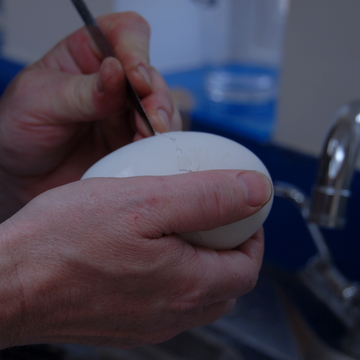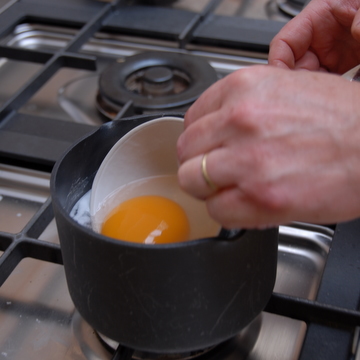 ---