28th Aug 2009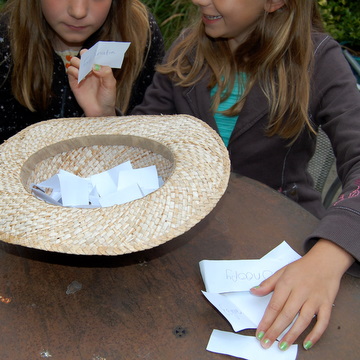 Maudie: On Saturday some friends came round for lunch and a game-playing session, and one of the games they taught us was The Hat Game, which was so simple and so much fun. You play it like this: everyone writes five famous people's names on separate pieces of paper. They could be real people, cartoon or fictional characters, people from a long time ago… Then, fold the pieces of paper so you can't see the names, and drop them into a hat. Once everyone has done that, you're ready to go.
You play in two teams, with only one team playing at a time. Pick one person from your team to go first (there are three rounds, so three people in each team get a go, and each round is timed – we used a sand timer). In the first round, the player picks a name from the hat, and has to describe the person – you can say anything about them apart from their name – until the rest of the team guess who it is. For example: 'Shrek' – 'a green ogre, who lives in the swamp and has a wife called Fiona'. Once they've guessed, the player takes another name from the hat, and so on… When the time's up, you count how many names the team recognised, then put all the papers back in the hat, and the other team has a go.
The second round is exactly the same except this time you have to mime the person – eg if you get Leonardo DiCaprio, you could mime him on the Titanic. By now, you'll all have quite a good idea of many of the names in the hat, so it gets easier to guess. In the third round, you have to describe the person in one word, so for instance if you picked out 'Queen Elizabeth', you could use a word like 'royal' to describe her.
It all sounds simple and it IS, but there are a few rules: When you're describing in the third round, you can ONLY say one word, so if you got 'Simon Cowell', you couldn't say 'X Factor' because that's two words. If you get the same person more than once (we had quite a few Michael Jacksons) then you just describe or mime them again. So it's easy! You are timed, we did two minutes each, but you can do more or less, and you carry on doing people until the time runs out. It's a really fun game and I advise you to try it!
---
27th Jul 2009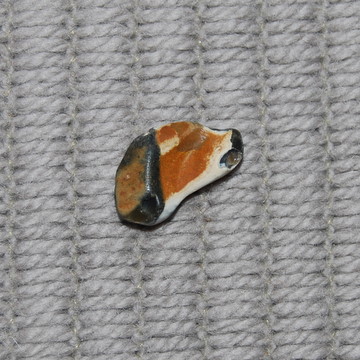 Tamsin: We have just spent the day swimming in the sea and lounging around on our favourite shingle beach. Mike declined the goose pimply swim and instead occupied his time by finding dog stones! Here is the spaniel.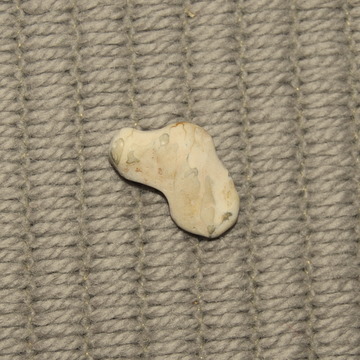 A Labrador.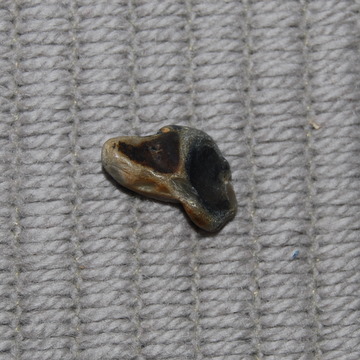 And a terrier.
---
7th Jul 2009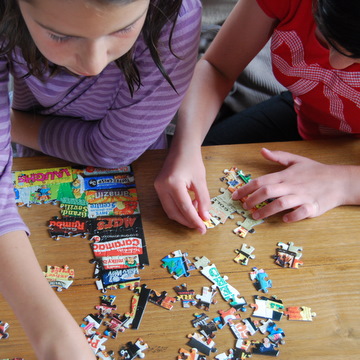 Tamsin: I know the holidays are nearly upon us when I begin to turn my mind to finding a 'holiday' jigsaw. There's nothing I like better than sitting down in an evening and sifting through 1,000 pieces, creating order out of seeming chaos. Finding an enjoyable jigsaw is hard though. The shops are full of sentimental pictures of nostalgic scenes or soppy pets with large eyes staring out at you or even worse a whole page of green sprouts or baked beans. These do nothing for me. What I most enjoy is finding one of a famous painting or a natural history scene with different types of flora and fauna. But my most recent find is a whole series of jigsaws produced by the Museum of Brands in Notting Hill, London.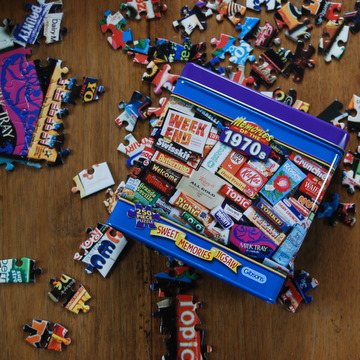 The family's favourites are the 250 piece 'Sweet' jigsaws, small enough to be completed in an evening and each one based on sweets of different decades. We all have our different styles of working when doing jigsaws. I meticulously lay out all the pieces, sorting out the edge ones to join together first. Jane rummages through the pieces in the box, gradually building up her collection of bits to join together. Carla picks a colour or section and works away on it, gradually building outwards until she reaches the edge. I wonder what insights you can get into someone's personality when you give them a jigsaw to complete?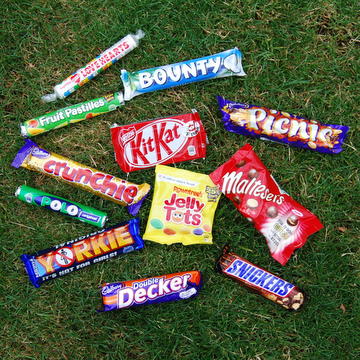 The 'Sweet' jigsaws also come with a list of when the confections were first produced. We had a fun time guessing which ones hit the shops during which decade. I was way out with 'Picnic' which I could have sworn came out when I was a girl. Have a look at this selection of sweets from the corner shop and see if you can guess when they were first seen. Answers in the Comments.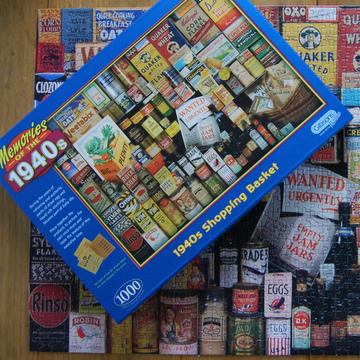 PS. I am still trying to find out when Fruit Pastilles started to grace the shelves. If anyone discovers the date, do let us know.

---
12th Jun 2009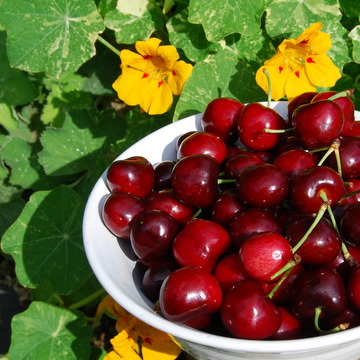 Tamsin: We have been devouring large quantities of deliciously sweet cherries this week, which has meant we've been displaying some very bad table manners as well. We discovered this 'bad-mannered' after-dinner pursuit several years ago while picnicking beside a bubbling stream in
Dartmoor. This is not a game to bring out when you have guests, as it does have its disgusting side – spitting.
The aim is to see who can spit the cherry stone the furthest. (I should also mention that we have been eating our meals outside over the last few days!) I perfected a technique this week which meant my stone shot past my son's for the first time since the game was invented – a small victory but one which I relish since he has grown so much taller than me.
The technique? I am going to guard it as a well-kept secret so I can savour the glory of my win for a little while longer yet...
---
15th May 2009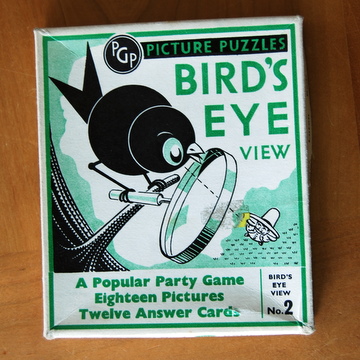 Tamsin: As soon as I saw this game in a secondhand shop, it brought back strong memories of sitting in my Junior school classroom during rainy playtimes. Scrap bits of paper were torn up and we drew on them a birds' eye view of a sombrero-wearing Mexican doing some activity or other. My favourite to draw was the tightrope-walking Mexican as it only needed two lines to achieve the desired effect.  Everyone then swapped their pictures and we all had to guess what the Mexican was doing. This boxed version kept us amused for part of Sunday afternoon, especially when Maudie gave the best answer for one – 'Going to the toilet'. Some pictures were easy to guess, others hard, so see how you get on.  Answers in the 'Comments' section.
1.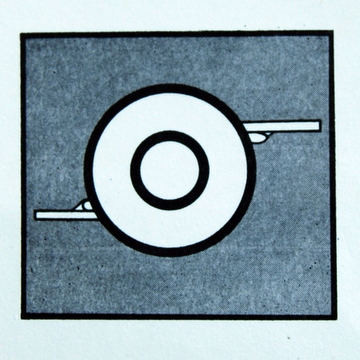 2.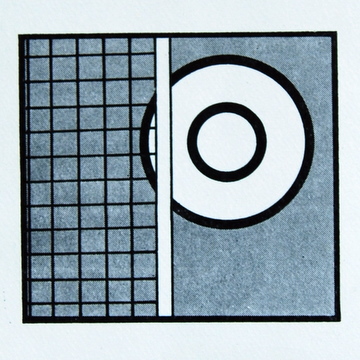 3.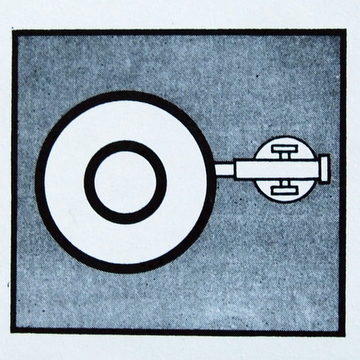 4.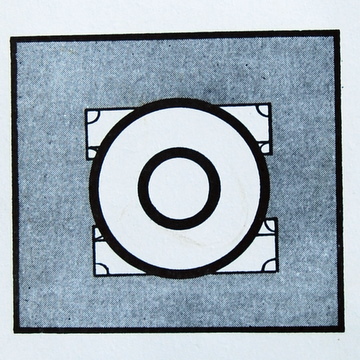 5.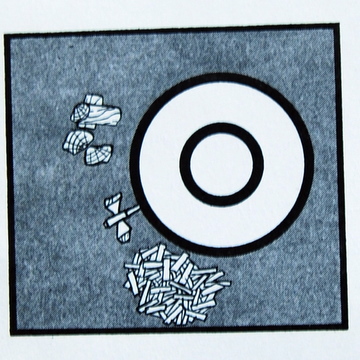 6.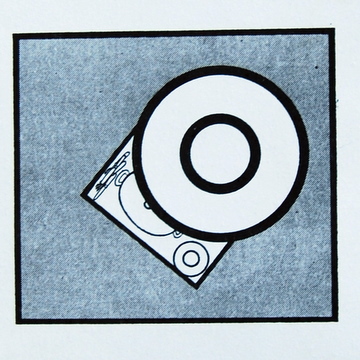 7.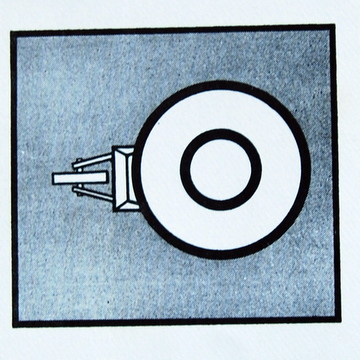 8.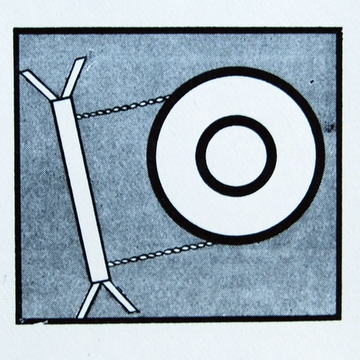 9.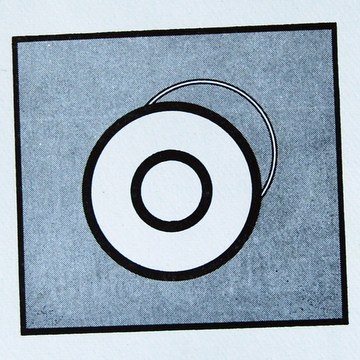 10.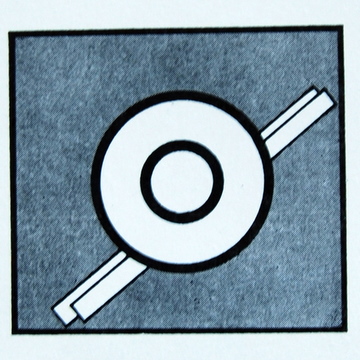 ---
3rd May 2009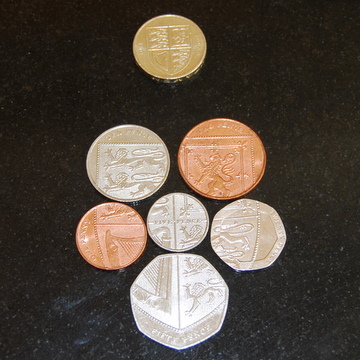 Tamsin: We finally did it, after 8 months and a little bit of cheating, or should we call it extra help.  Last year I noticed that the back of a 2p piece had what looked like a part of a picture and I wondered what it was all about. On my return home I asked if anyone else had noticed this strange picture on the coins and of course my children knew all about it. Apparently the Royal Mint had come up with the idea of giving us a bit of a jigsaw puzzle. All we had to do was to collect one of each of the denominations of coins which could be pieced together to form the Royal Shield of Arms. The challenge was enticing and so began weeks of looking carefully at every handful of change that I got.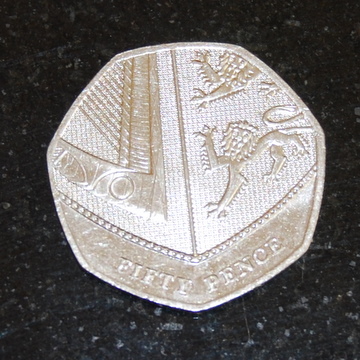 The idea behind the coins came from a Mr Dent who won a completion by the Royal Mint to design a new graphic for the backs of the coins. He got £35,000 for his artwork and the mint produced one billion of the coins with the £1 having the full shield on its back.
Well, there might have been a billion of them but it took me a long time to build up my collection. Deceptively, I collected the first five (1p, 2p, 5p, 10p, 20p) fairly quickly and began to sniff victory, which only made me even more obsessed. But despite standing at cash tills and giving away notes just so that I could get change I could not find the 50p or the £1.  Frustration finally got the better of me and I asked a checkout lady if she had seen any of the new 50p's (as I had convinced myself that they had not been minted yet). 'Oh, yes' she said 'let me have a look' and within a couple of seconds she had produced one from her till. I had mixed feelings about this gift - feelings of 'cheating' together with some satisfaction that I was one step nearer to the end.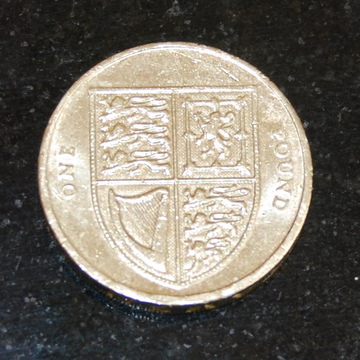 Now there was only the £1 left. I decided not to ask another friendly shop assistant but to persist with my 'change' watching. But one month turned into six I began to lose faith in my 'ability' to complete the challenge and this frustration was picked up on by my husband.  He put out an SOS to his cafe at work and within three days they had found one. With the golden glory safely in his hand he carried it home with a big smile on his face. I was thrilled, the quest was over, the shield complete and I could look forward to relaxed shopping trips once more!
---
21st Feb 2009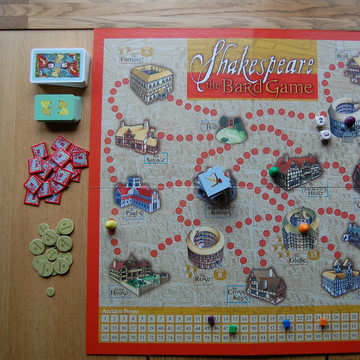 Maudie: This was a Christmas present to me from my dad. He knows I am interested in English and Drama, and we have been to see many Shakespeare plays. This game is good fun: you get to put on plays and buy your actors, and move around the board as if you were in the streets of London. There's even St Paul's Cathedral and the Globe Theatre on it. Before you play, you get given a Shakespeare script like 'Romeo and Juliet' or 'Othello' and 40 shillings. On the script card, there's a list of actors, props (blue circles with swords on it) and patron tiles you need to collect to put on the play.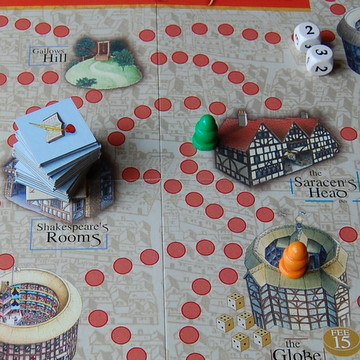 There are fate cards which are sometimes good, sometimes bad. (You get one when you roll an 'F' on the dice.) It could say something like this: Thiefs and scoundrels! Lose a prop' or 'King James I is impressed with your work - you present a command performance, gain 20 shillings'. At the start you get given 40 shillings. You can lose it, spend it and earn more money by busking or acting out a speech from a play (they are written down on cards for you). The people who are playing with you can vote on your acting abilities – if they give you seven out of ten, then you get seven shillings. Another way to get money is to answer a question about one of Shakespeare's plays. The questions vary from easy to hard. Here's an example of an easy one: 'In which of the following plays are two female characters killed by their husbands?' They give you three options, and you choose one. (The answer is Othello.)

The things I really enjoyed about this game was saying the speeches for money. My favourite was reciting one of Puck's speeches from Midsummer Night's Dream. I got nine shillings for that one! I would definitely recommend the Bard Game - even if it does take 60 minutes to complete…
---
5th Feb 2009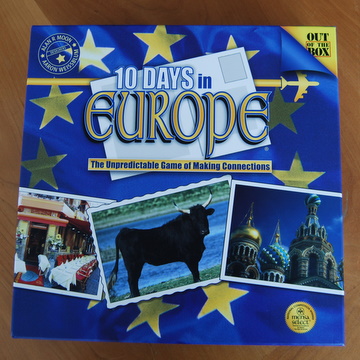 Tamsin: We have travelled around Europe quite a few times since Christmas thanks to a game we were given – 10 Days in Europe. When opening the present, my initial reaction was that it was going to be a 'worthy' game with a certain educational aspect to it. Although we did learn a lot, once we'd played, it we also decided that you should not judge a game by its packaging – it was much more fun than we anticipated.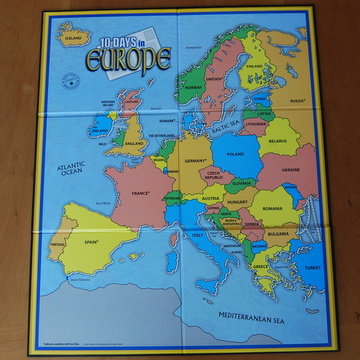 It is a game that fits nicely into an after-dinner slot because little energy is required to dash around Europe connecting country to country. The only effort you have to make is that of organising your journey's itinerary, which is not as easy as you'd think because you will always have the wrong planes or boats and walking is just not an option. 
As you begin to rectify the situation you also get a chance to find out about those 'new' countries which were covered over by the USSR when I was at school and endlessly colouring in maps. There are many other interesting things to notice too as you build up you European trail. For instance, Belarus and Poland are both much bigger than I imagined, Albania is much further south, while Iceland has a tiny population of 301,931.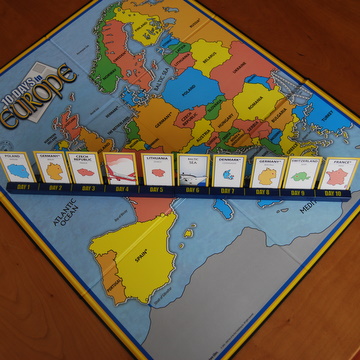 The game can last from between 3 – 20 minutes which is just about right for early evening. But be warned: you can think you've made all your connections and produced a seamless trip. But upon revealing it to the rest of the players, you discover that actually you aren't quite as organised as you thought.
---
30th Jan 2009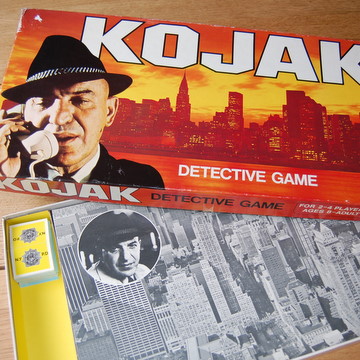 Jane: One of my favourite games this year was the Kojak Detective Game – yes, you've guessed it, an Xmas eBay purchase. I must have missed it first time round but the box and board now have a cutesy kitsch appeal – incorruptible cop Telly Savalas with his gleaming bald head, lollypop and mordant wit. Actually, forget the wit – this game is simple, all you have to do is catch the baddie with your two squad cars, though the route to do so is tortuous, with a series of complicated technical manoeuvres that are (you'll be glad to hear) currently beyond my descriptive powers.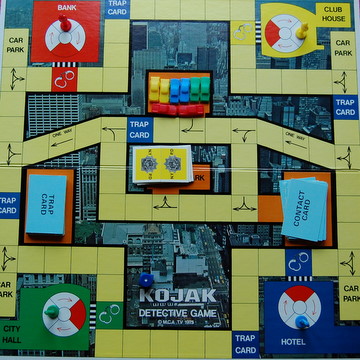 The good news is you get to do some typical cop driving – going forwards and backwards (though hopefully not up one-way streets) to get the right cards to make sure the baddie is in the right place at the right time to be arrested. I enjoyed it a lot and if you're tempted, I've just looked on eBay and they have a couple for sale right now…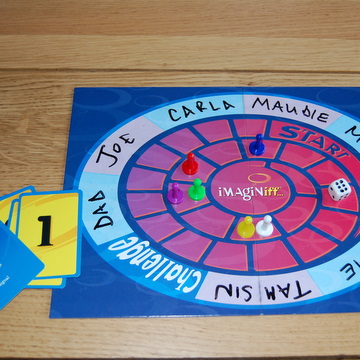 The children liked Kojak but in all honesty preferred Imaginiff, which is a funny, cheeky game for family get-togethers. On the board, you write the names of family, friends, the famous – people you all know about and can have a good guess at how they would behave in any situation. Everyone gets given a set of six cards, numbered from 1-6. One person then rolls the die, and moves the grey counter around the outer rim of the board to land on a person's name – this person then becomes the subject of the next question round. The player picks up a question card and reads, putting the subject's name into the question. For example:
 'Imaginiff MAUDIE (name of subject) had to live in another era. Which would it be?
1 Stone age
2 The Roman empire
3 Middle ages
4 The Wild West
5 Victorian era
6 The future.
Everyone chooses an answer by placing one of their number cards face down, then turning them over at the same time. Those with the most popular answer (eg with two or more people voting for '6 The future') move one space forward round the inner board. Everyone else stays where they are. You continue like this, taking it in turns to ask questions about different subjects, and moving your counters when you score the most popular response. The winner is the person who gets to the centre of the board first. The cards pose witty questions and sometimes dangerously astute answers. It's great fun, not least because you get to be a little cheeky about people close to you and the way they behave…
---
24th Jan 2009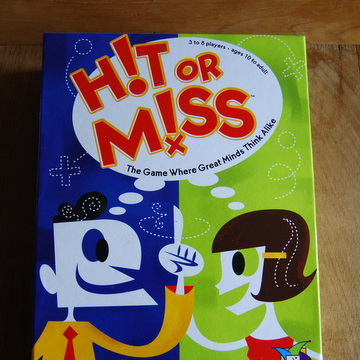 Tamsin: We had a good selection of family games given to us this Christmas, so, I thought that over the next few blogs I would show you a few we have had a fun time with. The first up is 'Hit or Miss'. It is a game which works well when there are quite a few people around the table. If you have young children they can be paired up with an adult as the only aspect of the game they may find difficult is the fast writing at the beginning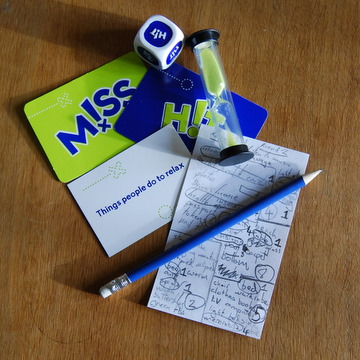 With paper in front of them and a pencil in hand, everyone has to write down as many answers as they can to a question. An example would be 'Things you would sit on'.  This has to be done in the one minute it takes the hour glass to drop its sand. After this each person takes a turn in rolling the dice to decide whether they have to give an answer that they think will be a hit or a miss. For this question if you rolled a 'hit' you might choose 'chair'. Everyone looks at their list of words and if they have written that down they place a hit card in front of them; if they haven't, they put the miss card out instead. The number of 'hit' cards are counted and becomes that person's score. Each person has a turn before the final points count is taken for the round.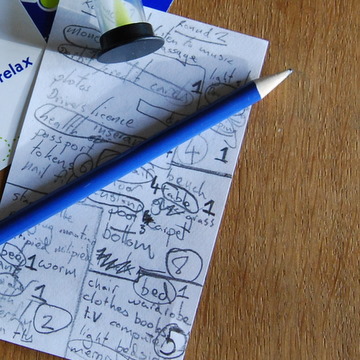 I was surprised by how much fun this turned out to be. Plenty of discussion went on and we had to decide how creative people could be with their answers. For example, we were writing down answers to 'Things that could be folded'. Hit answers were napkins, envelopes, clothes but when Joe had to suggest a miss answer (something he had written that no one else would have thought of) he came up with 'the time space continuum'. A stunned silence followed, as most people around the table were not very well up on recent scientific thought, and after some discussion we dismissed the answer.  But Joe felt he had been unfairly treated and to prove a point he reached for his computer. After a quick google search we did have to eat humble pie – the time space continuum is indeed believed to be folded!

---
2nd Nov 2008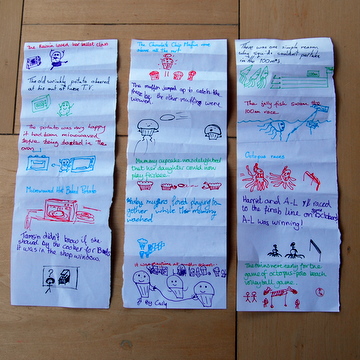 Tamsin: We were in Cornwall for half-term where the weather varied from balmy autumn days to freezing winter hail. Luckily, with the help of wetsuits and a new-found game we did not mind what the weather threw at us. Our friends taught us 'Paper Telephones' and we were soon hooked. All you need are paper, pens and the ability to fold. Each person is given a piece of paper and the game proceeds very much like 'Heads, Bodies and Legs' except that you start off writing a silly sentence at the top of the page.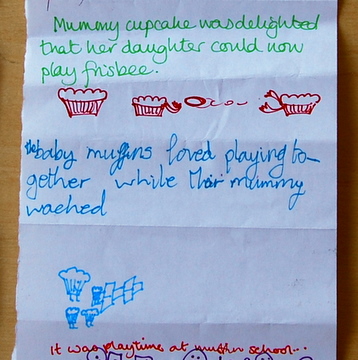 The papers are then passed to the next person who draws a picture that describes the sentence. They then fold over the paper so only the picture is showing and pass it on to the next person who tries to translate the picture back into a sentence, folding once again to hide the picture. 
This carries on – sentence, picture – with the papers moving round each time until you get to the bottom of the paper. The papers are then unfolded and some fairly hilarious transformations have taken place.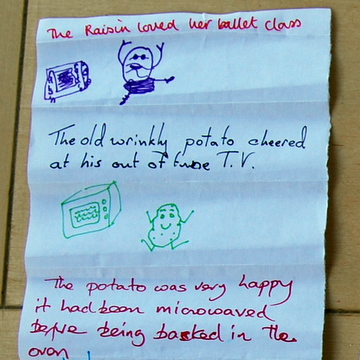 I rather liked the dancing potato.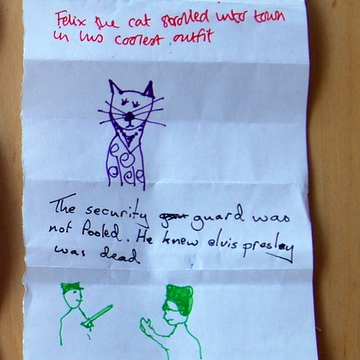 Or the Elvis cat.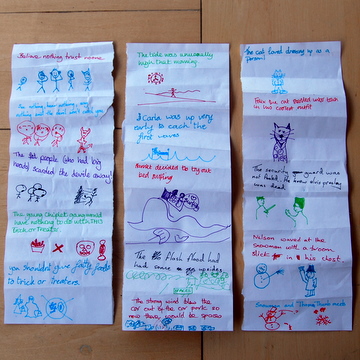 This is definitely a game I am going to bring out when we have all the family down for Christmas. It suits many different age groups and is very inclusive – even for those who feel that their drawing skills are not high, stick men are great.
---
5th Oct 2008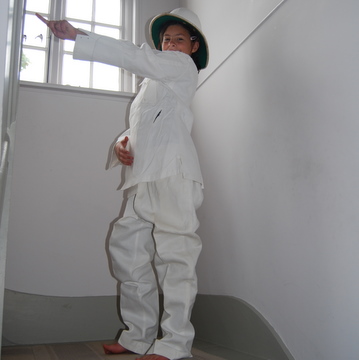 Tamsin: This weekend it rained and rained, so what better thing to do than put on a play?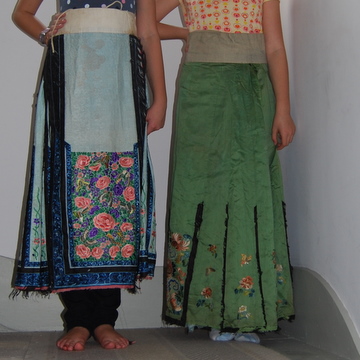 This was not my idea but Maudie, Carla and Edie's. They spent the whole of Saturday and Sunday writing scripts, rehearsing and performing two historical dramas – one about Queen Victoria (which involved a bedside death scene and suitors for the princess), and one that told the story of Henry VIII and his six wives. Much appreciative laughter was given by the audience, as the actors managed swift changes of outfits and portrayed a rather humorous take on our country's royalty.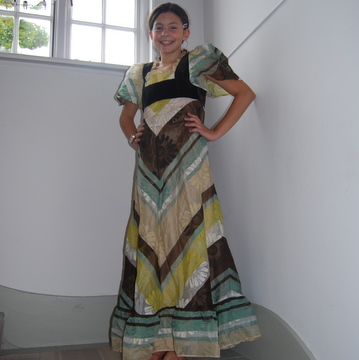 For the show we had to get out the 'family' dressing-up box. We have two boxes – a dressing-up box full of fluffy pink fairy outfits and wizard capes, and the family 'heirloom' box filled with garments from many different decades of my family's life, some over 100 years old.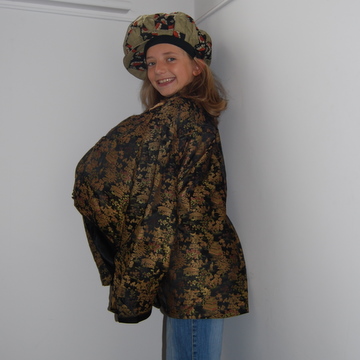 My parents passed this box over to me during a recent attic clearance, adding some of their own clothes to the collection (my dad's National Service uniform, and several of my mum's dresses from the hippy 70s). It is always great fun to delve into its contents and visualise a life you can only guess at, because you have to remember as you pull out each oddity that these were real clothes, never meant to be for dressing-up. It makes me think about what I will add to the box for future generations to smile over and wonder why on earth someone would wear something like that!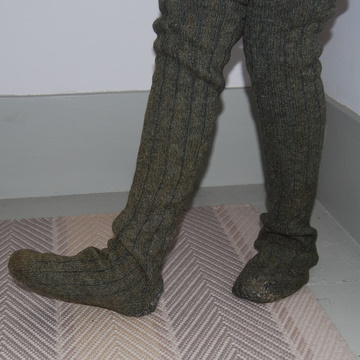 These socks were my great-grandfather's - much darning has been done on them.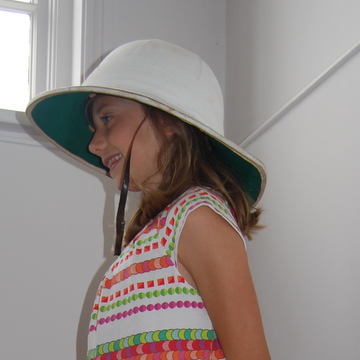 How did they keep this so white in the jungle?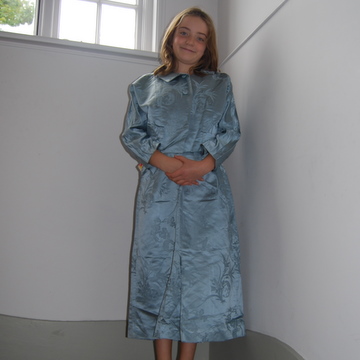 This was a silk outfit my grandmother wore to my mother's wedding.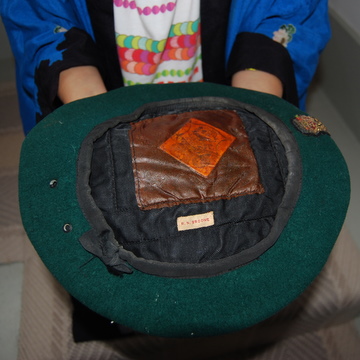 My grandfather's green beret.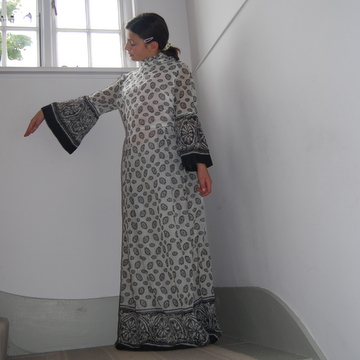 70s chic.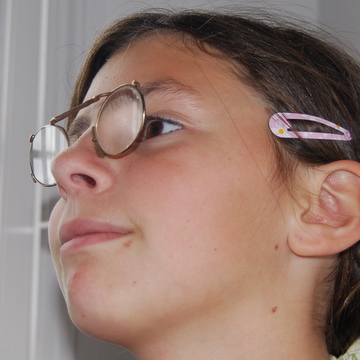 Luckily, our family has the nose for these.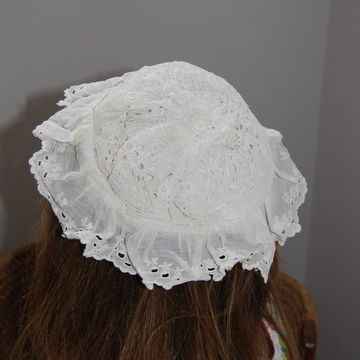 When this was made everyone had to wear something on their heads.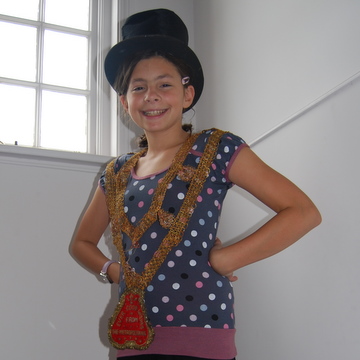 Why we have this chain, we don't know - probably presented to a family member when they worked in Asia.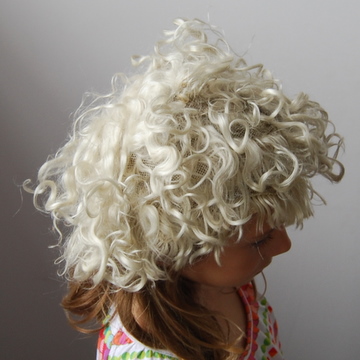 Just about a wig.
---
21st Sep 2008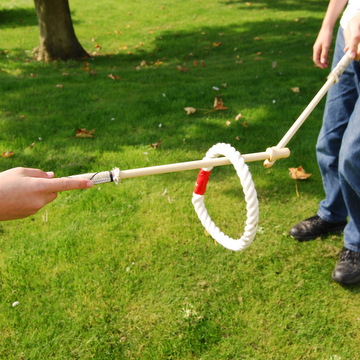 Tamsin: I had heard of Deck Quoits but never Catch Quoits, until I came across it while visiting a museum with the children in the summer holidays. In the outside area the staff had set out some games for visitors. Looking into the box I saw what I thought were some safe swords for mock fighting. But Joe, who cleverly bothered to read the instructions I'd ignored, informed me that it was actually a Quoits game.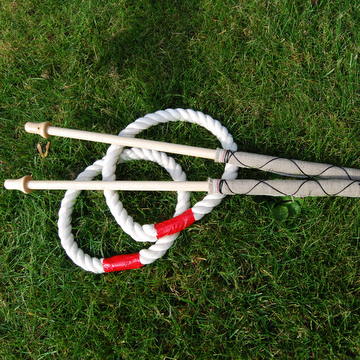 I remained puzzled for a bit as I hunted for the ground pegs to throw the Quoits over. Then I slowly realised this was a game of 'throw and catch' with the Quoits being thrown between the two players who catch them on their sticks (the safe swords!).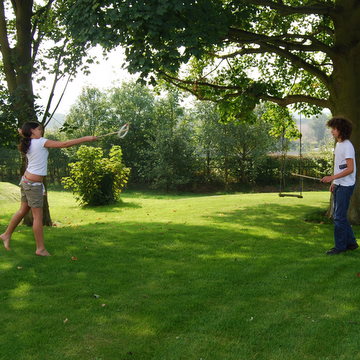 Joe and I started a game throwing one Quoit between us, and when we felt we'd grasped that pretty well, we dared to have two Quoits up in the air at the same time, with each person throwing one to the other so they crossed midway.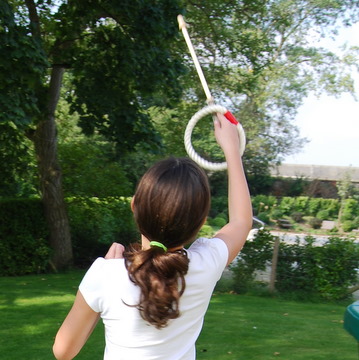 I thought it would be good to make a Catch Quoits set at home, as I've never seen one in a shop. So I went along to my local DIY stall and managed to get all I needed. Joe sawed the wood for me, Carla helped with the tape and within 15 minutes we had a set of Catch Quoits. If you feel like having a go yourself I have explained how we did it
here
– it could even make a nice unique present for someone.
---
20th Aug 2008
Jane: After being rained off the beach for the nth time this drippingly awful week, we decided to play Gridlock, a paper and pencil game for two I found in an old 1960s' activities book. It's actually quite tricky to play - the idea is to 'draw' your way from 'home' (the cross in the top left hand corner of the grid) to your destination square (the bottom right hand corner of the grid) without being forced out of the grid by your opponent.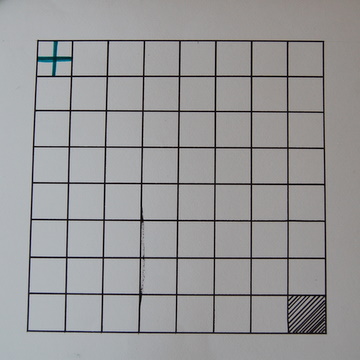 First you take a sheet of squared paper, or draw a square (as we did here) with at least eight smaller squares on each side. Fill in the top left hand corner with a cross, and black out your destination square - the bottom right hand corner. You then have to draw your journey square by square, each player taking it in turns to fill in one square at a time.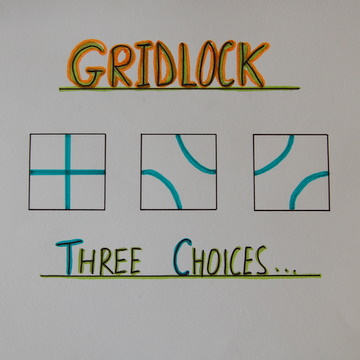 There are three possible ways to fill the squares - see the three choices above. You can choose any one you want (except on the very first go, when the first player cannot use the cross) so long as you attach it to an existing line.
Keep filling in squares turn by turn and you will see a 'snail trail' building up through the middle of the squares you have coloured in on the grid. All the while, you are trying to push your opponent into a position where they have no option but to 'draw' themselves out of the grid - leaving you to reach the final destination alone.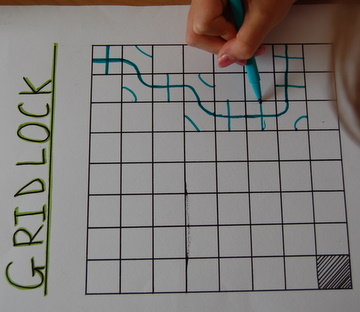 The picture above shows one of our first attempts - you can see the central 'snail trail' leading out of the top of the square, thus losing the game for the player who filled it in. Instead, aim to loop the trail back around itself (see the first image above) to manoeuvre yourself to the 'destination' square, timing it so you, and not your opponent, draw in the final square and thus win the game.
For some other good wet weather games, see the 'games' section of the Den.
---
6th Aug 2008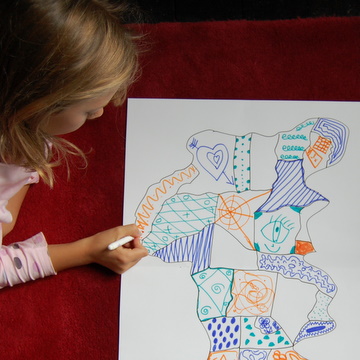 Jane: It's been raining on and off for days here, and after two trips to the cinema to see Mamma Mia! and Kung Fu Panda (both very cheering), we wanted to play some indoor games instead. As it's the summers hols and we didn't want to stretch our brains too much, we decided to play a game which involves a bit of thinking and a lot of colouring in, called Continental Drift. It's good for all ages – little ones really enjoy the colouring in – and for two or more players.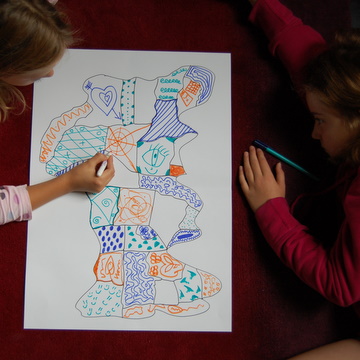 All you need is a big sheet of paper, on which someone draws a map of an imaginary continent – any shape and however wiggly you like. Inside this continent, draw 20 or more countries (our inspiration was Africa) with boundaries meeting each other. Then give everyone a different coloured felt-tip pen and you're ready to start.
The aim of the game is to be the last person to colour in the last possible country. The only rule is that no two countries which touch along a borderline can be coloured the same colour.
To start off, a player (Orange) colours in one country (hint: try to pick one which borders as few other countries as possible – it gives you more options later on). The next player (Green) then colours in a country, and so on, with everyone taking turns. Any player who can't go drops out, and the winner is the person who colours in a country last. It's quite a creative, arty game if you draw different and unusual patterns in each country instead of just colouring in – our continent had a big scary eye in the middle…
---
28th Jul 2008
| | |
| --- | --- |
| Rippingly Good Space Hopping | |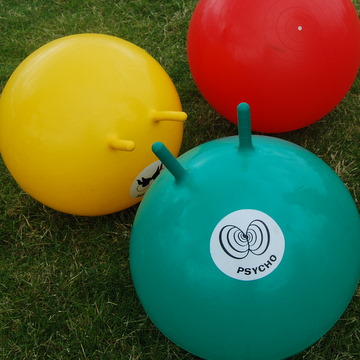 Tamsin: The kids and I spotted the brightly coloured balls at a summer social event, lined up on a race track. We jumped on them and suddenly the competitive streak came out in me – I was going to cross the finishing line first on my space hopper. I had never owned one as a kid, never really tried them out before - but my time had come.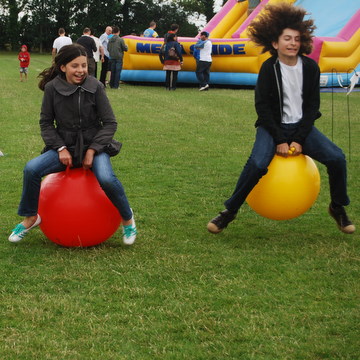 We lined up, leant forward, pulled ourselves up and were off. Initially, my bouncing technique was only good enough for me to see the backs of Joe and Carla. But due to...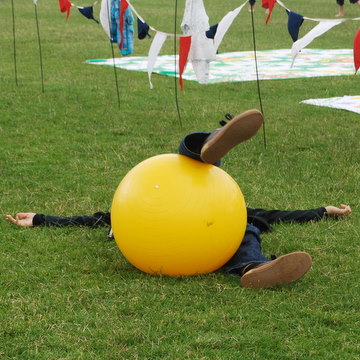 an over-bounce by Joe, and ...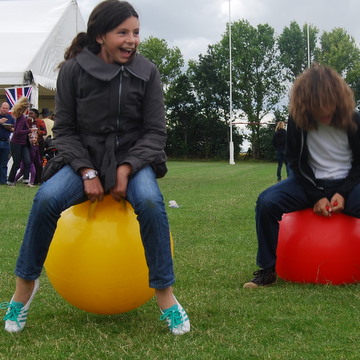 giggles by Carla, I found myself steadily bouncing into first place – yeeeeeesssss!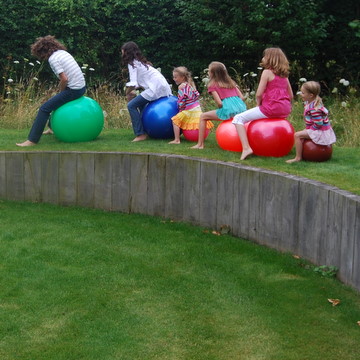 The price I had to pay for this victory was a rather large rip in a nice pair of jeans and the embarrassment of having to spend the rest of the party covering it up.
I found that there are plenty of sites on the internet where you can purchase all different sizes of space hoppers, which I did, so now we can hop our way through the summer holidays.

---
12th Jul 2008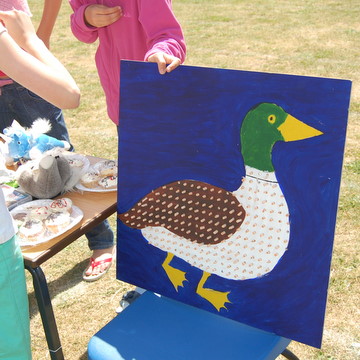 Jane: Last weekend it was the school summer fair and the girls ran a Pluck the Duck stall – a kind of tombola where you win prizes by picking raffle tickets from a duck. It's easy to make – all you need is a bit of hardboard and some paint (oh and a drill, so see the instructions here). Once you've made the duck, you push rolled-up raffle tickets into the holes which people pull out – those ending in 0 or 5 win a prize.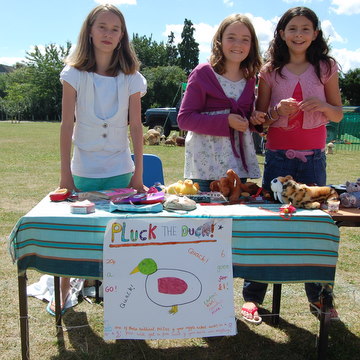 Carla, Maudie, Alice and Keri rifled through their stuffed toy collections and party cupboards, and baked loads of fairy cakes to give as prizes. They had a fantastic array which they spread out over two tables and the punters flooded in to have a go. Children of all ages love it because they have a pretty good chance of winning something soft and fluffy or deliciously tasty…
---
6th Jul 2008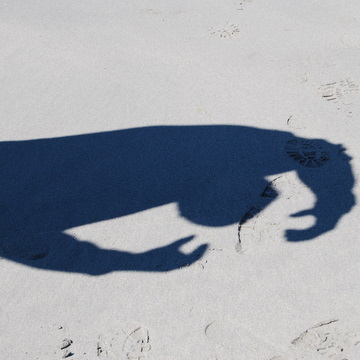 Tamsin: The weather has been awful today - wet, windy and cold - but the month is July so I thought  I would write about a much sunnier day that we had on the beach. The game began when Mike hunched himself over and said 'Look! A crab.' Always excited to see this crustacean, I began scanning the sand, but saw nothing.  'No,' exclaimed Mike, 'my shadow.'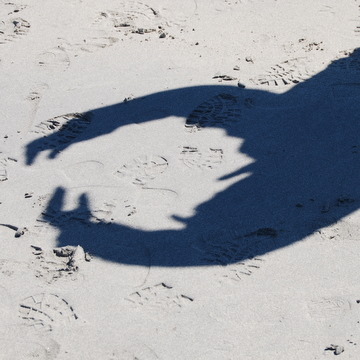 I was pretty impressed, but Mal was harder to please. 'Crabs don't have heads,' he pointed out, and plunged his head down to his chest to produce the headless crab.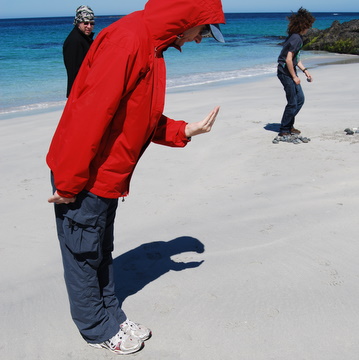 Having achieved this level of crab perfection he then decided to improve on it and produced a pretty impressive giant crab claw.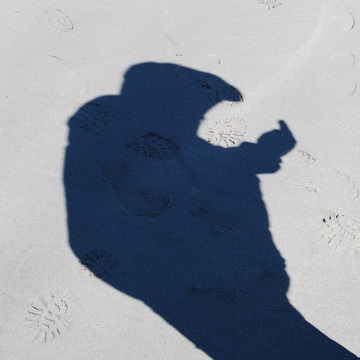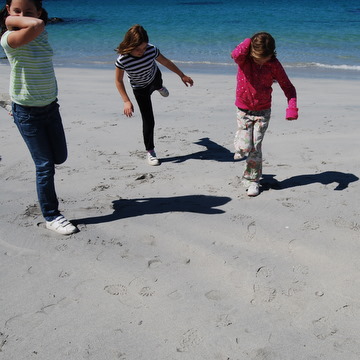 I thought it also looked like a flamingo's bill, especially if you squint your eyes a bit. The girls thought they could do even better and all immediately stood on one leg. It took them a while to realise they had to think about the shadow they were producing and not just the shape of their bodies, but very soon the beach was looking like an African lagoon with flocks of shadow flamingos.
---
22nd Jun 2008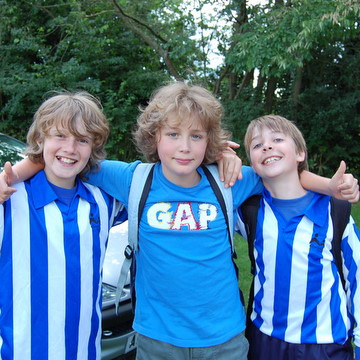 Luke: Last Sunday our school team played in a Korfball tournament in Newmarket. Both the Under 11 and Under 9 teams won their divisions. The Under 11s were very close, with Milton Road winning on goals scored over Cambridge Tigers.
Korfball is a fast and furious Dutch version of netball. There are eight on a side: four boys and four girls, and the aim is to score goals, which involves getting the ball through the 'korf' (like a netball post). It's brilliant fun and I think everyone should try it. The mums and dads did on Sunday!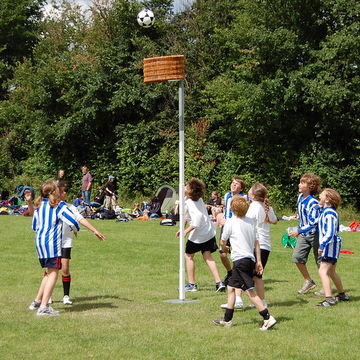 Our school is busy preparing for the National Youth Korfball Day in July which we are all looking forward to.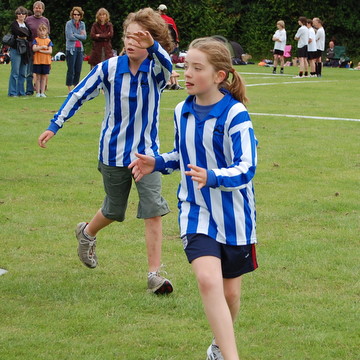 ---
15th Jun 2008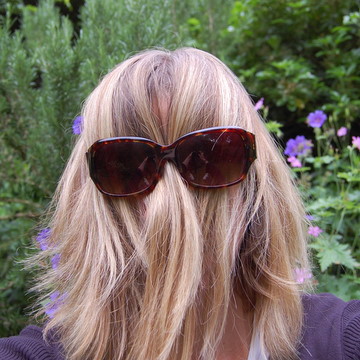 Maudie: I was away this week on a PGL trip (it stands for some person's name who founded it, but we all like to call it Parents Get Lost!) and coming home on the coach, my friend Alice told me some 'dumb blonde jokes'. Here are a few of the best: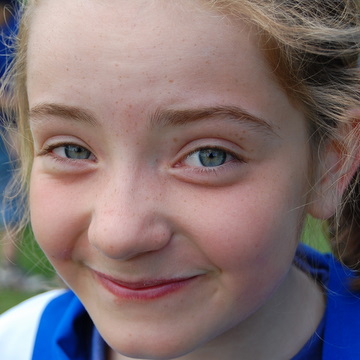 1 There was a plane and it was about to crash. There were four people on the plane: a priest, a schoolboy, a brunette and a blonde. There are only three parachutes. So the priest grabs a parachute and says 'I'm too important to die, people need me' and he jumps out. The blonde grabs one and says 'I'm too pretty to die' and she jumps out. So it's just the brunette and the schoolboy. The brunette is older than the boy, so she says that he should take the parachute, because he's got more of his life to complete than her. But the schoolboy says, 'No need. The blonde took my school bag instead of a parachute.'

2 A plane, again, was about to crash. And hanging on to the plane wings are seven blondes and one brunette. There are exactly seven parachutes. The brunette then gives a long speech, about how she'll risk her life and not take a parachute to save all their lives, blah blah. At the end of her speech, all the blondes clap.

3 Q: Batman, Spiderman, a clever blonde and a brunette all fall from a plane. Which one lands first?
A: The brunette, because there's no such thing as Spiderman, Batman or a clever blonde!
---
11th May 2008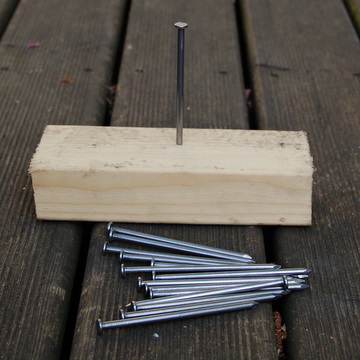 Jane: Just been with Edie's class on a school trip to Grafham Water, a nature centre where the children had a fantastic day mountain biking, orienteering, climbing on low ropes and following a trail blindfold through the woods. In one of the quiet moments (there weren't many) our lovely, friendly instructor John set us a challenge: could we use our skill and initiative to place 14 nails on top of a single nail banged into a block of wood? He gave us the equipment, and we divided into groups to solve the puzzle. 
It was baffling. We tried turning the block upside down then propping the nails beneath – the block fell over and anyway that hardly counted as being 'on top' of the nail. We tried to build a nail tower on the head, but that was as unproductive as guessing how many angels can dance on the point of a needle – they all just rolled off. Eventually, our group used our skill and initiative to… ask another instructor for the answer. He sweetly showed us how: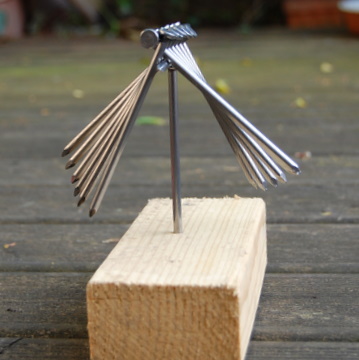 First, you lay a nail on the ground. Then you place the other nails on it at right angles, fanning out each side as if creating the oars in a Viking longboat. The nailheads have to butt tight up to each other, and to the head of the bottom nail. When you have six 'oars' each side (that's 12 nails) on top of the bottom nail, place the final nail on top, with its head at the opposite end to the bottom nail.
Then holding the two outer nails, gently, gently lift the whole structure, keeping the nails together as tight as possible. Balance the bottom nail on top of the single nail on the block. The structure will stay there because the weight of the nails on either side works as a counterbalance, holding all the dangling nails in place.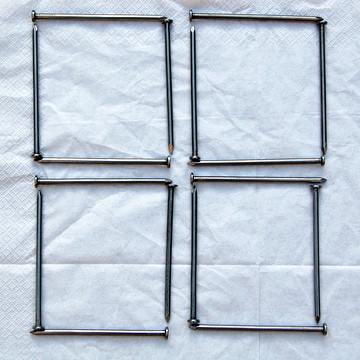 Then Edie's teacher came up with another brainteasing nail trick. She laid out four squares of nails and asked us to turn them into a shop by moving just one nail. Some of the children tried to make a shop's floor plan, others tried to spell the word 'shop'. Again, we admitted bafflement.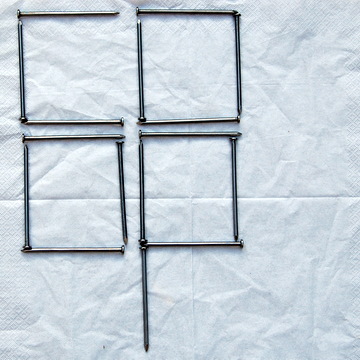 The answer was to take the right-hand nail from the first square (to leave a 'C') and put in under the last square (to make a 'P') so the word spelled is 'Co Op' – which of course, is a shop. Very clever indeed!
---
27th Apr 2008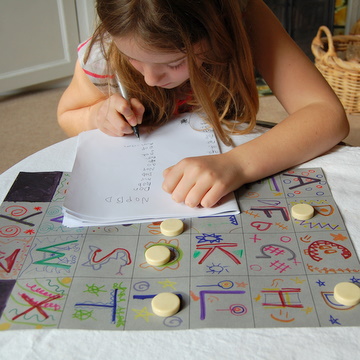 Jane: I've always loved playing word games but have a hard job to get anyone else in the family interested. They'd rather play Apples to Apples (great with lots of people) or current hot favourite 221B Baker Street (a retro Sherlock Holmes mystery-solving board game where the detecting is surprisingly hard). So this weekend I concocted a word game which pretends at first that it isn't a word game because it involves lots of colouring in. I've called it Alphabet Soup and it's really simple for all ages over about five to play.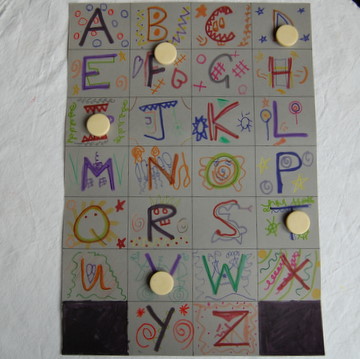 First you draw the letters of the alphabet on a sheet of A3 paper and ask the children to decorate them so they look beautiful. One person then rolls five counters on to the paper to land on different letters (younger children can choose just three letters to make it easier). Everyone writes down these letters at the top of a piece of blank paper. The person who rolled then chooses two extra vowels which are added to the list, to give seven letters in total. The idea is for everyone to make as many three-, four-, five-, six- and seven-letter words as they can from these letters. You can put a 10-minute time limit on it, or just wait until everyone has finished playing – it doesn't usually take long.
Some letter mixes are so tricky you can hardly make any words, while with others you'll have columns of three- and four-letter words piling up. It's good fun and great for learning how to spell those tricky 'don't sound-like' words – for example we discovered that 'jem' is spelt 'gem' and that although 'more' is 'more' there is also another kind of 'maw' as well...
---
16th Apr 2008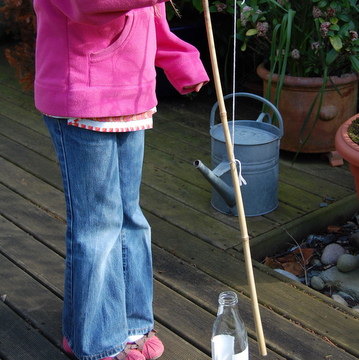 Jane: Today Edie and I braved the bright blue chill of outdoors to play a game called Stick & Bottle. The game came from a 1960s' party book and looked easy, we thought, until we started playing it. It was a gusty day, which I wouldn't mention except when you're trying to ease a long stick hanging from a string into the narrow neck of a glass bottle, every little whimper of wind can send you askew.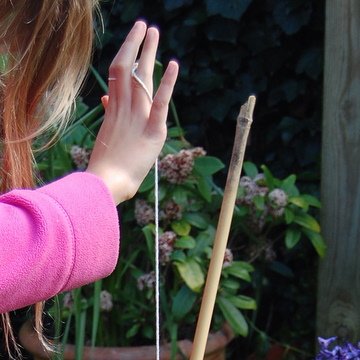 We choose an elderflower cordial bottle with a wide neck (rather than a narrow milk bottle) to maximise our chances, and dug out a piece of old bamboo garden cane from the shed. The idea is to tie the string exactly in the middle of the cane, so it doesn't naturally tilt down at one end. I tied Edie's index finger tightly on to the other end of the string, then checked my watch and timed how long she took to get the rod into the bottle.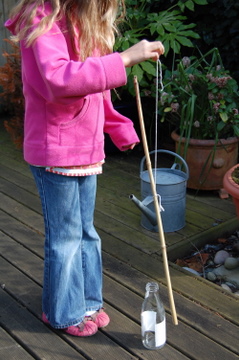 The first go was tricky. The cane was wobbling all over the place and intense concentration and steady arms were needed to hold and tilt it in. The wind didn't help: every time she was about to tip the end over, a gust blew and she let out a frustrated shriek. Time: 2 mins 24 secs.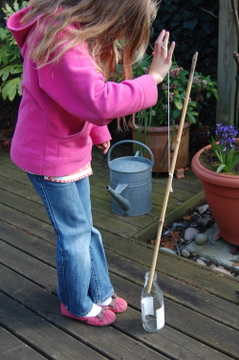 By the second go, she'd got the hang of it. There's a method: you walk over, let the rod swing round for a few seconds above the bottle until you've got your eye in, then quickly drop the end in. You might need a couple of goes, as she did here. Time: 25 secs.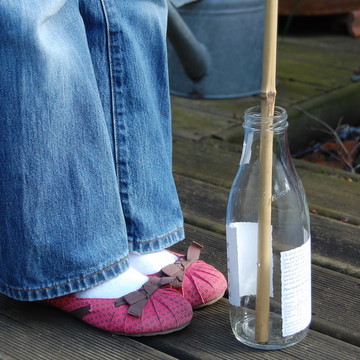 By the third go, with a lot of luck and very little wind, it was down to 7 secs. Now that's what you call speedy, Edie.
---
3rd Apr 2008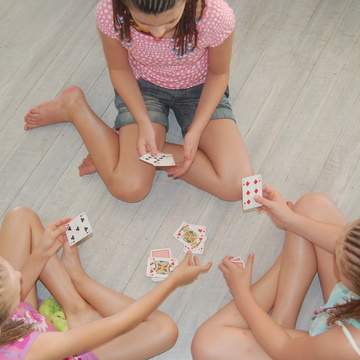 Jane: the children have become addicted to a new card game. Well, two actually. The first is rummy, the second is a very engaging game called Oh Hell! which we've renamed Darn 'n' Dash because everything can go wrong in an instant and when that happens I always shout 'darn and dash' very loudly and it caught on.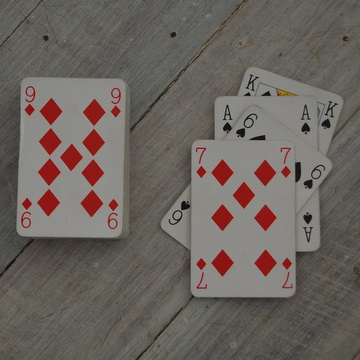 It's a good game for everyone in the family to play, over the age of about eight. It's basically like whist – you win tricks and there are different trumps each round – but you have to guess beforehand how many tricks you'll win per hand, and only score points if you get it right. That can be surprisingly tricky and means you have to learn how to lose hands as well as win them, which can be quite a challenge. The excitement builds in every round because everyone starts with a single card in the first round, then gets two in the second, three in the third and so on until you get a full hand of 10 or more cards (depending how many people are playing). At the end you tot up your scores (which makes this good for maths too) and the person who has the highest wins.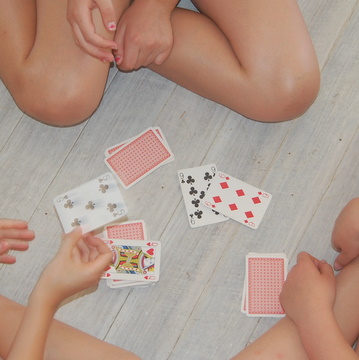 It's been great playing it but even better watching the kids sitting on the floor in a circle several times a day, shouting and laughing excitedly as the hands go down and they win or lose – and losing hands can bring as big a shout as winning, while winning can bring a disappointment if it means going over the estimated number of successes. You never know if a 'darn' or 'dash' is for a winning or losing hand…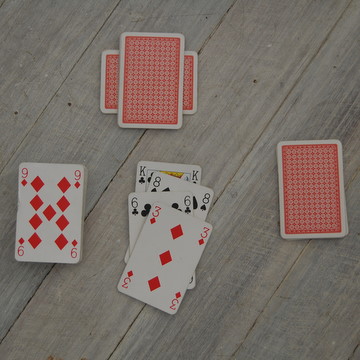 ---
30th Mar 2008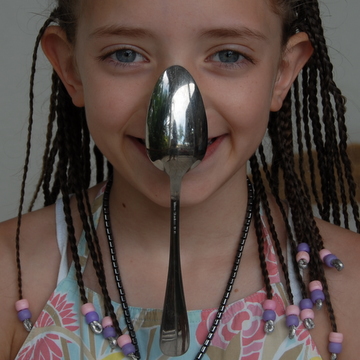 Jane: We were sitting round at dinner the other night when Maudie hung a dessertspoon from her nose – a very funny sight. It was quite a large, heavy spoon, the bowl fixed to the end of her nose with the handle dangling down, and it stayed there for a good 15 seconds before it fell off. So immediately everyone started trying to hang spoons off their noses.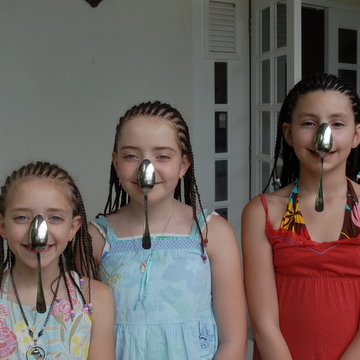 Edie, Carla and Maudie could do it really easily, while the rest of us found it impossible.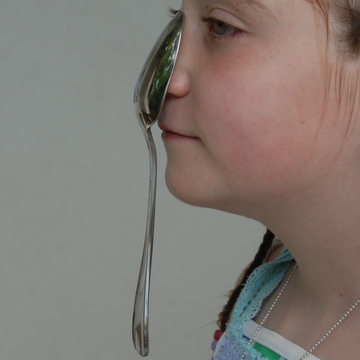 In fact, Maudie could just put a spoon on her nose and it would stay there like a magnet, while the adults tried rubbing them, breathing on them, warming them in our hands so they stuck better, but it made no difference – they fell off in about half a second.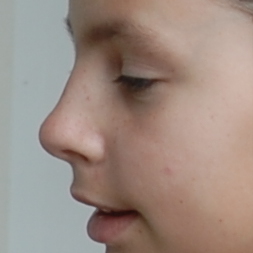 We came up with a few wild theories – could it be the round shape of the girls' noses, or the fact they have a soft not bony tip at the end, unlike the adults? Was it something to do with a spooky spoon-attracting substance under-11s have on the end of their noses? Weird – we'd love to hear if your kids have this strange talent too…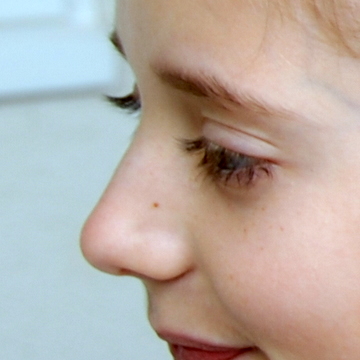 ---
22nd Feb 2008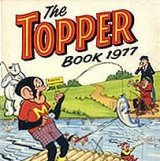 Mal: Until I was five, my name was Jimmy. Then I started school and everyone called me Mal. My brother, who until then I'd always called Freddy, was four years above me at the same school where everyone called him Calvin. Our school names were the ones written on our birth certificates but our grandmother, who lived with us and ruled the home as only a Victorian matriarch could, decided that I looked like a Jimmy and my brother a Freddy. Even our parents called us Jimmy and Freddy.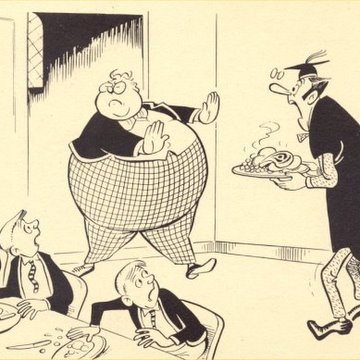 After reading a feature in 'The New Yorker' about nicknames, I recalled some old school friends whose actual names I can no longer remember: Skinny, Dog-Ears, Daz and Sailor. Comics that I read as a boy were full of nicknames that in turn gave rise to nicknames for real boys – most of them cruel. Plug from the Bash Street Kids being directed at small boys with sticking-out ears was not funny to the boy – although being fat and called Bunter seems much friendlier than some of the current slurs regularly used against larger kids. We have nicknames for Maudie (Mud, Pawdie, Mush) and Edie (McCreedy, Short Stuff, Chuckka), but oddly they don't have nicknames for any teachers, nor their friends.
Watching 'Ashes To Ashes', the 1980s-based sequel to 'Life On Mars', I realised that nicknames are conspicuous by their absence among the rozzers (except for the Gene Jeanie, which only he uses to address himself), though in those days any tough, male-dominated community always had a Smudger, a Lofty or a Basher. Paul Simonon in The Clash gave new drummer Nick Headon the nickname of Topper because he thought he looked like Mickey the Monkey on the cover of the weekly comic Topper, and it's stuck with Nick for 30 years.
The tradition of giving nicknames, either for endearing purposes or for disarming authority figures, seems to have been lost. I think we should encourage kids everywhere to come up with nicknames for family, friends and their favourite (or otherwise) teachers. All submissions gladly welcomed…
---
14th Oct 2007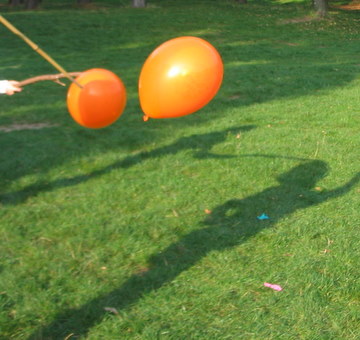 Jane: In our downstairs loo, there's a pile of Mal's old secondhand books I've always ignored. But a while back when we were talking about old party activities we used to play, he pulled out one of these tattered tomes and handed it to me triumphantly. It was a 1960s book full of daft party games for adults and children - the sort you just know, no excuses, you're going to have to try out. So yesterday we had a go at Balloons within Balloons, a slightly more complicated version of balloon popping, with a group of Maudie's friends.
First we had to blow up two balloons, one inside the other – which thankfully is less complicated than it sounds. We'd bought strong balloons the same size but in contrasting colours. It's easier if you blow them up a little first to stretch the rubber, then let the air out. Push one balloon inside the other, leaving the neck of the inner balloon protruding. Blow up the inner balloon three-quarters full, then tie it at the neck. This needs a lot of puff – I could do it, but the kids found it tough. Then we blew up the outer balloon to full capacity, and tied them at the neck. We made eight of these double balloons, which took a while – when the children got bored, they ran off to find a sharp stick each, with which they would later burst the balloons.
When we were ready, the kids divided into pairs. One person threw up a balloon, the other prodded it with the stick so only the outer balloon popped. This demanded quite a lot of skill and they found themselves chasing their balloon around the park, which was funny (they probably needed sharper sticks but we hadn't brought a penknife). Although you know what's going to happen, it's still extraordinary to see a balloon pop and instantly see another in the air in front of you of an entirely different colour. We scored five points for each outer balloon you burst, with two points deducted if you popped both. The first team to reach a score of 15 wins.
The verdict: this an entertaining game, engrossing to play and funny to watch, that you could also play indoors in a party venue – just mind those sharp sticks. 
 
---
26th Sep 2007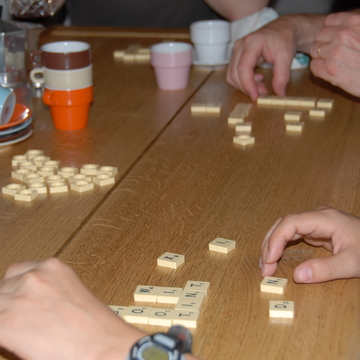 Jane: This is a brilliant, quick and portable version of Scrabble which doesn't use the board or any clever long words, so you can play it anywhere, any time and with anyone (over about six). In fact, it's so quick and unobstrusive that we recently managed a game while waiting for our main course in Pizza Express.
All you need is to clear the decks and lay out a set of Scrabble or Snatch tiles in the middle of the table. Each person takes 15 letters and, as quickly as they can, forms their own set of interlocking words crossword-style as in Scrabble. (You are allowed two-lettered words, which makes it easier for younger kids.) The first person to organise all 15 letters into interlocking words shouts 'Time'. Then everyone stops and picks up a letter. Then the first person to fit all 16 letters shouts 'Time' and you all pick up another letter - and so on until all the letters in the middle are used up.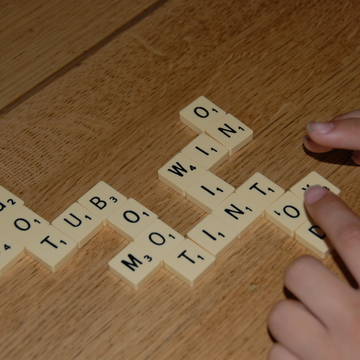 If you like, you can break up your words and re-make them to fit the new letters as they come along, just as you do in Snatch (if you don't know Snatch, click here). It's fantastic fun, fast and furious, and the winner (if you need one) is the first person to get all their letters into a crossword correctly or - if you fancy something more challenging - the person who scores the longest word.
---
17th Sep 2007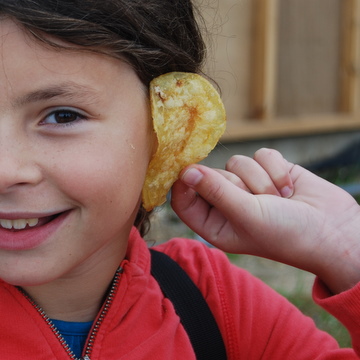 Carla: We recently walked a long way down to a beach and it got very late so mum went and brought some lunch in a small café. She brought sandwiches and crisps and when I opened my bag of crisps I found a weird-shaped crisp that was very big and looked like an ear. I took it out and showed everyone but didn't eat it until the very end. We spent the rest of the lunch looking at all the other crisps in the packets, trying to imagine what they reminded us of. The friends we were with said I should send a picture of it to the crisp factory so that is what I'm going to do. The best packets to find ears in are Kettle's crisps, but you never know what may be in your next packet…
---
3rd Sep 2007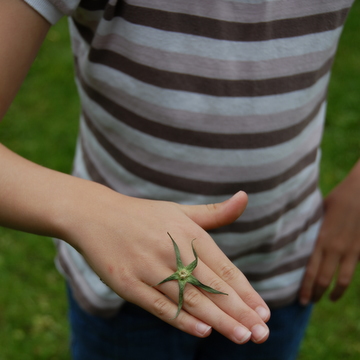 Edie: My sister and I were having dinner, and I noticed my dad dropping something into Maudie's hand. I didn't say anything because I thought it was something like a leaf. Of course I didn't know why he was giving her a leaf, so I dismissed the idea from my head completely. Then Maudie said, 'Oh Edie, look out the window, those two friendly robins are there!' (We have two of the friendliest robins in our garden.) I looked out the window. They weren't there. I said 'They're not there, Mau…' but then I was drowned out by the hysterical shrieks of her screaming: 'Edie! There's a spider on your hand.' Immediately I screamed. I do not like spiders, especially ones that have the nerve to crawl up me.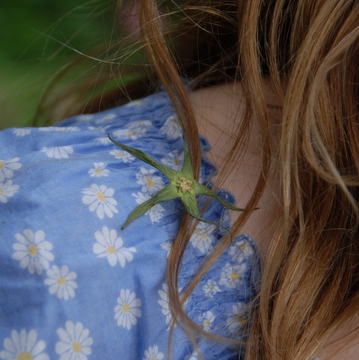 I looked down, and there on my hand was … the green top stem of a tomato, its long bits looking like a spider's legs. Maudie was laughing with all her might, and explained to me how dad had played the same trick on her when they were eating lunch, and she had flung the crisp she was halfway through eating across the table. (I didn't see it because I was at a friend's house.)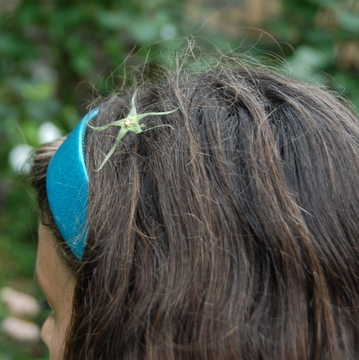 Then later that night, my mum came home from a long hard day at work. And we did the spider trick on her. We were all watching a football game on the telly. Maudie had given me some instructions that I was to do while the trick was playing. She cleverly asked mum if she noticed anything different about dad and then, while mum was looking at dad, she dropped the 'spider' on to her hand. This was my cue. I got up and went hysterical, jumping up and down, shrieking 'Mum, mum, there's a spider on your hand! Quick! Get it off…' For a moment mum didn't see it, then she looked down at her hand, gasped in horror and shook it off. Then we all burst out laughing, and explained it to her.
We got thinking...you could also play this trick putting the spider on someone's hair... or on their shoulder... or you could keep it as a pet if you give it a home of its own...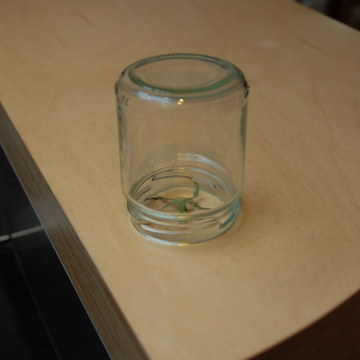 If you would like to try this trick, the only things you will need are: the top green bit of a tomato and a good excuse.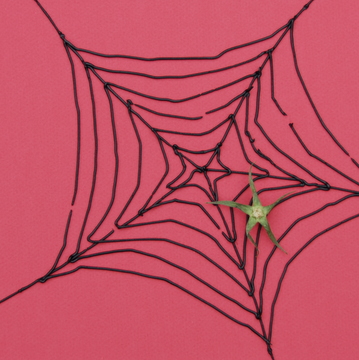 ---
11th Aug 2007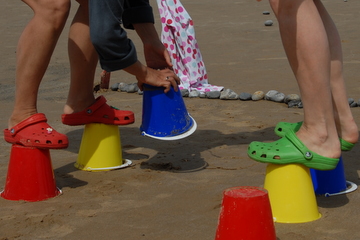 We've just been on the beach playing Beach Flower Pots, which was probably invented for 'It's a Knockout'. Form teams of two, choose the lightest and most poised member of your team to be the flower pot jockey and then race each other across the sand without touching it with your feet by stepping on buckets (or you can use heavy stones, but that's much harder). You need three buckets per jockey – we just used cheap plastic ones we found in a shop on the way down to the beach.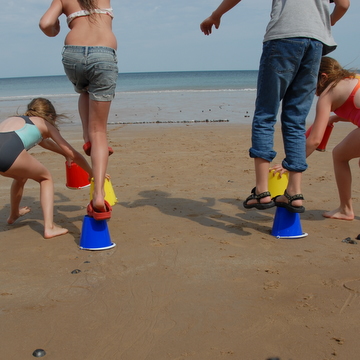 First lay out a start line and a finish line of stones - ours was only about six metres apart but at times it felt like 100. Each jockey has three buckets on the start line, and on the shout of 'go!' each jumps on two buckets, while the flower pot mover bends down and moves the other bucket forward so the jockey can step on it and the back flower pot gets moved in front for the jockey to step on.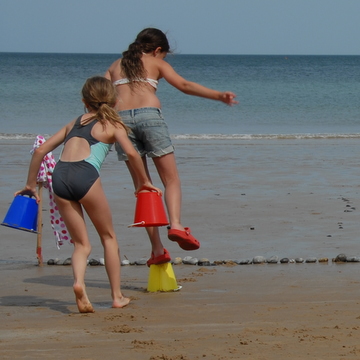 You need good balance and it helps if you wear beach shoes (yet another use for Crocs…). If a jockey falls off, they have to get back on the bucket before the fall and start from that spot again. Needless to say there was some dispute over what constituted a 'fall' and there were some long steps over the finish line without a bucket, but it was great, noisy fun.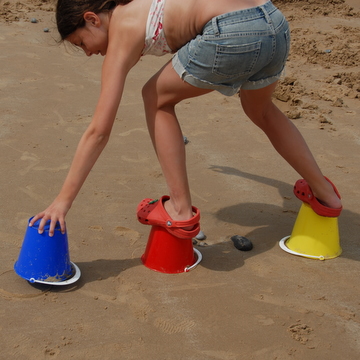 Then the kids had a go doing it by themselves. They each had to pick up their own bucket and move it forward, bending down and almost sitting on their haunches on the buckets to reach forward. It was slower and needed lots of control. Everyone was cheering on the sidelines (in a strictly non-partisan manner, of course).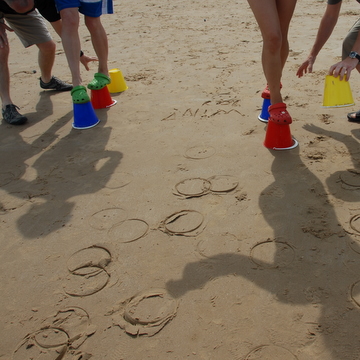 Then the adults paired up and had another go, this time utilising the radical two-pots moved-at-once technique. Surprisingly, the hardest job is moving the pots, partly because you're bending down and whizzing back and forward in front of the jockey so fast you start placing the pots slightly askew or at the wrong distance for their step. Meanwhile the jockey has to stand and keep their balance – which should be much more dignified, but there were no Lester Piggotts out there today. The buckets took a bit of a battering from the adults' weight and ended up rather squished but it didn't matter. We declined the invites to race the kids. Wouldn't be fair to them, would it?
Jane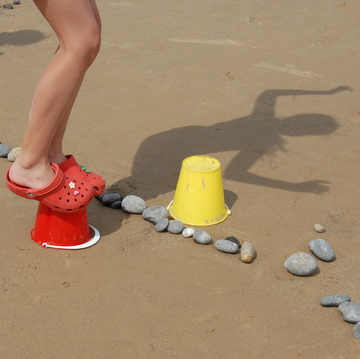 ---
25th Jul 2007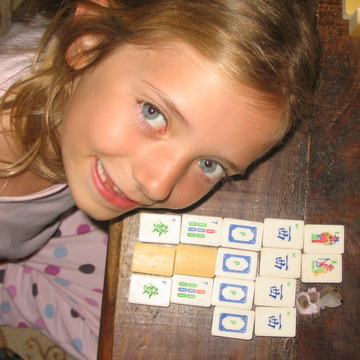 Every day on holiday, we played two games of Mah jong before bed, and I hadn't won a single game. Then on Wednesday, my Mum bought me and my sister some Sylvanian family baby otters called Becky and Eddy. On the night I won, Becky was my lucky mascot and she helped me by pointing at the pieces I should throw away. I got Mah jong with two flowers, a kong (four) west winds, a kong of white dragons, a hidden poong (three) green dragons and a hidden poong of seven of bamboo. My Mum says that's the highest score she's ever seen.

Edie

Jane writes: I couldn't score this one even using my rule book (it's in Chinglish which is pretty hard to follow). Edie was West Wind and she got her own (no 3) flower, which doubled the score, but she also got a kong of her own wind, which again doubled the score, and another kong of white dragons which I think means she doubles her score again. Anyone know what this Maj jong hand would total?
---
7th Jul 2007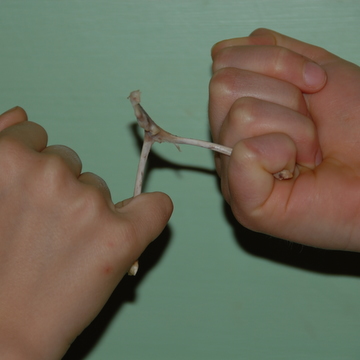 I love, love, love Sunday roast dinners, all hot and steaming. Especially roast chicken. And it's also great fun to pull the wishbone!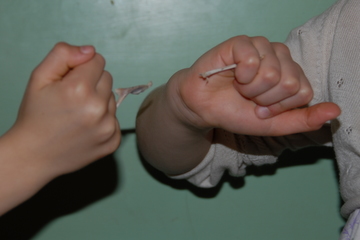 We leave it to dry for a bit, then I and my sister tug and tug with our little fingers until finally it breaks.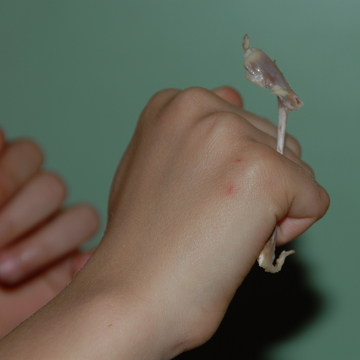 One person gets a magical wish (the little bit), the other gets the wishbone (the big bit). I always wish for different, interesting things, sometimes for myself, sometimes for other people. Nothing's come true yet but here's hoping.
Maudie
---
2nd Apr 2007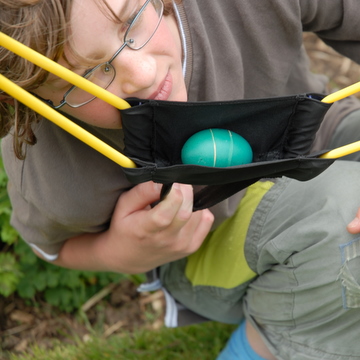 At Easter we get through a lot of eggs (chocolate and otherwise). Ten per person at least, especially since we dicovered how satisfying egg smashing games are. The current favourite is egg catapulting , a 'Just William' take on medieval siege warfare that goes down very well in our households. You can make your own three-main catapult by sewing a canvas pouch and slipping the edges on to two circles of strong elasticated rope (available from hardware/sailing shops).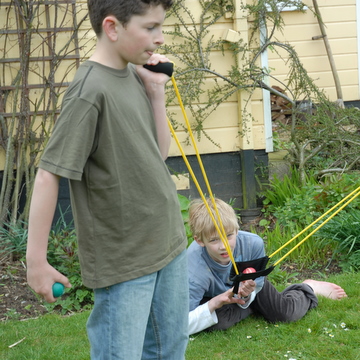 Or we can recommend the Waterbomb catapult (from www.firebox.com, £14.95) which sent our dyed and decorated eggs soaring 80ft or more. But the best SPLAT! of the day came when we got out the mammoth goose eggs. Treat this as if you're playing golf: make sure no humans or animals are in sight before launching and shout 'Fore' just in case.) The landing was gruesomely yucky, with lots of eggy bits to clean up, a triumph of squelch.
---