22nd Jan 2008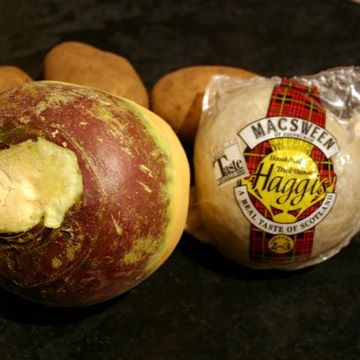 Carolynda: Next Friday night, 25th January, is Burns Night and haggises are trembling in the cool counters, knowing that their short lives will soon be ended by frightful boilings and stabbings. Scots at home and abroad are sharpening their sgian-dubhs for the ritual sacrifice of this 'great chieftain o' the pudding race' in the name of Scotland's most famous poet's birthday and general excuse for a knees-up, airing of the tartans and downing of whisky. We've recovered from the rigours of Christmas and Hogmanay and are ready to face the onslaught of a Burns Supper, the annual feasting on haggis, neeps and tatties, washed down with lashings of the 'amber nectar' (or 'eau de vie' as whisky is affectionately known here). Scots gather to address the haggis in old Scots dialect and tuck into this particularly national dish, in celebration of the life and works of Robert Burns, Scotland's greatest poet.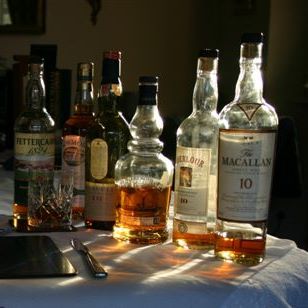 Years back I hosted a Burns Night for friends (including Jane) at my house in London, where we had a supper followed by Scottish country dancing and even improvised sword-dancing around the bread knives! As a Scot who returned to Scotland four years ago after spending half my adult life in the south of England, I am sure it is the itinerant Scots, in far-flung corners of the globe, who embrace Burns Night with the greatest fervour. My mother-in-law speaks proudly and fondly of the great times had in Malawi during the fifties, sixties and seventies, when the tartans were dusted down and haggises were flown in to the skirl of pipes and toasted with whisky galore!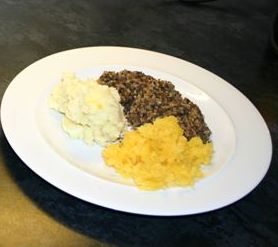 Haggis is a mixture of minced lamb offal, beef fat, oatmeal, water, onion, salt, pepper and spices traditionally bound inside a sheep's stomach. Neeps are mashed Scottish turnip (swede to the English) and tatties are mashed potatoes. At a Burns Supper, a starter may be cock-a-leekie soup (chicken and leek broth) or cullen skink ( a delicious smoked fish and cream soup). For pudding there may be sherry trifle,
cranachan
(a thick creamy mix including toasted oatmeal, whipped cream, rum or vanilla, sugar and fresh berries such as raspberries). Cheese and oatcakes and coffee would follow and whisky would be offered throughout the meal.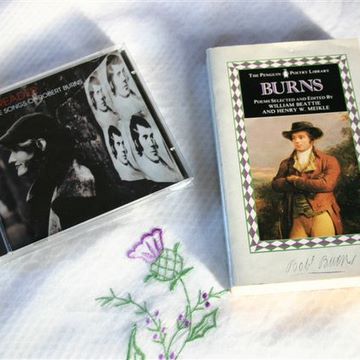 So what happens on Burns Night, or colloquially, Nicht? The men put on their kilts and the women dress up with a bit of tartan and we have a Burns Supper, with recitations of Burns' poetry, traditionally including the long poem 'Tam O' Shanter', performance of some of his songs, various toasts to the lassies and the men, followed by a Ceilidh and ending up with 'Auld Lang Syne'. Though sometimes the celebrations are less formal. I remember being with friends in a pub in Aberdeen when a piper unexpectedly came forth from the kitchen, followed by the chef carrying a large haggis on a platter. When the piper finished, the haggis was addressed by a reading of Burns' 'Address to a Haggis' ('Fair fa', your honest sonsie face…'), ceremonially cut open and returned to the kitchen. The piper and the reader were each given a dram of whisky and soon afterwards everyone in the pub was served a plate of haggis, neeps and tatties 'on the house'.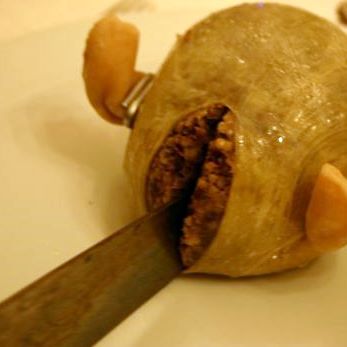 Nowadays we often eat a haggis supper as we can get it all year round and it is something of a family favourite. This week we have eaten a Macsween haggis, one of the good, well-known makes – if you're worried about the offal, they do a delicious nut and lentil-based vegetarian version. And I see they are now doing cocktail haggises – a good way to introduce wee Sassenachs and Burns Night novices to their first Burns Supper.
Carolynda is an artist and you can see some of her paintings here.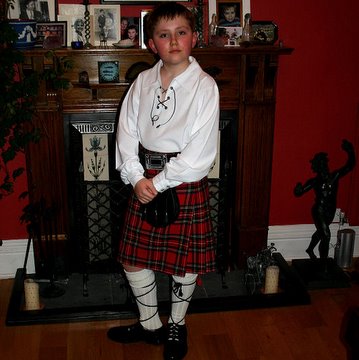 ---