12th Nov 2009
| | |
| --- | --- |
| Scare a Friend with a Leaf Mouse | |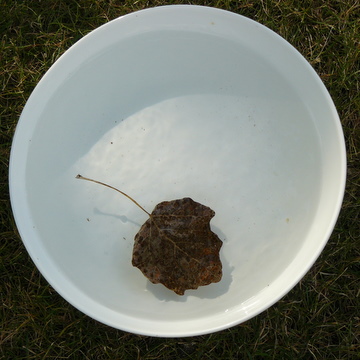 Helen: Last time I wrote on this blog about re-enacting a dead mouse, it was about making a mouse out of chocolate (see 8 January 2008, Making an Effigy of a Dead Mouse in a Mousetrap out of Chocolate-related Materials). Today, I am going to write about how to scare a friend with an impression of a drowned mouse. There is no chocolate involved in this re-enactment. All you need is a leaf and water.
Maudie and Edie played a trick on me by pretending that a wet leaf was not a wet leaf but a drowned mouse with a long fleshy tail. And I believed them! Here is how you can scare someone and convince them of a dead mouse in the house.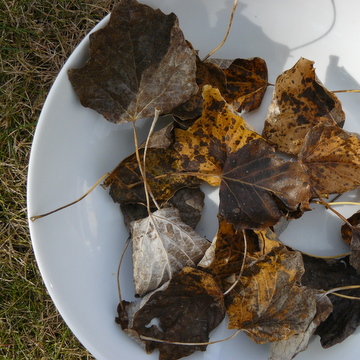 At the moment, there are many leaves falling off trees and floating down to the ground, and for this re-enactment you need to collect some of these leaves. Gather a handful of silver birch leaves selecting the ones which are crunched up and with a long stem, which are speckled brown on one side and silver on the reverse.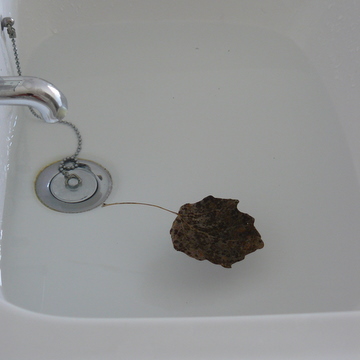 Now, have you ever noticed that the stem of a silver birch tree leaf can look like the tail of a mouse? Well, if not, look again!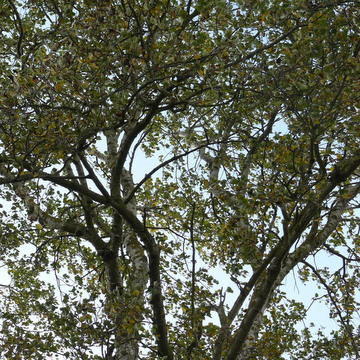 Imagine if you put this wet leaf into a bathroom sink in your house full of water or, best yet, in the toilet at your house? Leave the wet leaf in the watery grave for a while so that it sinks. Then, call to a friend or family member in a panic, saying that there is a drowned mouse in the house. They will run into the room and see what you see once you have suggested that the submerged leaf is not a leaf but a deceased mouse. Have fun!
---
2nd Sep 2009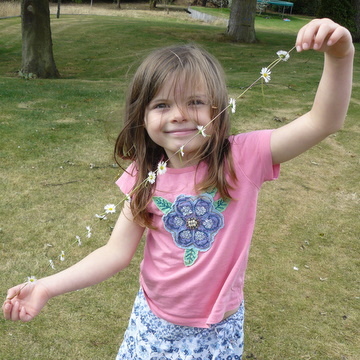 Helen: Five-year-old Hester looked with admiration at the craft projects on the heartandhome webpages and her main aim of the day was to create some artwork and contribute her own project to this website. So before I had my act together to think up what we could do, Hester had surveyed the garden and decided on a flower theme. First of all she made a daisy chain and this is her instruction on how you do it: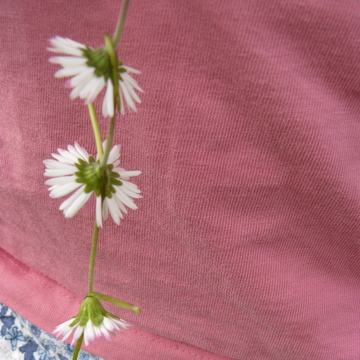 Hester: 'Find some nice grass with white flowers that are called Daisy. They are yellow in the middle and I find them in grass at the park and in the garden. Pick each flower with a long stem. It's good that my Mum has not cut my fingernails. I need my nails to make a hole in the stem. This is the difficult bit and sometimes it goes wrong and the daisy head falls off. You have to make a hole in the stem so you can push the next daisy through the hole. And this way you can make a chain. If you have a few daisies you can make a bracelet and if you have lots of daisies you can make a necklace. Here is my daisy chain and this is what it looks like when it is done and then you attach the last one to finish the loop. This one is a long one for a necklace. Here it is!'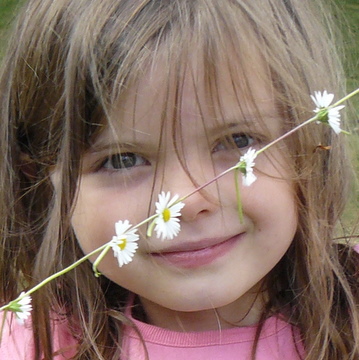 SEED COLLECTION AND STORAGE
Back to Helen: This part of year when summer is turning to autumn is a great time to go around the garden and collect seeds from your favourite flowers. Look around the flowerbeds and see which plants have finished flowering and have turned into brown seedheads. I needed to weed and tidy the vegetable patch, and all along the edge I noticed the sweet peas were all going brown and to seed. So when I weeded I pulled all the sweet peas and put them into a separate wheelbarrow and left the heaped barrow out in the sunshine.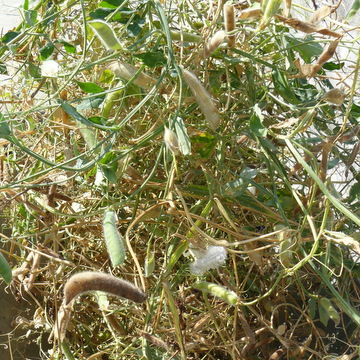 Hester had a great time picking all the sweet pea seed heads off with a pair of scissors and collecting them on a huge tray. We put these out in the sun for an hour to make sure they would dry out fully.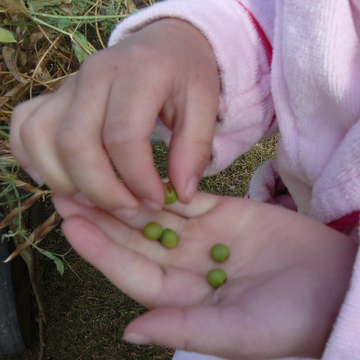 Walking around the garden with Hester we found one of her favourite flowers for the spring, granny bonnets, and their latin name is Aqualegia and they are blue, purple, red, pink in this garden. We cut the flowerheads off with kitchen scissors and held the collecting tray close underneath because otherwise you lose lots of the seeds which spray around everywhere.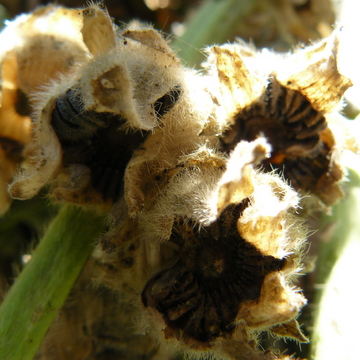 Next we found some lovely hollyhock flowers going to seed. So we cut these off a bud at a time using the kitchen scissors. Hester put her thumb in the flowerhead and turned it around in a circle which made all the seeds shake free. We collected these in another tray and put them out to dry in the sunshine.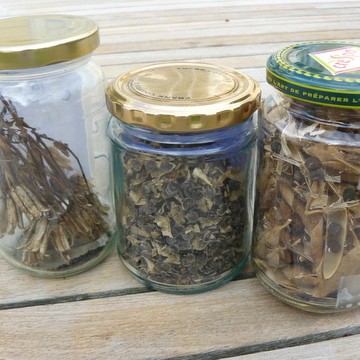 Hester really enjoyed the next part of our seed-collecting project which was to organise the containers to keep the seeds in over winter. You need to think about how to keep the seeds in a dry and dark place so you can plant them out in the garden next spring. Hester used some small boxes she found in the recycling which she decorated with spring flower labels to take home and plant in her London garden. It was very important for Hester that these containers be decorated with labels, so you know which flowers will come from the seeds you have collected.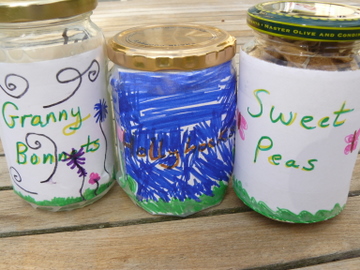 You can also use old jars and these are the best method to keep the seeds dry for the next six months. We went through the recycling and cleaned out an olive, a marmalade and a peanut butter jar and dried them out in the sunshine too. Meantime, Hester made a set of labels with pictures of the flowers: sweet peas, hollyhocks, granny bonnets, one for each jar. These jars will go on the shelf in the garden shed here because they are for Tamsin to plant up with Joe and Carla next spring.
---
8th May 2009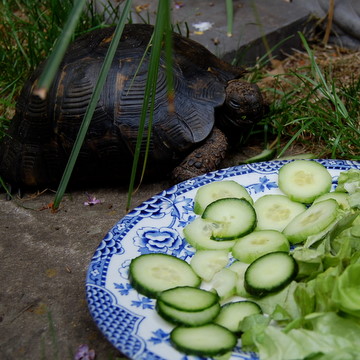 Jane: This is Joey, the tortoise. We've been feeding him for a few days. He is 70 years old, and the lady who owns him has been looking after him for 37 years. Amazing. I say he, but actually Joey is a she, only it took several decades and a trip to the vet before anyone found out.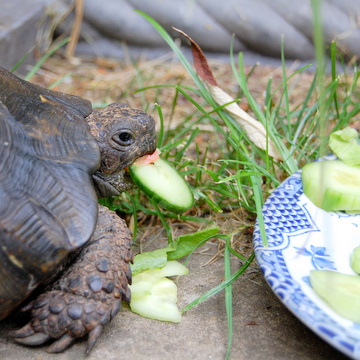 Joey likes warm weather, eating cucumber and the dark green, outer leaves of lettuces. In just a few days I got quite fond of her. She was always waiting for her plate of food (on the best blue china, preferably with the skin cut off the cucumber and lettuce torn up small to help her tiny teeth).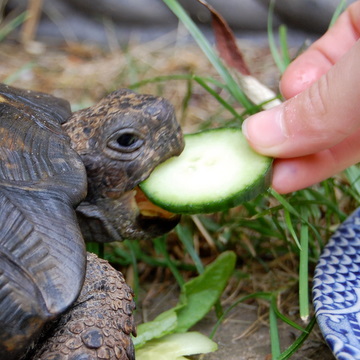 When she heard the children's voices, she'd perk up, sticking her little head out of her shell, and she let them hand feed her bits of cucumber, showing her tiny red tongue. When her owner came back the weather had turned colder, so Joey was brought in and put beside the grandfather clock with an apricot coloured napkin over her. She seemed to like it there. When she heard my voice in the corridor, she poked her head out again as if to say thank you for looking after me. Or perhaps: not her again. Whichever it was, I was smitten.
---
12th Oct 2008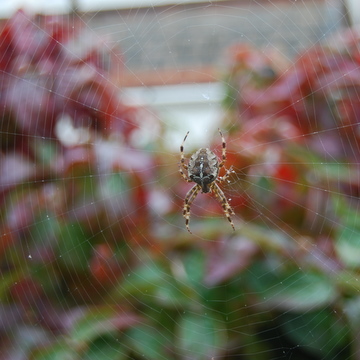 Tamsin: As I walk out of my garden gate each morning I watch this spider. It has got so big now that innocent members of the public walking past have stopped in their tracks to stare at the beast.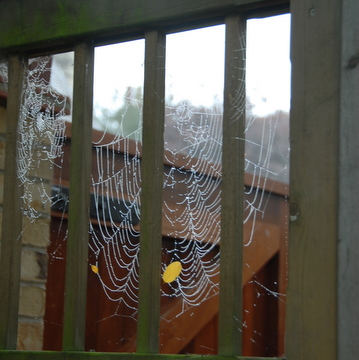 It is not surprising that it's so big as I have observed it slowly devouring enormous black flies over the last few weeks. I was a bit disappointed to find that it is called a Garden Spider and that it likes to sit in the middle of its web waiting for its unlucky prey. I think it's a female as they are larger than the males.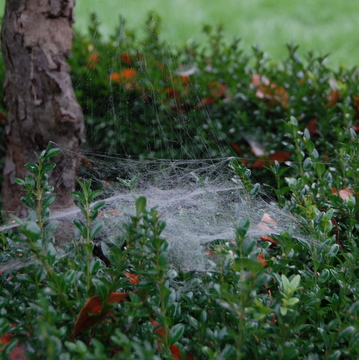 I am hoping that Carla does not notice it, as she suffers from arachnophobia and can dissolve into a shivering wreck if confronted by our eight-legged friends. I am not keen on them either, and we have had some horribly big house spiders this year which I've had to catch with a glass and postcard. I swear they have a homing device: one evening I evicted one from our sitting room, deposited it out of the front door and then half an hour later it appeared again.
Still, their webs are beautiful especially on a dew heavy morning, so maybe it's worth a bit of horror.
---
2nd Aug 2008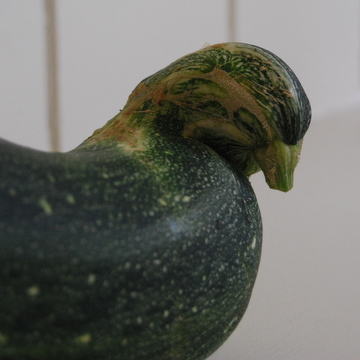 Tamsin: Is it a dove cooing? Is it a duck swimming? Is it a pigeon roosting?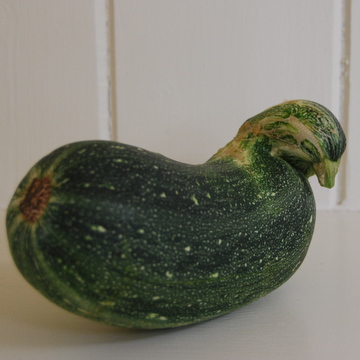 It is the latest silly vegetable that I have found in the veg patch. The courgette season is upon us and I am busy trying to keep up with the daily deluge. This one avoided the pan and is sitting peacefully on the windowsill.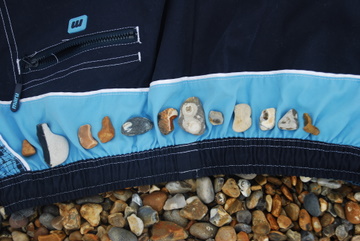 Mike was also sitting peacefully on the beach today as we splashed around in the sea. He was assembling his own stone alphabet, but only got up to 'L' before we dragged him away so that we could warm up after our dip over a mug of hot chocolate.
---
23rd Apr 2008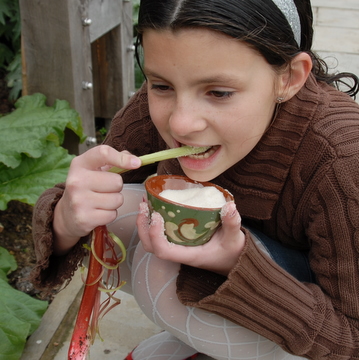 Tamsin: In the corner of my parent's garden, right in front of the bonfire pile, was the rhubarb patch. As a child I remember the enormous waxy leaves and red stems made me imagine it as an exotic jungle plant, and with the knowledge that the leaves were poisonous, I treated it with respect as I played around it.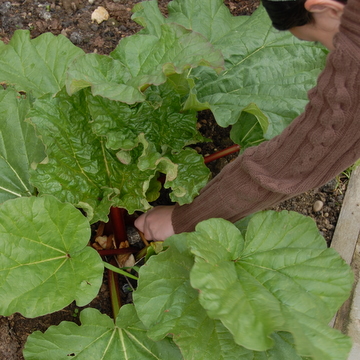 Other plants were stripped of their leaves and petals to make magic potions, perfumes and dollies' tea parties. The rhubarb was never touched for play except for the serious business of sugared rhubarb sticks. The reddest, thinnest sticks were the best and once grasped tightly would be crisply snapped off with a quick flick of the wrist.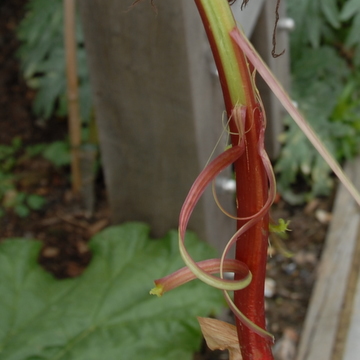 The leaves were discarded onto the bonfire and then the ritual of gradually peeling back the thin skin began. This part of the preparation gave great pleasure.  I would challenge myself to peel off as large a strip as possible in one go and enjoyed seeing the beautiful spirals that formed as the strips fell on the grass. Once the stick was green and naked it was ready to be dipped into a deep bowl of sugar and crunched between the teeth to give all the flavour of spring in one bite.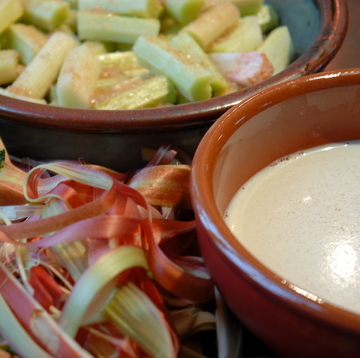 This childhood experience gave me a deep love for rhubarb, especially when accompanied by
junket
or hidden under a
crispy crumbly crust
.
---
19th Apr 2008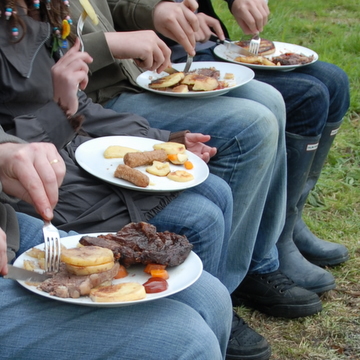 What can you do when the weather is as cold as it was this weekend and you want to go outside? Joe decided the answer was to have a bonfire, and my husband reluctantly agreed with the proviso that if Joe started it, he'd have to tend it for as long as needed, as the wind was quite strong. With the ground rules agreed, the wellies were pulled on, matches placed in pockets and forks collected from the shed. I left them contentedly piling up branches and went to do the shopping.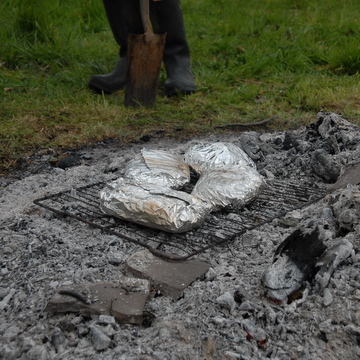 On my return, I was told that supper was sorted. The bonfire had provided enough hot ash to hopefully cook some foil parcels Mike had wrapped up. These contained parboiled potatoes, steak fillets and carrots. For Carla who is a vegetarian he had wrapped up veggie sausages.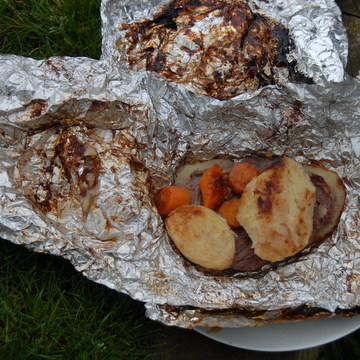 We were a bit unsure as to how long it would take everything to cook so we erred on the side of caution and left the parcels in the fire for about an hour and a half.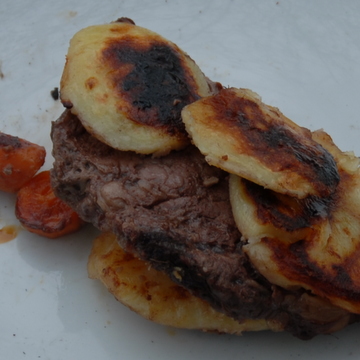 A meal prepared outside should be eaten outside and luckily the ashes were hot enough to keep us warm as we ate what turned out to be a delicious meal.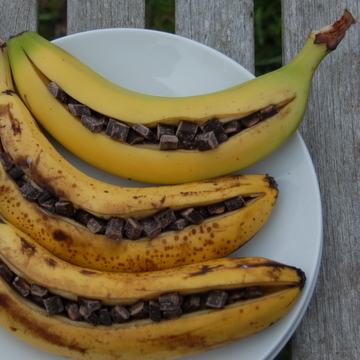 For afters, we split some bananas and filled them with dark chocolate before placing them on the grill. I was unsure whether to wrap them in tin foil but remembered reading somewhere that you don't necessarily have to do this if you leave the bananas unpeeled. The chocolate eventually melted but took about 20 minutes and I feel that if wrapped the cooking time would have been a lot quicker. The pudding was appreciated so much that I didn't even have time to take a 'plated' photo - by the time I had grabbed my camera only the skins  remained.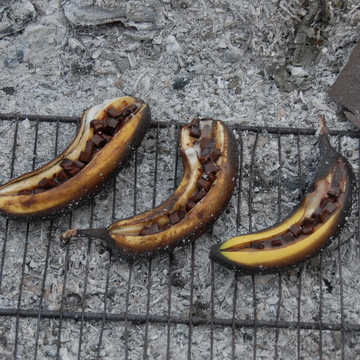 It isn't always easy to have a bonfire nowadays in towns and cities but there are plenty of alternatives from BBQs to outdoor fires, and I would highly recommend playing with fire to cheer you up on a cold, miserable day.

---
16th Aug 2007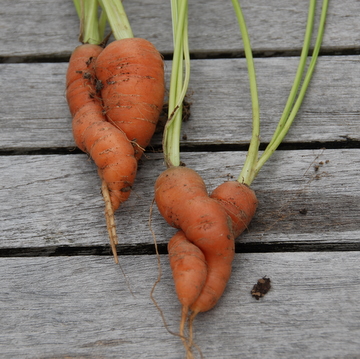 Well, I had to put them in. It is the silly season...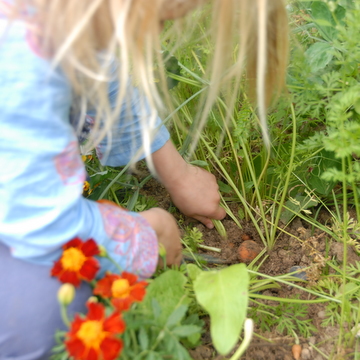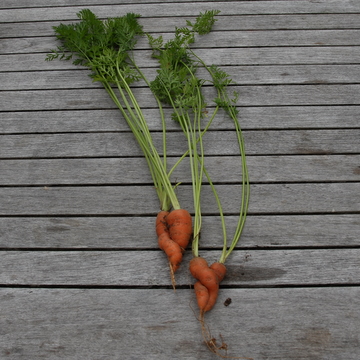 ...can have a cuddle in their bed!
Tamsin
---
11th Jul 2007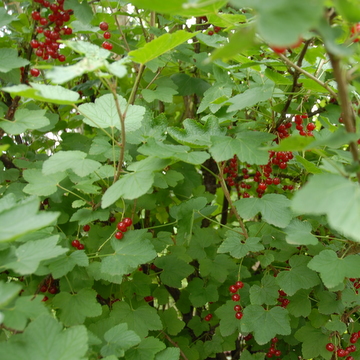 One of the joys of summer for me is crouching down under the redcurrant bush and picking the jewelled fruit that hang underneath like red droplets of water. Redcurrants are a pleasing fruit to pick as you gather them by the stalkful, unlike blackcurrants which you strip off the stalks while they are on the bush. I always wait until there's a blue sky so I can enjoy the dappled sunlight that makes its way through the bush's green cover. (You can see how romantic I get.) Luckily I have a friend who shares this pleasure and she often comes to stay at this time of year, so together we fill our punnets and catch up on life.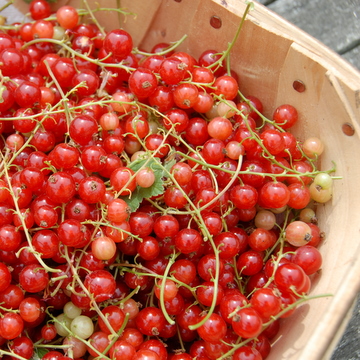 But that is not the end of the romance, redcurrants do not fail you – they look as beautiful picked as they do on the bush. It seems a shame to cook them but I do, mainly to make jelly, but my friend turns them into the most heavenly tart where the currants are placed resplendently on the top to show off their full glory. I always feel this is her recipe, not one for me to nudge in on. She makes it once a year and I have been lucky enough to taste it several times. Maybe I will persuade her to give away her summer secret so you can all have the chance to taste summer?
Tamsin
---
1st May 2007
I like Lollo Rossa, the words as much as the lettuce. I like the way the letters roll exotically around your mouth as you say them. Green oakleaf, on the other hand, sounds more down-to-earth, solid and British empire. Combine the two, and what you have is sitting right on my patio, growing up between the cracks of the paving slabs, fighting for space among the dandelions, couch grass and other weedy intruders that normally fill these tiny crevices.
Somehow, a big beefy Lollo Rossa and a delicate oakleaf lettuce have self-seeded and found a foothold together in this tough concrete environment. They first popped up about six weeks ago, and now are five inches across, amazing everyone who sees them.
Last year I planted both varieties in a pot nearby, as cut-and-come-again greens for lunch. Eventually they bolted, but why the seeds took root in the patio instead of in the dark, lush earth of the border nearby is anyone's guess.
Now I'm hoping these two little lettuces with their cool roots and hot heads will keep me going for a few days' lunches. Until I get to the garden centre and buy this year's new lettuce plugs.
Jane
---
28th Apr 2007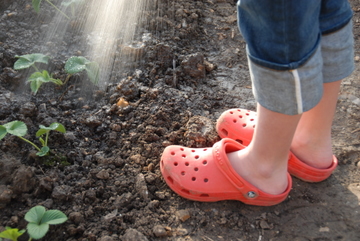 With all the summery days we've been having, I've been fantasising about bowls of freshly picked strawberries, raspberries and currants.
I always grow raspberries and currants in the garden, but have never yet ventured to try strawberries - until this year, when I thought why not give them a go? Carla and I planted a neat row of strawberry plants along the inside of our fruit cage - three different varieties so that we could do a tasting session later on in the season. Planting over, we then spent a happy hour watering not only the newly bedded-in strawberries but also the rest of the garden with Mike and Joe joining us as the chill of the evening rolled in.
Hosepipe bans aside, I have never been a great waterer of gardens. Hanging baskets die on me and my cut-and-come-again salad only survives because of the mini automatic irrigation system running between the pots. But that evening with the whole family joining in, you could feel that watering wasn't too much of a chore after all. Though I'd really rather have some summer rain.
Tamsin
---