4th Aug 2007
| | |
| --- | --- |
| Tart with Redcurrant Pearls | |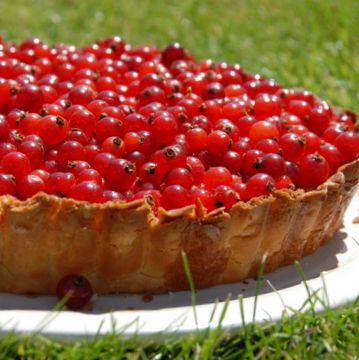 This is a Roux brother's recipe that was given to me by Anne Eatough – a friend from our days in Lampeter. It takes a while as the pastry needs some serious chilling and it is best made with homemade redcurrant jelly.

Anne is the original wonder-woman in my eyes – having a smallholding with sheep, chickens, bees and an immaculate potager with a row of redcurrant bushes. She summoned me to her garden the first summer we moved there (1990) and initiated me in the joys of redcurrants. I'll never forget sitting on a stool under the huge branches and gathering the dangling rubies and I've had a minor love affair with redcurrants ever since.
This tart is delicious though the pastry needs a cheery approach as it can disintegrate very easily. But if you roll it out quickly and put it into the tin quite swiftly, you can get most of it in before it gets too soft and floppy. Then just patch up the rest with the remaining bits. You can find the
recipe here
.
Anna-Louise
---