14th Aug 2009
Edie: At the beginning of the summer holidays, I decided to make a dress for myself. We went to the shops to buy everything I needed. The dress is made of two materials –the halterneck top is black jersey, and the wide, swingy skirt is a turquoise cotton with flowers. I've cut everything out, and am going to start sewing it with my grandma this week.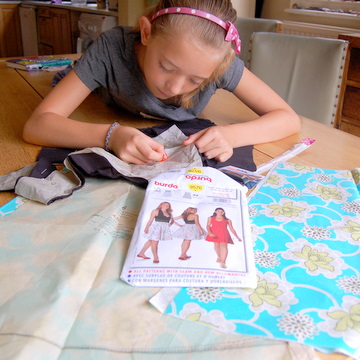 I'm really looking forward to making it and wearing it, and with the material that is left over, hopefully I will be able to make a hair band, hair ribbons and a bag to match as well.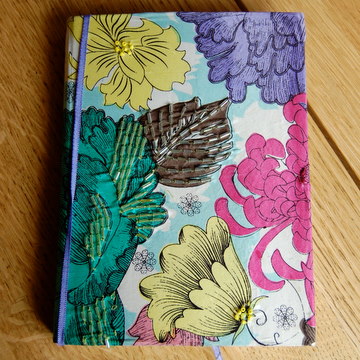 Maudie: This summer we weren't going anywhere for very long, and mum suggested Edie and I should do a summer project. She ran off a list of suggestions, and I liked the sound of a recipe book best. Mum took me to town to choose a new writing book to put the recipes in. We found this one in Paperchase – I saw several nice ones, but this was my favorite. Shortly after, I added in recipes. Recipes that we'd had recently, recipes from ages ago, and I'm still adding in recipes now. I decorate each recipe with a border, and occasionally stick pictures in of the food. I've put in a few starters, but they're mostly mains and desserts.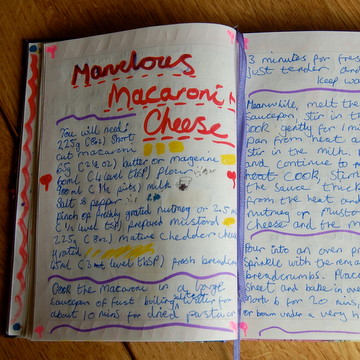 It's been lots of fun to write the recipes, and I hope to add more as the years come.
---
5th Jan 2009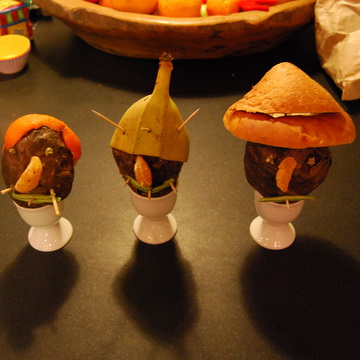 Helen: The sad story of the R.I.P Baked Potato Art Festival came about because we were waylaid on a coastal walk at Horsey where we were expecting a picnic on an isolated beach but instead were surrounded by nature tourists come to watch grey seals and their pups. None of us knew anything about seals and their rookery habitats on the north Norfolk coast, but after a while we figured out which were females, males, fluffy overstuffed young ones, and scraggy dead seals abandoned close to the dunes. The male seals were darker and huge and barked out at the beached females as they flopped out of the water in hope of mating, but although we watched very intently, or possibly because we watched so intently, the females barked back fiercely and did not seem at all keen on getting intimate!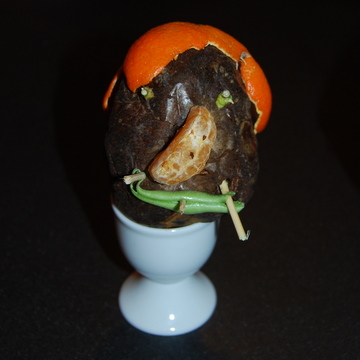 All this seal distraction meant we were back home late from our traditional New Year's Day beach walk and as we bundled through the front door our nostrils were greeted by the yummy smell of a carrot-related stew and baked pots in the Aga. Tamsin said brightly, 'I hope the potatoes aren't burnt to a cinder' at the very moment the oven was opened to reveal the remains of our supper, their dark husks burnt to a cinder. We set about cutting one in half and the contents revealed a thick toasted crust with a very small edible kernel of pasty potato.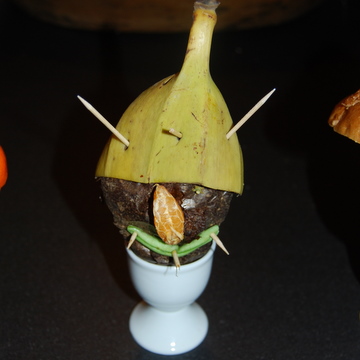 What to do? Well, the organic recycle bin had a suggestive layer of green bean trimmings on the top which were soon attached to the three potatoes that had survived in potato head form. Using toothpicks as pins, the beans were formed into grimaces. Next, noses were found from three squidgy clementine segments discarded from a breakfast fruit salad. The eyes were more of a challenge - Joe used orange stalks. The hat and hair pieces was where the R.I.P Baked Potato Art Festival came in for a creative twist and a very deep delve through the recycle bin with a variety of creative contributions from Carla, Maudie and Edie. One potato head had a third of a bagel and a corner of stale bread cut in to a Mexican sombrero, the second had a very funky pixie hat made of a banana peel end, and the third had the best-suited head gear for the blustery weather conditions, a deer stalker fashioned from clementine peelings.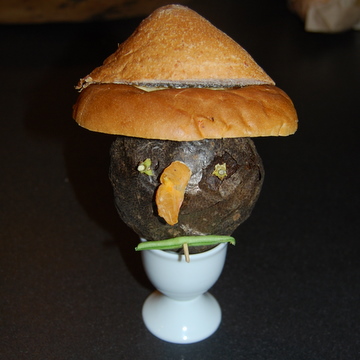 The three potato heads are a symbol of optimism for 2009, that any tragedy on a domestic front can be turned around in to a triumph of ingenuity over adversity!
Our three potato heads have yet to test out their headgear in outdoor conditions, but we wish them all the best for a rewarding year in 2009, recycled in the compost bin as plant food for the next crop of beans and potatoes.
---
2nd Dec 2008
| | |
| --- | --- |
| Pipe Cleaners, Colds and Christmas | |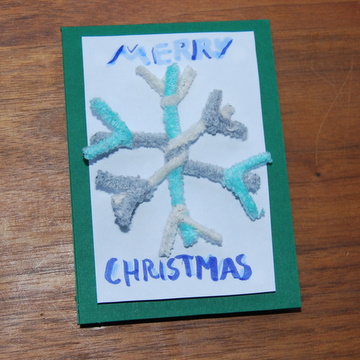 Tamsin: Yesterday I had two droopy children lying on my sofa – my daughter, Carla and her friend, Harriet – both had come down with colds. There is only so much TV watching that can be done, even in this state, and by the afternoon an activity was needed – something not too strenuous or taxing on the brain.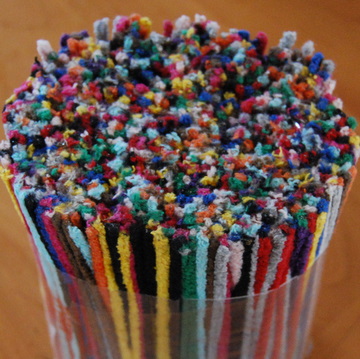 I had just bought a set of 1,000 coloured pipe cleaners (actually I bought 2,000 but had half left) and with the clock ticking towards Christmas suggested they make some creative Christmas cards.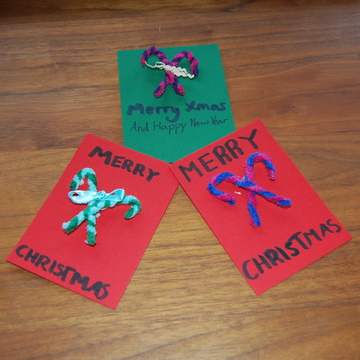 It is very easy to twist two pipe cleaners together and create a rather good 'candy cane'. These can then be attached to cards or hung on trees as decorations. I am going to ask my nieces and nephew to make a whole load of them when they come to stay, and hang them as 'paper chains' above the dining room table.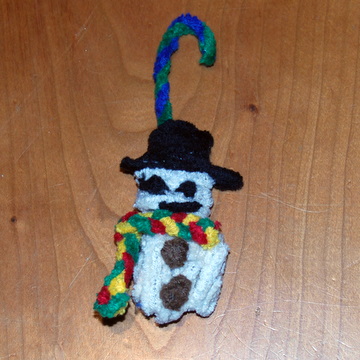 Harriet then took the idea further and began to make fantastic tree decorations by bending and twisting pipe cleaners, adding different colours as she went – starting at the head and working down. For eyes she poked and looped cut pipe cleaners through. Her first was the snowman...
Then a Father Christmas ....
And finally a Rudolf.
---
18th Oct 2008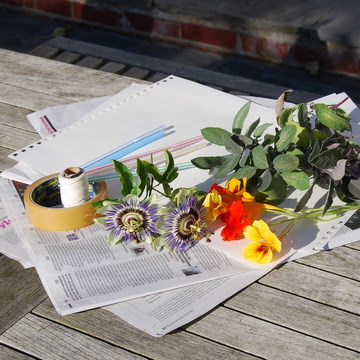 Carla and Sara: One afternoon we decided to design and make paper dresses out of fully recyclable materials. We had to find old newspapers, scrap paper, flowers from the garden, string, straws and some tape to stick it all together. We drew a picture of what we wanted the dresses to look like but somehow they turned out completely different!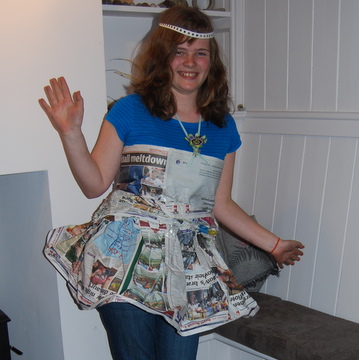 Sara: I made the skirt by sticking five or six sheets (depending on your size) of newspaper together in a long line. I then started to ruffle them together and stuck them with tape along the top. The effect was the big sticky-out skirt that was then attached to the top Carla made. However, you can do any style you like - why not try straight cut, a pleated mini skirt or even a full length ball gown!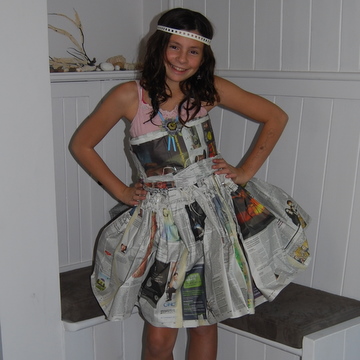 Carla: I made the top and necklace. For the top, I used around three or four sheets of newspaper. I stuck them together with tape and tied it round me, then added some string to fit it snugly. I next rolled up a small sheet of newspaper to make a belt around the top and then it was done. The necklace was easy to make. I got two straws of the same colour and crossed them over. Then I chose the pretty flower (a passion flower) and stuck it on to the straws. I cut a length of string and threaded it through the straws and used tape to stick them down – and there was the necklace.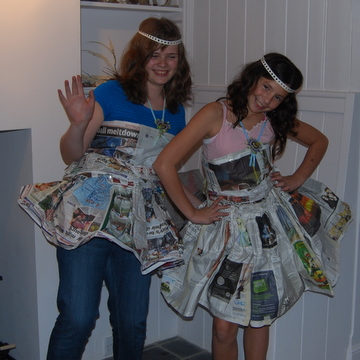 Carla and Sara: When everything was put together they look kind of like real dresses. The one problem was that you couldn't really move when you were wearing them.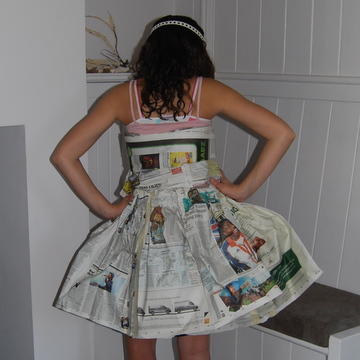 We decided to call the look Urban Fairy.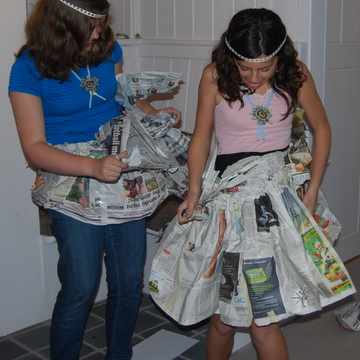 After we had finished and the photos had been taken we had fun ripping them off.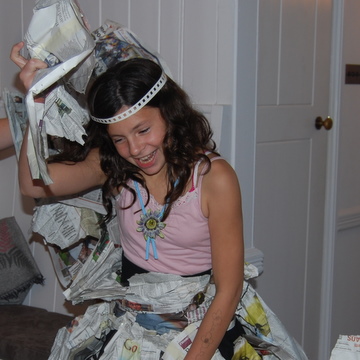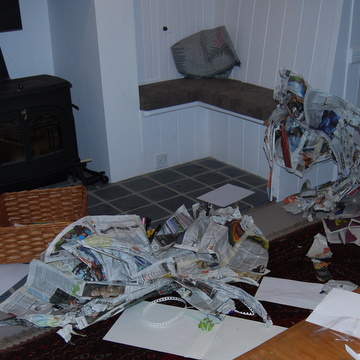 Unfortunately we'd made a lot of mess and it took a while to clear up! 
---
24th Sep 2008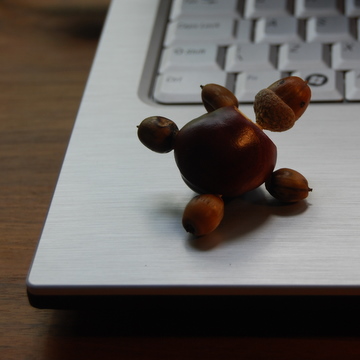 Tamsin: I found these ideas for conker and acorn animals in a 1940s 'Helen Haywood Christmas Book for Young People' (see below). They looked so nostalgic and enticing that as I cycled into town this morning I gathered a basket full of conkers. The acorns were another matter - in fact I think they should go on the endangered seeds list. I managed to find a few rather old-looking ones beneath a magnificent oak tree, though its branches seemed to have no plump green acorns at all. I hope you have better luck.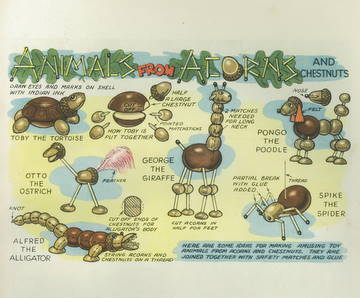 After 30 minutes trying I eventually managed to produce Toby the Tortoise, or rather a poor cousin of his who seems to enjoy dancing (first picture above). For young ones, I would suggest a lot of adult help, using cocktail sticks instead of matches, and making holes to poke them in with a thick needle. I will be impressed with anyone who manages to make George the Giraffe or Alfred the Alligator, especially his teeth.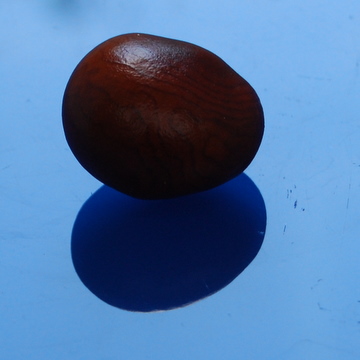 Still, it's always worth picking up the odd conker as they are beautiful...
---
31st May 2008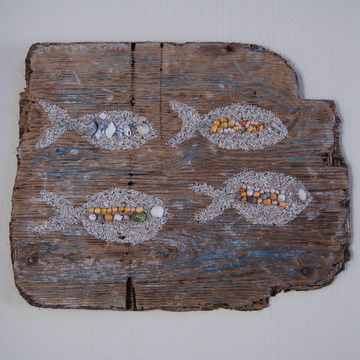 Jane: It's the last day of half-term, and I've just been reading an article about how British children have the lowest level of wellbeing in 21 developed countries, according to UNICEF. Our children are apparently now almost captives in the home – the distance they can roam without an adult has dropped by 90 per cent in 20 years – and spend hours on their computer or watching TV in lieu of real adventure and challenge. It's true: when I was nine, I remember taking two buses to school across the city by myself, whereas I still walk my nine-year-old (who could easily handle it herself) the short journey to her classroom door every day. As parents get busier, the level of communication between adult and child becomes functional – 'It's time for tea', 'Is your bag packed for school?', 'Do this, do that' – apparently making interaction a one-way ticket which increases children's stress levels and makes them feel constantly bossed around. The answer, says the author, is to put children under less pressure to achieve and give them more room to explore, play and create…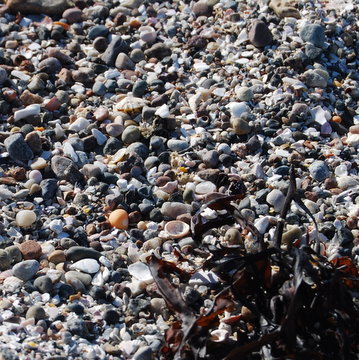 Create is a word I like and to improve our worst-in-the-developed-world wellbeing, we decided to create some natural sculptures with wood, sand and shells. We beachcombed loads of smooth pieces of driftwood, some large, some small, plus shells of all colours and shapes. You can make any mosaic you fancy – fish, snails, trees, dolphins, cows, whirls, patterns – all you need is some clear wood glue and a paintbrush.

Take the driftwood, banging a hole at each side with a hammer and big nail if you want to hang your sculpture later. Outline your chosen shape with a pencil, then paint inside the edges and fill in the middle with a layer of glue. Press an even thickness of sand on to the glue – if you're clever you can stick darker sand around the outline to give a solid edge to the shape. Shake off the excess sand and leave to dry for a while.
Then decorate your shape with shells or flotsam. Paint on another thin layer of glue where you want to give eyes or fins, or outline a backbone with a pattern of tiny coloured shells. Allow to dry. Then hang on your wall to remind you that it's good to explore, play and create.
---
8th May 2008
| | |
| --- | --- |
| All Knitted Out (thanks to a friend) | |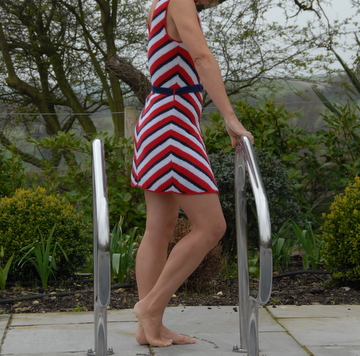 Tamsin: With the sun blazing down on us I thought it was time to do the blog on the knitted swimming costume. This project began in September 2007 (see Jane's blog) when we had the mad idea of recreating a knitted garment – a skirted swimsuit – from the past. After purchasing the wool and a pair of rather narrow-looking knitting needles, the burden of our 'inspired idea' was weighing heavily upon us. Were we really going to have to knit this thing?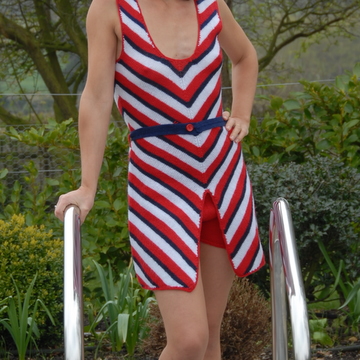 Luckily I work in a place which is supported by an amazing group of women. Many are twice my age and remember the days when if you wanted something you had to have the skill and patience to make it. So I put out an SOS and was rewarded with Andrea who, undaunted by the rather skeletal knitting instructions taken from a book, proceeded to knit this authentic 1930s' red, white and blue patterned swimming costume on those very small needles. 
  
I feel the costume ought to be christened or rather baptised by being immersed in water, but it is such a beautiful reminder of times past that I have decided it should be exhibited in pristine condition in the museum instead. It's lucky for me, as I have been warned about knitted swimming costumes from those who can remember wearing them first time round. They tell tales about how the wool sagged so much when wet that nothing was left to the imagination – all decency was lost as you got out of the water. Having tried this swimsuit on, I can well believe it.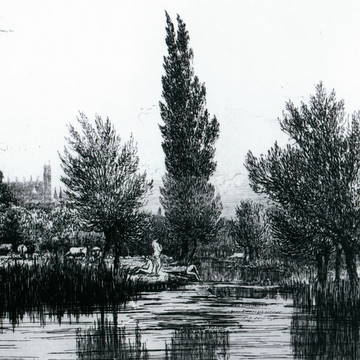 When the children were young and my mind seemed to have turned to mush, I signed up for a local history course. I fell in love with the research and discovery of the past life of our town. One of the topics I chose to research was outdoor swimming – I was brought up myself to swim in rivers and seas and have a great love for this activity. I then read
Roger Deakin's book Waterlog
and realised that there was a whole outdoor culture forgotten by our generation just waiting to be rediscovered. As I trawled through diaries, newspapers and photos a vibrant world opened up – water holes where children spent summer days paddling, river swimming where the sport of diving was of great importance, races with names such as 'The Milk Race' along the rivers, outdoor gyms on river banks, the struggle of women to claim a patch of the river for themselves, and the massive debate over whether men should begin to wear trunks for decency. I hope one day to continue this research and trace many of these forgotten watering holes – maybe the rivers are clean enough that our children can once again enjoy them, in their practical sun-safe, lycra-stretch costumes.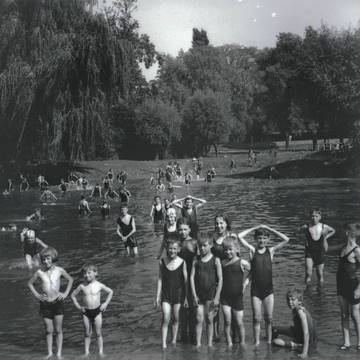 ---
14th Mar 2008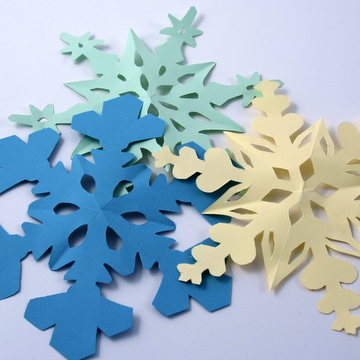 Edie: We have been playing with coloured paper and scissors to make paper snowflakes. Mum gave me a special book which showed how to make lots of different shaped ones. First you fold your paper into a kite shape, then you trace over the pattern with a pencil. Then you cut it out with small scissors. I enjoyed unfolding them and seeing the shapes come open in front of my eyes.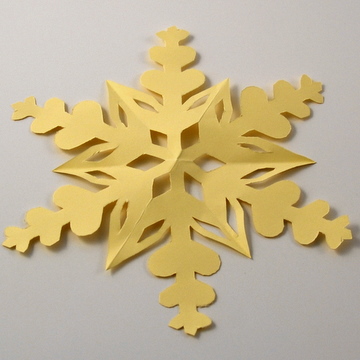 My favourite is the yellow one. I really like how it's sharp in the middle, then becomes round and bobbly at the edges.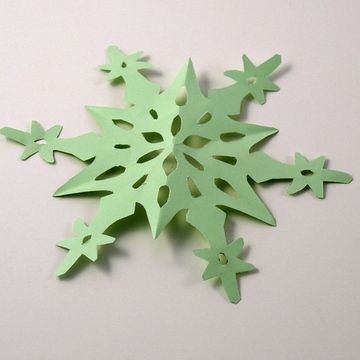 The green one is beautiful too, because at the ends it looks like flowers.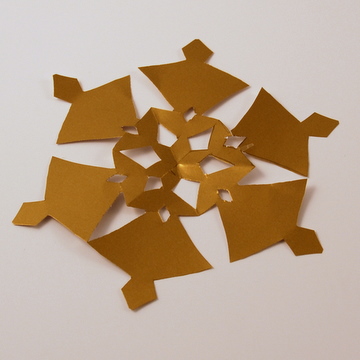 The gold one looks like the plated armour the polar bear wore in the film The Golden Compass.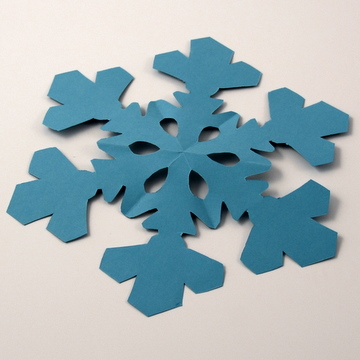 The blue one is like a snowflake looks in real life.
I am going to hang all the snowflakes I make on my bedroom wall.
---
17th Feb 2008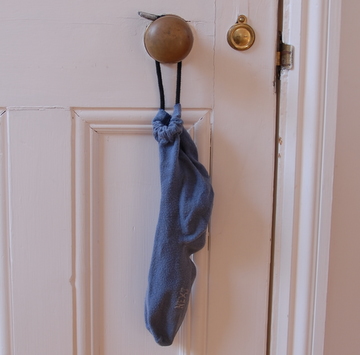 This seemed to be something different from the normal 'Joe leaving socks around the house' ritual. A single sock of his kept appearing, hanging from various door handles and banisters. On closer examination I found that it had an old shoelace inserted in the top seam, acting as a drawstring. After putting it in Joe's clothes pile a couple of times and then finding it hung back up around the house, I asked him what it was.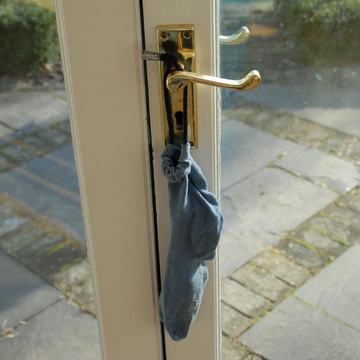 'It's my sock sack,' he replied. Thinking that this was his natural creativity coming through I was pretty impressed, until he told me he had got the idea from
Wikihow
, a website that has a whole lot of ideas on 'how to'.  He has personalised his igoogle page on his computer so that each day a couple of these ideas come up from the site to inspire him. Such ideas could be, how to draw a monkey, how to carve a ball in a cage out of a piece of wood, or how to turn 2-D photos into 3-D. This began to explain a few of his requests recently such as 'could the chisels be sharpened' and 'could he have some photos to cut up?'  I'm still impressed by his borrowed creativity and look forward to more wikihow projects being left around the house.
---
9th Jan 2008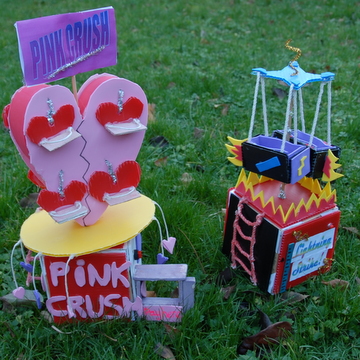 Maudie: At school, we have been making motorised Fairground Rides, working in pairs. Mine is called Lightning Strike!, and Carla's is called Pink Crush. To start off, we measured bits of wood and sawed them to make a box. We cut out card triangles and placed them on each corner, and stuck coloured coraflute on the four sides. We made seats out of coraflute and hung them with string for little people to sit in. There were two kinds of different switches: one you push down once to keep the motor running and one which you hold down. The push down one was more popular and most people had it, but we had the holding down one!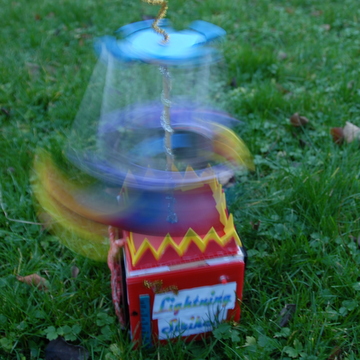 The Ride could go at different speeds, made by choosing a different-sized pulley wheel - the small one was the fastest and the big one the slowest. We had the smallest one, and Carla had the medium one.
We decided on the name Lightning Strike! because we wanted a fast ride, so a fast catchy name would go with it. We thought of a couple like Zoom or Lightning Bolt, but they didn't fit quite as well as Lightning Strike! When I brought it home, my little sister liked putting Playmobil people in the seats and making them spin round very fast. We all really enjoyed making them and once we'd finished, we wanted to make another!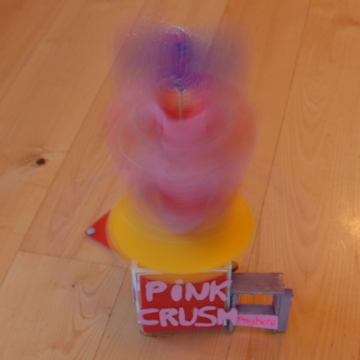 ---
10th Oct 2007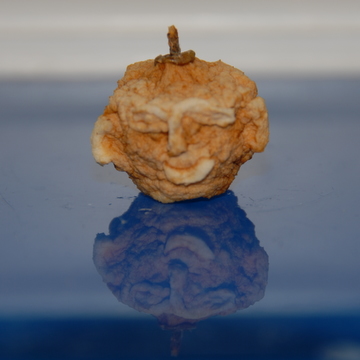 Tamsin: I came across this Hallowe'en idea by accident. In my job as a museum educator, I often find myself doing some strange activities and turning my hand to long-forgotten crafts. One of the museum's activities is to show children a collection of objects from which, over the years, dolls have been made – there's one bogus item in the pile and the children have to guess which one it is. They often pick the apple I've carefully put in there, but they're wrong – in the past, dolls' faces were often made from dried apples that had been carved and painted.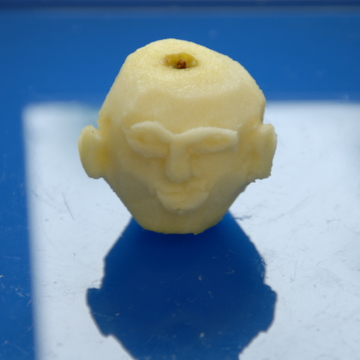 I'd never seen an apple doll so was curious as to how it could be done. I'd just picked a whole lot of apples so decided to have a go and started carving bits and pieces out of one of them. (If you would like to make one of these spooky Hallowe'en decorations, there are instructions on our website.)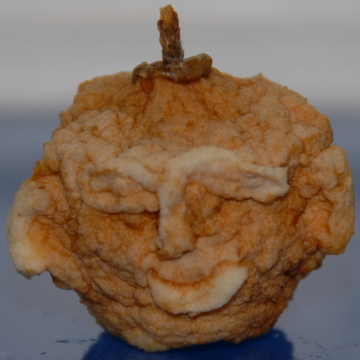 But somehow, the resulting head began to look less like a pretty doll and more like a shrunken head out of a horror movie. Could I really take this into the museum and show it to the children under the title of a 'doll's head'?
Never mind, it will be put to good use on the 31 October. And if anyone's interested in making a total apple doll, there's a wonderful US website that shows you exactly how.
---
7th Oct 2007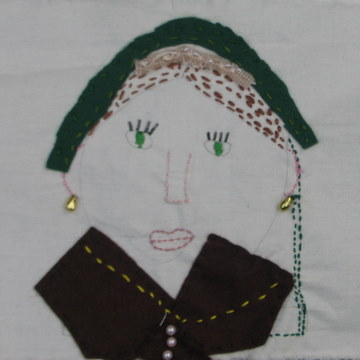 Maudie: We've been studying Tudors as part of our history work at school, mostly about Henry Vlll and his six wives. Our teacher then told us that we would be sewing a Tudor lady (or man). I thought eek! I can't sew very well at all. But when it came down to doing it, I started off quite well. I had chosen an Anne Boleyn sort of lady, so I sewed a collar as the top of her dress and then a green velvet coif. (The bit underneath was for decoration.) I then sewed her hair using simple running stitch, but it looks quite effective, don't you think?
Her earrings are just gold beads, for which I used special thin thread and a thinner needle. The next thing I sewed on was the green bits for her eyes – I chose the green to match her coif. I also did her nose and lips with different pinks so it would look like she had lipstick on. I sewed her chain and hood with running stitch and attached pink beads for her necklace.
Carla did a Tudor lady too, using different colours and stiches, and we both really enjoyed it.
---
19th Sep 2007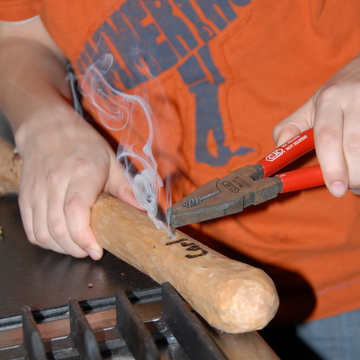 Joe: My walking stick. I found my stick in Dartmoor two years ago, stuck in a huge dam of sticks and trees. I remember dragging back the small tree and hacking off all the little branches with my knife, then snapping it with a resounding crack. It took me ages to carve the top, slowly whittling it down until it was a perfectly smooth dome. I've whittled down the handle too so it fits to my hand.
If I look at the end I see the crack where it got caught in a bridge at Corfe Castle. I love the wood under the bark. It's amazingly smooth with no knots so my hand doesn't rub on it. The only blemish is where I've burnt my name into it. I held a nail in a pair of pliers then heated it over the cooker and branded it on. Where my name is, the stick is burnt black but everywhere else it's got brilliant swirling patterns in light brown. I've had other sticks but none have ever been as good as this. It's amazingly light but extremely long. I've never got tired walking with it and nobody (even a tree expert) has been able to guess what type of wood it is. One once said the reason it was so light was because it was rotten, but it's survived so many walks up and down mountains and across moors in drizzling rain (and very occasionally sunshine), I know it can't be.
---
9th Sep 2007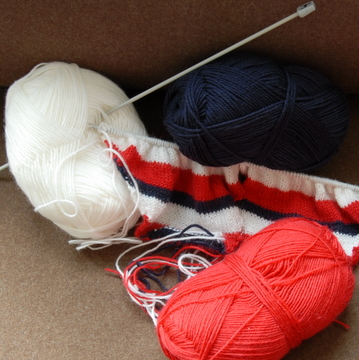 Jane: I've just started knitting a swimsuit. I know, barmy. The notion took me while I was flicking through an old encyclopedia I found in a five-floor secondhand bookshop in Derbyshire. The book is a period piece of hearty games, sports and activities from the 1930s. For example, before you start bathing in the sea, it suggests you make your own swimsuit, bathing cap and bathing shoes, plus a bathing tent with wooden struts covered in canvas ('designed to stand considerable wear and yet be quite portable') in which the whole family can, without indecency, change on the beach. What natural handymanship: it makes me nostalgic for an age I never knew.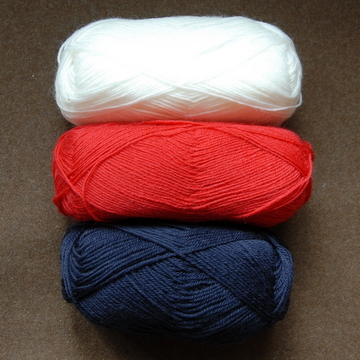 For my purposes, the bathing tent may be a step too far – after all, the kids already have those chirpy Boden towelling robes – but the bathing suit? Well, why not give it a go? The woman in the knitting shop laughed when I asked if she stocked the Sirdar 'Sunshine' wool specified ('I'm old, but not that old') and was sceptical about my chances of finding two-ply wool in any colour other than white, lemon or apricot, which are never good on anyone over 18 months. So over to John Lewis, where the haberdashery lady listened incredulously when I told her I wanted to make a swimsuit out of wool. 'But it'll droop to your knees when it gets wet,' she said, with practical good sense. Still, she burrowed around until we found some fine wool in scarlet, white and navy (Jaeger Matchmaker), some size 11 needles (today's 3mm, so painfully slow to knit on). 'Bring it in when it's finished,' she said, clearly humouring the batty element of her knitting constituency. 'Before you get it wet.'

And so here I am, following a pattern without pictures, doing the weird triangular skirty bit on the back. (Yes, there is a skirt on this swimsuit and thank goodness for that for they are back in fashion, I understand.) The knickers are separate and as rates of progress are slow, Tamsin says she'll knit those.

I feel rising excitement. By around Christmas, my swimsuit will be finished and it will be goodbye Speedo!

For one droopy dip, at least.
---
23rd Aug 2007
| | |
| --- | --- |
| Take a Piece of Driftwood... | |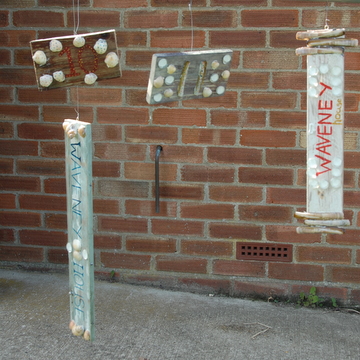 Tamsin: I'd booked the workshop for me and the kids several weeks ago but couldn't quite remember what it was going to be about…except it had something to do with doors. Maybe it was the thought of creating his own door that suddenly made Mike decide to come as well (or maybe it was that I said we'd be home by noon). Only we weren't. What I thought was a two-hour workshop turned out to be an all-day session with tea breaks – though it was great fun and easily filled the day.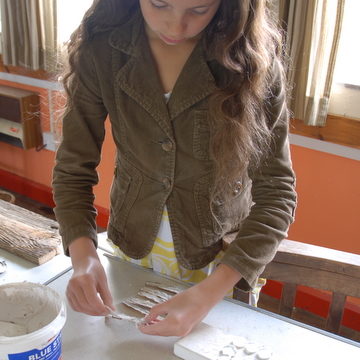 Using driftwood, old planks and bits and pieces from the sea shore, we made house or door signs. We started off choosing a piece of wood and, using wire wool or sandpaper, distressed it even more. Then we painted on a number/name and arranged shells, stones, glass, or anything else we had (which wasn't much since I'd also forgotten to bring beach scavenged treasures to use) decoratively around it. Any delicate shells were first filled with Polyfilla to make them stronger before gluing them down with 'No more nails' adhesive. To finish off we varnished the boards so that they could be hung outside.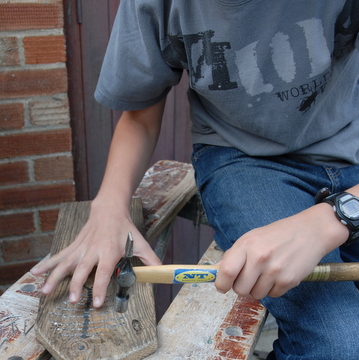 Joe spent his time hammering nails into his wood to create a skeletal fish and Mike made an Alfred Wallis-style boat to hang on the treehouse. Much enjoyment was had by all.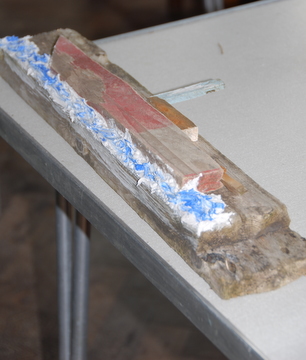 If you are wondering what to do with the buckets of shells and stones you've brought back from the beach, perhaps this could be the ideal family project…
---
12th Jul 2007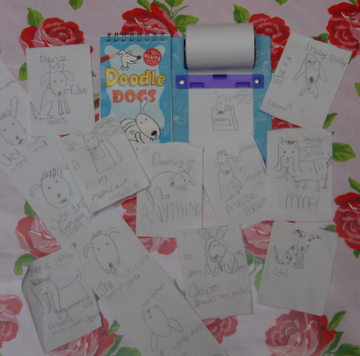 I was recently given a book and little roll pad showing you how to draw 'Doodle Dogs', irresistible cartoon dogs with funny names and even funnier faces. They are great to do in evening, just relaxing on the sofa, doodling! My favorite is 'Hamlet the great dane' who's thinking of hamburgers. There are lots of sweet ideas such as: a delivery dog, a hot dog (he has a fan blowing his spaniel ears out to one side), Fleabert (he's pretty itchy) and a Scottie dog. Also there is an l-o-n-g page of common dog expressions. My mum has made quite a big gallery of the ones I've made her on her wall. You can make creative and funky comic strips and great presents, if you frame them. Give it a go!

Maudie
---
21st May 2007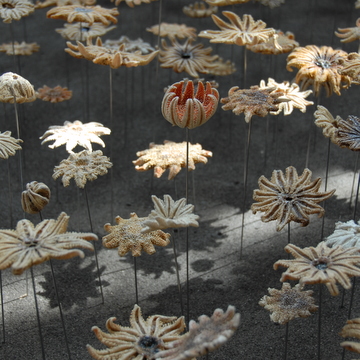 Beachcombing can while away hours of time, especially if the beach has recently experienced the pounding of waves from a storm. After one such gale the sands of our favourite beach were covered with thousands of starfish - a rather sad but spectacular sight. So it was heartening to discover that someone could create beauty out of so much devastation.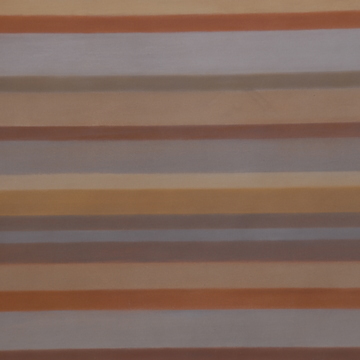 I often take the children to art shows, especially at this time of year when artists throw open their doors on the 'open studio' scheme. One of our favourite venues is a church that uses its interior for art shows and asks artists to make pieces to fit the space. This was done spectacularly by two women artists Britz and McGowan. Using materials from the local environment, they created amazing giant mobiles out of reeds to hang below the ancient oak eaves, and painted canvases for the rough walls in rich browns, greens and greys, the colours produced from muds found in nearby locations.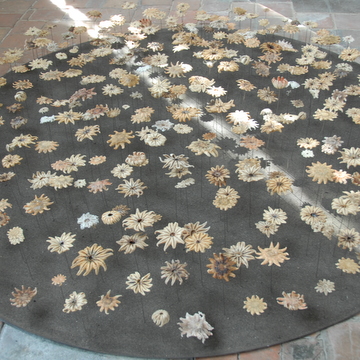 Some beachcombed starfish were placed high like gold stars against a rich blue background, while others were arranged on the floor, raised on delicate wires to produce beautiful shadows as the sun streamed through the chancery.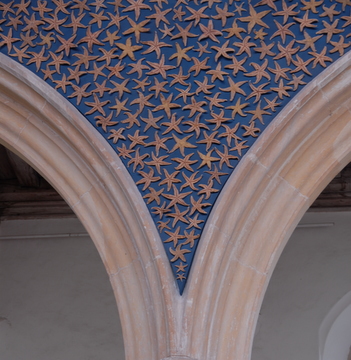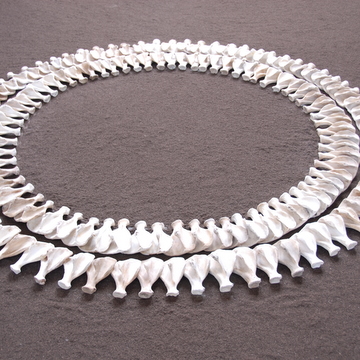 The children especially enjoyed the installations of bleached bones on black sand, and the razorshell spirals. Such a show only inspires me to while away more hours with the family on our storm-swept beaches. A nothingness thing to do, but very satisfying.
Tamsin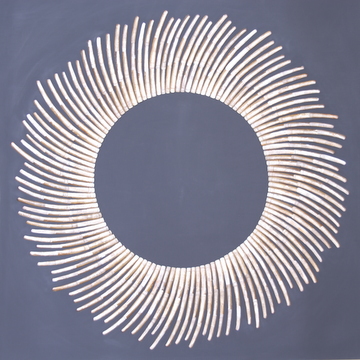 ---