30th May 2007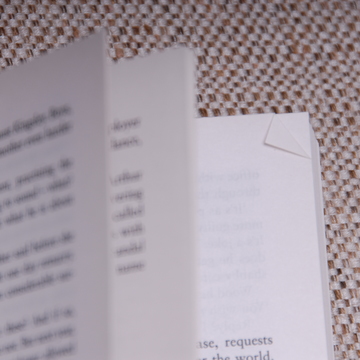 For some it is unforgivable, though for me - I love to see it done. The turning down of a page on a book. Well-read books are a delight to handle. I like to be able to see how quickly someone else has read the book by the creases on the spine or the procession of small creased lines running diagonally across the top corners of the pages.
Both my children turn down their corners and I secretly feel proud to have passed this sin on to them. The golden rule is never to do it to books that have been lent to you - it is a sin some people can't forgive.
Tamsin
---
24th May 2007
| | |
| --- | --- |
| Elderflower Cordial (Blog) | |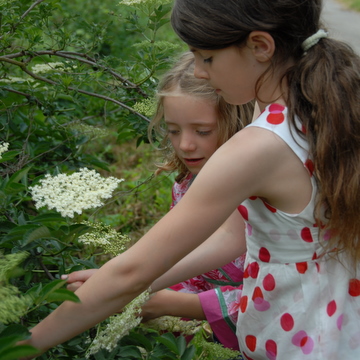 It's elderflower season again, way earlier than last year. I know because we spent last summer half-term in the Loire valley where the elderflowers were already in bloom, a week or two ahead of Britain. We picked a load of them there, and made elderflower cordial in a kitchen where the ants followed the smell of sugar in a trail across the window ledge - then climbed up into the bowl and drowned, poor things, in the liquid. I had to handpick most of them out.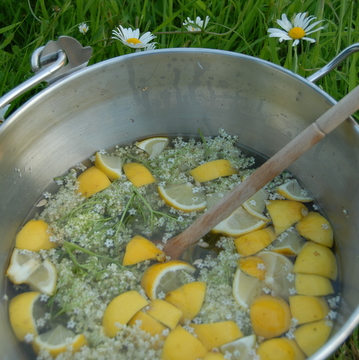 That was at my friend's house hidden deep in the French countryside. (Ants don't get many sugar rushes in that quiet environment.) On a whim, she'd bought preserving sugar instead of granulated and the resulting cordial was less liquid than floppy pectin-rich jelly, delicious on ice creams and as a sauce on puds - though perhaps not quite as successful diluted in drinks.
'Cordial' derives from 'cor' the Latin word for heart and I always think there's something heartwarming and old-fashioned about elderflower cordial. Now's the time to get out there picking: the flowers are just opening out, ripe and ready - in a couple of weeks they'll start browning at the edges, and brown elderflowers make everything taste of cat's pee.
You'll need about 20 fresh heads, a lot of sugar and a little citric acid (from chemists). My elderflower cordial is distilling nicely in a big preserving pan in the kitchen, giving a lovely fresh sharp smell to proceedings. Tomorrow, I'll strain and bottle it into 'Geyer Freres, maison fondee in 1895' glass bottles with pressure tops. It's hard to find solid glass preserving bottles even in kitchen shops, but Lorina's Traditional Pink Lemonade comes in these lovely ones (which almost makes them free).
In fact, elderflower cordial is just about food for free, so it's strange it costs a fortune whenever you buy a slender bottle in posh caffs and National Trust eateries. Much better to make your own, and in case you need a recipe, here it is:
Elderflower Cordial
Makes about 1.5 litres
1.8 kg sugar
1.2 litres water
20-25 fresh elderflowers heads
2-3 organic lemons, unwaxed
75g citric acid

Put sugar and water in a big pan and bring to the boil, stirring occasionally.
Shake out the elderflowers to remove any bugs, then put in a big bowl or preserving pan. Slice the lemons and add to the pan. Pour the boiling sugar syrup over the elderflower mix, stir in the citric acid, cover with a clean cloth and leave for 24 hours at room temperature.
Next day, strain the mixture through muslin into clean glass bottles.
Drink, diluted with water to taste.
Jane
---
21st May 2007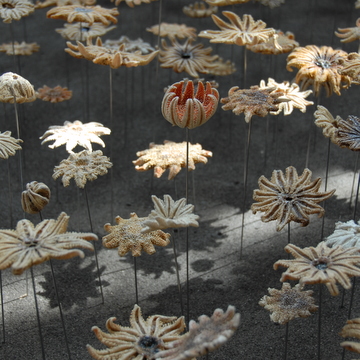 Beachcombing can while away hours of time, especially if the beach has recently experienced the pounding of waves from a storm. After one such gale the sands of our favourite beach were covered with thousands of starfish - a rather sad but spectacular sight. So it was heartening to discover that someone could create beauty out of so much devastation.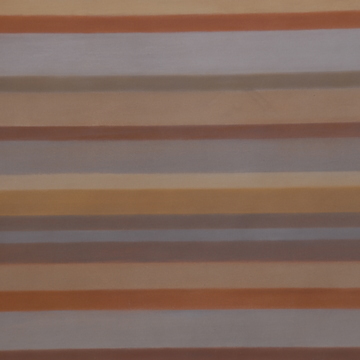 I often take the children to art shows, especially at this time of year when artists throw open their doors on the 'open studio' scheme. One of our favourite venues is a church that uses its interior for art shows and asks artists to make pieces to fit the space. This was done spectacularly by two women artists Britz and McGowan. Using materials from the local environment, they created amazing giant mobiles out of reeds to hang below the ancient oak eaves, and painted canvases for the rough walls in rich browns, greens and greys, the colours produced from muds found in nearby locations.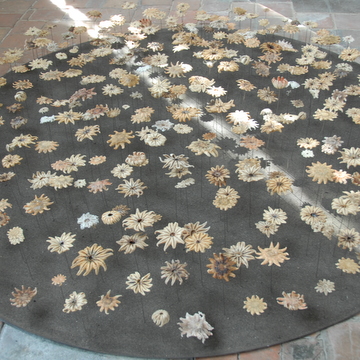 Some beachcombed starfish were placed high like gold stars against a rich blue background, while others were arranged on the floor, raised on delicate wires to produce beautiful shadows as the sun streamed through the chancery.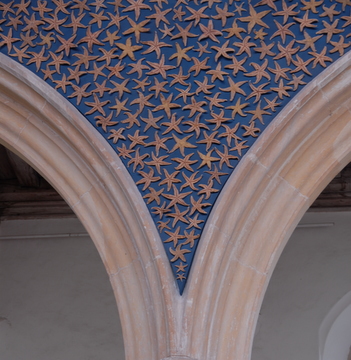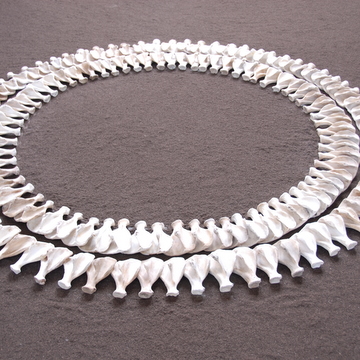 The children especially enjoyed the installations of bleached bones on black sand, and the razorshell spirals. Such a show only inspires me to while away more hours with the family on our storm-swept beaches. A nothingness thing to do, but very satisfying.
Tamsin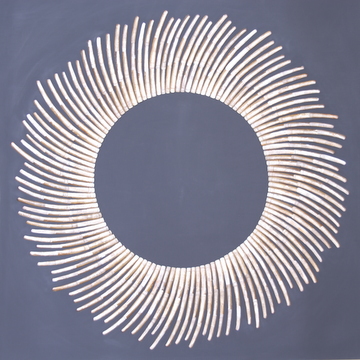 ---
17th May 2007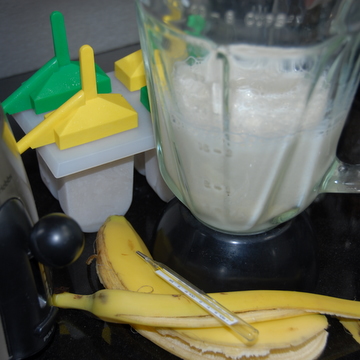 Early morning and Carla calls out to me from her bed. She usually sneaks down and sits with her back against the hall radiator waiting for everyone else to get up, so I knew something was wrong. It was a sore throat and temperature, and she was certainly not going to get out of her pyjamas that day.
We hibernated at home, making the sofa into her day bed, listening to tapes, reading books and watching TV. Carla likes two things very much - chocolate and ice-cream - and being ill does have its advantages. Using Post-it notes she bombarded me with messages such as, 'Ice-cream would make me better' or 'Ice-cream would soothe my throat'. As a mum I was torn between wanting to give her something to cheer her up and feeding her something nutritious to help her get better. As a teenager when I went down with glandular fever, my dad gave me a sort of porridge of warm milk and bread. I remember this mixture with fondness but knew Carla would not have the same feelings. I also remembered the homemade ice-cream my mum used to serve, made from a custard base and mashed bananas. This made me think of just the right food to make for a sick daughter - banana milkshake - but this time I poured the shake into lolly moulds and put them in the freezer. Our banana milkshake could not be easier: one banana; about 250ml milk; blend, drink or pour and freeze. Carla's happy and I have overcome yet another motherhood dilemma.
Tamsin
---
16th May 2007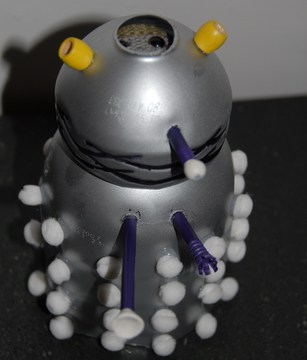 We had another challenge this week - how to make Monkey into a science-fiction character. My friend Maudie was doing Rose Tyler so I thought I'd do someone else from 'Dr Who' - a Dalek. We made it from an old plastic bottle, the top bit for the head of the Dalek and the bottom bit for the tank, spray painted silver.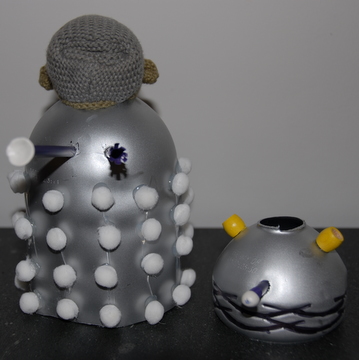 We got some yellow beads and stuck them on for the lights, and straws with plasticine on the ends for its weapons. We found some old Christmas decorations with white pom-poms and stuck them on the body. We put Monkey inside and he was ready to EXTERMINATE, EXTERMINATE.
Carla
---
10th May 2007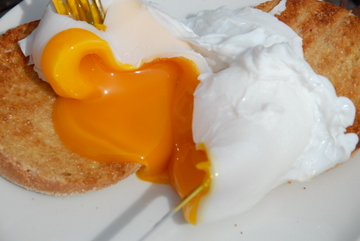 Joe: Saturday and I'm going to a museum (in the middle of the fens) for my birthday with a friend. On the way back we stop at a stall outside someone's farm.
As my friend is looking at the flowers, I wander over to another part of the stall full of good natural carrots covered in earth and sticks of asparagus piled high. Then, as I walk around the back, I spot a tray of enormous goose eggs next to the normal eggs. We buy some, and at home mum promises we can have them the next day. In the morning when I get up I think, what I can have for breakfast? Then I remember: the goose eggs.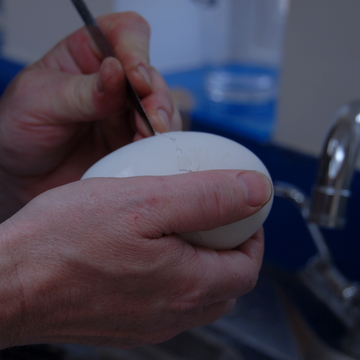 Mike: Joe hands me the goose egg and says he wants it poached. Over the years I've perfected a poaching technique for hen's eggs, but these big goose ones are more of a challenge. Careful knife work is required just to break the shell and the thick membrane beneath it without breaching the yolk. That done, I carefully slipped the eggs from a saucer into a small pan of simmering water with a splash of vinegar added (no egg poacher is big enough for the job). After a few minutes and two slices of buttered toast later we had a real 'man'-sized breakfast.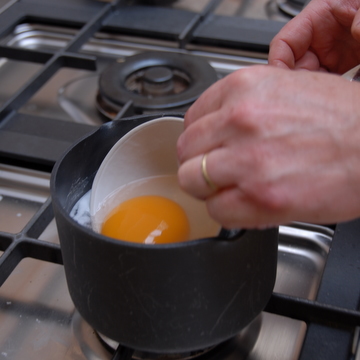 ---
8th May 2007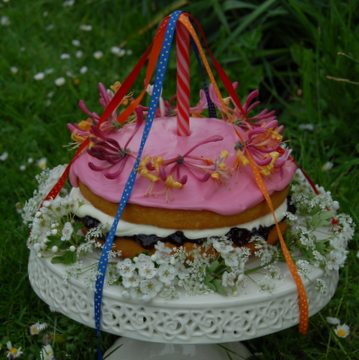 Somehow we arrived at Bircham Windmill too early (or perhaps too late) for the May Day maypole dancing, so when we got home I made a consolatory maypole cake instead. It's a basic Victoria sponge, the middle sandwiched with cream and red fruity jam, and the top decorated with pink butter icing.
A striped candy stick in the middle of the cake is the maypole, and I cut lengths of thin ribbon and stuck them (using edible glue, though a blob of icing will do) to the top of the candy stick, twirling them out towards the edge of the cake. The children picked some dark pink honeysuckle flowers and white cow parsley and to put around the edge of the plate giving a flowery feel to honour the spirit of the day. It went down consolingly well. It's nice to be back in summer.
Tamsin
---
4th May 2007
We're now into summer. It's official. The cow parsley's out, the hawthorn and blackthorn are blossoming, gardens and green places are boisterous with birds and bees. May the first was actually the start of this splendid new season, though blink and you may have missed it because nobody's celebrating May Day this year until the bank holiday weekend. And probably not much then, because the old May Day traditions are all dying out.
It's a great shame. In Elizabethan times, May Day was one of the biggest, most boisterous festivals of the year with processions of milkmaids and chimneysweeps gathering on every village green. Even 20 years ago, primary aged children dressed up, elected a May Queen and perhaps a Jack o' the Green, and danced round the school maypole. At university, a big gang of us used to rise at the crack of dawn, bathe our faces in the morning dew (reputedly good for the complexion) and dance round the Castle green, and Tamsin's family always got up at 4am to gather on Norwich's Mousehold Heath and watch the Morris men dance a welcome to the May Day sun (with a slap-up cooked breakfast afterwards).
May Day traditions are incredible fun for the kids. Last year, we dressed up a chair with blossoms, made a blossom crown for the May Queen and raised her aloft from her throne, ruler of all she surveyed. You can make a maypole and dance madly round, twirling ribbons under and over. This year, we'll also be making creamy butter the old-fashioned way, taking it in turns to shake the jar (though you can make it in five minutes with a hand mixer or food processor). Then lathering it on to a beefy May Day breakfast of sausages or bacon and egg in doorsteps of fresh white bread. Yum!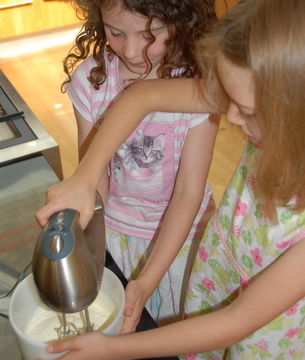 HOME-MADE BUTTER
To make around 300g butter and 200ml buttermilk, you'll need:
1 pt (568ml) double cream, at room temperature
Large jar with lid
Fill the jar just over a third full and tightly screw on the lid. Shake the cream up and down. After some time, it will look like whipped cream. Keep shaking until thin streams of buttermilk suddenly separate out leaving a thick, creamy lump of butter.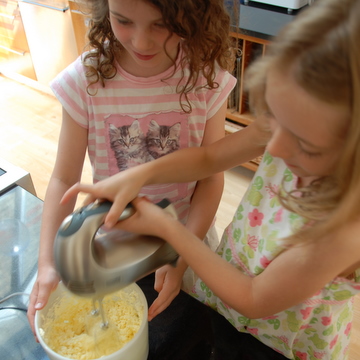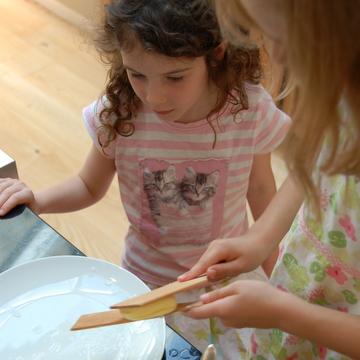 buttermilk off and keep to use (buttermilk cake is delicious!). Fill the jar with cold water and swirl the butter around to wash. Drain and repeat until water is clear. Put the butter on a board (if you like salted butter, mix in about half to one teaspoon salt per 100g at this stage) and press down, using a wet spatula to get rid of any remaining buttermilk. Wrap in waxed or greaseproof paper and refrigerate.
Jane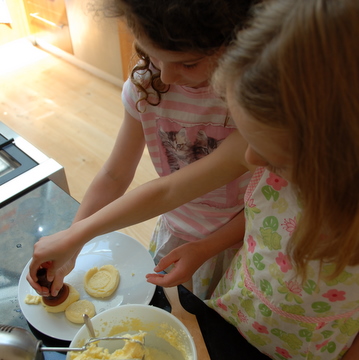 ---
3rd May 2007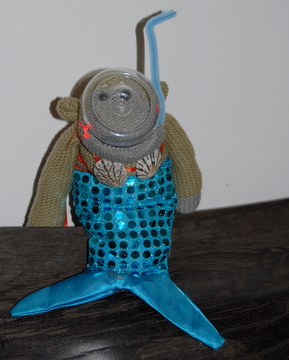 I have now finished my underwater clothing for my PG Tips monkey. I decided to do a mermaid with a mask, I don't know why! I made the top out of some shells and string so it looked like a mermaid top. I used to get a magazine that came with small clothes for your toys, and one of them was a mermaid tail. I found the tail and put it on my monkey, then made the mask out of a bit of a drinks bottle and a straw. Soon my mermaid was ready for the fashion show and the superstar life ahead.

Carla
---
1st May 2007
I like Lollo Rossa, the words as much as the lettuce. I like the way the letters roll exotically around your mouth as you say them. Green oakleaf, on the other hand, sounds more down-to-earth, solid and British empire. Combine the two, and what you have is sitting right on my patio, growing up between the cracks of the paving slabs, fighting for space among the dandelions, couch grass and other weedy intruders that normally fill these tiny crevices.
Somehow, a big beefy Lollo Rossa and a delicate oakleaf lettuce have self-seeded and found a foothold together in this tough concrete environment. They first popped up about six weeks ago, and now are five inches across, amazing everyone who sees them.
Last year I planted both varieties in a pot nearby, as cut-and-come-again greens for lunch. Eventually they bolted, but why the seeds took root in the patio instead of in the dark, lush earth of the border nearby is anyone's guess.
Now I'm hoping these two little lettuces with their cool roots and hot heads will keep me going for a few days' lunches. Until I get to the garden centre and buy this year's new lettuce plugs.
Jane
---