31st Jul 2007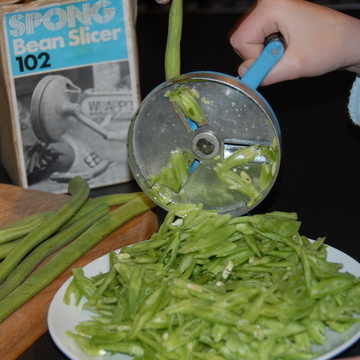 Rummaging around in one of my favourite shops that sells 'homestuff with history', I came across a rather interesting kitchen gadget which I knew would come in useful this summer. And I was right. The runner beans are racing along as ever and it's proving hard to keep up with them. I love them, as do the rest of the family, and the chore is made all the more fun by this device which cuts them as a great rate and also encourages the kids to help with the vegetable preparation.
---
28th Jul 2007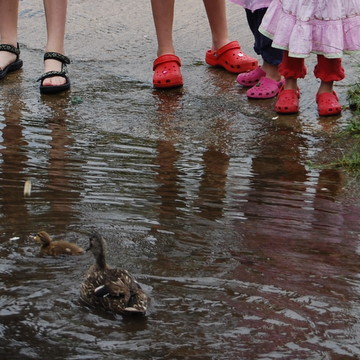 With nets and bucket we set off to the river. Optimistically, we wore our Crocs imagining hours of fun wading around along the riverbed. Joe was first to venture in and screamed in agony at the temperature of the water. I followed and very briskly paddled out again – it was foot-numbingly freezing. Still, we were on a mission and had lured the young cousins down with promises of fish-catching so the feet just had to freeze. After a few minutes of icy water, all pain and indeed feeling had subsided so we could get on with the serious business of fishing. The technique is to lift a large stone as the fish live in the cracks beneath the stone and look very carefully because they are camouflaged extremely well. Then either scoop them up or place a net in front and guide them towards it.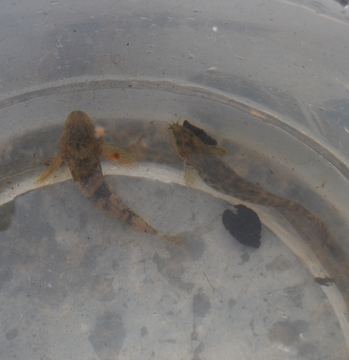 It took a while but in the end we (Joe) caught two – a bull head and a baby cat fish (you can tell by the whiskers). To top it all, on our way home the whole verge seemed to be alive with little frogs (or toads, we think you tell the difference by the way they move: frogs jump, toads don't).
Tamsin

---
25th Jul 2007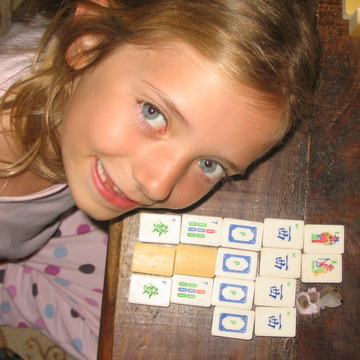 Every day on holiday, we played two games of Mah jong before bed, and I hadn't won a single game. Then on Wednesday, my Mum bought me and my sister some Sylvanian family baby otters called Becky and Eddy. On the night I won, Becky was my lucky mascot and she helped me by pointing at the pieces I should throw away. I got Mah jong with two flowers, a kong (four) west winds, a kong of white dragons, a hidden poong (three) green dragons and a hidden poong of seven of bamboo. My Mum says that's the highest score she's ever seen.

Edie

Jane writes: I couldn't score this one even using my rule book (it's in Chinglish which is pretty hard to follow). Edie was West Wind and she got her own (no 3) flower, which doubled the score, but she also got a kong of her own wind, which again doubled the score, and another kong of white dragons which I think means she doubles her score again. Anyone know what this Maj jong hand would total?
---
23rd Jul 2007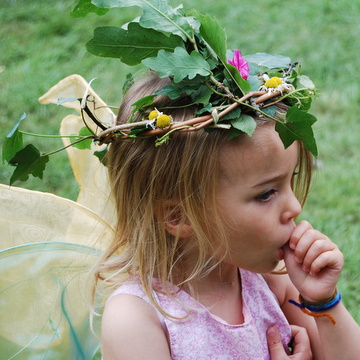 It was an enchanting start to the holidays when I took my nieces aged three and five to a Fairy Fair in woods nearby. They were given wings to help them fly around, fairy cakes to keep them magically energised and lots of elfin fun. The first thing we did was to make the fairies each a wand.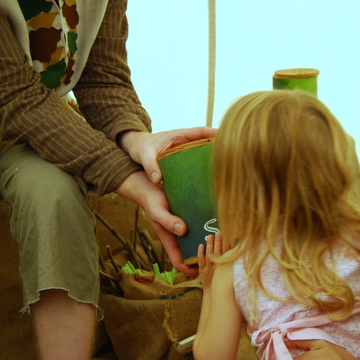 The workshops were beautifully thought out with the young fairies choosing the wood their wands were made from by spinning a pointer to a season, then smelling the leaves of two trees and choosing the one they liked best. (The cousins both chose hawthorn - very appropriate as hawthorn is the tree traditionally associated with May Day and they were both born in May.) Having sneakily had a smell myself, I was amazed at the strength and variety of the different leaf odours.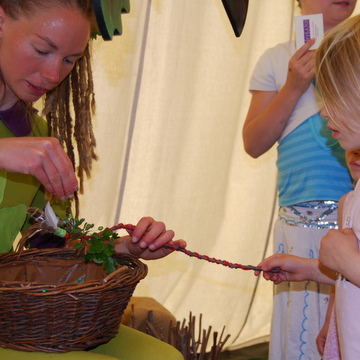 The wands were then decorated and finished off by the tree fairy who sprinkled magic fairy dust on to each wand, before trainee spell casters were let loose to cast spells on all those who crossed their path. The fairies then made crowns from willow hoops woven with different greenery finished off with a tissue flower.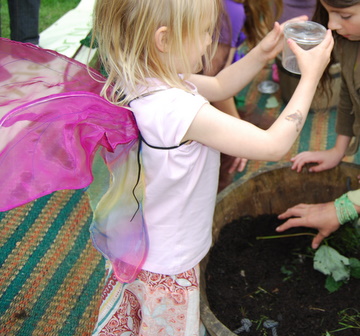 After the making we all made our way through the forest to see the fairy queen, following the glittering dust and hiding from some noisy blue and green trolls who were also going to ask the queen if they could have some wings. As ever their request was denied and they left empty 'winged'. But all was not just flowers and glitter: one favourite activity was the compost fairy who had wickedly black boxes of earth wriggling with creepy crawlies to catch and view.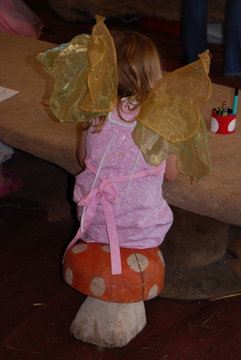 Then with not much time left we dashed to the elf post where postcards were written and enquiries made into whether the elves would be able to find Scotland (they would) and the cards were placed in a giant toadstool to await delivery.

The event was enchanting and made all the more so because it gently introduced the idea of conservation to the very young, in a fun and subtle way. If the fairies ever make their way to your neck of the woods then I would definitely suggest you magic yourself over to fairyland for a few hours. You can find out more from www.fairylandtrust.org.
Tamsin
---
18th Jul 2007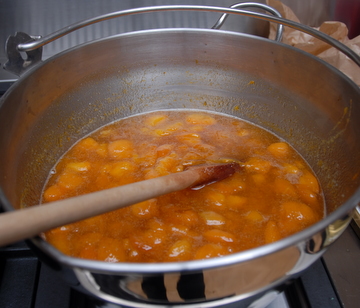 It's the last week of school and I still don't know what to give my teachers. But then I think 'Hey, why not just give them the same as last year?' Apricot jam. Trust me, this stuff is amazing. It's so simple to make and yet some of my teachers are still talking about it from 12 months ago!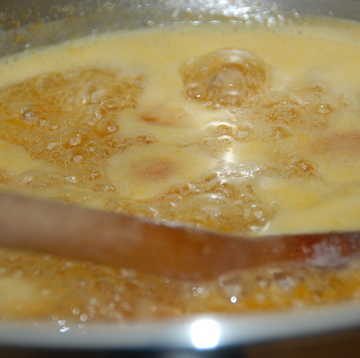 If you're not sure what to give them, this is it. Plus if there's some left over this jam lasts for years (though not in our house). So who knows, maybe some lucky teacher will be getting a jar next year too…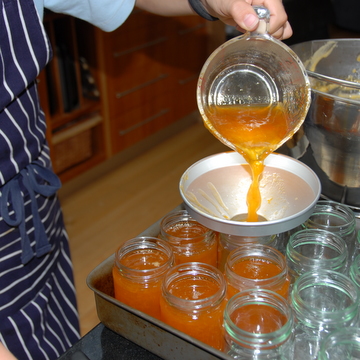 Thank You Apricot Jam
Makes approx. 14 8oz jars
2kg fresh apricots
Juice from 4 lemons
12 tbsp water
2kg jam sugar with added pectin
Wash the apricots. Cut them into quarters and remove the stones. Place in a preserving pan with the lemon juice and water. Gently bring to the boil, then reduce the heat and simmer for about 15 mins or until the apricots start to fall apart. Mash them a bit with a spoon. Add the sugar and stir gently over a low heat until the sugar has dissolved. Bring to the boil and boil rapidly until a set is obtained. (The time this takes can vary greatly, start testing after about 10 mins, but it may take much longer.) Stir regularly to stop it burning. Pour into sterile jars and place lids on while still warm.
Joe
---
13th Jul 2007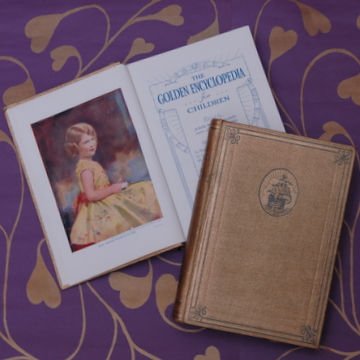 Wandering around the annual French fair on our local green, Maudie spied a stall selling dolls which looked like 1920s' flappers, made out of beads and feathers. As she looked them over, I spotted a thin bookcase beside the stall and searched through it. Two matching gold volumes with the words, 'The Golden Encyclopaedia For Children' embossed on the spine were irresistible. Pulling them out, the raised galleon ship on their front covers was so beautiful that I thought, 'I'd pay £5 each for them', even before I'd looked inside. Both volumes had clearly been well cared for — and I only had to pay £1.50 for both.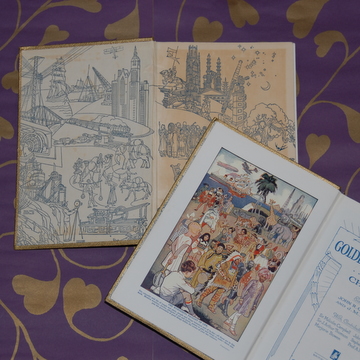 The frontispiece of Volume I, a hand-coloured image of HRH Princess Elizabeth of York aged about six or seven, made me think that the books were published in the 1930s. The introduction by Sir Malcolm Campbell, 'The World-famous Racing Motorist' proved it — he was the father of Donald Campbell and broke the world land and water speed records in the 1920s and 30s in his self-designed Bluebird cars. In the introduction Campbell writes of the encyclopaedia, 'I confess it has fascinated me, for never do I open its pages without finding some piece of knowledge that either I have never possessed at all or have, in the passage of time, forgotten.' That evening, quizzing the grown-ups (most of whom have highly respectable college degrees) on the questions set out in the back of each volume, it was clear everyone shared Sir Malcolm's experience.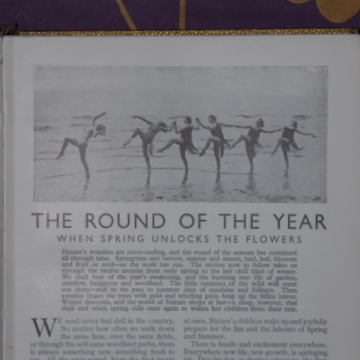 The books are full of fantastic detail about the natural world and social wonders — the growth of traffic, air travel and house building. The colour illustrations are beautiful, the photographs, such as a full-page image of an Italian organ grinder with his monkey, are black and white documentary facts that reveal much about the world of the 1930s.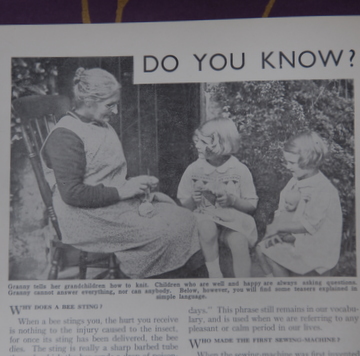 Glancing through this encyclopaedia one has to wonder how anyone can ever think that electronic or digital media will replace the book. Will anyone in a 70 years' time be able to walk across a green space in sunshine and discover for sale this or any other blog?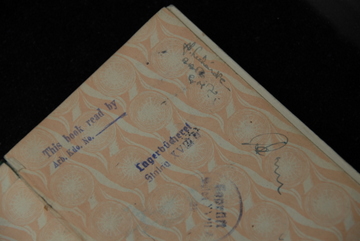 Maudie and I returned to the French fair the next day with Edie. Maudie was determined to buy one of the flapper dolls and wanted Edie to see them. Amazingly almost all of the dolls had gone, but the stall owner rooted through some boxes and as the girls waited expectantly I went back to the bookcase and searched the bottom shelves. I have no idea why, but I pulled out a small hardback with a split spine titled 'Wild Wales' by George Borrow (for info on him go to wikipedia).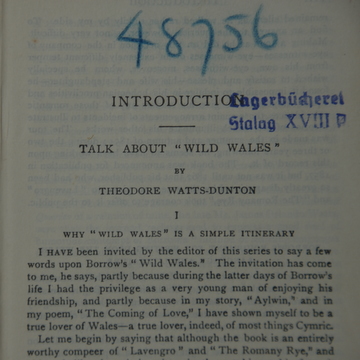 Opening it to look at the imprint page, I noticed a series of blue ink stamps on the endpapers. It had been a library book and the dates, crudely crossed out with ink, began in Feb 1945, which was interesting in itself. However the stamp on the opposite page was of more interest. In Gothic lettering it said 'Lagerbucherei Stalag XVIII' and above it, 'This book read by Arb. Kdo. No.' It had obviously been in a book depository of a German POW camp. Stalag XVIII was a camp in Wolfsburg in Austria, primarily housing survivors from the Greek campaign of 1940-41 (in particular the Battle of Kalamata) and apparently there had been a fair few Welsh soldiers interned there. The book, originally published in 1862, is a 1939 Everyman Library reprint (John Dent & Sons). I was holding a physical, real link to WWII. It was mine for 50p.
Maudie's doll cost £9.50.
History is so cheap.

Mal

---
12th Jul 2007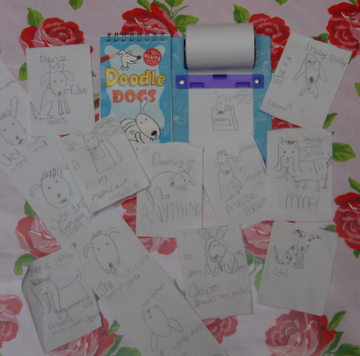 I was recently given a book and little roll pad showing you how to draw 'Doodle Dogs', irresistible cartoon dogs with funny names and even funnier faces. They are great to do in evening, just relaxing on the sofa, doodling! My favorite is 'Hamlet the great dane' who's thinking of hamburgers. There are lots of sweet ideas such as: a delivery dog, a hot dog (he has a fan blowing his spaniel ears out to one side), Fleabert (he's pretty itchy) and a Scottie dog. Also there is an l-o-n-g page of common dog expressions. My mum has made quite a big gallery of the ones I've made her on her wall. You can make creative and funky comic strips and great presents, if you frame them. Give it a go!

Maudie
---
11th Jul 2007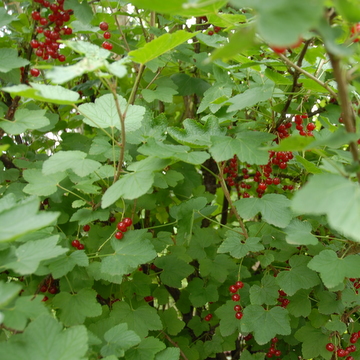 One of the joys of summer for me is crouching down under the redcurrant bush and picking the jewelled fruit that hang underneath like red droplets of water. Redcurrants are a pleasing fruit to pick as you gather them by the stalkful, unlike blackcurrants which you strip off the stalks while they are on the bush. I always wait until there's a blue sky so I can enjoy the dappled sunlight that makes its way through the bush's green cover. (You can see how romantic I get.) Luckily I have a friend who shares this pleasure and she often comes to stay at this time of year, so together we fill our punnets and catch up on life.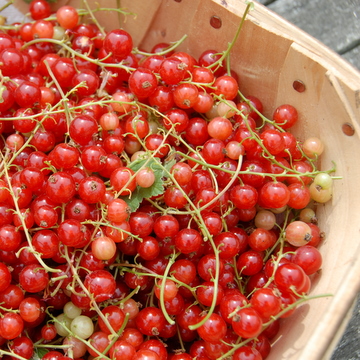 But that is not the end of the romance, redcurrants do not fail you – they look as beautiful picked as they do on the bush. It seems a shame to cook them but I do, mainly to make jelly, but my friend turns them into the most heavenly tart where the currants are placed resplendently on the top to show off their full glory. I always feel this is her recipe, not one for me to nudge in on. She makes it once a year and I have been lucky enough to taste it several times. Maybe I will persuade her to give away her summer secret so you can all have the chance to taste summer?
Tamsin
---
10th Jul 2007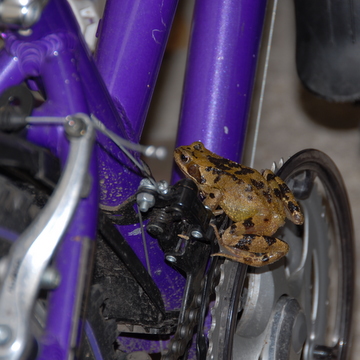 Wednesdays are not a favoured day as we have to be out of the house earlier than normal, so it cheered us up to open the shed and see a frog on Carla's bike. I'm not that keen on handling amphibians but luckily my son has not inherited this squeamishness.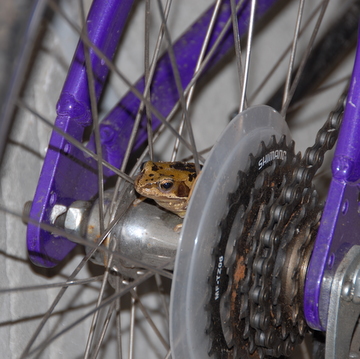 As Joe lent down the frog gave a very athletic jump to land on the inside of the bicycle wheel and was only coaxed off by gentle, encouraging prodding.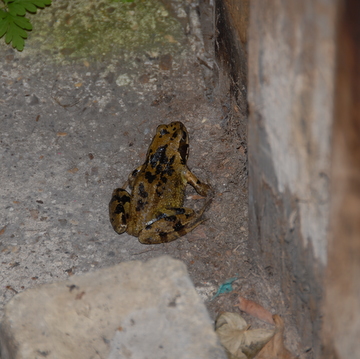 Even then it sat very happily (?) on the floor as Carla and I dragged our bikes out of the shed and cycled down the road that much more content with our early rise thanks to our unexpected guest.
Tamsin
---
7th Jul 2007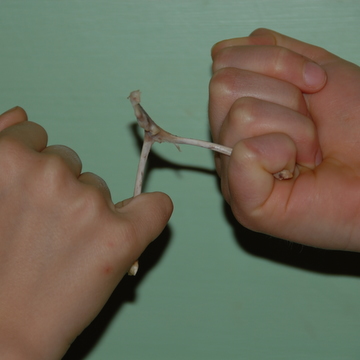 I love, love, love Sunday roast dinners, all hot and steaming. Especially roast chicken. And it's also great fun to pull the wishbone!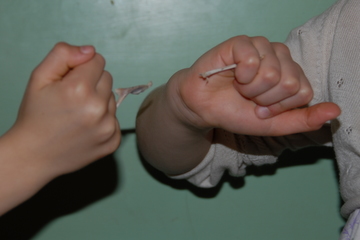 We leave it to dry for a bit, then I and my sister tug and tug with our little fingers until finally it breaks.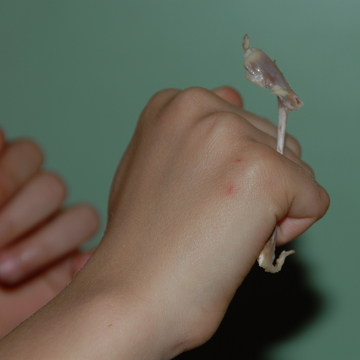 One person gets a magical wish (the little bit), the other gets the wishbone (the big bit). I always wish for different, interesting things, sometimes for myself, sometimes for other people. Nothing's come true yet but here's hoping.
Maudie
---
4th Jul 2007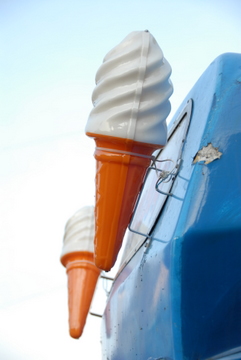 Tamsin: We are busy in different rooms of the house. Suddenly the sound of the chimes breaks into our concentration – is it coming our way? Confirmation is given as the tune gets louder and louder and all hell breaks loose. We converge on the front door shouting, 'Quick, quick, outside, where's my purse, shoes, quick.' It's as if we are all possessed. I have no intention of eating an ice cream but whenever an ice-cream van comes to our residential road I feel I have to make everyone else participate in this glorious activity.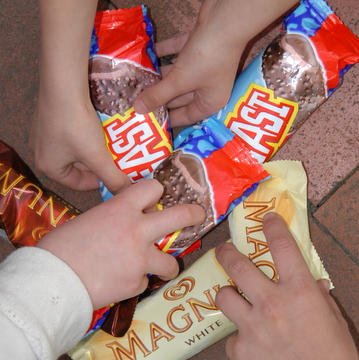 It takes me right back to my childhood and the thrill is just the same. As you stand on the verge, staring at the choice of lollies before you and raising your head to talk to the ice-cream man who stares down at you from a great height, I forget about healthy eating. This is about the excitement, the surprise, the tradition, the sheer pleasure of getting to the van before it pulls away. Ice-cream vans, like milkmen, should be appreciated and supported. They give you something very important in life which is getting rarer nowadays – they deliver pleasure to your doorstep.
Tamsin
---