30th Sep 2007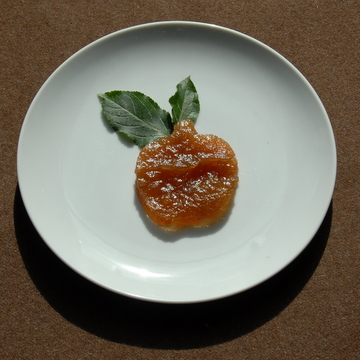 Jane: Pinch, punch, first of the month, and Hallowe'en suddenly seems very close indeed. I've been pondering what to give the trick and treaters – usually I buy multi mini-packs of chocolate bars to dole out, but this year I want something seasonal, home-made and a bit more wholesome. In one old book, I came across Apple Candy, simple and pure, just apples and sugar. You core and quarter the apples (leave the skins on), and simmer in water until they're pulpy. Drain and puree them, then add as much sugar as there is apple puree. Simmer for an hour until it turns into thick jam. Then mix in a tablespoon of rosewater and put in a baking tray to cool.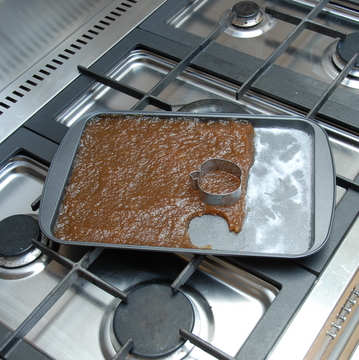 So far so good, but then came the taste test. The kids didn't like the sludgy brown colour and when finally I got them to taste a morsel, the result was unanimous: 'It's okay,' they said, munch, munching, 'Actually it's quite nice, but I don't want any more.'
Wholesome is hard.
---
26th Sep 2007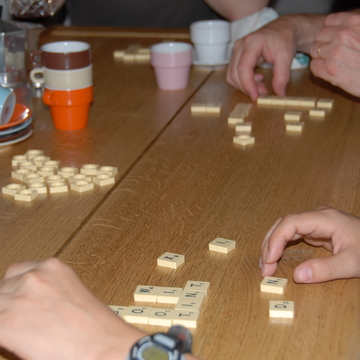 Jane: This is a brilliant, quick and portable version of Scrabble which doesn't use the board or any clever long words, so you can play it anywhere, any time and with anyone (over about six). In fact, it's so quick and unobstrusive that we recently managed a game while waiting for our main course in Pizza Express.
All you need is to clear the decks and lay out a set of Scrabble or Snatch tiles in the middle of the table. Each person takes 15 letters and, as quickly as they can, forms their own set of interlocking words crossword-style as in Scrabble. (You are allowed two-lettered words, which makes it easier for younger kids.) The first person to organise all 15 letters into interlocking words shouts 'Time'. Then everyone stops and picks up a letter. Then the first person to fit all 16 letters shouts 'Time' and you all pick up another letter - and so on until all the letters in the middle are used up.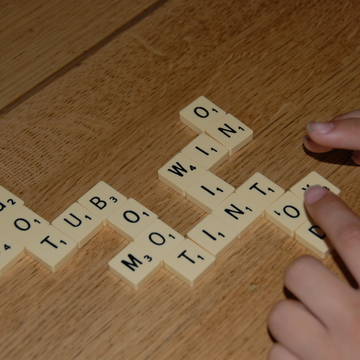 If you like, you can break up your words and re-make them to fit the new letters as they come along, just as you do in Snatch (if you don't know Snatch, click here). It's fantastic fun, fast and furious, and the winner (if you need one) is the first person to get all their letters into a crossword correctly or - if you fancy something more challenging - the person who scores the longest word.
---
24th Sep 2007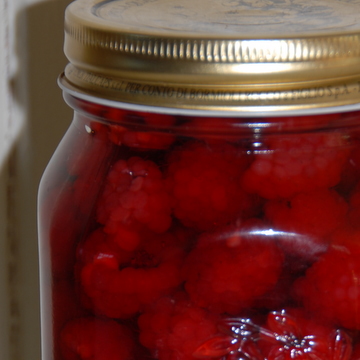 Tamsin: This weekend my mind began to turn to Christmas – early I know but there is one family tradition which needs to be thought about now. It's the Christmas pud. I've never been keen on the traditional kind, probably because dried fruits are not my favourite (something to do with their texture). So instead my treat is a bowl of bottled raspberries – perhaps a unique Christmas dessert, though you never know?

I'd normally bottle our autumn raspberries which fruit from July to October but due to some upheavals in the fruit cage and rather weird weather, I've only managed to grow about 10 individual fruits this year. So instead, I'm bottling bought raspberries – which doesn't feel like a letdown since the process is so easy and the end result so beautiful and satisfying. The fruit is preserved with all its original taste in a liquid that over time absorbs flavour and turns it into nectar.
Bottled fruit can keep for many years – I have one elderly friend who has some bottled tomatoes her mother preserved during the Second World War. They are a glorious pinky red and look beautiful on her sideboard. Her mother was very proud of them, so never wanted to use them. She'd bottled them at a Women's Voluntary Service workshop where she was taught to prepare for the harsh realities of rationing, not knowing such skills would become a necessity for many years to come. No picture of these, but here are some other fruit that I bottled 6 years ago.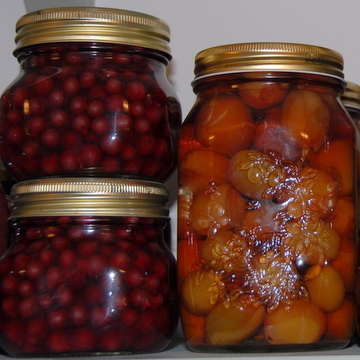 As I make this year's batch of bottled raspberries I'm looking forward to the day when I'll twist the lid off, pop the seal with the side of a coin and tip the fruits into a bowl. I know this late summer day spent locking in their flavour will come flooding back through my thoughts (and tastebuds). For a fruit that usually gives instant gratification, I know this time will be worth the wait.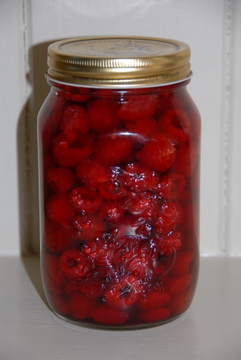 ---
19th Sep 2007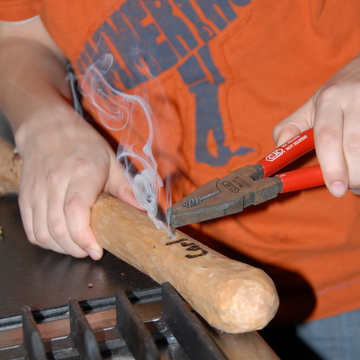 Joe: My walking stick. I found my stick in Dartmoor two years ago, stuck in a huge dam of sticks and trees. I remember dragging back the small tree and hacking off all the little branches with my knife, then snapping it with a resounding crack. It took me ages to carve the top, slowly whittling it down until it was a perfectly smooth dome. I've whittled down the handle too so it fits to my hand.
If I look at the end I see the crack where it got caught in a bridge at Corfe Castle. I love the wood under the bark. It's amazingly smooth with no knots so my hand doesn't rub on it. The only blemish is where I've burnt my name into it. I held a nail in a pair of pliers then heated it over the cooker and branded it on. Where my name is, the stick is burnt black but everywhere else it's got brilliant swirling patterns in light brown. I've had other sticks but none have ever been as good as this. It's amazingly light but extremely long. I've never got tired walking with it and nobody (even a tree expert) has been able to guess what type of wood it is. One once said the reason it was so light was because it was rotten, but it's survived so many walks up and down mountains and across moors in drizzling rain (and very occasionally sunshine), I know it can't be.
---
17th Sep 2007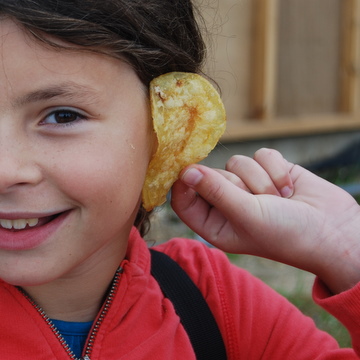 Carla: We recently walked a long way down to a beach and it got very late so mum went and brought some lunch in a small café. She brought sandwiches and crisps and when I opened my bag of crisps I found a weird-shaped crisp that was very big and looked like an ear. I took it out and showed everyone but didn't eat it until the very end. We spent the rest of the lunch looking at all the other crisps in the packets, trying to imagine what they reminded us of. The friends we were with said I should send a picture of it to the crisp factory so that is what I'm going to do. The best packets to find ears in are Kettle's crisps, but you never know what may be in your next packet…
---
14th Sep 2007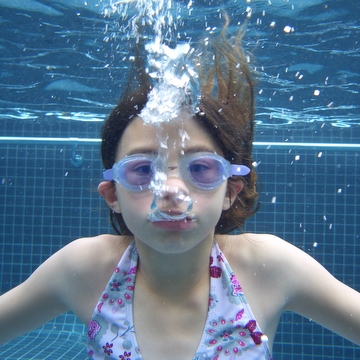 Jane: My last memory of using an underwater camera was 20 years ago in Florida. It was my brother's (he lived there) and it was big and clunky and, even in those crisp blue waters, the images were mostly of murky blotches of wetsuit with the occasional blurred parrot fish floating by, due to slow shutter speeds, or something like that.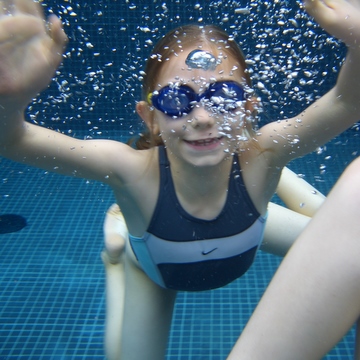 But now you can just buy a cheap (about £8 for a Kodak Max Underwater or Fuji Quicksnap Marine) disposable underwater camera online and have a go in your local swimming pool. S'easy: you just hold your breath, point and press. The kids love it and zoom around underwater doing funny poses and pulling horrible faces for the camera – being photographed floating two feet underwater with mermaid's hair and floppy limbs is pretty special. They also like taking arty shots of brilliantly coloured goggles floating towards the bottom of the pool…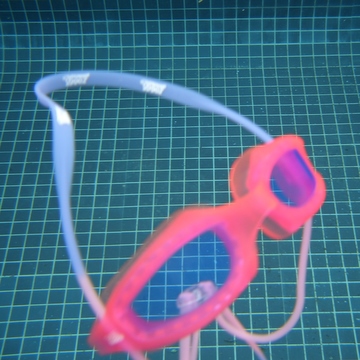 ---
12th Sep 2007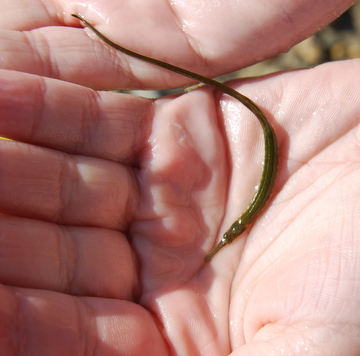 Tamsin: It is a beach I've swum at all my life. A lovely sandy cove where at low tide you have to wade for miles for the sea to gradually inch up over your belly button, agonisingly prolonging the moment when you finally immerse yourself in the cold waters. I thought I knew all its hidden secrets but last year my brother-in-law rolled up his trousers, took a net and scooped a couple of flat fish out of the sand. In all my years swimming there I'd never seen them before, they're so well camouflaged on the sandy bottom.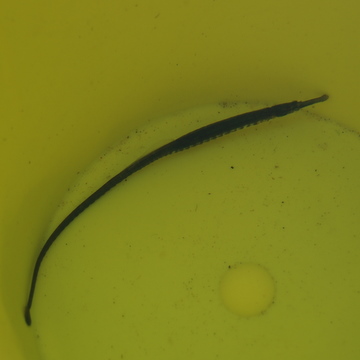 So this year, Joe set out with net in hand and snorkelled in the shallows hoping to repeat the catch. Much to our surprise he caught instead a snake pipe fish, our
second encounter
with them in a year. This one was shorter and had a fanned end to its tail but it was definitely a live version of the one we found washed up from the North Sea a few weeks earlier.
---
9th Sep 2007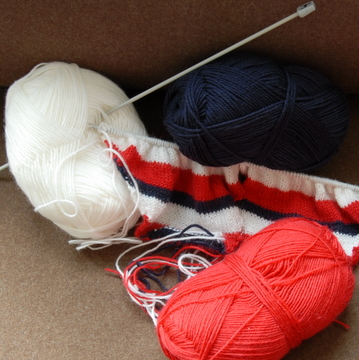 Jane: I've just started knitting a swimsuit. I know, barmy. The notion took me while I was flicking through an old encyclopedia I found in a five-floor secondhand bookshop in Derbyshire. The book is a period piece of hearty games, sports and activities from the 1930s. For example, before you start bathing in the sea, it suggests you make your own swimsuit, bathing cap and bathing shoes, plus a bathing tent with wooden struts covered in canvas ('designed to stand considerable wear and yet be quite portable') in which the whole family can, without indecency, change on the beach. What natural handymanship: it makes me nostalgic for an age I never knew.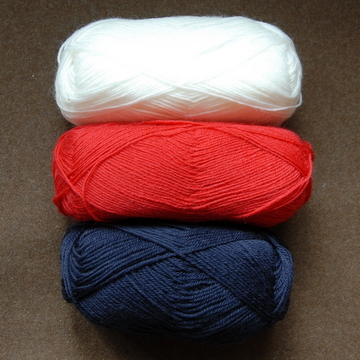 For my purposes, the bathing tent may be a step too far – after all, the kids already have those chirpy Boden towelling robes – but the bathing suit? Well, why not give it a go? The woman in the knitting shop laughed when I asked if she stocked the Sirdar 'Sunshine' wool specified ('I'm old, but not that old') and was sceptical about my chances of finding two-ply wool in any colour other than white, lemon or apricot, which are never good on anyone over 18 months. So over to John Lewis, where the haberdashery lady listened incredulously when I told her I wanted to make a swimsuit out of wool. 'But it'll droop to your knees when it gets wet,' she said, with practical good sense. Still, she burrowed around until we found some fine wool in scarlet, white and navy (Jaeger Matchmaker), some size 11 needles (today's 3mm, so painfully slow to knit on). 'Bring it in when it's finished,' she said, clearly humouring the batty element of her knitting constituency. 'Before you get it wet.'

And so here I am, following a pattern without pictures, doing the weird triangular skirty bit on the back. (Yes, there is a skirt on this swimsuit and thank goodness for that for they are back in fashion, I understand.) The knickers are separate and as rates of progress are slow, Tamsin says she'll knit those.

I feel rising excitement. By around Christmas, my swimsuit will be finished and it will be goodbye Speedo!

For one droopy dip, at least.
---
3rd Sep 2007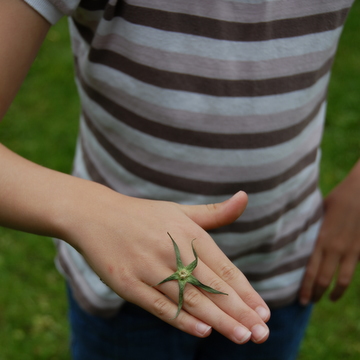 Edie: My sister and I were having dinner, and I noticed my dad dropping something into Maudie's hand. I didn't say anything because I thought it was something like a leaf. Of course I didn't know why he was giving her a leaf, so I dismissed the idea from my head completely. Then Maudie said, 'Oh Edie, look out the window, those two friendly robins are there!' (We have two of the friendliest robins in our garden.) I looked out the window. They weren't there. I said 'They're not there, Mau…' but then I was drowned out by the hysterical shrieks of her screaming: 'Edie! There's a spider on your hand.' Immediately I screamed. I do not like spiders, especially ones that have the nerve to crawl up me.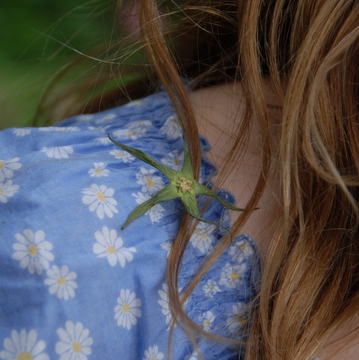 I looked down, and there on my hand was … the green top stem of a tomato, its long bits looking like a spider's legs. Maudie was laughing with all her might, and explained to me how dad had played the same trick on her when they were eating lunch, and she had flung the crisp she was halfway through eating across the table. (I didn't see it because I was at a friend's house.)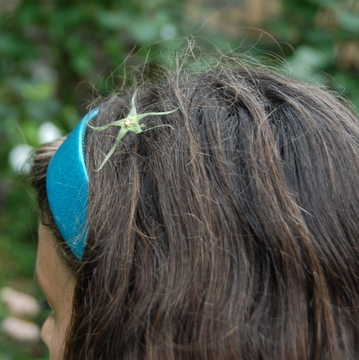 Then later that night, my mum came home from a long hard day at work. And we did the spider trick on her. We were all watching a football game on the telly. Maudie had given me some instructions that I was to do while the trick was playing. She cleverly asked mum if she noticed anything different about dad and then, while mum was looking at dad, she dropped the 'spider' on to her hand. This was my cue. I got up and went hysterical, jumping up and down, shrieking 'Mum, mum, there's a spider on your hand! Quick! Get it off…' For a moment mum didn't see it, then she looked down at her hand, gasped in horror and shook it off. Then we all burst out laughing, and explained it to her.
We got thinking...you could also play this trick putting the spider on someone's hair... or on their shoulder... or you could keep it as a pet if you give it a home of its own...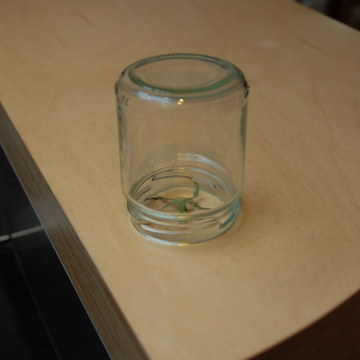 If you would like to try this trick, the only things you will need are: the top green bit of a tomato and a good excuse.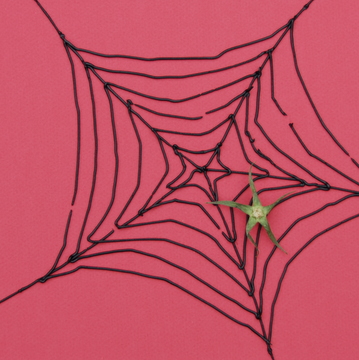 ---