26th Nov 2007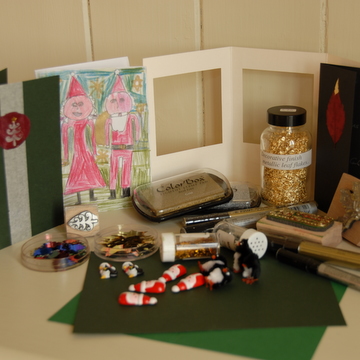 Tamsin: December is fast upon us and as usual I am having an internal debate between my rational and irrational self. My rational self is telling me to do the easiest thing and my irrational self can't allow me to. Something deep inside has to add an extra stress to my life. This extra stress is making 120 Christmas cards in the next two weeks, on top of work, the rest of the Christmas activities and keeping the family running smoothly. Why am I driven to do this?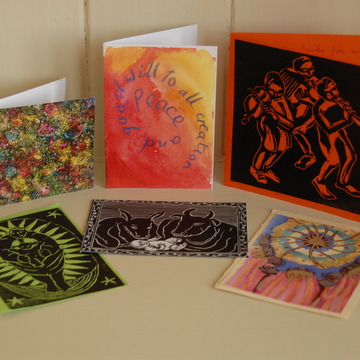 Part of it comes from my upbringing where hand-made cards were an essential ingredient of birthdays and Christmas. My mother and sisters were all fairly arty and so was I until I hit my teenage years and began to feel drawing was not my thing. From that time on the ritual of 'hand-made' became a torture. But the seed was planted and ever since I've felt I have to make the effort, whatever the angst. As a grown-up, I've also discovered that home-made Christmas cards give me an excuse not to write the 'round robin' letter, which I also dread doing. With a home-made card, you feel you've added the 'I care' element without having to pen hundreds of words. (I hope this is how the recipients of the cards feel too…)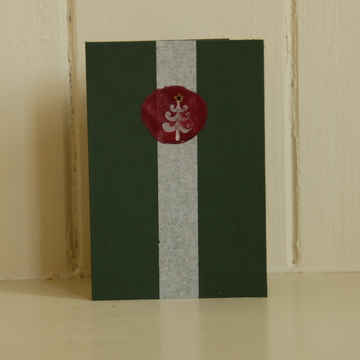 Nowadays, making the Christmas cards is a joint operation with Mike. We vaguely devote a weekend to it in early December and working round the dining room table go into 'mass production' mode of stamping, cutting, sticking, signing… I've brainwashed my children into creating their own cards and they happily join the production line too.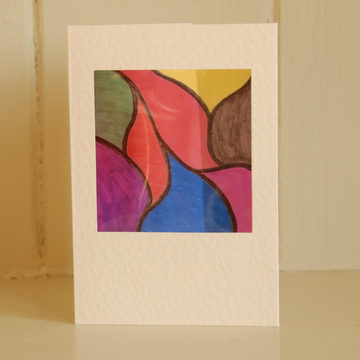 I offer up some basic ideas
here
(and for children's cards
here
) and show you a selection of cards that we and the children have made or been sent to hopefully inspire you. DIY Christmas cards may add a bit of stress to your life but it's worth it not just for the good family fun you have but also to send the most personal kind of greetings to your lucky friends and relations.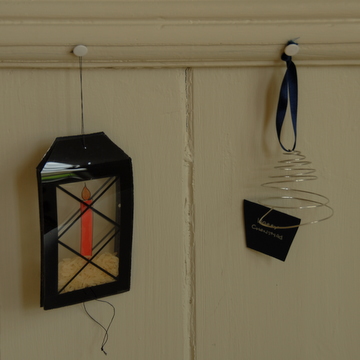 PS: Having a busy life is no excuse. Each year I look forward to receiving a card from a friend who is also the CEO of a multinational company. He and his wife create some of the most imaginative and beautifully engineered cards I've ever seen. Don't know where they get the time but I greatly appreciate that they find it because their annual card is a highlight of our Christmas post.
---
20th Nov 2007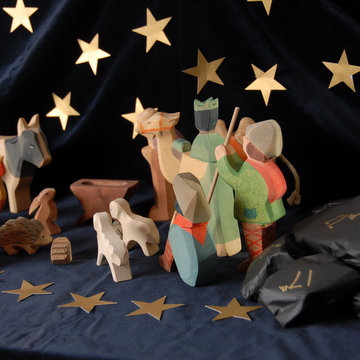 Tamsin: Advent is the start of Christmastide and a countdown to the days of preparation before the big day. As a child having a birthday around this time, I was always given several Advent calendars by well-meaning relatives – and when you get that many (this was in the days before chocolate in the calendars) the novelty wore off a bit. But now as a mum, I enjoy the ritual of marking each day during the festive period and the few minutes of fun it brings to the hectic December morning schedule between packed lunches, breakfast and finding schoolbooks.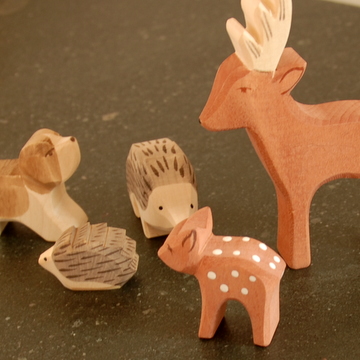 My daughter especially would just like a bog-standard chocolate-let's-open-it-and-eat-it calendar. But establishing a family tradition goes a long way to dampening any disappointment and there is still much excitement, even after 14 years, when Joe and Carla come down on the first morning of Advent to be greeted with a bowl of tissue-wrapped parcels, numbered for each day, containing the figures and animals needed to build up our
traditional nativity scene
. This nativity set has been built up over many years, adding a new animal or figure each Christmas. The barn is now overflowing with different beasts – some of which look a bit out of place such as the crocodile (it arrived when my son was in his reptile obsession era) or the spaniel that looks just like my parents' dog and I feel sure never made it to the manger. Having seen how much fun my children have had over the years, I now send my nephew and nieces a new animal each year to add to their nativity scenes – a nice way for 'Aunty Tamsin/Tata' to pop into their lives especially as we live quite far away from each other. This year as ever I had to make the phone call to my sisters to find out what animal I'd given them before and as the years go by the discussion gets longer and longer – I should really keep a list but that would be just too organised.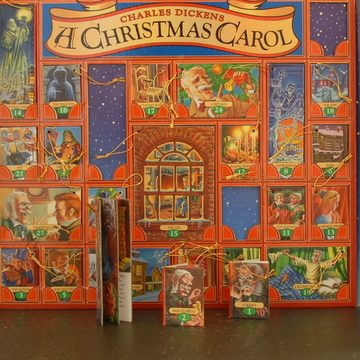 We usually have a second calendar too. One Advent we had a calendar with a set of books telling the story of 'A Christmas Carol' in short pieces, which we read at the breakfast table before hanging them up around the window. We liked it so much we repeated it the next year with the story of 'The Nutcracker'.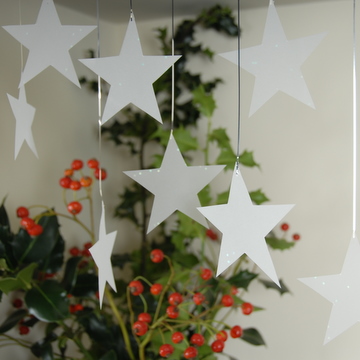 Another year I cut out lots of
Advent stars
, set them on a plate around a candle and hung one a day, so by Christmas Day there was a ceiling of stars over the breakfast table.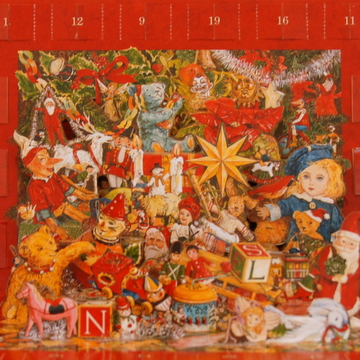 The best cardboard and pictures calendar was a French one (luckily translated) where each day you had to hunt out various objects in the central picture. It was hard even for the adults, especially if you had to find five toy soldiers or six singing robins, and the excitement was often carried over to the evening.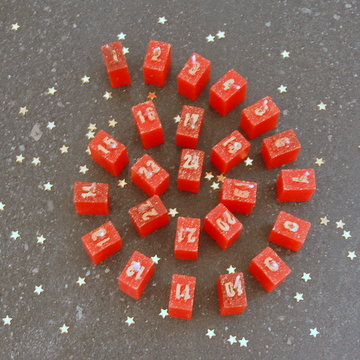 It's traditional to light red candles (in days gone by red was a colour to ward off witchcraft or evil spirits) and this year I found these miniature ones for us to light and mark off the 'spiralling' towards Christmas. I have yet to design the Advent plate they will sit on but I am sure that I'll slip in some chocolate somewhere, probably in little packets or cones of paper as I did last year with our
Advent sweetie packets
, just to keep up with my daughter and leave her with fond memories of Advent mornings.
---
15th Nov 2007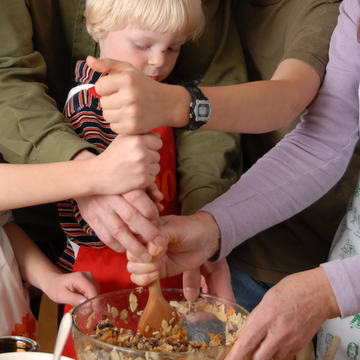 Tamsin: Stir-up Sunday happens only once every two years in our household, because the recipe we use makes enough for two puddings and we keep one for a year. It's the recipe my mother always made and gives a very moist, dense pudding – just as I picture Christmas pudding would have been in the Dickensian era. We made our pud last year so all I have to do this year is get it down from the shelf and reheat it on the day. We had a house full of family on Stir-up Sunday last year so everyone gathered round the table and helped add in the long list of ingredients.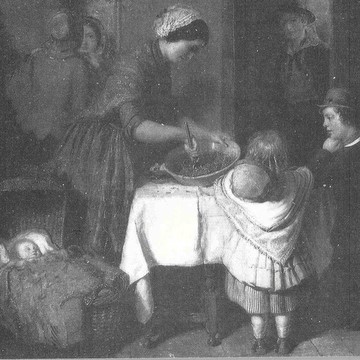 I'd made sure everything we needed was on the table (when the kids were younger I used to weigh out the ingredients beforehand so the pace of making was fast and they stayed interested). With three generations of family madly weighing, tipping, chopping and squeezing, the job was soon done and the serious business of stirring the pud and making our Christmas wishes began. Usually, we stir and wish one at a time but last year my nephew insisted we all did one gigantic stir together.


If I'm really honest, we actually make our pud on the Saturday before Stir-up Sunday, since the recipe calls for it to stand overnight and then steam or boil for 8 hours. This means a staying-in winter's Sunday of games and general slobbiness with occasional visits to the cooker to top up the water. My mum possessed a pressure cooker which halved the time (
find her Christmas pud recipe here
), but I somehow like the exaggerated length of the making as a good antidote to everything that's instant and quick today. And anyway, if you're going to make something that tastes just as good a year later, it's worth the effort.
The advantage of a once-every-two-year pud is that you can concentrate on making your Christmas cake on Stir-up Sunday instead. Jane always makes a proper Christmas cake that is wrapped and matured in the weeks coming up to Christmas (this year the
Caribbean Christmas cake
). I favour a lighter cake made nearer the time and this year am plumping for an unusual yeasty
Italian fruit cake
.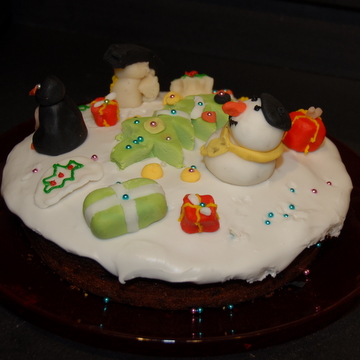 Whichever cake I go for it always – for my husband's sake – has to have a layer of marzipan on it and – for the kids' sake – a thick layer of royal icing. The decorating is also a family affair – or rather the younger generation of family. Ready-made icing, which acts like plasticine, has transformed the ease with which children can participate in the icing and decorating of a cake. It keeps them occupied for a while on Christmas Eve as snowmen, penguins and Santas are modelled and arranged…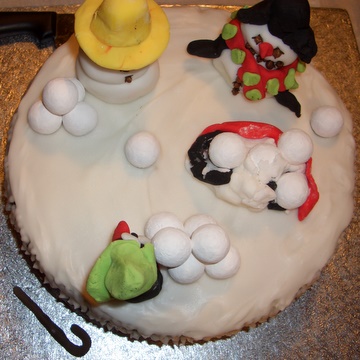 This is one we did a couple of years ago when my nieces were very young - it is a gaggle of snowmen (or whatever the collective name is for a group of snowmen?).
---
13th Nov 2007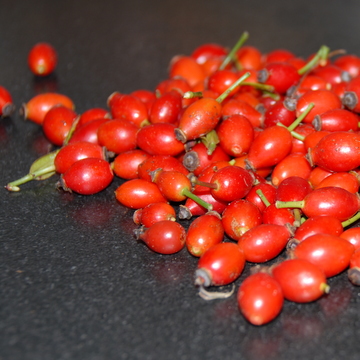 Jane: In the winters when I was little – four or five, says my mother, though that seems too young to recall a memory this vivid – my brother and I were given a daily spoonful of rosehip syrup. It came in a big bottle with a white plastic flip-up top, the scarlet syrup as sweet and luscious as anything I'd ever tasted. My mum says she bought it specially at the chemists for its high vitamin C content, to ward off winter colds and coughs. Other kids remember the grim slurp of cod liver oil, but we were lucky, we got red nectar instead.
This year, on a walk through the autumn hedgerows, somehow, for some reason, picking rosehips suddenly seemed like a powerfully good thing to do.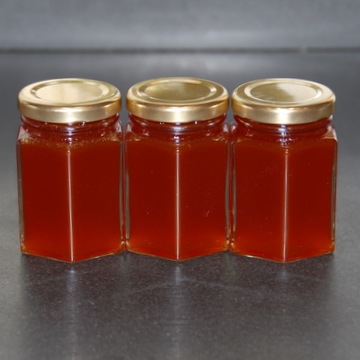 They're plentiful at this time of year and although you're meant to wait until after the first frosts we collected them earlier, picking up a big bagful of gleaming red fruits in about half an hour flat. Boiling and straining them took a while (you'll find a
recipe here
), and the resulting syrup was a dull rosy colour rather than the bright vermilion I remember (early E numbers, I guess?). The taste – well, it's different too, not as fruity, but with almost a lychee tang at the back of the throat as a gentle, pleasantly cloying aftertaste.
I was hoping the subtle rosehip flavour might work well in biscuits instead of golden syrup, but you wouldn't know it was there in the coconut and rolled oats recipe I tried out. Better to pour it pure over pancakes, waffles, ice-cream, even rice pudding – it works well anywhere you'd reach for the maple syrup. As for me, I'm taking a Mary Poppins-sized spoonful a day while stocks last and enjoying the rosy rosehip memories.
PS: Mentioning rosehips to a friend, Nigel said forget boring old syrup - as a kid he used to pick out the hairy seeds and drop them down the shirts of annoying classmates at school. Apparently rosehips seeds make the very best kind of itching powder. Which may or may not be good for some members of your family to know…
---
9th Nov 2007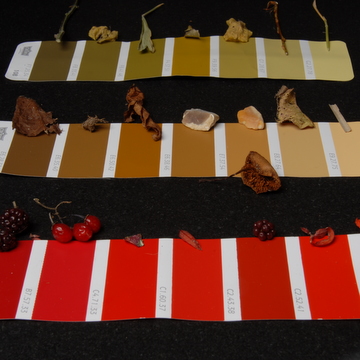 Tamsin: Crisp autumn and winter days are made for walking out in the countryside or park, wrapped in duvet warm coats and scarves. If you're lucky the sky will be blue and there will be sun to warm your face. The picture is sounding rosy but sometimes you have to go through a bit of pain to get there. The major hurdle once you've convinced yourself that leaving a lovely warm house is worthwhile is then to convince the kids. Wails of protest come hurtling out of their mouths and I immediately feel my whole body tense up. I know that once they're out they will enjoy the walk – years of experience have taught me this, so I sweep them along closing my ears and bustling them through the door.
But every little bit helps and last weekend the 'carrot' was to hand each child (and adult) a seasonally appropriate paint colour chart that Mike picked up on his morning shopping trip. Off we went, each clutching our card, with the idea of finding something on the walk to match every nuance of red, brown and green.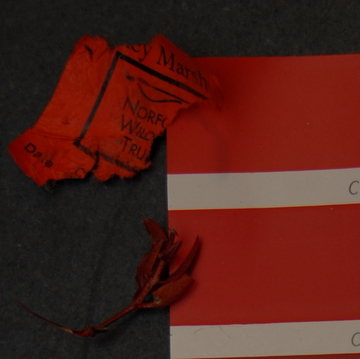 Having a brown card on a walk surrounded by reeds I thought my colour palette would be easy to find – how wrong I was. There are so many browns in this earth but my surroundings did not throw up the yellowy tinted ones I needed – a gravel pathway would have been better.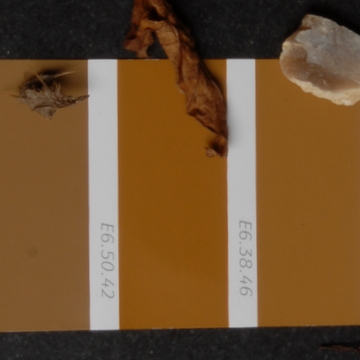 The kids threw themselves into the task and soon had pockets full of little bits and pieces. But it was the adults who really got involved (and dare I say a slight competitiveness crept in amongst them...). Back home there was much discussion over the colour matches as we laid them out for all to observe. It amazed me how beautiful they looked especially against the black kitchen marble top.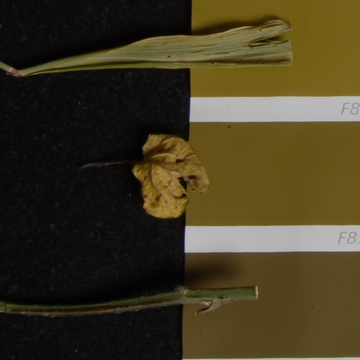 This is certainly an activity to be repeated. The only drawback is that the distance covered on your walk is greatly reduced but the conversation and involvement easily make up for it. If you have younger children, go for colour charts with lots of different colours to make it easier for them. And if you live in a city, you can have just as much fun looking at the built-up environment where the greens might be the challenge.
---
6th Nov 2007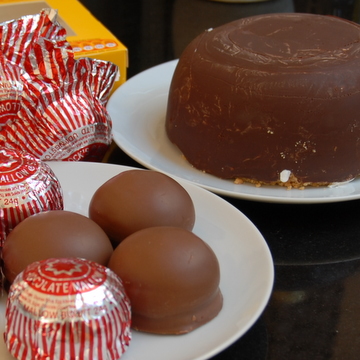 Tamsin: I like a challenge and Nicky has just given me an extra-large one (see her comment on October 26th blog) – could I make a giant teacake? The kids thought this was a great idea since the basic ingredients are marshmallow, biscuit and chocolate. This was a challenge the whole family would enjoy – or at least the results.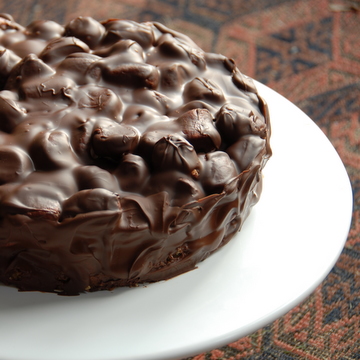 My first attempt could only be called
'essence of teacake'
. Very quick to make, it basically meant piling marshmallows on to a base of biscuit crust and covering it with chocolate. Jam is an optional layer depending on your memories of a teacake. This went down very well at afternoon tea but despite their culinary enjoyment, the critics were harsh. The shape did not put them in mind of a teacake and the middle was little bits of marshmallow rather than a mass of fluffy goo. The challenge continued ...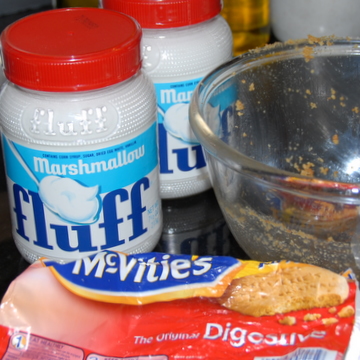 In the back of my mind I remembered seeing jars of marshmallow at the deli and sure enough you can buy such stuff called 'Fluff'. Now all I needed was to build a dome shape of chocolate – and I suddenly thought of the ice-cream bombe mould buried in one of my cupboards. But is there a way to paint on melted chocolate and then remove it whole from the mould? As a first attempt, I lined the mould with cling-film. Mike expressed doubt at this method and he was right – there is no way you can spread chocolate on cling-film without it moving and sticking to itself. Retrieving as much chocolate as I could, I went for method two: greasing the mould with butter and painting the chocolate straight on. This worked, but I knew that getting the chocolate out of the mould would be tricky. Freezing it, then dipping the mould in hot water didn't work, but putting it in the fridge until semi-hard and loosening the chocolate with a knife around the edges did.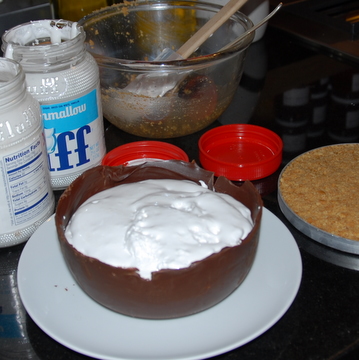 Great joy. My challenge was nearly over. As I filled the centre with Fluff, the odd crack appeared in the chocolate and began to get alarmingly bigger as I placed the biscuit crust on top.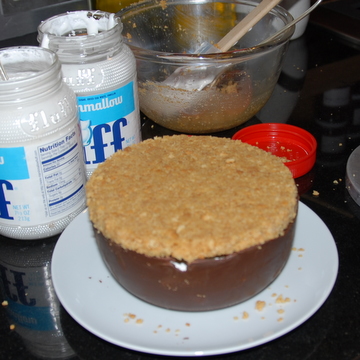 But I quickly turned it the right way up, popped it in the fridge for a bit and voila! One giant teacake.
Hopefully, the critics will be less harsh with this effort. Now we only have to work out how to eat it.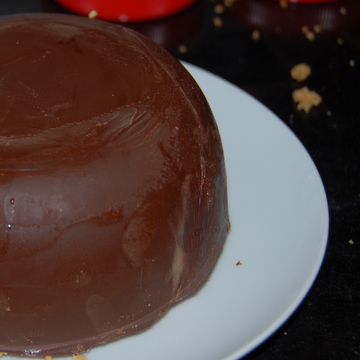 ---
3rd Nov 2007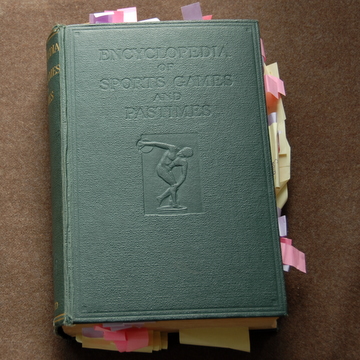 Jane: The celebrations come thick and fast at this time of year. No sooner have the spooks of Hallowe'en disappeared than Bonfire Night is upon us. In London, we used to invite another couple of families round and light fireworks for the children in the garden. But it always felt a bit risky and after a Catherine wheel burnt dark holes in a fence post, we gave up the homemade displays and went to a nice, safe municipal one instead. Sparklers were as risky as it got.
So I was a bit stunned to read about people making their own fireworks.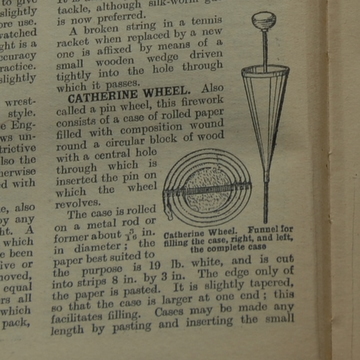 This was in the make-and-mend 30s, when you knitted your own swimsuits (mine is coming along nicely, thank you, see
10th Sept blog),
bathing shoes and even canoes. It felt a bit like stumbling across a bomb-making kit on the internet: I flicked through the pages with shock and awe, thanking god for the great modern invention of health and safety. We'd have blown our hands off trying this.
Apparently, the Crusaders brought back 'pyrotechnic compositions' from the East in the 13th century, and though Henry VIII was a fan, English fireworks didn't really get going with a bang (excuse the pun) until the publication of Pyrotechnia by John Babington in 1635.
The ingredients sound like an alchemist's hit list: saltpetre, sulphur, sulphide of antimony, mealed gunpowder, charcoal, chlorate of potash. To make red 'stars' you need carbonate of strontia; for blue, arsenate of copper; and for green, chlorate of baryta. As well as the shellac of course. And sometimes what is called 'dark fire' is used to light the charge. Very Voldemort.
Where did the ordinary person pick up these chemicals? Especially since 1894, chlorate of potash and sulphur were considered so dangerous by the Home Office explosives department that they were banned.
Strangely enough, in my handy tome 'Fireworks' is followed by a big section on 'First Aid in Everyday Emergencies'.
I think this is one project we won't be trying at home…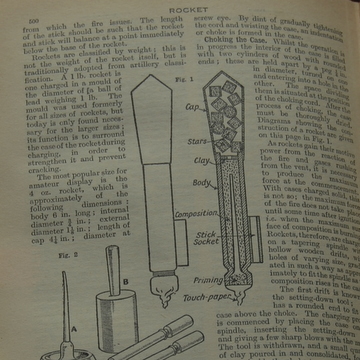 ---
1st Nov 2007
| | |
| --- | --- |
| Queueing for Terry Pratchett | |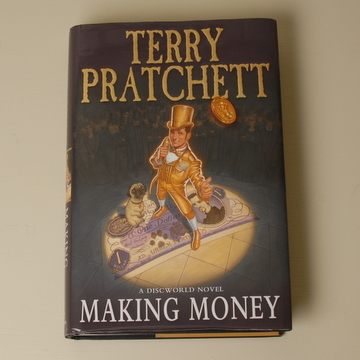 Joe: A few days ago some friends and I went to see one of my favourite authors, Terry Pratchett, at a bookshop. We got there at 12 noon and though it was still an hour before he was due to arrive we were greeted by a huge queue of about 70 people and the helpful grin of an assistant to show us to the end of the queue.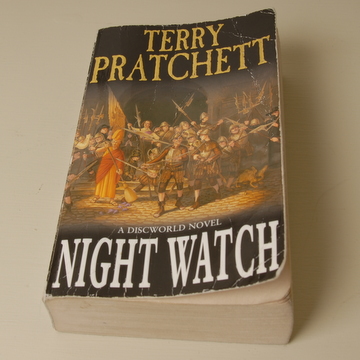 The upside of queuing in a bookshop is that while we waited we could read all the books on the shelves around us: unfortunately, we had been placed in the travel section and were surrounded by booklets giving information about hotels in Scandinavia and things like that. Eventually Terry Pratchett arrived and we started to move slowly along towards him. As we drew closer, to our delight we saw one of the assistants slowly making his way down the queue with a box of chocolates offering one to everybody.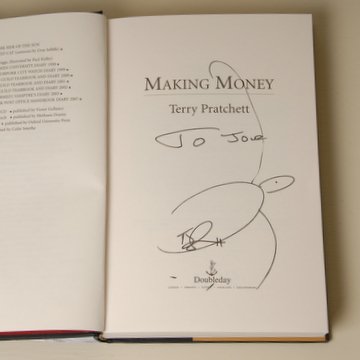 Finally we reached him and eagerly got our books signed (he drew the Great A'tuin in mine) and left feeling that it was well worth the wait. Though I pity the people who believed the poster and arrived at 1pm, as by the time we left people were still queuing round the shop and even to the second floor!
---