29th Feb 2008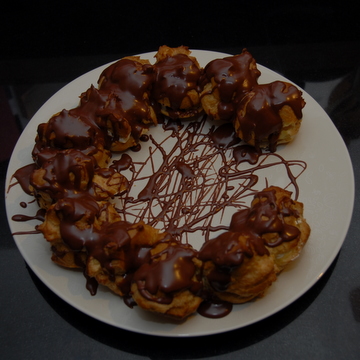 Tamsin: Carla and I have been engrossed, over the past few weeks, in the Masterchef programme on BBC 2.  It came to an exciting conclusion yesterday that saw the technically brilliant James triumph over the amazingly creative Emily.  It inspired Carla to try her hand at Masterchef cooking.  This means that the food not only has to taste good but it also has to be very well presented.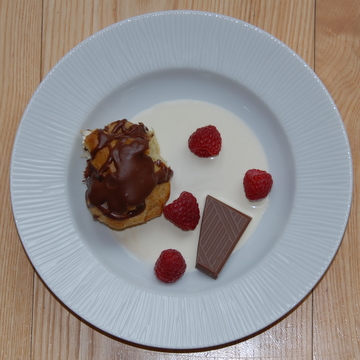 She began last night by making a
choux ring
filled with cream and covered in orange chocolate sauce. It looked beautiful on the serving plate, arranged as a 'C' for Carla. She then plated up our own individual nouvelle cuisine portion.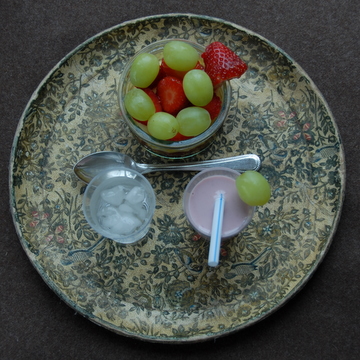 Today, as she is still off school, she took over breakfast, pre lunch snack ...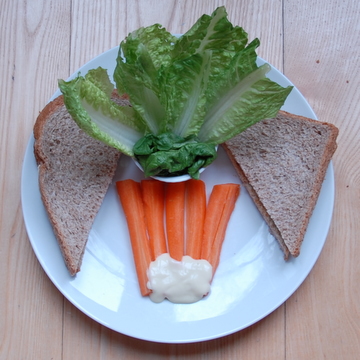 ...and lunch.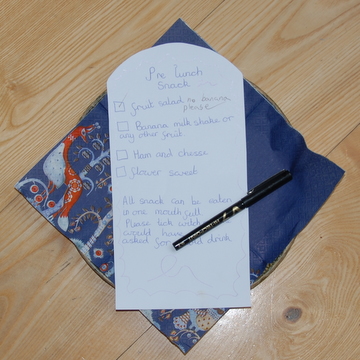 She wrote a menu, orders were taken and the food delivered that was a feast for the eyes as well as the stomach. What nicer mother's day present could any mum have than to have a day free from cooking? I hope that the enthusiasm for meal preparation lasts until Sunday.
Helping Carla make the pudding reminded me how good
choux pastry
is for children to make. It does require a saucepan and heat but is very easy. Spoonfuls of the resulting dough is dropped on greased baking sheets and cooked, when they puff up into light, golden brown containers which just call out to be filled with cream and covered in chocolate. A naughty treat but add some fruit and you can justify it.
---
24th Feb 2008
| | |
| --- | --- |
| Chocolate Brownies for the Winter Blues | |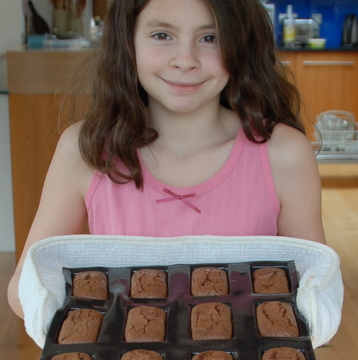 Carla: One week I was quite ill. I had been home for a couple of days and was beginning to get bored. So I got up from the TV and went over to the kitchen to find a cookery book. I found Nigella Express by Nigella Lawson. I love chocolate so looked through the chocolate index hoping to find a chocolaty thing. I found the flourless chocolate brownies which looked yummy.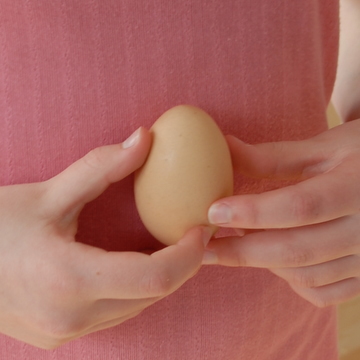 Mum had to go out to get some of the ingredients and then I was ready to make it. While we were making it we found a very pointy egg that looked like a nose.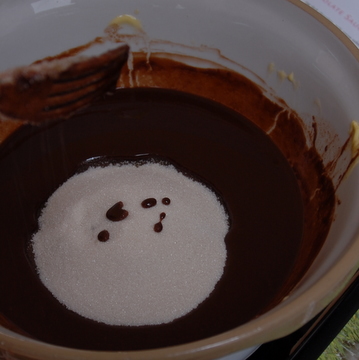 I also liked seeing the white sugar on top of the chocolate and you could make pictures by dribbling swirls of chocolate mix over it – the results should have been in the Tate Gallery.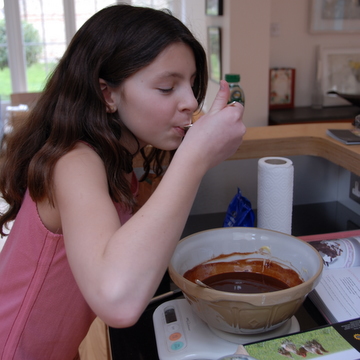 When I finished making them, as well as the chocolate sauce that went with them, it was time for my brother to come home from school with some of his friends. I put all the brownies on one plate and they all had one. Joe especially enjoyed them and kept stealing them throughout the rest of the evening, so I had to make them all over again the next day.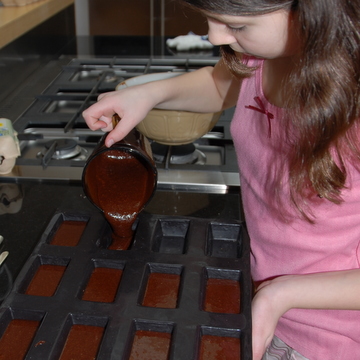 Tamsin: Nigella Express was a cook book that I was given for Christmas. One of Joe's friends asked me if I had used it yet. My reply was 'I haven't yet as I've been too busy', to which he rightly replied: 'That's slightly ironic!'

---
22nd Feb 2008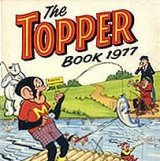 Mal: Until I was five, my name was Jimmy. Then I started school and everyone called me Mal. My brother, who until then I'd always called Freddy, was four years above me at the same school where everyone called him Calvin. Our school names were the ones written on our birth certificates but our grandmother, who lived with us and ruled the home as only a Victorian matriarch could, decided that I looked like a Jimmy and my brother a Freddy. Even our parents called us Jimmy and Freddy.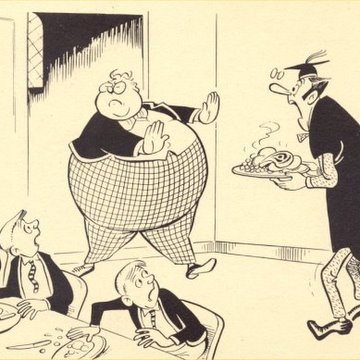 After reading a feature in 'The New Yorker' about nicknames, I recalled some old school friends whose actual names I can no longer remember: Skinny, Dog-Ears, Daz and Sailor. Comics that I read as a boy were full of nicknames that in turn gave rise to nicknames for real boys – most of them cruel. Plug from the Bash Street Kids being directed at small boys with sticking-out ears was not funny to the boy – although being fat and called Bunter seems much friendlier than some of the current slurs regularly used against larger kids. We have nicknames for Maudie (Mud, Pawdie, Mush) and Edie (McCreedy, Short Stuff, Chuckka), but oddly they don't have nicknames for any teachers, nor their friends.
Watching 'Ashes To Ashes', the 1980s-based sequel to 'Life On Mars', I realised that nicknames are conspicuous by their absence among the rozzers (except for the Gene Jeanie, which only he uses to address himself), though in those days any tough, male-dominated community always had a Smudger, a Lofty or a Basher. Paul Simonon in The Clash gave new drummer Nick Headon the nickname of Topper because he thought he looked like Mickey the Monkey on the cover of the weekly comic Topper, and it's stuck with Nick for 30 years.
The tradition of giving nicknames, either for endearing purposes or for disarming authority figures, seems to have been lost. I think we should encourage kids everywhere to come up with nicknames for family, friends and their favourite (or otherwise) teachers. All submissions gladly welcomed…
---
17th Feb 2008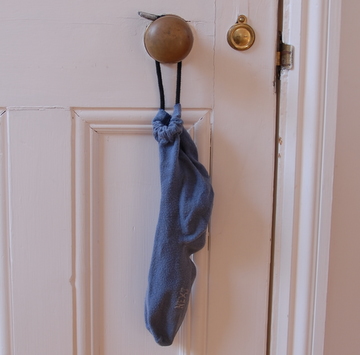 This seemed to be something different from the normal 'Joe leaving socks around the house' ritual. A single sock of his kept appearing, hanging from various door handles and banisters. On closer examination I found that it had an old shoelace inserted in the top seam, acting as a drawstring. After putting it in Joe's clothes pile a couple of times and then finding it hung back up around the house, I asked him what it was.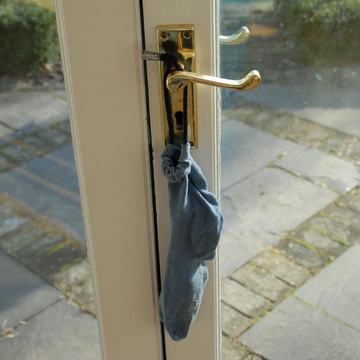 'It's my sock sack,' he replied. Thinking that this was his natural creativity coming through I was pretty impressed, until he told me he had got the idea from
Wikihow
, a website that has a whole lot of ideas on 'how to'.  He has personalised his igoogle page on his computer so that each day a couple of these ideas come up from the site to inspire him. Such ideas could be, how to draw a monkey, how to carve a ball in a cage out of a piece of wood, or how to turn 2-D photos into 3-D. This began to explain a few of his requests recently such as 'could the chisels be sharpened' and 'could he have some photos to cut up?'  I'm still impressed by his borrowed creativity and look forward to more wikihow projects being left around the house.
---
13th Feb 2008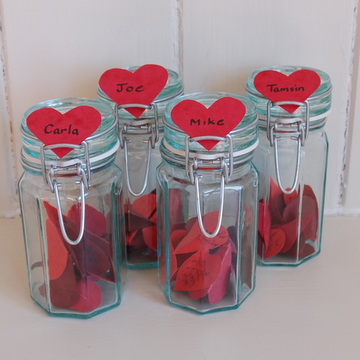 Tamsin: With all the empty jars I have and no jam at this time of year to fill them up, I thought we could use a few for Valentine's Day and fill them with little snippets of 'love' for each member of the family. I had forgotten though that expressing 'love' is not always easy and takes quite a lot of hard work in our family, but I ploughed on with my idea. I cut out an optimistic 50 red hearts and then called everyone to write something on each one for each member of the family. Every heart contained the end to the sentence 'I love...' thinking of a trait, action, feeling etc. Mike, emotionally deprived from his 1960s' upbringing, squirmed for 15 minutes and managed to write one for each person. Carla relished the opportunity, having no qualms about expression, but from her giggles I am unsure what we can expect. Joe in his teenage 'life is so exhausting and my head is so heavy' state wrote a couple before yawning and settling down to a book. I scribbled away as if it was an exam I had to pass, making sure I'd given equal weight to each member of the family so no favouritism was shown.
We now have four jars filled with '?' – which will be revealed on the 14th.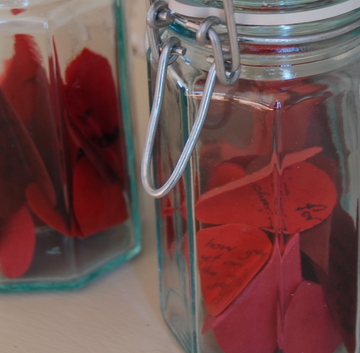 ---
12th Feb 2008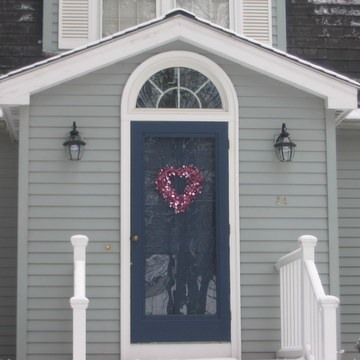 Jane: Wandering around snowy New England over the weekend, I saw these heart-shaped Valentine's wreaths on people's front doors. What a cute idea. These ones were very pink and red and glittery, and would be easy to make one with greenery from the garden with some red berries, ribbons and little heart motifs…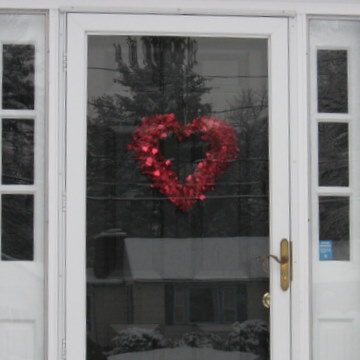 ---
11th Feb 2008
| | |
| --- | --- |
| More of the Longest Booklist Ever | |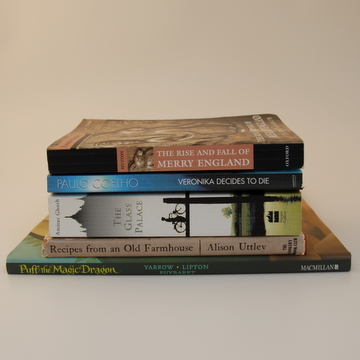 Tamsin: The last 5 books read by me:

The Glass Palace, by Amitav Ghosh.
Veronika Decides to Die, by Paulo Coelho.
The Rise and Fall of Merry England, by Ronald Hutton.
Recipes from an Old Farmhouse, by Alison Uttley.
Puff the Magic Dragon by Peter Yarrow and Lenny Lipton with illustrations by Eric Puybaret.

The Glass Palace was a book I read a couple of years ago and decided to revisit since it is all about Burma. Beautifully written, it follows one family through the country's upheavals as the British march in and the inevitable consequences to its history. The Rise and Fall of Merry England shows my love of history and reinforced my belief that, as a nation, we have forgotten how to be 'merry'. Puff the Magic Dragon was a fantastically illustrated children's book that I read with my niece and evoked strong memories of the song which was part of so many people's childhoods. Luckily, there is a beautifully recorded CD with it so we could sing as we read.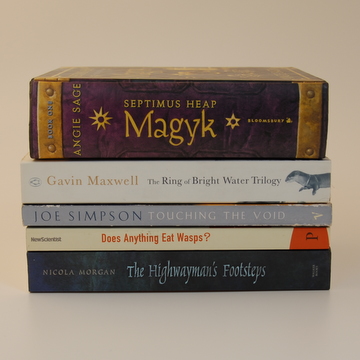 Joe (age 13): The last 5 books I read:
Septimus Heap, book 1, Magyk by Angie Sage
The Ring of Bright Water Trilogy by Gavin Maxwell
Touching the Void by Joe Simpson
Does Anything Eat Wasps? – New Scientist
The Highwayman's Footsteps by Nicola Morgan
Magyk: I read this by accident thinking it to be something else but was pleasantly surprised. It has a well thought-out and interesting plot. 
The Ring of Bright Water: Brilliant book and a true story! One of the best books I've read.  
Touching the Void: Amazing true story about a pair of climbers whose climb turns into a horrifying nightmare. It is written by the survivors and gives a realistic and emotional insight into their story.  
Does Anything Eat Wasps?: Yes it does! This little book is compiled from a Wikipedia-like website where people posted (sometimes completely random) questions and the writers have picked the best and funniest answers. 
The Highwayman's Footsteps: Interesting, well-written book based around the poem, 'The Highwayman's Footsteps'.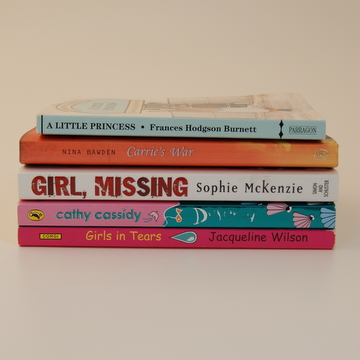 Carla (age 10): The last 5 books I read:
Carrie's War by Nina Bawden
A Little Princess by Frances Hodgson Burnett
Driftwood by Cathy Cassidy
Girls in Tears by Jacqueline Wilson
Girl, Missing by Sophie McKenzie
My favourite book on the list is Girls in Tears. The book has a good story line and I like all the characters. I have always like Jacqueline Wilson books. She has always written books for all ages and ever since I was 6 or 7, I liked the books. However, the one good thing about it is that the story is part of a series and I think this is one of the last. Ellie, the girl the book is about, is a funny and kind girl. The book tells you about her good times and bad times and makes you feel like you're inside her head, listening to her thoughts - it is a gem of a book. I think that everyone I know who has read the book has loved it. It is good for 10+.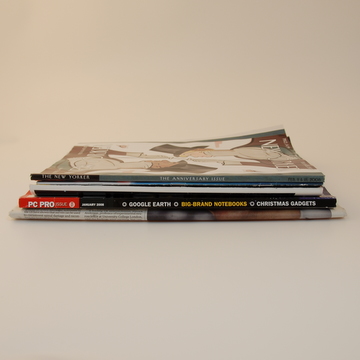 Mike: The last 5 books I read:
The Newspaper
The New Yorker
The Economist
Scientific American
PC PRO
With an appallingly short attention span, magazines seem so much better than books.  I need The Newspaper in the morning in order to come to terms with life. The Economist keeps me in touch with the world and its technology reporting is always spot on which gives me confidence on the issues I'm not well versed in. The New Yorker feeds my literary needs. The rest just mean I'm probably a propeller head.
---
7th Feb 2008
| | |
| --- | --- |
| The Longest Book List Ever | |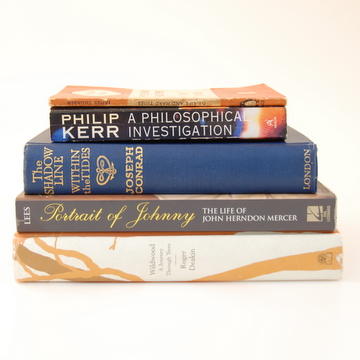 Mal: When we moved to Cambridge in 2002, I found I had time to read books in a way I hadn't for years. With a 50-minute train journey to London morning and evening, I found that I could – and have – read all those interesting paperbacks I bought at jumble sales in the 1980s and 90s. In fact, I got through so many at first that I began losing track of what I'd read. So I started writing down the author and title of every book I finished (and on two notable occasions, gave up on). It's a kind of geeky thing to do, something that I didn't think was of interest to anyone except me.
And then I found
Art Garfunkel's list
. He's worse than me. He's posted the title of every book he's read since June 1968. And it makes a fascinating read. So I thought we'd do something similar here, with each member of the family writing down the last five books they've read and choosing their favourite.
And if anyone wants to join in, we'd like to hear your book choices too…
The last books I read were:
1
Wildwood: A Journey Through Trees
, by Roger Deakin (joint favourite)
2
My Life and Hard Times
, by James Thurber
3
A Philosophical Investigation
, by Philip Kerr
4
The Shadow Line & Within The Tides
, by Joseph Conrad (joint favourite)
5
Portrait of Johnny: the Life of John Herndon Mercer
, by Gene Lees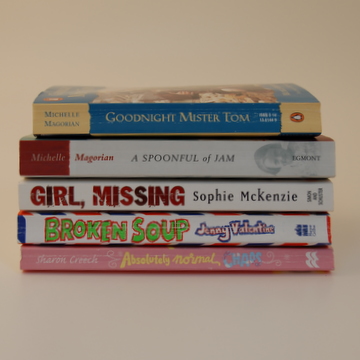 Maudie: The last books I read were:

1 Girl, Missing by Sophie Mckenzie
2 Goodnight Mister Tom, by Michelle Magorian
3 Broken Soup, by Jenny Valentine
4 A Spoonful of Jam, by Michelle Magorian
5 Absolutely Normal Chaos, by Sharon Creech

My favourite has to be Girl, Missing by Sophie Mckenzie. It was so exciting, I really felt like the girl Lauren. There were some sad, scary and weird bits. The thing I liked most was the storyline, about her going off to look for her real parents and then finding them! Lauren and her friend Jam get up to all sorts of adventures, and a kidnapper tries to sink them in a ship. It was a brilliant book - I'd recommend it to anyone aged 10+.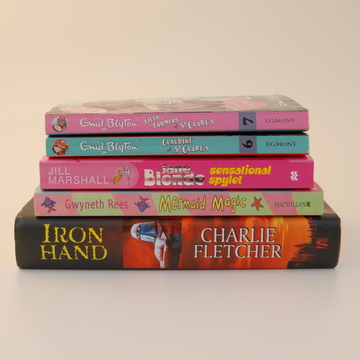 Edie: My last five books were:

1 Jane Blonde, Sensational Spylet, by Jill Marshall
2 Mermaid Magic, by Gwyneth Rees
3 Claudine at St Clare's, by Enid Blyton
4 Fifth Formers of St Clare's, by Enid Blyton
5 Iron Hand, by Charlie Fletcher

I really liked Jane Blonde because it was adventurous. At the start of the story Janey is a very boring girl but then she finds her godmother and turns into a spy. She goes on loads of missions and gets trapped in an ice lolly and has to escape. It's so cold she uses her hair which is frozen in a ponytail to pop a dinghy which takes her up to the sky.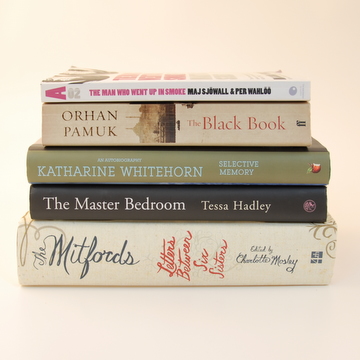 Jane: My last five books were:

1 The Mitfords: Letters Between Six Sisters, edited by Charlotte Mosley
2 The Master Bedroom, by Tessa Hadley
3 Selective Memory: an autobiography, by Katharine Whitehorn
4 The Man Who Went Up In Smoke, by Maj Sjowall & Per Wahloo
5 The Black Book, by Orhan Pamuk

Posh hardbacks don't usually feature quite so heavily in my reading but this list comprised my Christmas books, which I really enjoyed reading in January. My favourite was the Tessa Hadley because of its miniaturist's detail and so-sharp dialogue – a delicious page-turner.
---
5th Feb 2008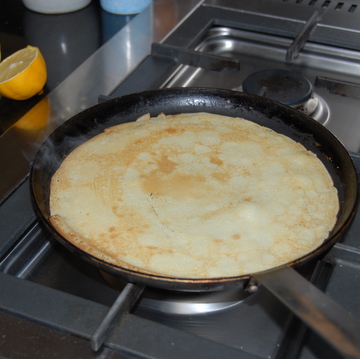 Nicky: In our house pancake-making is a two person job. I make the batter and find that for four hungry people you need to treble the recipe using 3 eggs. Some people say that the batter needs to stand for a while before you use it - I don't think this makes any difference. I just put it all in a food processor and whizz. I then put it into a jug and handover to my husband. Cooking pancakes seems to have enough drama (and instant positive feedback) to interest men - a bit like barbecue cooking. He pours a tiny amount of oil into a frying pan, heats it up really hot and then tips any surplus back out and pours some batter in, turning the pan to make sure the batter covers the base. Then after a short while he flips it over and cooks the other side. He then repeats this process until the batter runs out.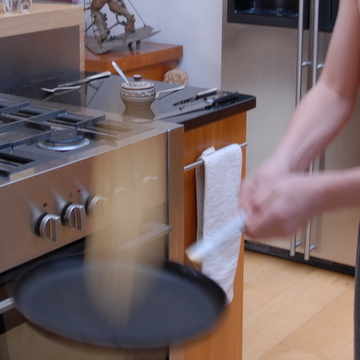 I provide toppings - wedges of as many citrus fruits as I can find - lemon, orange, Satsuma, lime etc or maple syrup are the favourites for us but jam and chocolate are good too. If some of your pancake eaters cannot be at home at the right time, you can make the pancakes in advance for them to eat later. Make the pancakes in the normal way and then store them in a great stack with a sheet or greaseproof paper in between each one. When ready, put a pancake (without its greaseproof paper) on a dinner plate and heat in a microwave for about 20 seconds or to taste. Remember it is a well known fact that your first pancake will always turn out badly - they never fail to get better after that. Even the first one tastes good - it is just a mess to look at. At that point your pancake eaters will not mind at all - they will just be grateful you are making them.


---
3rd Feb 2008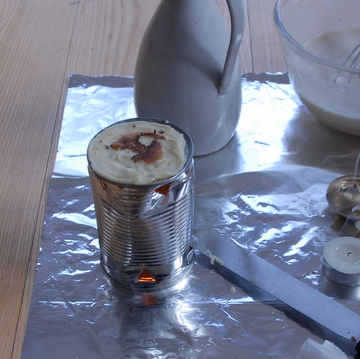 Tamsin: The talk at breakfast turned to pancakes (since Pancake Day is on Tuesday 5th February) and Joe recalled the best time he ever had making them. His scout leader had asked them to bring in a tin can which turned out to be their frying pan, with the heat to be supplied by a tea light. We decided that as it was a Saturday, with not a lot to do, we would try to replicate this experience in our own kitchen.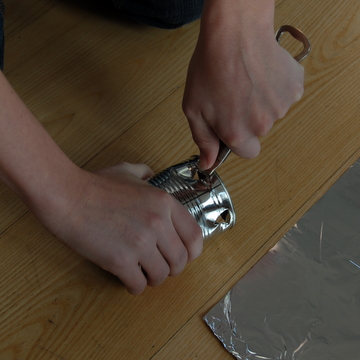 With recycling flowing over in our house, finding an empty can was not hard. We put tin foil on the floor and hunted out the candle. Using the pancake recipe we got underway. Joe was a bit fuzzy on the details, but I decided we had to punch holes around the can to allow oxygen in. This I did with a beer can opener, making a row of holes along the top and bottom.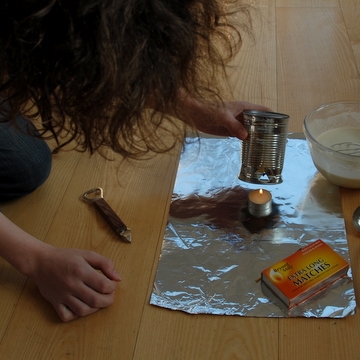 We then lit the candle, placed the can over it, oiled the top, poured a spoonful of batter on and waited, palette knife at the ready to toss it. We waited and waited 10 mins (we realised the candle had actually gone out), 20 mins (Joe suggested we should have let the tin get hot before pouring in the batter), 30 mins (I suggested that maybe we shouldn't have used a baked bean tin, but a smaller one), 35 mins (I decided we needed more oomph).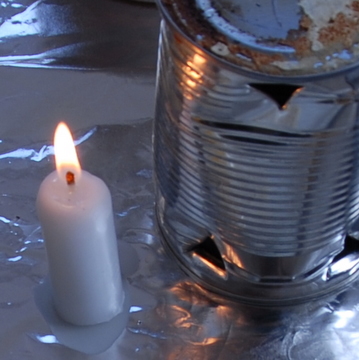 More oomph meant a kitchen candle cut down to about 6cm. We installed this underneath, securing it with a bit of melted wax, and began again. This time things progressed more rapidly. The palette knife was soon pressed into action and the pancake successfully flipped. We had  to move the tin around a bit so the candle flame was not always in the middle, but this was easy enough as the bottom of the tin was never hot.
Four mini pancakes, several teaspoons of sugar and one lemon later we decided that the activity could be called a success, though possibly should be attempted after your meal as although it provided plenty of fun, it didn't necessarily provide plenty of fullness.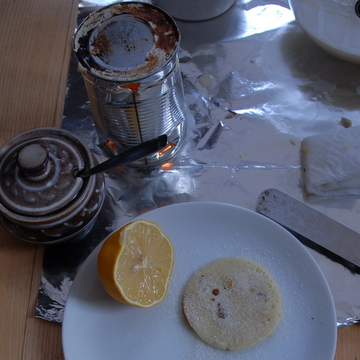 ---