30th Mar 2008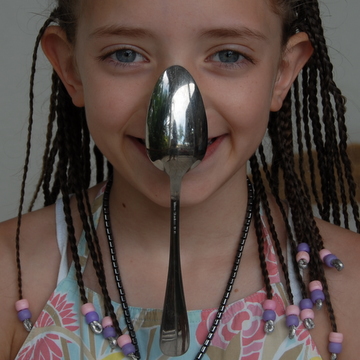 Jane: We were sitting round at dinner the other night when Maudie hung a dessertspoon from her nose – a very funny sight. It was quite a large, heavy spoon, the bowl fixed to the end of her nose with the handle dangling down, and it stayed there for a good 15 seconds before it fell off. So immediately everyone started trying to hang spoons off their noses.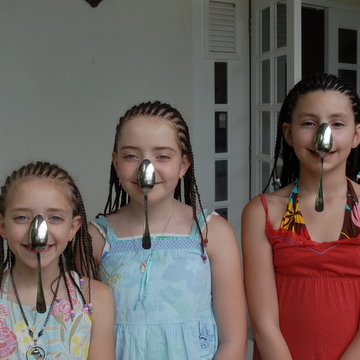 Edie, Carla and Maudie could do it really easily, while the rest of us found it impossible.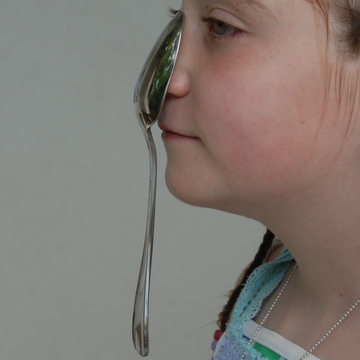 In fact, Maudie could just put a spoon on her nose and it would stay there like a magnet, while the adults tried rubbing them, breathing on them, warming them in our hands so they stuck better, but it made no difference – they fell off in about half a second.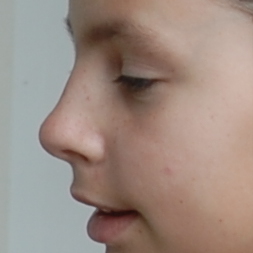 We came up with a few wild theories – could it be the round shape of the girls' noses, or the fact they have a soft not bony tip at the end, unlike the adults? Was it something to do with a spooky spoon-attracting substance under-11s have on the end of their noses? Weird – we'd love to hear if your kids have this strange talent too…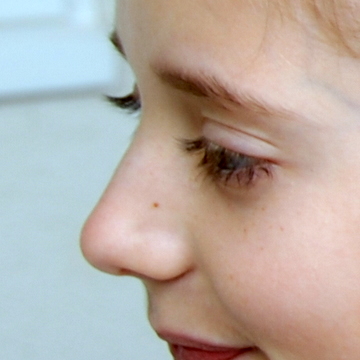 ---
27th Mar 2008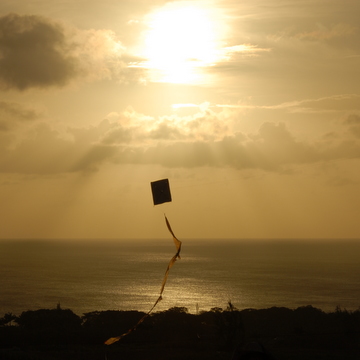 Jane: Forget about buying expensive kites – today with the help of Alex, who's been making kites since he was a kid, we learnt how to make an excellent  kite from scratch using a bit of paper, some cotton, a couple of wooden kebab sticks and a few old plastic bags. It is pretty easy. First the kids cut out a small rectangular bit of paper each, and drew a design of their choice on each one.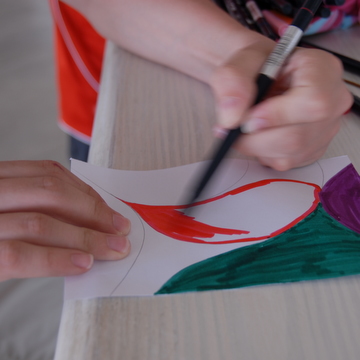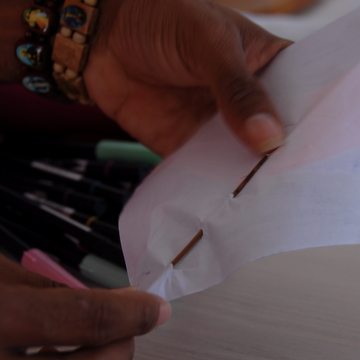 Then as if you're sewing, thread a thin wooden kebab stick or skewer along the length of each crease.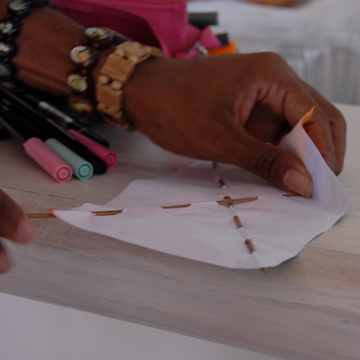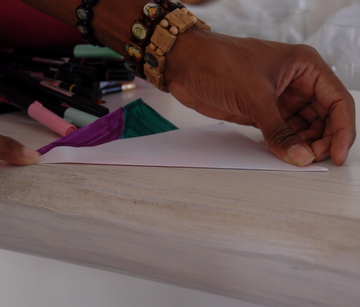 Fold the paper opposite corner to corner so you get two criss-cross creases.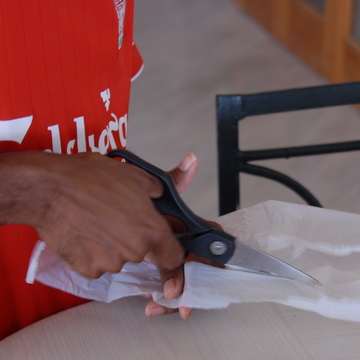 To make the hanging end of the kite, cut up old plastic bags into long strips and tie them together in a tail about 12 to 15ft long.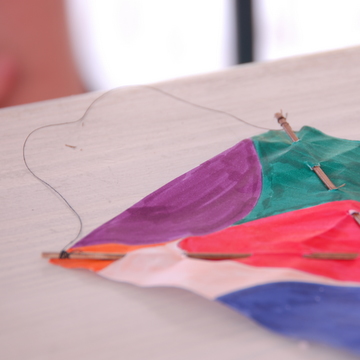 Tie a short piece of cotton (we used polyester cotton which is tougher) to the bottom corners of the kite and attach the tail in the middle so it hangs down.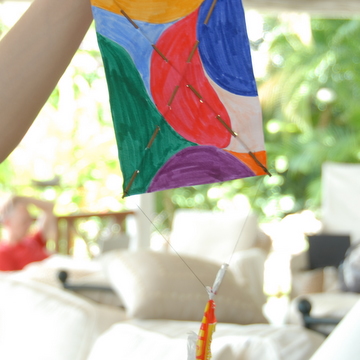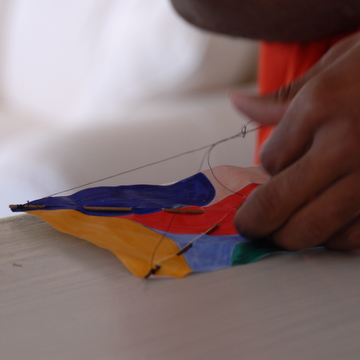 Then cut three bits of cotton about 15cm long. Tie one to the centre of the two kebab sticks. Tie the others one on each top corner of the kite. Then join these three strands of cotton together in a knot at the other ends to form a pyramid.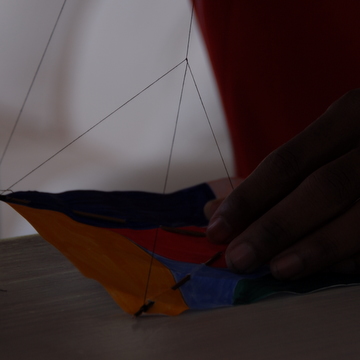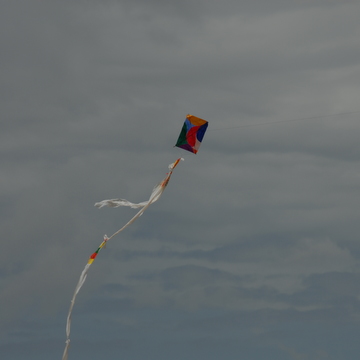 Tie the long reel of cotton to this central knot and allow to unreel. Get someone to throw the kite up into the wind – you control it by unreeling the cotton as far as you can. If the kite keeps falling to left or right, the tension in the pyramid made by the thread might be slightly askew – there is a bit of skill involved in getting this right and you might need to fiddle around with the lengths. Once it's up and flying, Alex ties it to the washing line and leaves it to zoom around the sky all night. Quite brilliant!
---
25th Mar 2008
Tamsin: I have had many contented moments holding a piece of string, with my eyes raised to the sky, watching a colourful kite dip and dive around.  Kite flying is a traditional pastime in some countries over Easter and can be the focal point for a trip out over the holidays.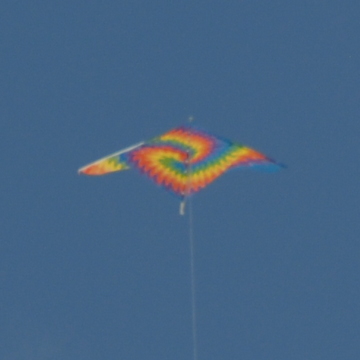 On one Easter holiday in the Caribbean we came across a mass kite flying event with thousands of people gathered on the top of a ridge flying small colourful tissue paper and wood constructed kites. The day was sweltering with a clear blue sky and the kites looked magnificent dashing around against the perfect blue background.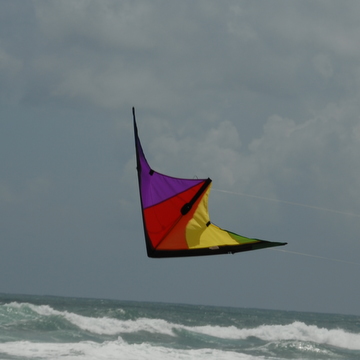 We have also had other less warming kite flying trips. One that particularly stands out was a North Norfolk beach trip in January when it was so cold that, despite a similar blue sky to the Caribbean, we could only just hoist up the kite for a few minutes before our fingers froze and we were beaten back to the car by the easterly wind that must have come straight from Siberia.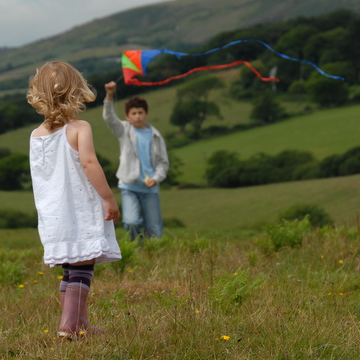 Kite flying is one of those activities which the whole family can enjoy together. Choose from the simple one string kite, which can fold easily into the pocket, to more elaborate stunt kites for those who like more of a challenge. Find a park, a field or a beach and take along a thermos of hot chocolate, unless of course you are nearer to the equator.

---
21st Mar 2008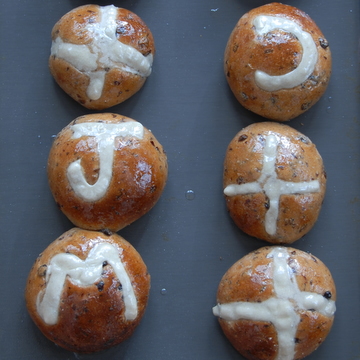 I thought our Hot Cross Breakfast Buns this morning were not going to be a success - I ran out of time and didn't have the right flour - but all turned out okay in the end. So here are the tips I found worked.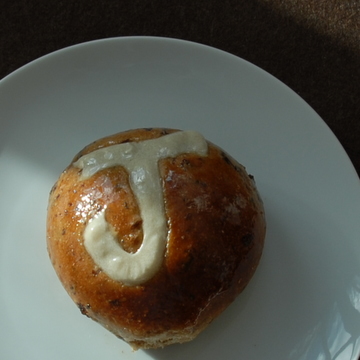 Firstly, I made them in the bread machine but instead of doing them on Raisin Mode I used the Pizza setting which only takes 45 minutes instead of 2 hours 20 mins.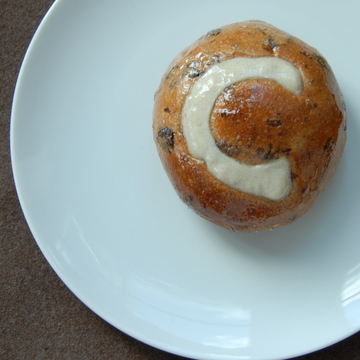 Secondly, I didn't have any Strong Plain White Flour. I could have used Strong Wholemeal but I know the kids would want the fluffy texture of white buns. So I used normal plain flour and although they hadn't risen much before I put them in the oven, they puffed up nicely during baking. On eating you couldn't tell any difference.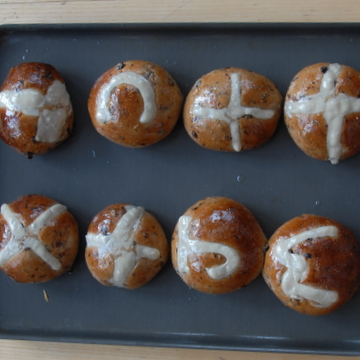 So if you have a little time, have a go – it will all work out all right and home-made hot hot cross buns make Good Friday.
---
17th Mar 2008
| | |
| --- | --- |
| The Madness of Easter Bonnets | |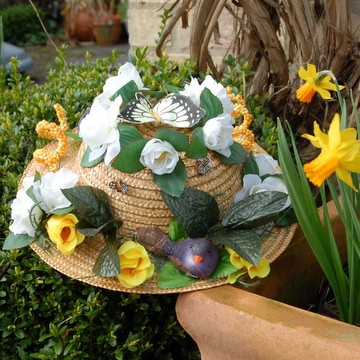 It is thrilling to come across an unexpected remnant of times gone by. I happened to stumble on one whilst walking through a country market on my way to the cinema the other day. There in full multi-coloured glory was a fake flower stall selling garishly decorated Easter bonnets.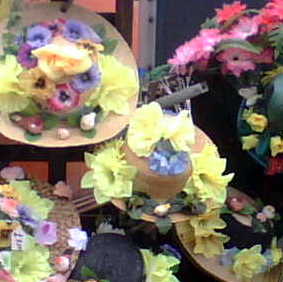 Easter bonnets came out of the tradition of wearing new clothes on certain days of the year to give good luck. Easter Sunday was one of those days, and Easter bonnets decorated with ribbons, flowers, lace and other assortments were paraded in church then shown off afterwards in the Easter Day Procession.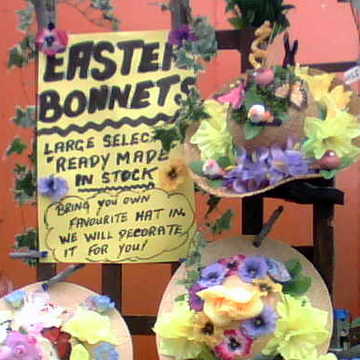 Sadly, this tradition is rarely kept now so I was delighted to see the stall full of forgotten treasures – a place where modern ideas of 'taste' had not penetrated. I spoke to the delightful old man running the stall who said he wanted to revive the parades that used to take place in the surrounding towns. He was going into old people's homes to make hats with the elderly residents who remembered decorating bonnets as an essential part of Easter. It was lovely to come across someone who was freely giving something back to others – another tradition that sometimes seems to be fading.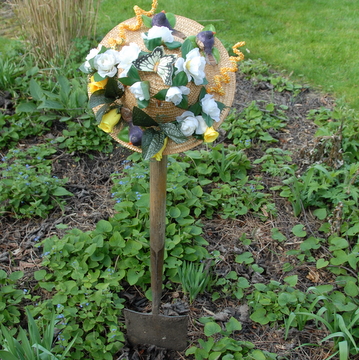 Well, I had to buy one! A delightful arrangement of birds, flowers and (in the words of the stall holder) wasps! I will use it to inspire our Easter bonnet creations which – though I haven't told anyone about this yet – we're going to be making on Easter Sunday out of newspaper and decorating with whatever we can find in the garden. A time limit will be put on this activity and, just like in old times, we'll then parade them in front of each other.
---
14th Mar 2008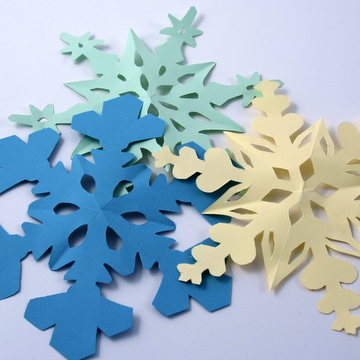 Edie: We have been playing with coloured paper and scissors to make paper snowflakes. Mum gave me a special book which showed how to make lots of different shaped ones. First you fold your paper into a kite shape, then you trace over the pattern with a pencil. Then you cut it out with small scissors. I enjoyed unfolding them and seeing the shapes come open in front of my eyes.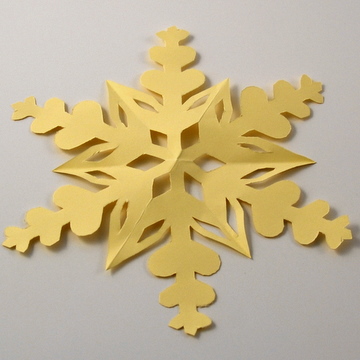 My favourite is the yellow one. I really like how it's sharp in the middle, then becomes round and bobbly at the edges.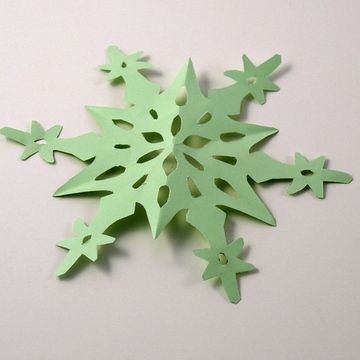 The green one is beautiful too, because at the ends it looks like flowers.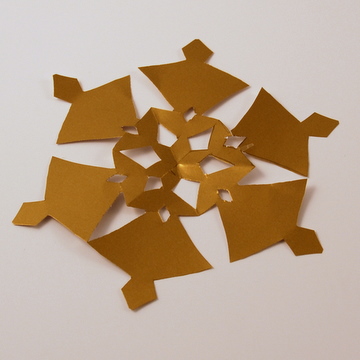 The gold one looks like the plated armour the polar bear wore in the film The Golden Compass.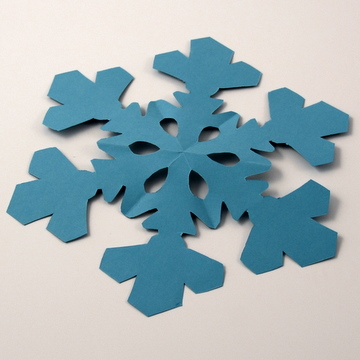 The blue one is like a snowflake looks in real life.
I am going to hang all the snowflakes I make on my bedroom wall.
---
10th Mar 2008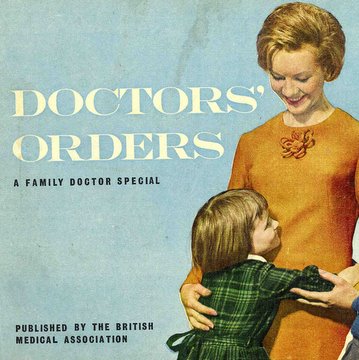 Tamsin: As a parent there are many things I wish there were manuals for.  Decisions such as what age should my daughter walk to school on her own? When is it safe to leave my children in the house while I nip out to the shop up the road? How late can my son stay out with his mates? How much pocket money should I give them? What is an appropriate time for them to go to bed? Well, the final question was answered for me last week when my husband brought me back a 1960s' British Medical Association 'Doctors' Orders' manual. There on page 6 was a table with the answer.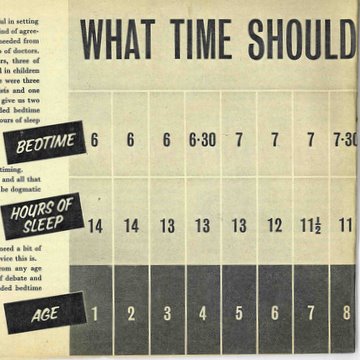 The table listed bedtimes and also the hours of sleep needed for each age. Fourteen-year-olds should get nine-and-half-hours of sleep a night, going to bed at 9pm. Could this be why my 14-year-old son finds it so hard to lift his head from the breakfast table in the mornings? According to 'Doctors Orders' he is missing half an hour's sleep each night! I am pleased to say that my daughter is right on target for her 10 hours sleep – but only when we actually make her bedtime and we seem to be having more misses than hits recently.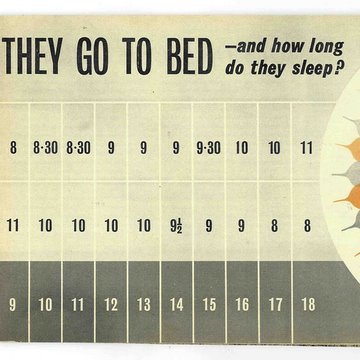 I was always rather fierce about bedtimes when my children were little. With a husband who travels for work a lot I was often in the one-parent family role. I could be a fairly reasonable mother until 8pm when, as the clock struck, all presence of loving 'Waltons' motherly warmth dispersed to be replaced by a short-tempered she-bear. My children soon understood that bed did mean bed. 
Standards seem to have lapsed a bit now that they are older. But with this new-found ammunition to wave in front of them when protests begin, we will all soon be waking up looking as bright and breezy as the family on the front cover.
---
6th Mar 2008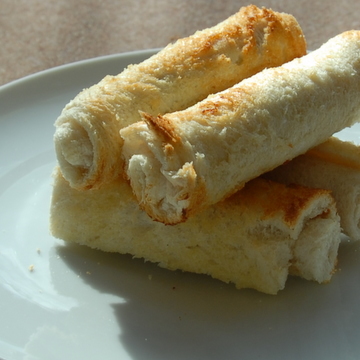 Tamsin: I have always loved Marmite, especially on toast, late at night or as a snack when coming in from the cold.  It is hard to beat, but there is one thing that does beat it and that is a Marmite roll.  It is something in the way that they are crispy on the outside and soft in the middle, with the flavour tightly caught in the spirals and the satisfaction of biting into a tube!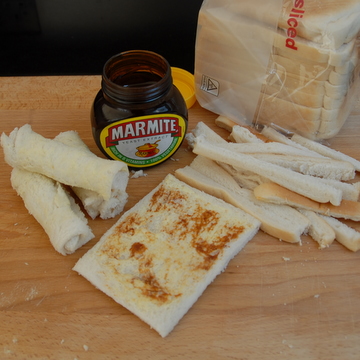 As an after-school snack or warming Sunday afternoon tea they always hit the spot. My children can eat platefuls of them and still ask for more. It is important that the bread is a thin white sliced loaf so that they roll up easily and the texture is fluffy and soft in the middle.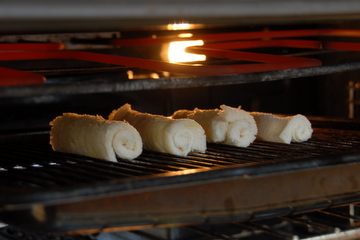 Start by cutting off the crusts from a piece of bread and spreading butter on both sides of the slice. Put on as much Marmite as your taste buds like and roll tightly up. Place under the grill until toasted, turning to ensure all sides are browned.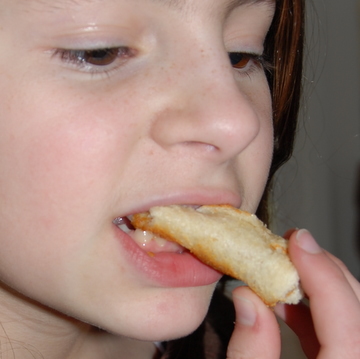 I introduced the idea to my friend Anna-Louise and she modified the recipe a bit by mixing the Marmite and butter together in a bowl and then spreading this on the bread. This method gave a very intense Marmite taste and was equally satisfying.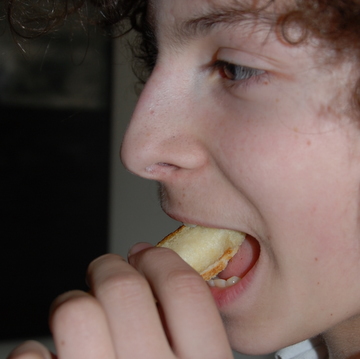 But be warned, you may find that once your family have discovered the delights of these rolls, one loaf of bread will not be enough!
---
2nd Mar 2008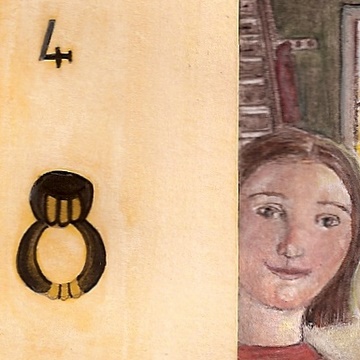 We are very excited because this week sees the launch of our online family story 'Four Corner House'. You can read the first instalment this Wednesday, and over the next couple of months the story will unfold as we load a chapter every week. In the blog below the author, Andrew Hewitt, describes how he came to write the story during time spent with his two children.
Andrew: When my children were small I had the pleasure of walking them to school most days. I can't remember exactly how it began, but it soon became a feature of these walks that I would tell them a story – anything at all, from extended jokes involving a man and a runaway pie to episodes from the King Arthur legend or Don Quixote tilting at windmills. Gradually, inevitably, we began to invent characters and situations of our own. I say 'we' because, although I supplied the basics of plot, setting, character and so on, the children's questions, ideas, objections and elaborations were what brought the stories to life. The 15-minute journey from front door to school gate readily lent itself to the cliff-hanger format which powers the Arabian Nights, and we were soon embarked on a kind of Thousand-and-One Mornings, over the course of which a whole cycle of stories developed about two children whose magical home, Four Corner House, was the starting-point for all kinds of adventures.
With the encouragement of Heart & Home, I'm now writing about Four Corner House for a wider audience: maybe others will enjoy reading the stories (and, I hope, telling and extending them). I'm delighted that at least one person has been inspired to join the adventure with ideas of her own: the illustrator Quitterie de Castelbajac is creating images to accompany the story. The experiment consists of a new chapter each week for the next 10 or 12 weeks. I've made a head start, but at this point I'm not exactly sure how the story will end, which is part of the fun. If you'd like to read it, click here
---